Crunchy Rainbow Slaw
This post is sponsored by Buchi. Thank you for supporting the brands I love!
This crunchy rainbow slaw has a creamy, tangy dressing made with peanut butter, soy sauce, and kombucha! It's a delicious way to enjoy your vegetables and the dressing is packed with healthy fats and probiotics!
I love salads with a lot of crunch and this rainbow slaw recipe has quickly become one of my new favorites! With a few simple ingredients, this recipe comes together in minutes and the peanut dressing, made with Buchi Kombucha, is addicting! Before we dive into the recipe, let me share a little bit about kombucha!
What is Kombucha?
Kombucha is a fermented tea that is usually slightly sweet and effervescent. Kombucha does contain trace amounts of alcohol from the fermentation process, but the amount is minimal. (You don't have to be 21 to purchase it!) Not only does kombucha taste delicious, but it also has a lot of health benefits too!
According to Chelsey Amer, MS, RDN, owner of Chelsey Amer Nutrition, "The probiotics in kombucha contain beneficial bacteria to keep your gut healthy. With over 70% of your immune system in your gut, it's especially important to protect your gut health to ward off colds and flu." After you whip up this dressing, sip on the rest of the bottle while you enjoy your salad!
Why drink Buchi?
I've tried a lot of kombuchas but Buchi stands out among the pack. Their kombucha is brewed following the same fermentation process used over 2,000 years ago. That means their kombucha is fermented in open-air tanks, and never pasteurized, so the beneficial probiotics are 100% alive and active! They care about responsible sourcing and manufacturing, and they are working hard to help take care of our planet!
In addition to kombucha, Buchi also makes kefir sodas and shrub sodas. These are a delicious and refreshing option, perfect for when you want something with lots of flavor and just a hint of sweetness! 
While I love sipping on kombucha, did you know that it's delicious in recipes, too? Kombucha has a slightly sweet flavor with a tart bite similar to a vinegar flavor. It's delicious in salad dressings and I used it as the base for this easy rainbow slaw recipe! You can use any flavor of kombucha but my two favorites were Ginger Cayenne and Peach Ginger Molasses. Both are a good balance of sweet and tart.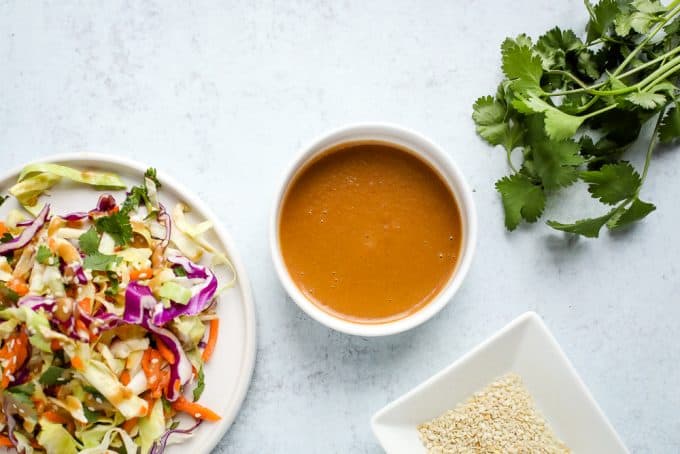 Print
Crunchy Rainbow Slaw
Author:
Prep Time: 10 minutes
Cook Time: 0 minutes
Total Time: 10 minutes
Yield: 4 cups 1x
Category: Salad
Method: Chopped
Cuisine: Thai Inspired
---
Description
This crunchy rainbow slaw has a creamy, tangy dressing made with peanut butter, soy sauce, and kombucha! It's a delicious way to enjoy your vegetables and the dressing is packed with healthy fats and probiotics!
---
1/4 cup Buchi Kombucha
2 tablespoons avocado oil (or any neutral oil)
1 teaspoon sesame oil
2 tablespoons peanut butter
2 tablespoons soy sauce
1 tablespoon honey or agave
4 cups coleslaw mix 
1/4 cup fresh cilantro, chopped
1 teaspoon sesame seeds (optional)
---
Instructions
In a small bowl, whisk together the kombucha, avocado oil, sesame oil, peanut butter, soy sauce, and honey, until combined.
In a large bowl toss the coleslaw mix with cilantro and dressing.
Sprinkle with sesame seeds.
Divide into 4 bowls and serve immediately.
---
Notes
If making this dish in advance, do not add the dressing until ready to serve to prevent the vegetables from wilting. 
The salad dressing will stay fresh for up to 3 days in the refrigerator. You could even make a double batch for more salads or try it as a dipping sauce for vegetable spring rolls! If you love fermented foods like this, be sure to try this fermented cabbage recipe!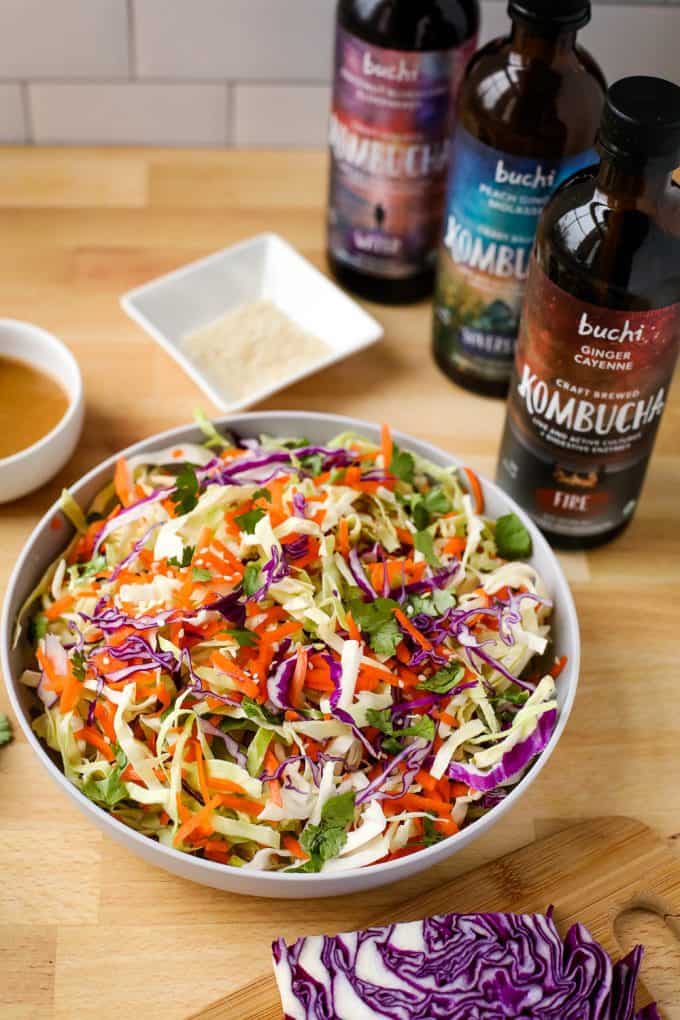 Substitution Ideas
For a gluten-free version, use gluten-free tamari or liquid aminos instead of soy sauce.
To keep this recipe vegan, use agave instead of honey.
If you can't find coleslaw mix, you can make your own by combining 2 cups of shredded green cabbage, 1 cup of shredded purple cabbage, and 1 cup of shredded carrots.
If you want to prepare this as a main dish, you can add your favorite protein on top. I love it with shelled edamame or tempeh!
Curious to try a bottle of Buchi? Sign up for their email list and get a coupon for a FREE bottle of kombucha! (Plus, if you live in NC, SC, TN, and GA, you'll get a coupon for 20% off their online shop!) Plus, you can learn more about Buchi and the benefits of kombucha! Grab your coupon and let me know which flavor you're most excited to try!