Stuffed Portobello Mushroom Burger
Looking for a uniquely delicious vegetarian burger? Try this cheesy stuffed portobello mushroom burger recipe! It takes your meatless meal to the next level!
These stuffed portobellos are super scrumptious. The combination of umami from the mushrooms with the creamy, savory, spicy filling is fantastic. Serve these stuffed mushroom caps on buns with your favorite burger toppings or eat them as an entrée with your favorite sides for an unctuous vegetarian meal inspired by jalapeño poppers.
I'll be the first to admit that I'm not a big fan of mushrooms. But since my husband loves them, I decided I should add a few more mushroom recipes to the blog! This one was a hit the first time he tried it, so I knew I was on to something! These are great for meatless Monday or as a burger option for your vegetarian friends for your next cookout! You could easily make these on the grill if you prefer. You could also enjoy these stuffed portobello mushrooms without the bun as a simple main dish!
How to Pick Portobello Mushrooms
For this recipe you'll need large portobello mushroom caps. When choosing portabella mushrooms, you want to select caps that are firm and not spotty. Avoid any mushrooms with mushy or soft spots. Mushrooms should be dry and not slimy.
How to Clean Portobello Mushrooms
To clean them, use a damp paper towel to wipe away any dirt from the surface of the mushroom cap. You don't want to run them under water or they can get soggy and lose a lot of flavor.
To remove the mushroom stem, twist it with your fingers and gently tug to remove it. It should remove easily, but if it's stuck, you can use a knife to cut it. Use a spoon to scrape the dark brown gills from the bottom of the mushroom cap, and discard. (That part is technically edible, but I find it hard to clean, so I prefer to remove it just to be safe!)
Stuffed Mushroom Ingredients
Portobello mushrooms– Look for large, firm caps without spots or blemishes.
Cream cheese– You can use regular or low-fat cream cheese.
Jalapeños– This adds a bit of heat and spice to the filling.
Garlic powder– This enhances the flavor of the filling.
Shredded white cheddar cheese– I used Cabot's extra sharp white cheddar cheese, but you can use any kind you like.
Avocado– This is optional, but I like the creaminess it added to the burger.
Burger buns & toppings– You can use your favorite burger buns, whether that's whole wheat or gluten-free. You can also add your favorite burger toppings, if you like.
How to Make Stuffed Mushroom Burgers
Frequently Asked Questions
What is the best way to cook portobello? There are many ways to cook these mushrooms, but for this recipe I recommend baking it first to remove excess moisture, then stuff it and continue to bake until tender.
What is a portobello burger made of? Some portobello burgers are simply marinated mushrooms served on a hamburger bun. These don't always have a lot of flavor and you have to really enjoy mushrooms to enjoy a burger like this. I think stuffing the burger makes it a lot more flavorful!
How do I make my portobello not soggy? If your burger is turning out soggy, check two things: 1. Make sure you're not rinsing the mushrooms under water. You simply want to wipe it with a damp paper towel to remove dirt. Soaking the mushroom in water makes it soggy. 2. Be sure to roast the mushroom for about 8 minutes before stuffing, to remove any additional moisture.
What do you eat with stuffed portobello? You can serve this with traditional burger side dishes like french fries or a side salad, or you could enjoy it with roasted vegetables.
How long does it take to bake a portobello mushroom? It takes about 20 minutes in total.
Can I make this recipe gluten-free? Yes. Simply use gluten-free burger buns to make this recipe gluten-free.
Can this recipe be vegan? It would take significant modifications, but if you want to make this recipe vegan, I recommend using Kite Hill's dairy-free cream cheese and your favorite vegan cheddar cheese.
Is this recipe spicy? It depends on how spicy your jalapeños are, as the heat level can vary significantly. I recommend having a small taste to determine if you want to add additional jalapeños to the recipe.
Burger Topping Ideas
Looking for some fun ways to switch up your portobello mushroom burgers? Try adding crispy onion straws on top! Or pile it high with lettuce, tomato, and onion for a classic combination. If you like things spicy, add a drizzle of hot sauce and stack additional slices of jalapeno on top!
Tips & Tricks
You can substitute any good melting cheese you prefer for the white cheddar. Other good options are yellow cheddar, provolone, or mozzarella.
I recommend shredding your cheese for the creamiest, most flavorful results, rather than buying pre-shredded cheese.
These stuffed mushrooms will last for 3-4 days when stored in an airtight container in the fridge. I recommend reheating any leftovers in the oven rather than in the microwave for the best results.
Print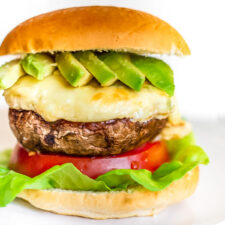 Stuffed Portobello Mushroom Burger
Author:
Prep Time: 10 minutes
Cook Time: 20 minutes
Total Time: 30 minutes
Yield: 4 burgers 1x
Category: Dinner
Method: Oven
Cuisine: American
Diet: Vegetarian
---
4 portobello mushroom caps
4 ounces cream cheese, softened
1 jalapeño, diced small
1 teaspoon garlic powder
1/4 teaspoon salt
1/8 teaspoon ground black pepper
1 cup shredded white cheddar cheese
1 avocado, sliced
4 burger buns
Optional toppings: lettuce, tomato, onion, etc.
---
Instructions
Preheat your oven to 375° and prepare a baking sheet by lining it with aluminum foil or parchment.
Place the portobello mushrooms hollow side up on your prepared baking sheet.
Bake the mushrooms for 8 minutes to help release moisture before stuffing them.
In a medium mixing bowl, combine the cream cheese, jalapeño, garlic, salt, and pepper. 
Stir in ½ cup of the shredded cheddar.
Spoon ¼ of the cheese and jalapeño mixture into each of the portobello caps, then top with the remaining ½ cup of cheddar.
Place the stuffed portobellos into the oven and bake for 12-15 minutes, or until the cheese is melted and lightly golden-brown.
Serve your portobellos on a bun with avocado, lettuce, tomato, or whatever toppings you desire.
---
Keywords: Stuffed Portobello Mushroom Burger
Spoon ¼ of the cheese & jalapeño mixture into each of the portobello caps, then top them with the remaining ½ cup of cheddar.
Place the stuffed portobellos into the oven and bake for 12-15 minutes, or until the cheese is melted and lightly golden-brown.
Serve your portobellos on a bun with avocado, lettuce, tomato, or whatever other hamburger toppings you desire.