Quinoa Stir Fry
This tasty vegetable stir fry uses quinoa instead of rice for a healthy twist on your favorite fried rice! With a simple homemade sauce, this recipe comes together quickly and easily for a yummy, plant-based meal!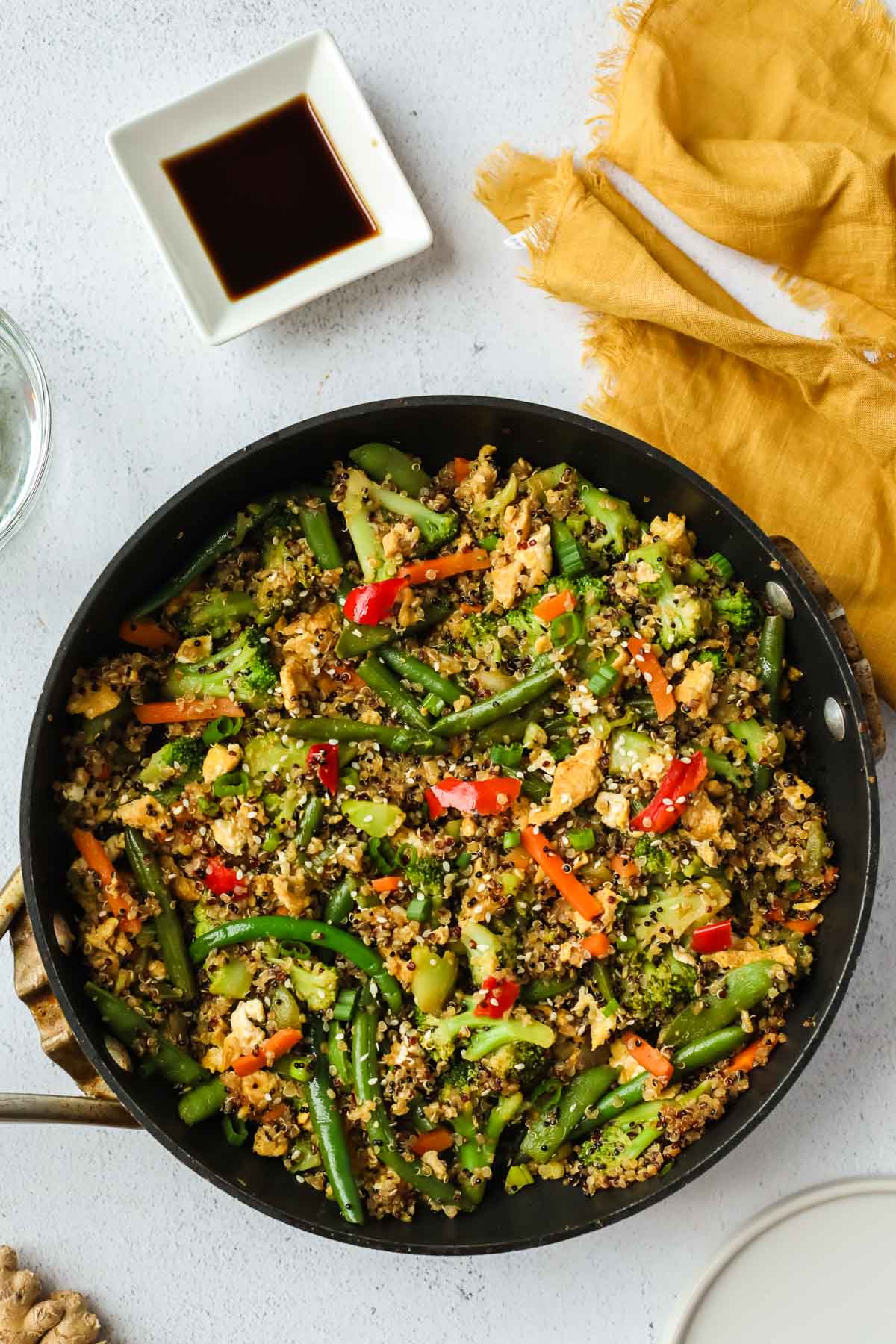 Vegetable stir fry is a great dinner idea because it's an easy way to use up whatever vegetables you might have in your fridge. This recipe also works great with frozen vegetables, so I usually try to keep a bag of mixed vegetables in my freezer at all times. Rather than using rice, I used quinoa, which is a great way to add a little more nutrition to this dish!
What is Quinoa?
If you're new to cooking with quinoa, it's technically a seed but it cooks like a grain. Read my post about quinoa to learn more about what it is, where to buy it, and how to use it. I love it because it's a great source of protein and nutrients. It's relatively inexpensive, and it lasts a long time in the pantry. You can typically find it near the rice and dried beans at the grocery store. You can even get quinoa on Amazon. You can use white, red, or tri-color quinoa in this recipe.
How to Cook Quinoa
This recipe uses cooked quinoa. If you haven't cooked your quinoa yet, don't worry. It's easy! Most quinoa should be rinsed before cooking. Some bagged varieties will come pre-rinsed but if you're not sure, give it a rinse just to be safe. I place it in a fine mesh strainer and then run it under cool water. Be sure it's a very fine mesh strainer so the quinoa doesn't fall through. This strainer on Amazon is a great one for quinoa!
To prepare the quinoa, there are a few different ways you can make it:
How to Make Quinoa In a Rice Cooker– I love making quinoa in the rice cooker because I can set it and forget it! It cooks perfect quinoa every time.
How to Cook Quinoa on the Stovetop– Like rice, you can prepare quinoa on the stovetop. Use a two-to-one ratio of water to quinoa. Simmer for 15-20 minutes or until the water is absorbed, then fluff it with a fork.
How to Make Quinoa in an Instant Pot– Yep, you can make quinoa in an Instant Pot! This is a quick, fool-proof method for perfect quinoa.
It's best to allow the quinoa to cool before using it in this stir fry, so it's a great recipe for leftover quinoa that you have in your fridge! You'll need about 1/3 cup of dry quinoa to make 1 cup of cooked quinoa for this recipe.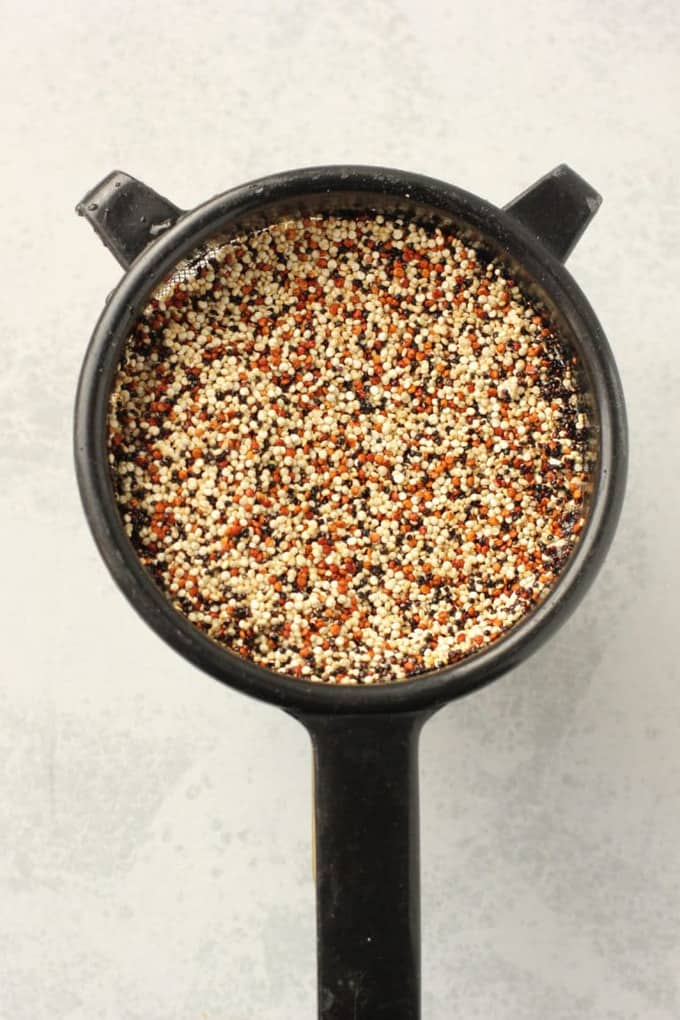 The Best Vegetables for Fried Rice Recipe
The best vegetables for a stir fry are the vegetables you already have! You can use fresh, frozen or canned vegetables. For this recipe, I used a 12oz bag of frozen vegetables, which is about four cups of vegetables. But feel free to use whatever you have on hand! Here are some ideas:
Broccoli, chopped into 1″ pieces
Cauliflower, chopped into 1″ pieces
Carrots, diced or shredded
Onion, diced
Water chestnuts
Green beans
Red, yellow, or orange bell pepper
Green onions, also called scallions, chopped
Green or purple cabbage, finely chopped
Snow peas
Peas, frozen or canned work great
Corn, frozen or canned
Stir Fry Protein Options
If you want to add additional protein to this recipe, you could use tofu, tempeh, TVP, or your favorite meat substitute. My tempeh bacon recipe works great with this recipe!
The Best Oil for Stir Fry
I typically use avocado oil for stir-frying, as it works well in high heat and has a neutral flavor. This recipe also works with coconut oil or vegetable oil. You may have heard that olive oil shouldn't be used for frying, but according to America's Test Kitchen, olive oil is fine for stir-fries. So it's up to you!
Tips & Tricks
I recommend using a large, non-stick skillet. A non-stick skillet is essential for cooking the eggs, so you don't have to worry about them sticking to the pan. But you also need a large surface area to cook the vegetables evenly.
Substitution Ideas
If you don't have sriracha, you can substitute it with hot sauce or chili paste. Anything to bring a little heat will work just fine.
If you want to make this recipe gluten-free or soy-free, use gluten-free tamari or liquid aminos in place of the soy sauce.
To make this recipe vegan, skip the eggs or use Just Egg as an egg replacement.
If you don't have rice vinegar, you can use white wine vinegar or any of these options.
I highly recommend fresh ginger, but in a pinch, you can substitute ground ginger.
How to Make Quinoa "Fried Rice"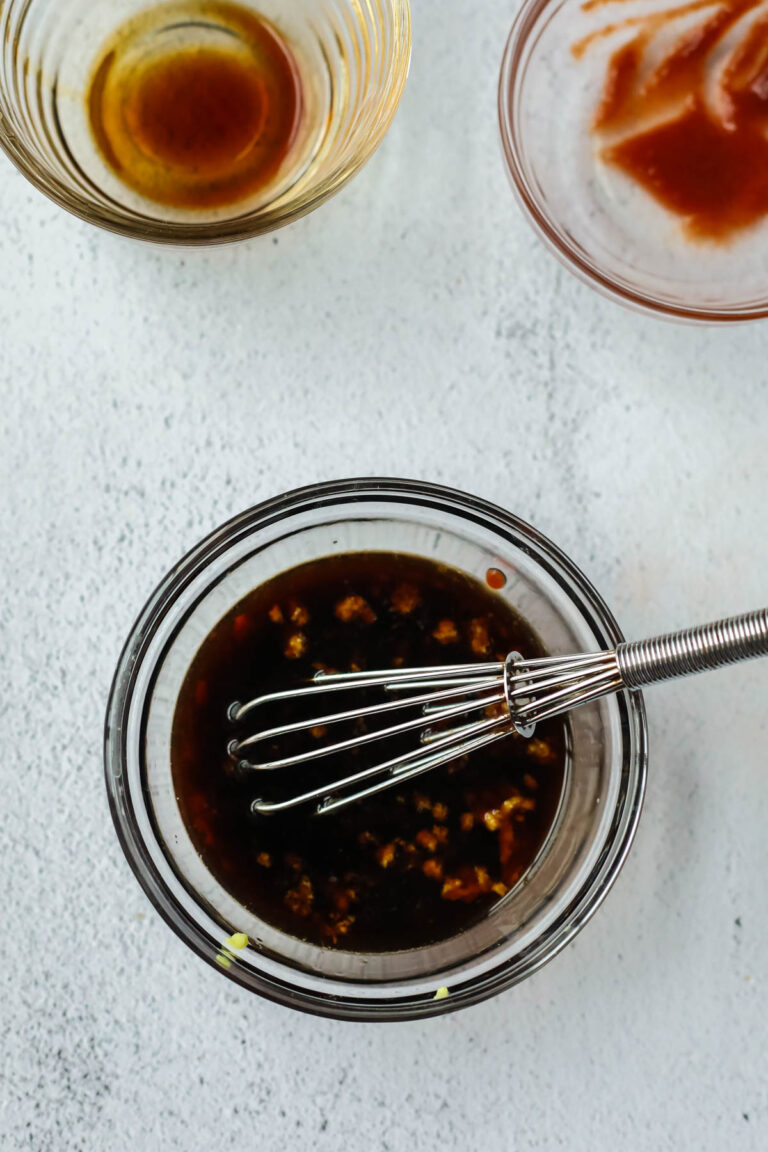 Print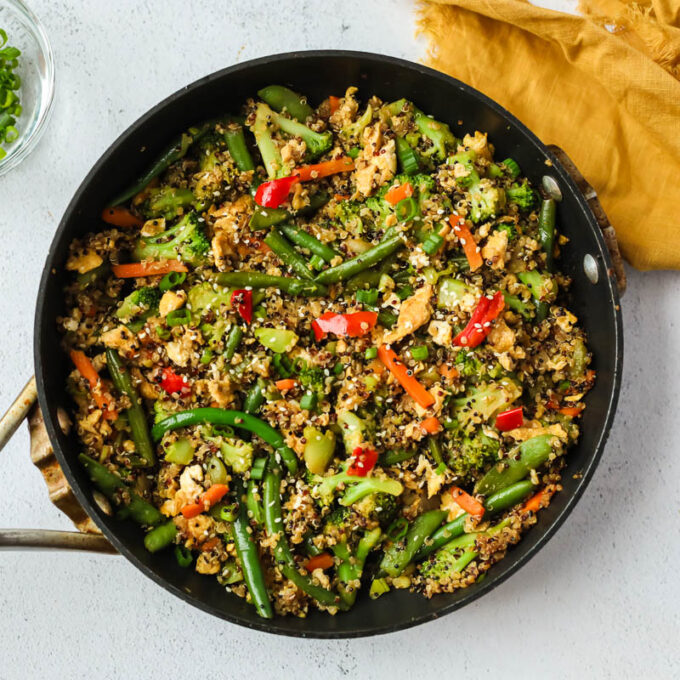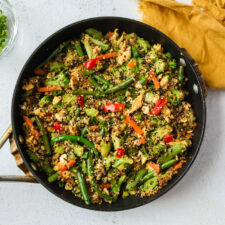 Veggie Quinoa Stir Fry
Author:
Prep Time: 10 mins
Cook Time: 10 mins
Total Time: 20 mins
Yield: 4 cups 1x
Category: Vegetarian
Method: Stovetop
Cuisine: American
Diet: Vegan
---
Description
This tasty vegetable stir fry uses quinoa instead of rice for a healthy twist on your favorite weeknight meal! With a simple homemade sauce, this recipe comes together quickly and easily for a yummy, plant-based meal!
---
1 cup cooked quinoa, cooled
3 tablespoons soy sauce
1 tablespoon rice vinegar
2 teaspoons sriracha
2 teaspoons freshly grated ginger
2 eggs
4 teaspoons vegetable oil, divided
4 green onions diced, white and green parts separated
4 cups frozen mixed vegetables
1 teaspoon sesame seeds
---
Instructions
In a small bowl, whisk together the soy sauce, rice vinegar, sriracha, and ginger.
In a separate bowl, whisk the eggs with 1 tablespoon of the soy sauce mixture.
In a large non-stick skillet, heat 2 teaspoons of oil over high heat for 30 seconds.
Add egg mixture and cook for 1-2 minutes, using a spatula to scramble the eggs. Remove from skillet and set aside.

In the now empty skillet, add the remaining vegetable oil. Add the frozen vegetables and the white part of the green onions and cook for 3-4 minutes. (You may need to cook the vegetables a bit longer depending on the size of the vegetables.)

Once the vegetables are tender, add quinoa and the rest of the soy sauce mixture. And cook 2-4 minutes.
Add egg and scallion greens and continue to cook 1 minute until the egg is heated through.
Top with sesame seeds, if desired.
---
Notes
This post was originally published in April 2012. Updated December 2020.
Keywords: quinoa stir fry
More Quinoa Recipes