Creamy Vegan Farro & Tomatoes
This creamy farro dish is like a hearty risotto and you'd never guess it was vegan! Thanks to nutritional yeast and almond milk, this healthy, vegan dinner tastes like your favorite comfort food.
I loved this kale and pine nut faux risotto so I thought I'd try something similar but with a tomato base. I wanted to keep it vegan so I used nutritional yeast to give it a creamy, cheesy flavor without actually using any cream or cheese. Nutritional yeast has the added benefit of protein & B vitamins which can both be a little challenge for non-meat eaters to get. I typically get my nutritional yeast from the bulk bins at the grocery store but if you can't find it there, you can order it online. (Bob's Red Mill
 is on Amazon and it's great!)
If you're unfamiliar with farro, there are lots of different types and they cook at different times. The most common type, semi-pearled farro, cooks in about 30 minutes. That's the kind you'll find from Bob's Red Mill but you may see quick-cooking varieties at places like Trader Joe's. You can use any kind with this recipe but the quick cooking kind won't absorb as much of the liquid and you may need to add more liquid if you're using a slower cooking variety.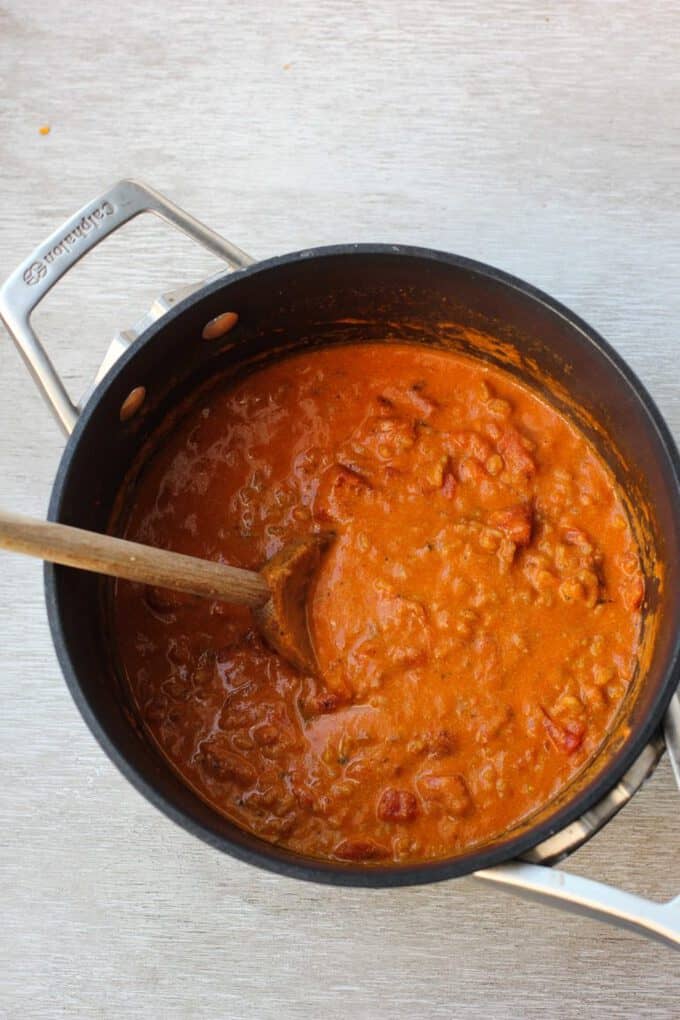 Ultimately, it should look something like this when you take it off the stove and it will continue to thicken for about 15 minutes after cooking. If you let it cool and reheat it, it'll be even thicker.
Print
Simmered Tomatoes & Farro
Author:
Prep Time: 10 mins
Cook Time: 40 mins
Total Time: 50 mins
Yield: 4 cups 1x
Category: Dinner
Method: Stovetop
Cuisine: Dinner
---
Description
This hearty farro dish is so creamy, you won't believe it's vegan!
---
1 tbsp extra virgin olive oil
2 cloves garlic, minced
1 cup dry farro
1 15 oz can of fire roasted diced tomatoes
2 cups almond milk
1/2 cup nutritional yeast
1 1/2 cups of marinara sauce
1/4 teaspoon sugar
1/4 teaspoon salt, or to taste
1/4 cup pine nuts (optional)
---
Instructions
Add the olive oil and garlic into a large pot and cook over medium heat for 2 minutes, stirring occasionally so the garlic doesn't burn.
Add the farro and stir for 1 minute until the farro is lightly toasted.
Add the tomatoes and almond milk and bring to a simmer.
Let simmer for 10 minutes.
Add the marinara sauce and nutritional yeast.
Simmer for another 20-30 minutes until the farro is cooked. (It should be a bit chewy but not crunchy.)
Add the sugar. (The sugar will help balance the acidity of the tomatoes.)
Add salt to taste and top with pine nuts before serving.
---
Keywords: Tomatoes and farro
I love that the nutritional yeast makes this super creamy! This totally hit the spot and it was nice to have a success after so many failed recipes.

Looking for something else to do with farro? Try this faux risotto recipe!
What food are you craving?