Farro Grain Bowl
This hearty farro grain bowl is topped with roasted broccoli, crispy chickpeas, and a lemon-tahini dressing for a deliciously simple meal!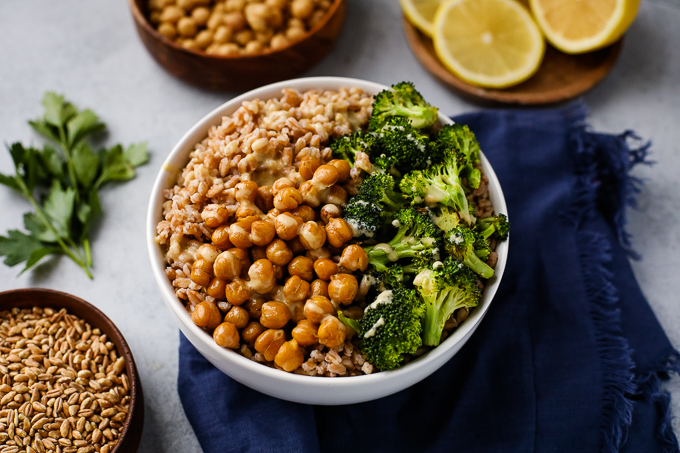 Before we jump into this recipe, let's talk about the different types of farro! Any type will work in this recipe, but it will alter the cooking times.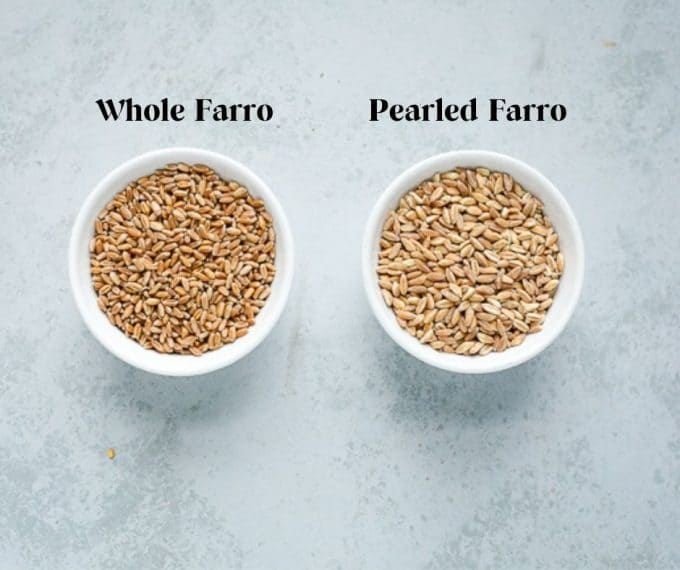 Types of Farro
Pearled Farro: This is the most common type of farro and it's the type that we'll use in this recipe. It's a bit less nutritious because the bran is removed, but it has the shortest cook time.
Semi-pearled farro: As the name suggests, this type of farro has had part of the bran removed. It takes a bit longer to cook than pearled farro and it has more of a nutty flavor.
Whole farro: This type of farro includes the whole wheat bran, which makes it the most nutritious but it also takes the longest to cook. This type of farro typically needs to be soaked overnight before cooking.
I recommend using pearled farro because it cooks quickly and it's the easiest to find at most grocery stores. While your farro is cooking, you can roast the broccoli and chickpeas.
How to Make a Farro Grain Bowl
Tips for Roasting Chickpeas and Broccoli
After you drain and rinse the chickpeas from the can, gently pat them dry with paper towels. We want to remove as much moisture as possible from the chickpeas, which will help make them crispy.
Place the chickpeas and broccoli in a large bowl and gently toss with oil. If you want to use even less oil, spread the chickpeas and broccoli on a baking sheet and use an olive oil spray to ensure a light coat of oil. Then sprinkle with seasonings.
How to Make Lemon-Tahini Dressing
This lemon-tahini dressing is delicious drizzled onto these farro bowls, but you can also use any leftovers on a salad or as a dip for vegetables! To assemble this dressing, simply whisk together the ingredients and store in the fridge until ready to serve.
Print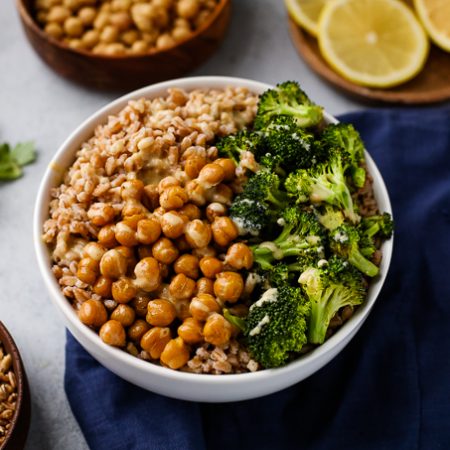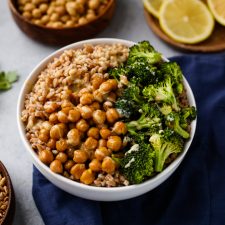 Farro Grain Bowl
Author:
Prep Time: 5 minutes
Cook Time: 20 minutes
Total Time: 25 minutes
Yield: 2 large bowls 1x
Category: Dinner
Method: Stovetop/Oven
Cuisine: Farro
Diet: Vegan
---
Description
This hearty farro grain bowl is topped with roasted broccoli, crispy chickpeas, and a lemon-tahini dressing for a deliciously simple meal!
---
1 cup uncooked pearled farro (see note)
15oz chickpeas, drained and rinsed
3 cups broccoli, chopped
2 tablespoons olive oil, divided
1/4 teaspoon garlic powder
1/4 teaspoon onion powder
1 tablespoon lemon juice
1 teaspoon dijon mustard
1 tablespoon tahini
1/4 teaspoon salt
---
Instructions
Preheat the oven to 400 degrees.
Cook the farro according to package directions, then set aside.
Toss the broccoli and chickpeas with 1 tablespoon of olive oil, garlic powder, and onion powder.
Spread into a single layer on a baking sheet and bake for 15 minutes, flipping once halfway through.
In a small bowl, whisk together the remaining 1 tablespoon of olive oil, lemon juice, dijon mustard, tahini, and salt.
Divide the farro into two bowls, top with chickpeas and broccoli and drizzle with lemon tahini dressing.
---
Keywords: farro grain bowl
What to Serve with Farro
These hearty grain bowls have all you need for a complete meal, but you can also divide this recipe up into four servings and enjoy it with one of these tasty side dishes:
Stovetop Brussels Sprouts– These are a tasty side dish but you can also add them right on top of your grain bowl!
Lemon Kale Salad – This recipe goes really well with the flavors of the farro bowl, and it's a great way to add more greens into the meal!
Crispy Oven-Fried Green Beans– These green bean "fries" go with just about anything and they're kid-friendly, too!