Rice Cooker Mac and Cheese
Did you know you can make rich, creamy macaroni and cheese using your rice cooker? It's quick to make and perfect when you don't have access to a stove!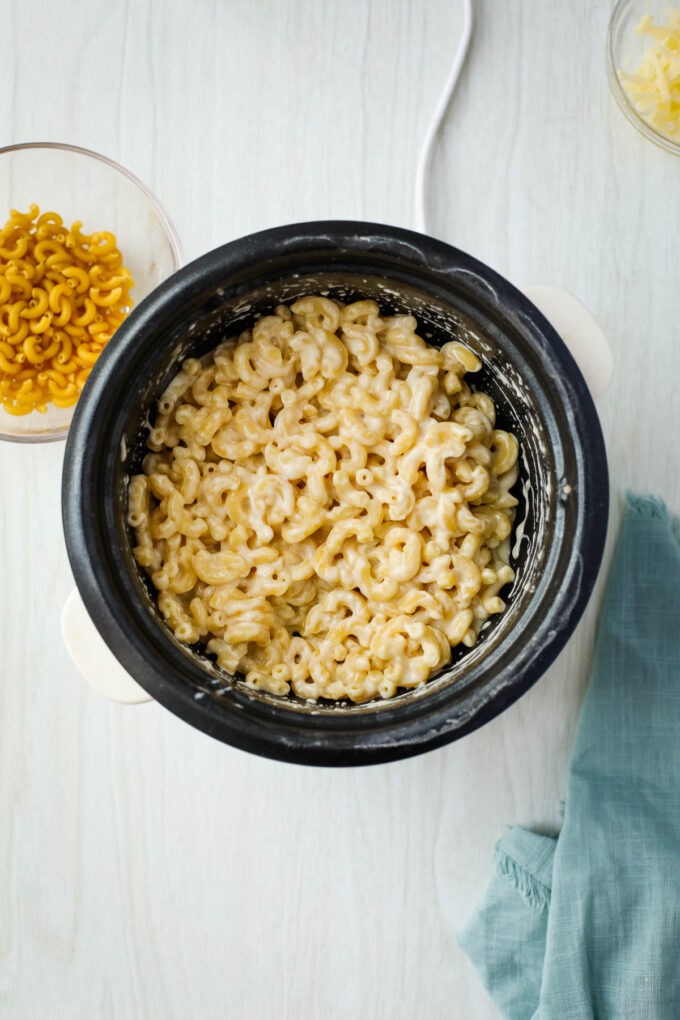 I love playing around with different kitchen appliances and after discovering that cooking quinoa in my rice cooker works like a charm, I've wondered what else I can make in my rice cooker! From cilantro lime rice to Mexican rice, I find myself reaching for my rice cooker quite often. But I wanted to see what I could cook outside of quinoa and rice. I thought, why not pasta?
It turns out, a rice cooker can be a great, easy way to make mac and cheese! And I know you might be thinking, "Why would you make it in a rice cooker?" but the simple answer is that not everyone has access to a stovetop. Maybe you're doing a kitchen renovation or maybe you're living in a dorm room without access to a stove. I thought it would be fun to have another option for making creamy, cheesy, macaroni and cheese!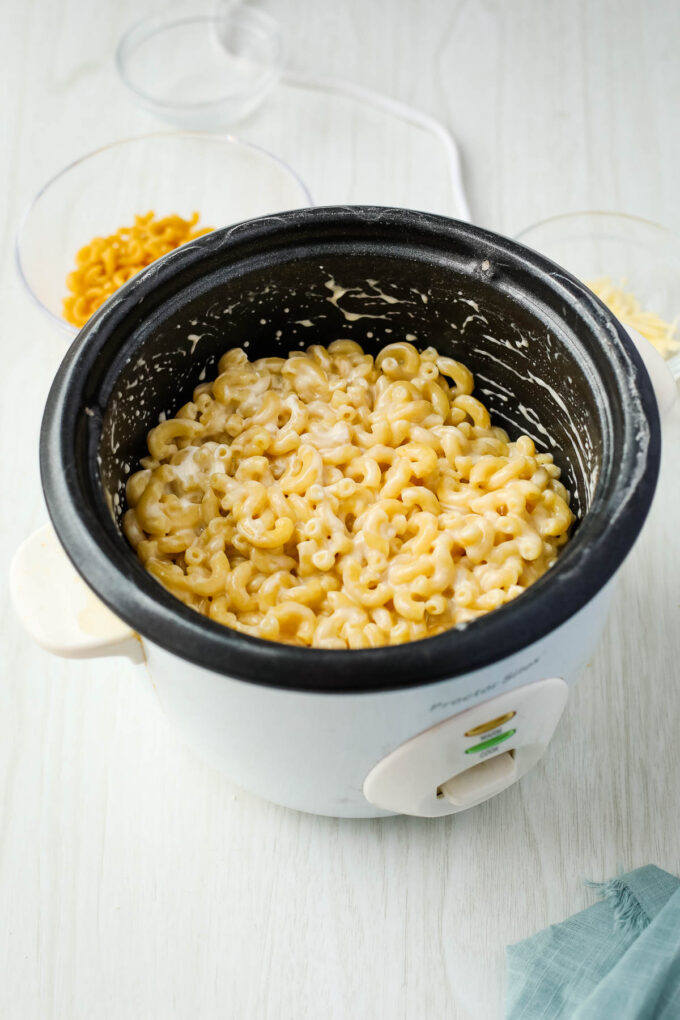 I don't have a fancy rice cooker. Mine is about 10 years old and it just has a cook/warm option that automatically turns on and off based on a sensor that determines if there is still liquid in the pot. It's very simple but it works great! If you have a fancy rice cooker, this recipe will still work fine. If you're using an Instant Pot, I'd recommend following my Instant Pot directions instead.
Ingredients and Substituions
Macaroni– You'll need macaroni pasta. I don't recommend using a different pasta shape as the ratios might differ. I used regular pasta. I don't recommend using chickpea pasta, as it foams too much.
Water– I used water, but you could use broth for even more flavor.
Milk– A splash of milk helps create the perfect saucy texture. Almond milk would work fine.
Cream cheese– This helps create a rich and creamy sauce.
Cheese– I used extra sharp cheddar cheese. I recommend using a block of cheese and shredding it with a large box grater. Pre-shredded cheese doesn't melt as well.
How does a rice cooker work?
A rice cooker works by utilizing a heating element to bring the water in the cooker to a boil, which then cooks the rice through the process of steam. Once the water has evaporated, the rice cooker's built-in sensor detects that the rice is done and automatically switches to a "keep warm" setting to prevent overcooking and keep the rice warm until it is ready to be served. Because the macaroni pasta cooks similarly to rice, we can use it to make this macaroni and cheese!
How to Make Macaroni and Cheese in a Rice Cooker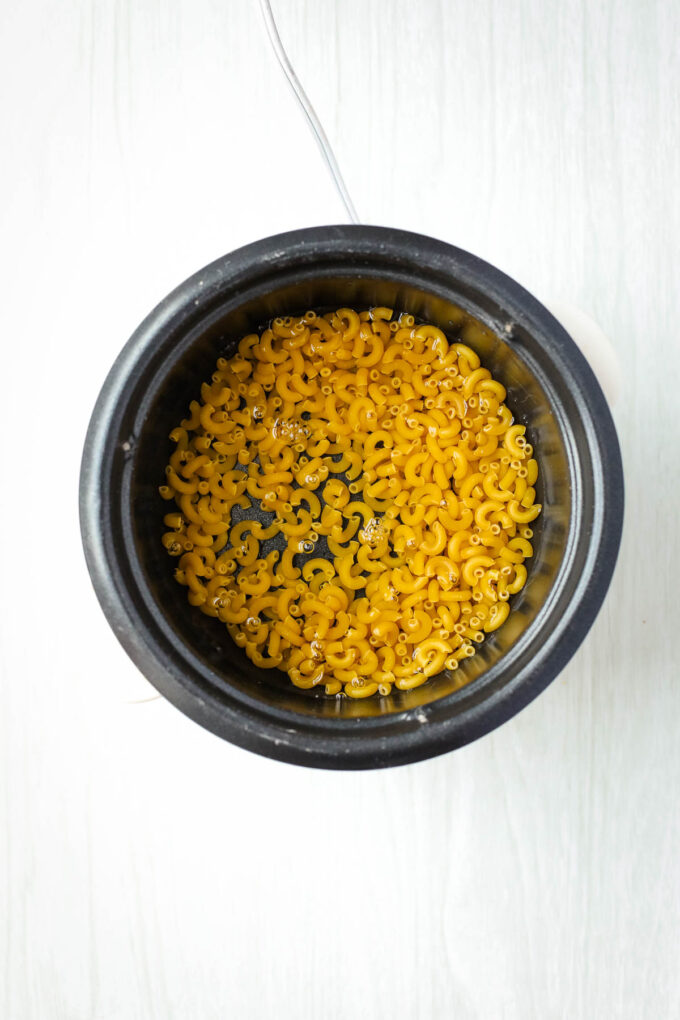 The Best Way to Reheat Macaroni and Cheese
The best way to reheat macaroni and cheese is to add a small amount of milk to the pasta to restore moisture, then cover it with a lid or microwave-safe wrap. This will help to trap the steam during reheating and will help prevent the macaroni and cheese from drying out. Heat it in the microwave on 50% power for one minute increments until it reaches the desired temperature. Stirring occasionally can also help distribute the heat and prevent clumping. It's essential to avoid overheating the dish, as this can cause the cheese to separate and the pasta to become mushy.
Frequently Asked Questions
My rice cooker has a timer. How long should I set it for? Set it for 10 minutes but stir after 5 minutes. Check if the pasta is al dente around the 7-8 minute mark.
What should I serve with macaroni and cheese? Try my air fryer roasted broccoli, my simple kale salad, or serve it with your favorite raw veggies and dip them in this cilantro sauce! I like to pair this dish with some sort of vegetable to balance out my plate.
What's the best cheese for macaroni and cheese? I liked the flavor of the extra sharp cheddar, but you could also do a mix of half cheddar and half gouda for something different. Since this recipe only requires a few ingredients, I recommend using a high-quality brand of cheese for the best flavor. I used Cabot's extra sharp cheddar cheese for this recipe.
What do I do if my pasta is foaming or bubbling over? If your working with a very small rice cooker and your pasta is bubbling over, add one teaspoon of olive oil with the water and macaroni. This will help prevent the pasta from foaming.
More Mac and Cheese Recipes
Print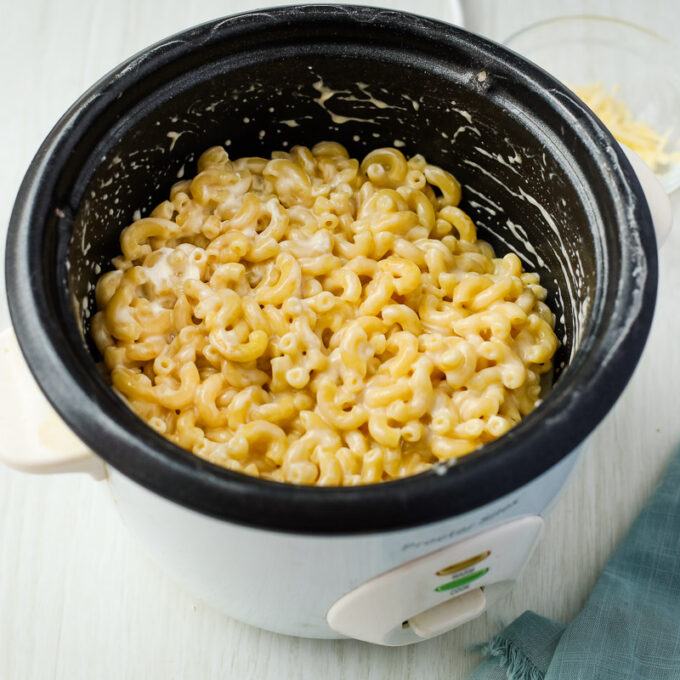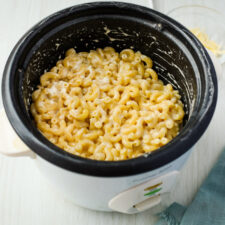 Rice Cooker Mac and Cheese
Author:
Prep Time: 5 minutes
Cook Time: 10 minutes
Total Time: 15 minutes
Yield: 2 cups 1x
Category: Dinner
Method: Rice Cooker
Cuisine: American
Diet: Vegetarian
---
Description
Did you know you can make rich, creamy macaroni and cheese using your rice cooker? It's quick to make and perfect when you don't have access to a stove!
---
1 cup uncooked macaroni
1 cup water
1/4 cup milk
3/4 cup shredded extra sharp cheddar cheese (3oz)
2 tablespoons cream cheese
Salt and pepper to taste
---
Instructions
Add the macaroni and water to the rice cooker. Cover with the lid and turn the rice cooker on. Mine just has a simple on/off button but if yours has a timer, set it for 5 minutes.
After 5 minutes, stir to ensure the pasta doesn't stick to the bottom. It will likely need to cook for a total of 7 minutes, but taste it until it's al dente.
The water will evaporate as the pasta cooks so there won't be much water left once the pasta is al dente. Add the milk, cream cheese, and cheddar cheese.
Stir until combined. Add salt to taste.
---
Keywords: rice cooker macaroni and cheese