Romesco Sauce with Roasted Vegetables
If you love the flavor of roasted red peppers, you'll be addicted to this easy Romesco sauce! It's the perfect sauce for roasted vegetables!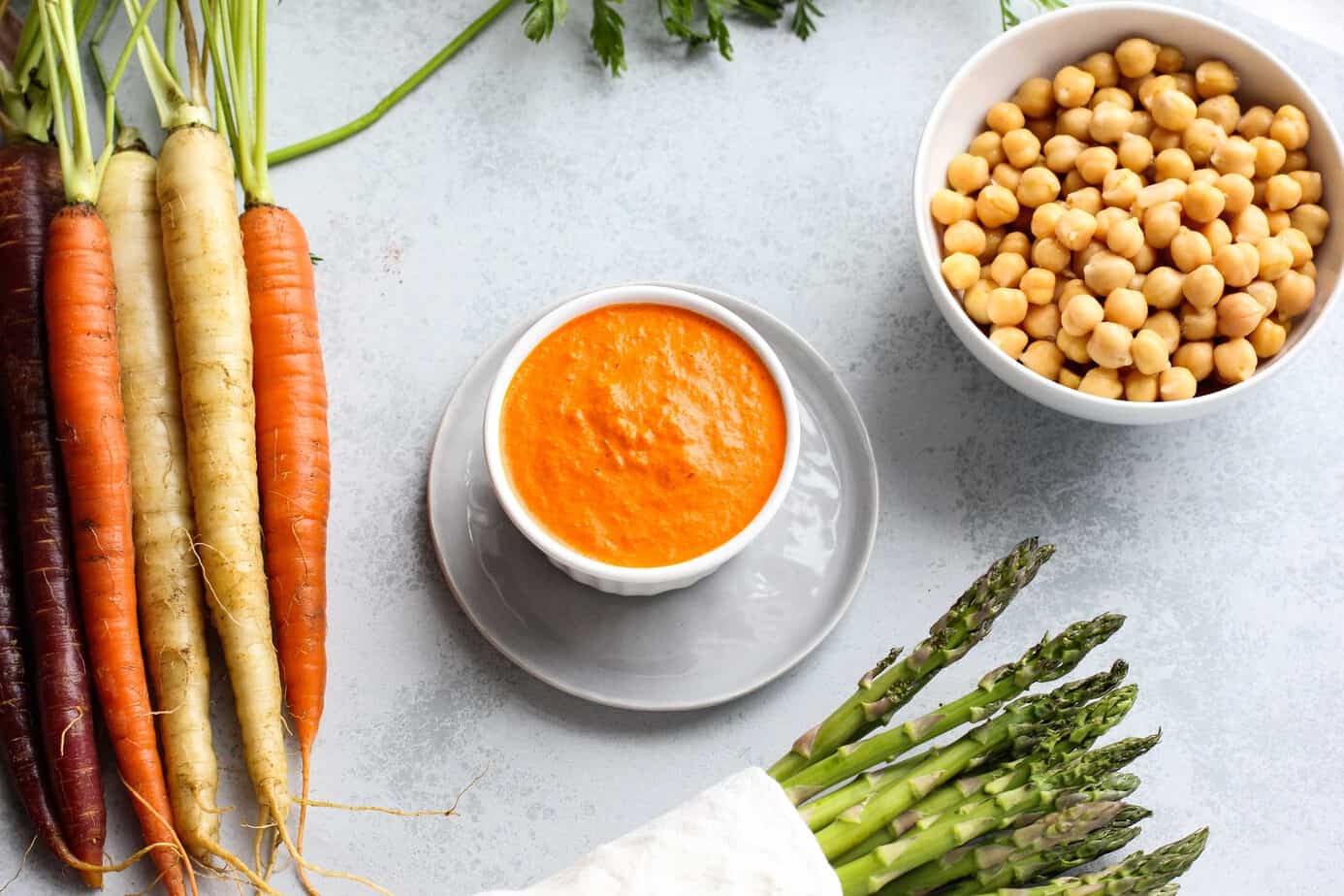 What is Romesco Sauce?
I love roasting vegetables and chickpeas for an easy dinner but this Romesco sauce takes things to the next level. If you're not familiar with Romesco sauce, it's a nut and pepper-based sauce that originated in Catalonia. It's commonly served with fish but I've tried it on everything from roasted vegetables to polenta! Sometimes people confuse romesco with romanesco, which is a type of vegetable similar to broccoli or cauliflower. Romesco is a sauce, romanesco is a vegetable.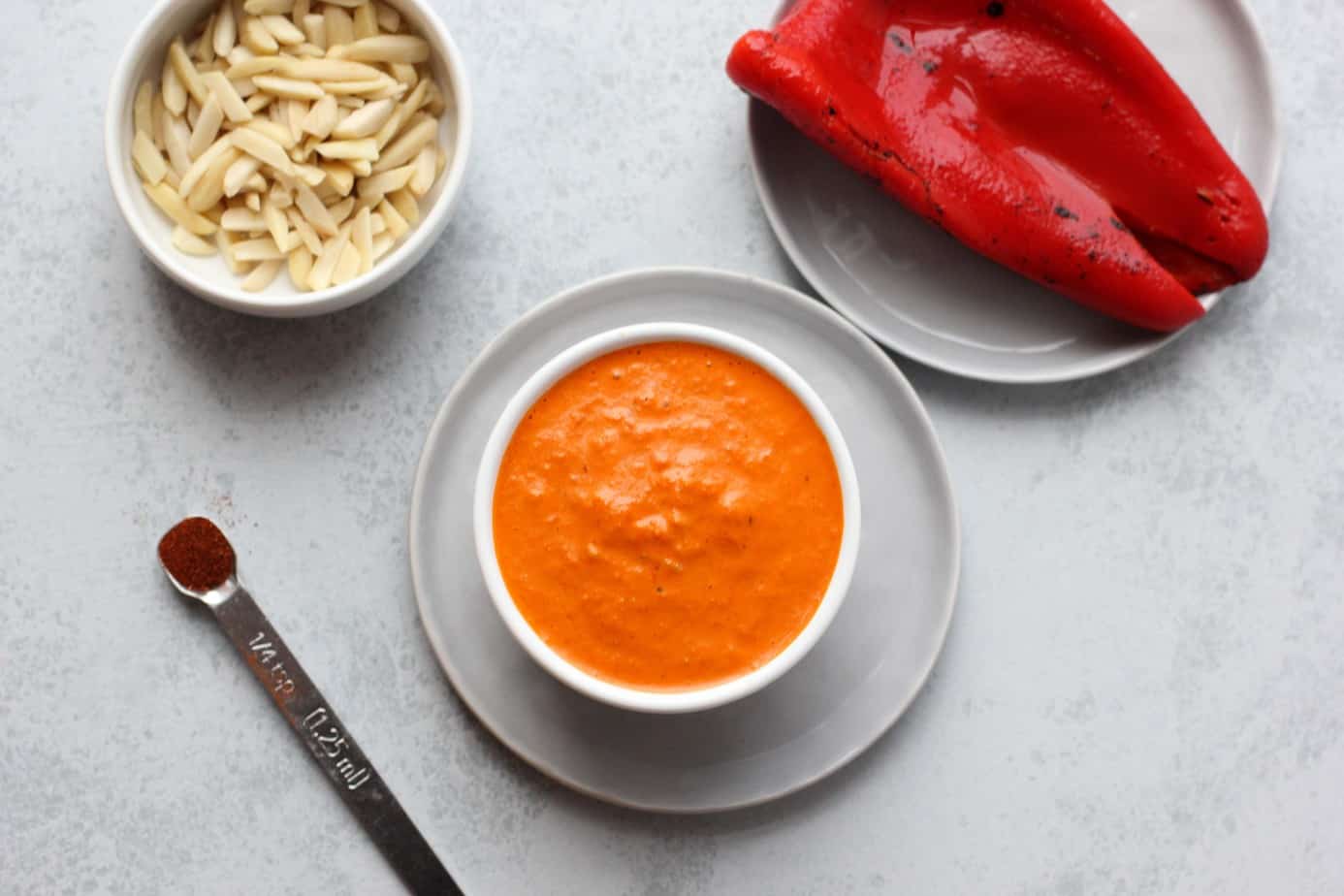 How to Make Romesco Sauce
The sauce comes together easily by throwing everything into a blender. I used jarred roasted red peppers but you could roast your own red bell pepper if you prefer. For this recipe, you'll need one whole pepper. It makes about ½ cup of sauce so you'll likely have a bit extra depending on how much you like on your vegetables!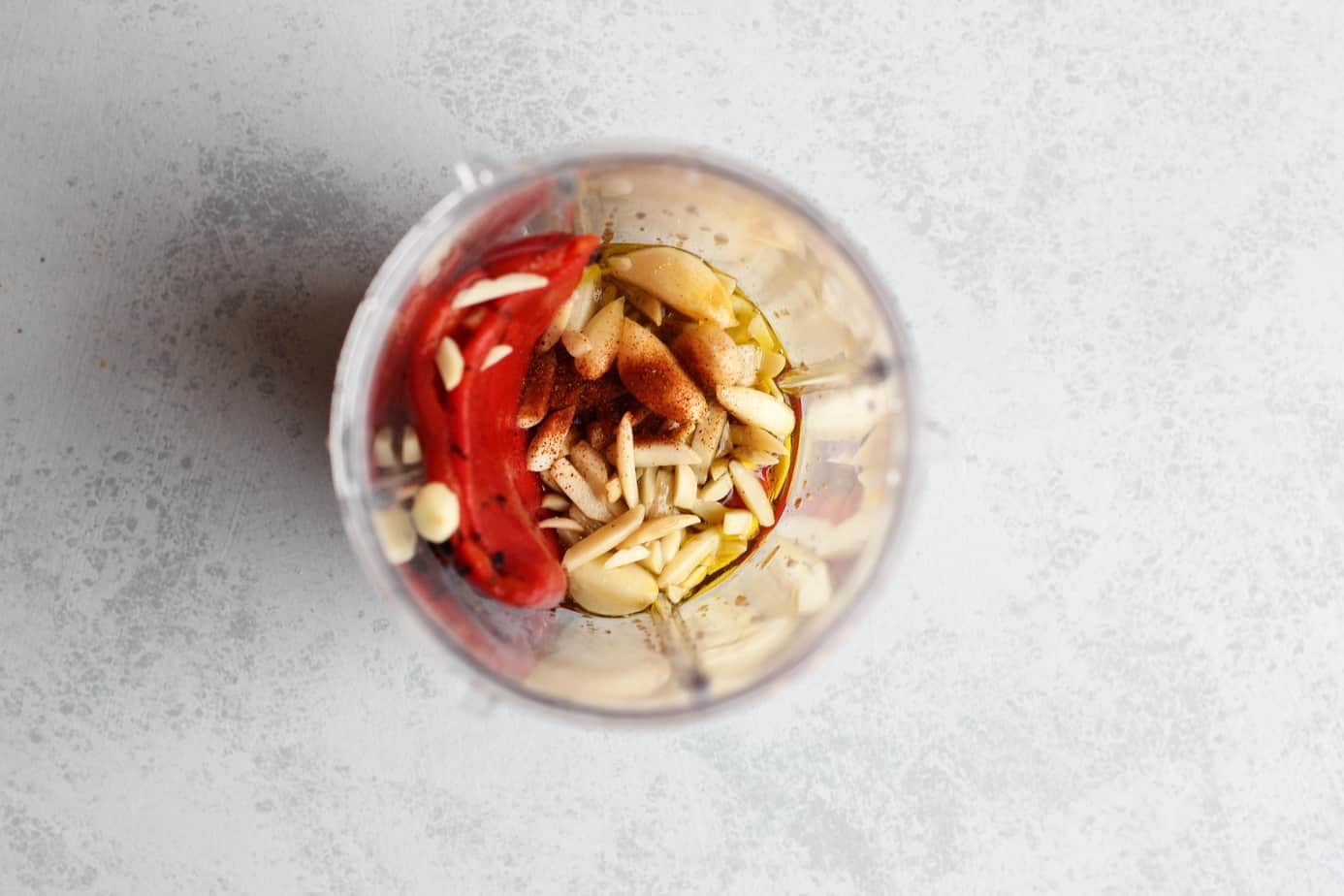 How to Serve Romesco Sauce
I like to drizzle romesco sauce on roasted vegetables. My favorite combination is a rainbow mix of carrots, asparagus, and chickpeas but you could also try this with red potatoes instead of the carrots or green beans in place of the asparagus. Honestly, you could use pretty much anything you have in your fridge.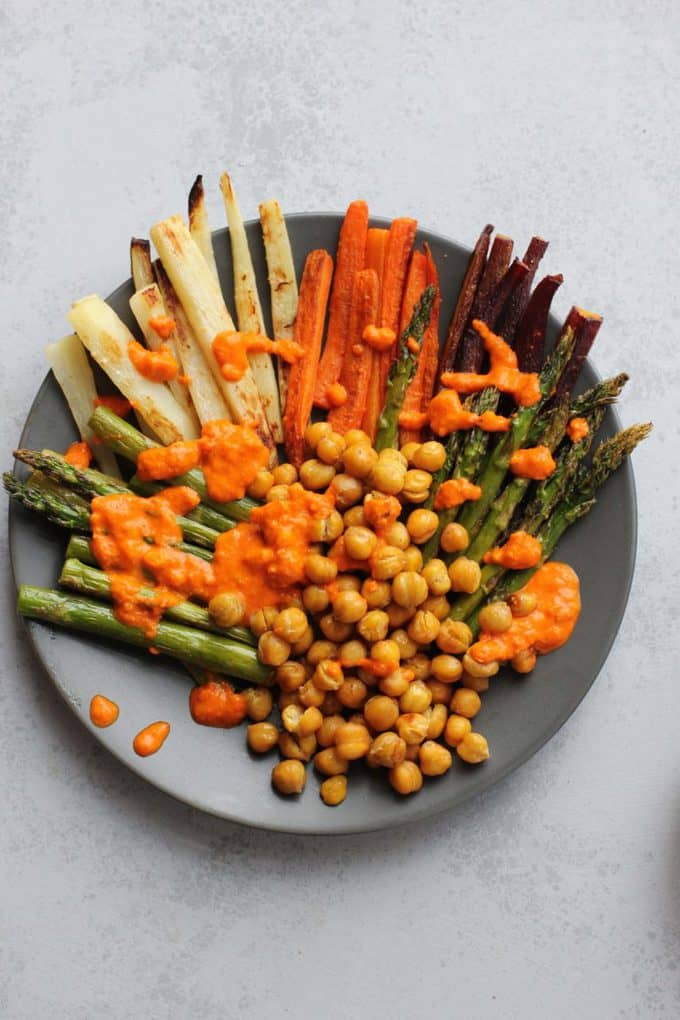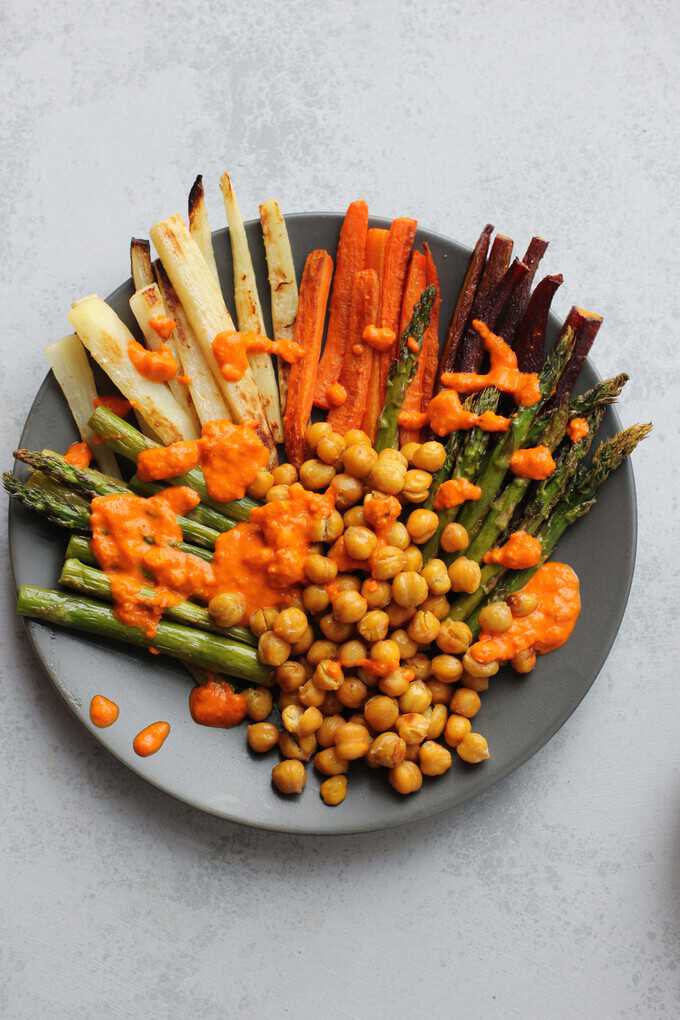 Substitution Ideas
If you don't have raw almonds, you can substitute roasted. It will have a slightly different nutty flavor, but it will still be delicious!
I like to use jarred roasted red pepper for this recipe, but you can roast red peppers in the oven, if you prefer.
You can swap in any vegetables you like. Try roasted broccoli, parsnips, or green beans!
If you're looking to add a little more greens into the mix, you could serve this over a bed of spinach or mixed greens.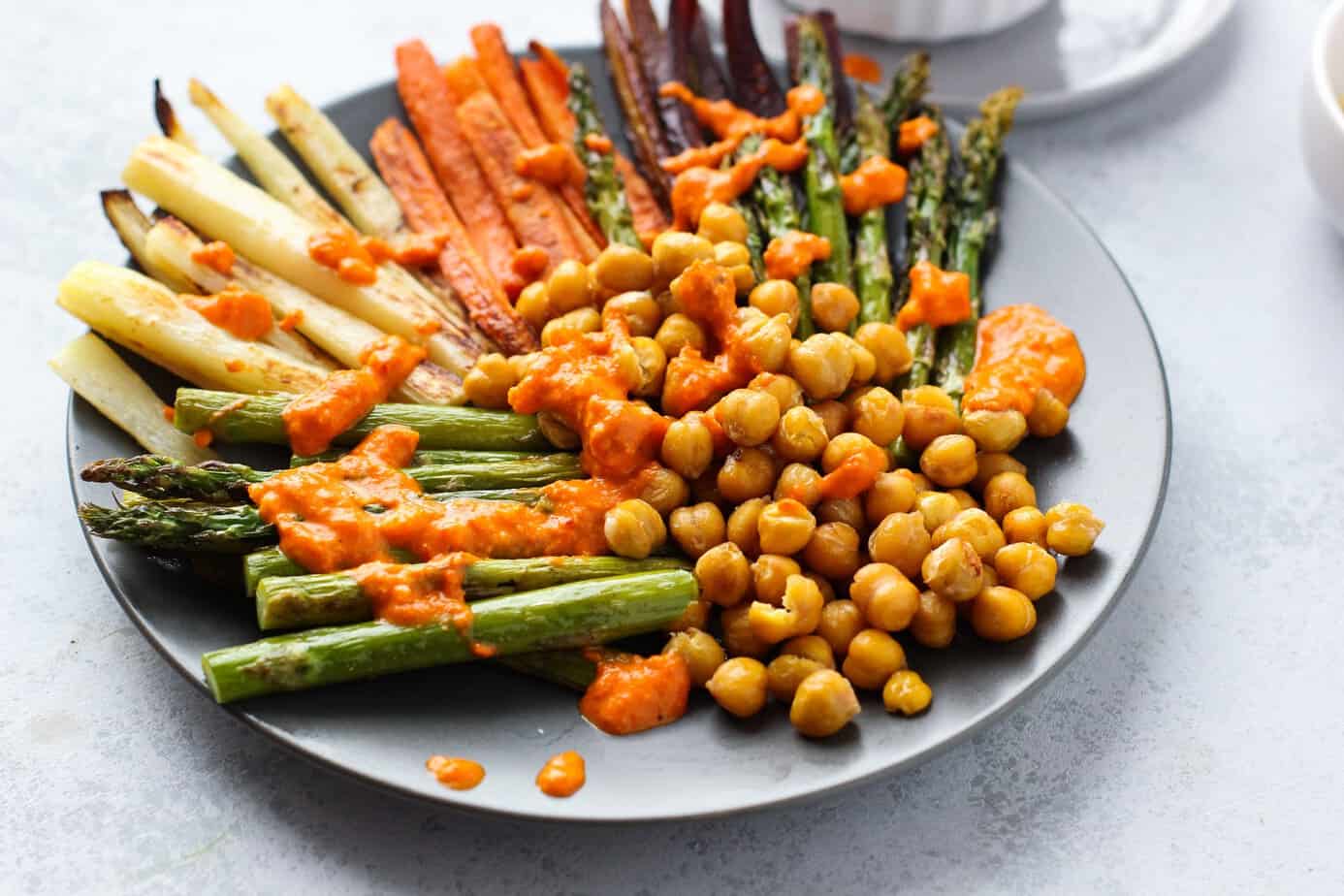 How to Store Romesco Sauce
Store this sauce in the fridge in an airtight container for about a week or freeze for up to 1 month. If you do have leftovers, this sauce is also delicious on pasta or as a sandwich spread, almost like a pesto.
The Best Sauces for Roasted Vegetables
I love this romesco sauce with roasted vegetables, but if you're looking for a few other sauce ideas to drizzle over your roasted vegetables, here are a few more to try:
Print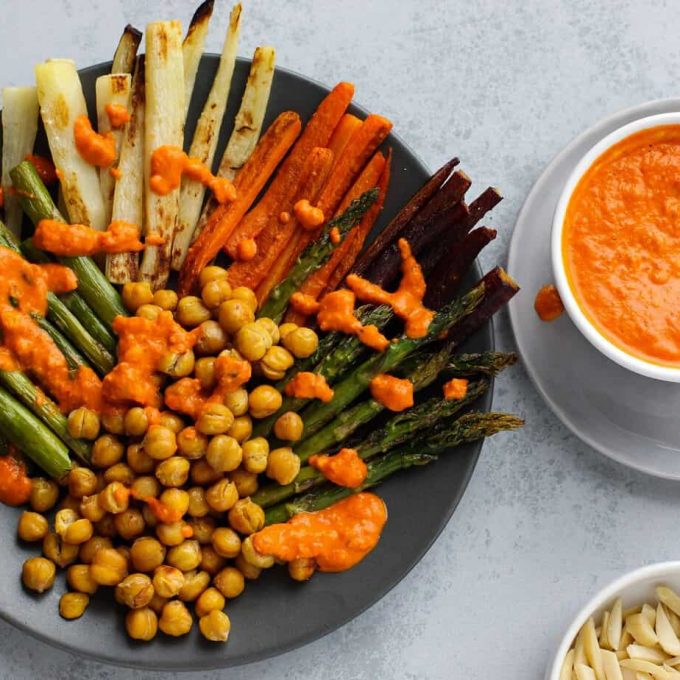 Romesco Sauce with Roasted Vegetables
Author:
Prep Time: 10 minutes
Cook Time: 30 minutes
Total Time: 40 minutes
Yield: 1/2 cup sauce (serves 4) 1x
Category: Dinner
Method: Roasting
Cuisine: Spanish
---
Description
If you love the flavor of roasted red peppers, you'll be addicted to this easy Romesco sauce! It's delicious drizzled over these roasted vegetables and crispy chickpeas.
---
6 oz roasted red pepper (about 1 large pepper)
¼ cup slivered raw almonds
6 cloves garlic
¼ cup olive oil, plus 1 tablespoon divided
1 tablespoon red wine vinegar
¼ teaspoon paprika
¼ teaspoon salt
8 large carrots, quartered and cut into 3" pieces
2 15oz can chickpeas, rinsed and drained
1 lb asparagus, washed and ends trimmed
---
Instructions
Preheat the oven to 425 degrees.
Cover a large baking tray with parchment paper. (If you don't have parchment paper, you can spray the pan with a bit of non-stick spray.)
To make the sauce, combine the roasted red pepper, almonds, garlic, ¼ cup olive oil, red wine vinegar, paprika, and salt in a food processor or blender. Blend until just slightly chunky.
Toss the carrots, chickpeas, and asparagus with the remaining tablespoon of oil. Alternatively, you can spray them with olive oil to evenly coat.
Spread the carrots and chickpeas onto a single layer on the baking sheet covered in parchment paper. You may need two baking sheets depending on how large the pans are.
Roast the carrots and chickpeas for 15 minutes then use a spatula to flip them over. Add the asparagus to the oven and continue to cook for 10-15 minutes until the chickpeas are crispy and the carrots and asparagus are lightly browned.
Combine the chickpeas and vegetables then divide evenly onto separate plates. Drizzle with the Romesco sauce.
---
What's your favorite roasted vegetable?