Parmesan Green Beans
These delicious Parmesan green beans are roasted in the oven, seasoned with garlic and topped with Parmesan cheese and lemon zest for a simple and easy side dish!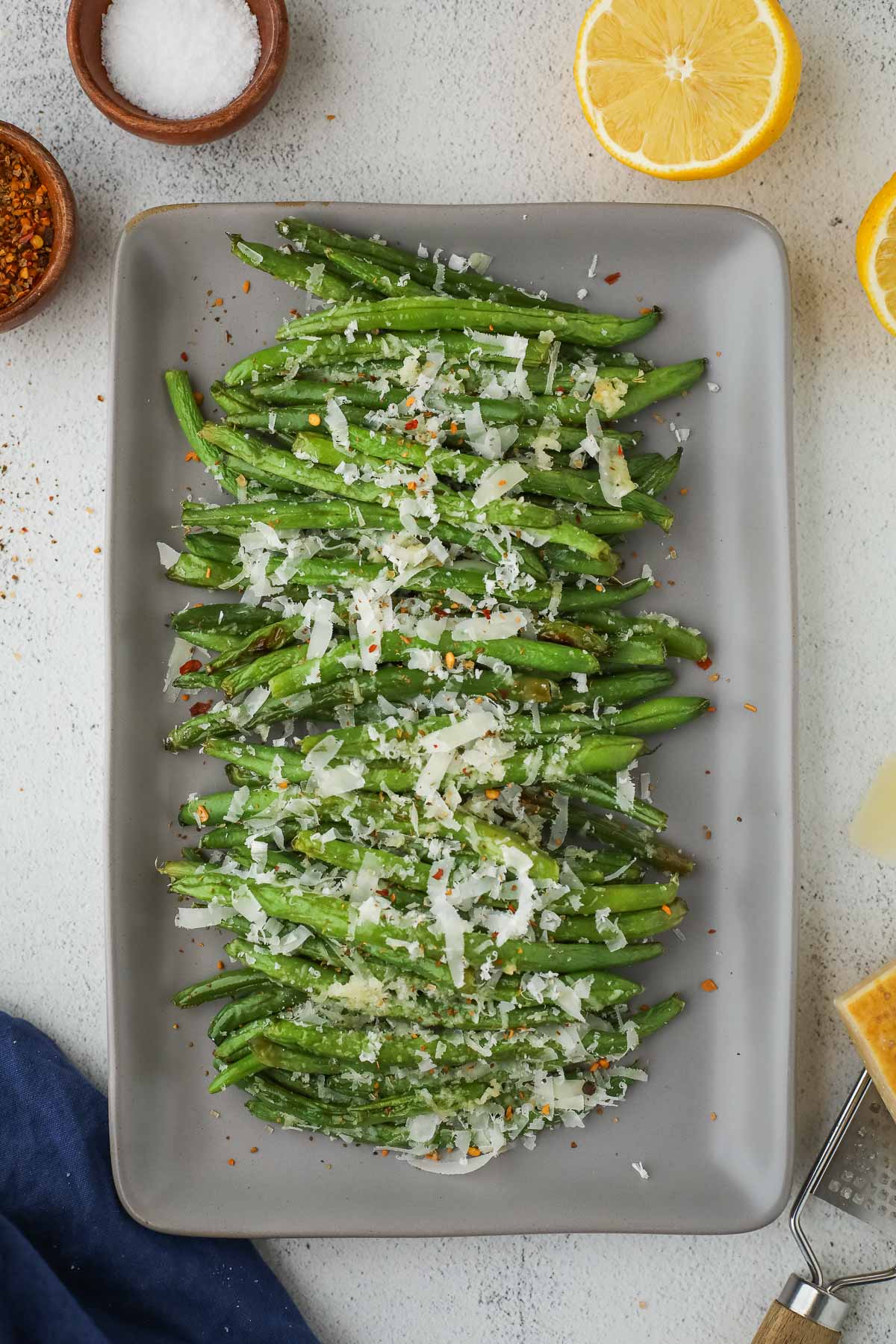 For years, I thought I didn't like green beans. Growing up, all we ever had was canned green beans, and while those have a time and a place, fresh green beans taste like a completely different food. Once I tried roasting fresh green beans, I was hooked. These Parmesan green beans take things to the next level, but they're still very simple to make.
Ingredients & Substitutions
Green beans: Fresh green beans are the star ingredient of this dish. They provide a crisp and fresh texture and add a vibrant green color. They are a good source of vitamins and fiber.
Olive oil: The oil adds a touch of richness and also helps to prevent sticking. A suitable substitute for olive oil would be avocado oil or canola oil.
Parmesan cheese: Freshly grated Parmesan cheese is sprinkled over the green beans to add a salty and nutty flavor. Feel free to substitute another hard cheese such as Pecorino Romano or Grana Padano.
Lemon: A combination of lemon juice and lemon zest adds an acidic bite that balances the overall flavor of the dish. You can substitute with red wine vinegar, if needed.
Garlic powder: Garlic powder is used to add a hint of garlic flavor to the green beans. If you don't have garlic powder, you can use minced garlic or garlic salt as a substitute.
Crushed red pepper: This is optional, but if you want to add a little spicy flavor, add a sprinkle of crushed red pepper flakes, too.
How to Make Roasted Green Beans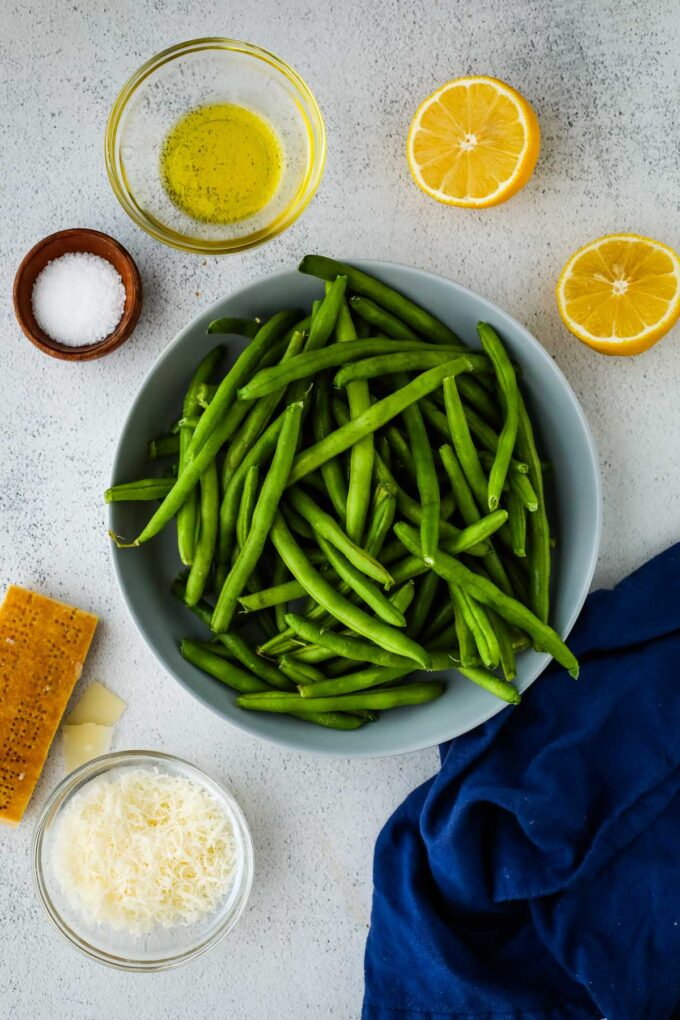 Variations and Substitutions
For crispy green beans, toss with 1/4 cup of Panko crumbs before baking or try these crispy green bean fries.
If you want to keep this vegan, skip the Parmesan cheese or substitute it with vegan Parmesan cheese.
Do not substitute canned beans. Fresh green beans are required for this recipe.
Tips for Roasting Green Beans
Use a rimmed baking sheet: Opt for a rimmed baking sheet or a baking pan to roast green beans. The rim helps to contain any juices that may be released during the cooking process.
Toss with oil and seasonings: Coat the green beans with a drizzle of olive oil or your preferred cooking oil. This helps to prevent them from drying out and adds flavor. Tossing the beans in a large bowl make it easier to distribute the seasonings.
Spread in a single layer: Arrange the green beans in a single layer on the baking sheet. This allows for even roasting and prevents overcrowding, which can lead to steaming instead of roasting. You may need to use two baking sheets if your pans are small.
How to Reheat Leftovers
These green beans are best enjoyed immediately, but if you do have leftovers, you can keep them for later. To store leftover roasted green beans, let them cool, transfer them to an airtight container, and refrigerate promptly. When ready to enjoy, reheat in the oven or air fryer at 350 degrees for about 3-4 minutes until warm.
Ways to Serve Parmesan Green Beans
These green beans are a great side dish or appetizer to serve with your favorite main dish! Try it with this Dutch oven risotto, cottage cheese pasta, or creamy broccoli pasta. If you're looking for other ways to make green beans, try my air fryer green beans!
Print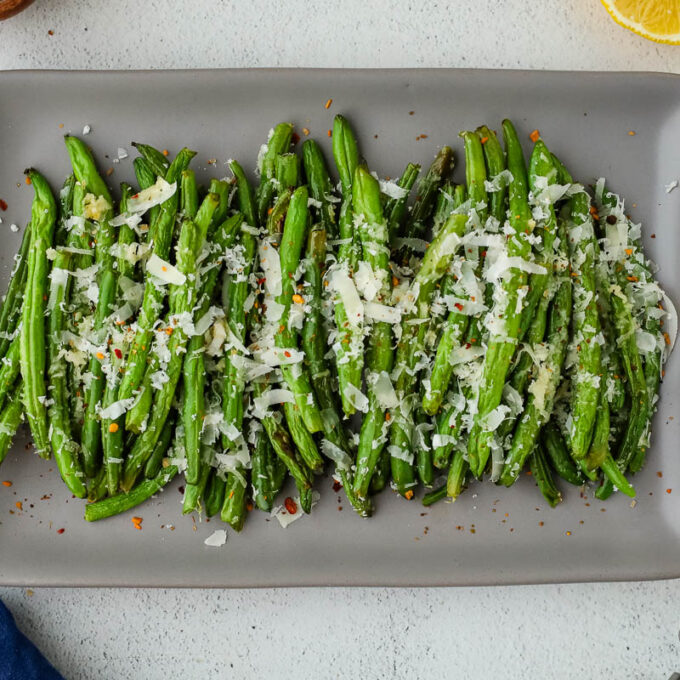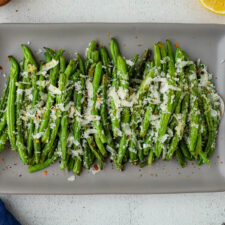 Parmesan Green Beans
Author:
Prep Time: 5 minutes
Cook Time: 20 minutes
Total Time: 25 minutes
Yield: 4 cups 1x
Category: Side Dish
Method: Oven
Cuisine: American
Diet: Vegetarian
---
Description
These delicious Parmesan green beans are roasted in the oven, seasoned with garlic and topped with Parmesan cheese and lemon zest for a simple and easy side dish!
---
1lb fresh green beans
2 tablespoons olive oil
1/4 teaspoon garlic powder
2 teaspoons lemon juice
Zest from one lemon (optional)
1/3 cup grated Parmesan cheese
Crushed red pepper flakes (optional)
Salt to taste
---
Instructions
Preheat your oven to 425°F and line a baking sheet with parchment paper.
Wash and trim the fresh green beans by cutting off the ends.
In a large bowl, toss the green beans with olive oil, lemon juice, and garlic powder until they are evenly coated.
Spread the green beans out on the prepared baking sheet in a single layer.
Place the baking sheet in the preheated oven and bake for about 15-20 minutes or until the green beans are tender.
Remove the baking sheet from the oven and top with lemon zest, Parmesan cheese, and crushed red pepper, if using. Season with salt to taste.
---
Keywords: Parmesan Green Beans