Rice Cooker Rice Pilaf
This delicious rice pilaf is made in a rice cooker for an easy, flavorful side dish! This is a mostly hands-off recipe, making it a perfect recipe for busy nights!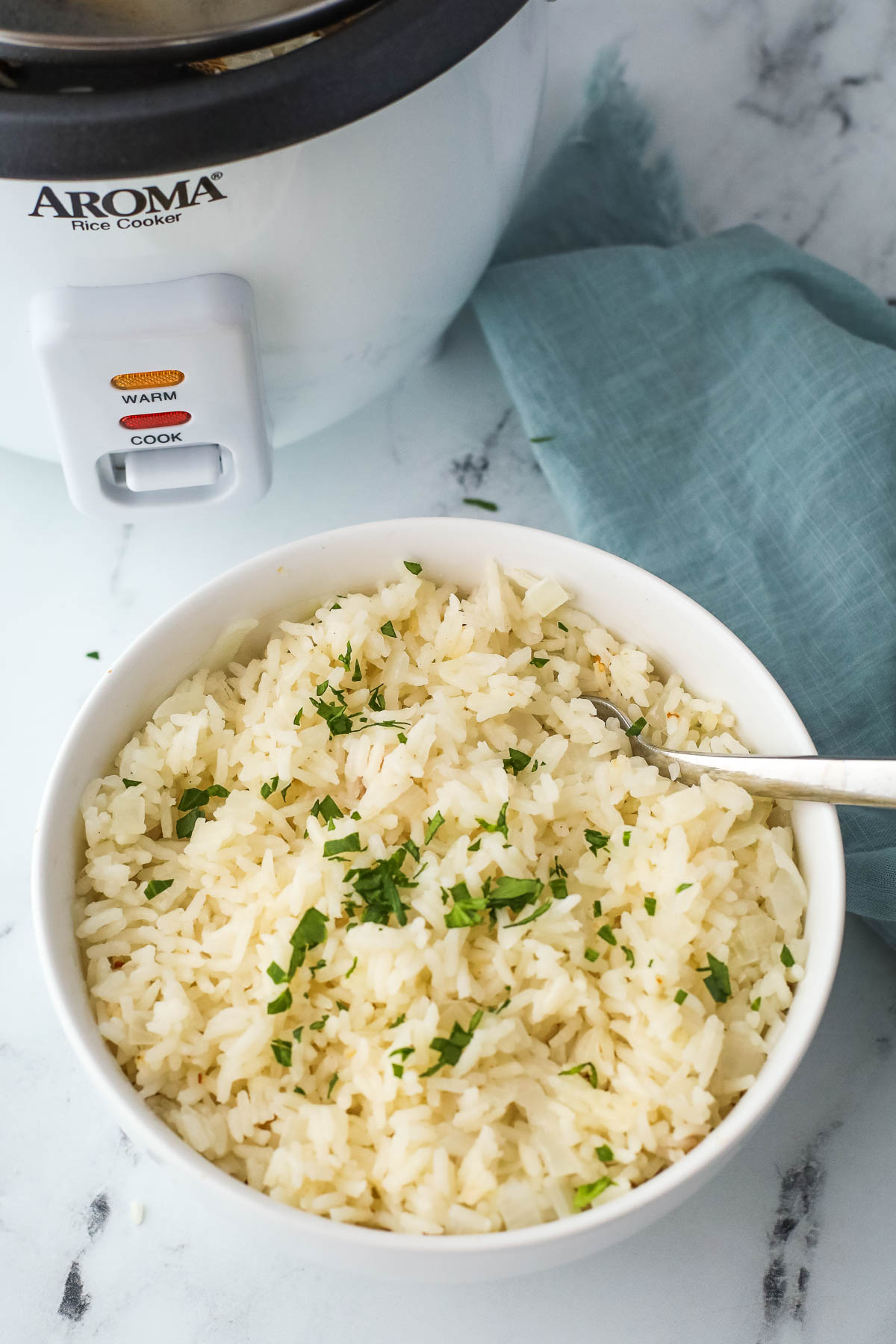 What is Rice Pilaf?
Rice pilaf is a flavorful dish that is easy to make. Rice is cooked with butter, onion, and spices, then broth or water is added, and the rice is simmered until it absorbs the liquid and becomes tender. Toasting the rice in butter before cooking brings out a slightly nutty, savory flavor. It's a great way to elevate a few basic pantry staples into a tasty side dish!
Can you make rice pilaf in a rice cooker?
Yes! While rice pilaf is traditionally made on the stove, it's easy to make in a rice cooker! We start by cooking onion in a little bit of butter in the rice cooker. Then we toast the rice, add some seasonings, and add the broth and cook until the rice is fluffy. It's easy!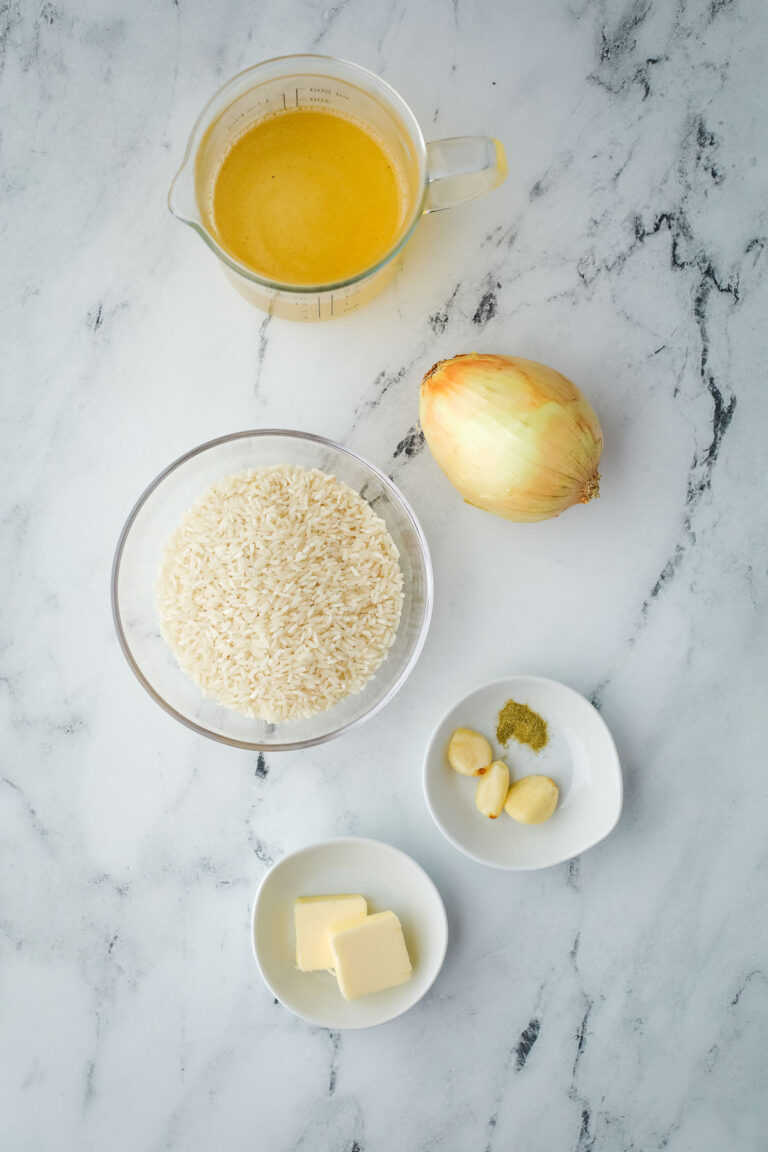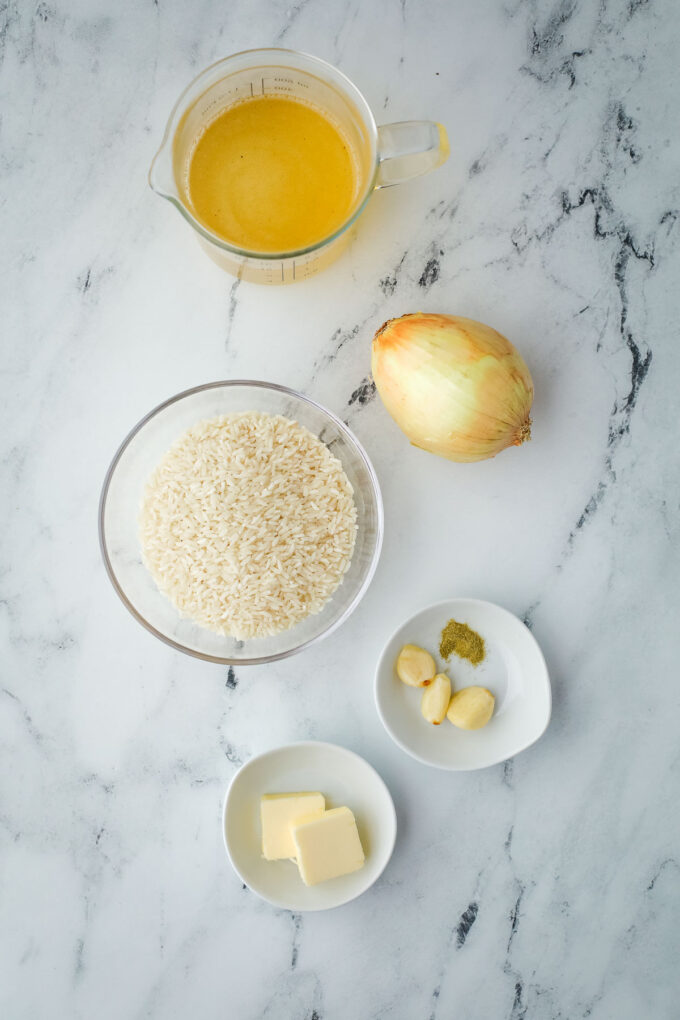 Ingredients & Substitutions
Butter– The butter adds richness and flavor to the rice pilaf. When sautéed with the onions and garlic, it forms the base of the dish and imparts a delicious, slightly nutty taste. You can use olive oil or vegan butter if you prefer a dairy-free option.
Onion– The onion is one of the aromatics that provide a savory foundation for the pilaf. It adds depth of flavor and a hint of sweetness when sautéed. You can use shallots or white onion if you don't have yellow onion on hand.
Long-Grain White Rice– The rice is the star of the show! It becomes beautifully fluffy and tender as it absorbs the flavorful broth and aromatics. The choice of long-grain rice ensures the grains remain separate and distinct.
Garlic– Garlic adds a wonderful aromatic quality and a touch of savory flavor to the rice pilaf. If you're not a fan of garlic, you can omit it or use garlic powder for a milder flavor.
Thyme– Dried thyme introduces an earthy, slightly floral note to the pilaf. Its subtle fragrance enhances the overall taste. You can leave it out if you don't have any.
Vegetable Broth– The broth provides the liquid that the rice absorbs while cooking. It's essential for infusing the rice with flavor and ensuring a tasty, not bland, result.
How to Make Rice Pilaf in a Rice Cooker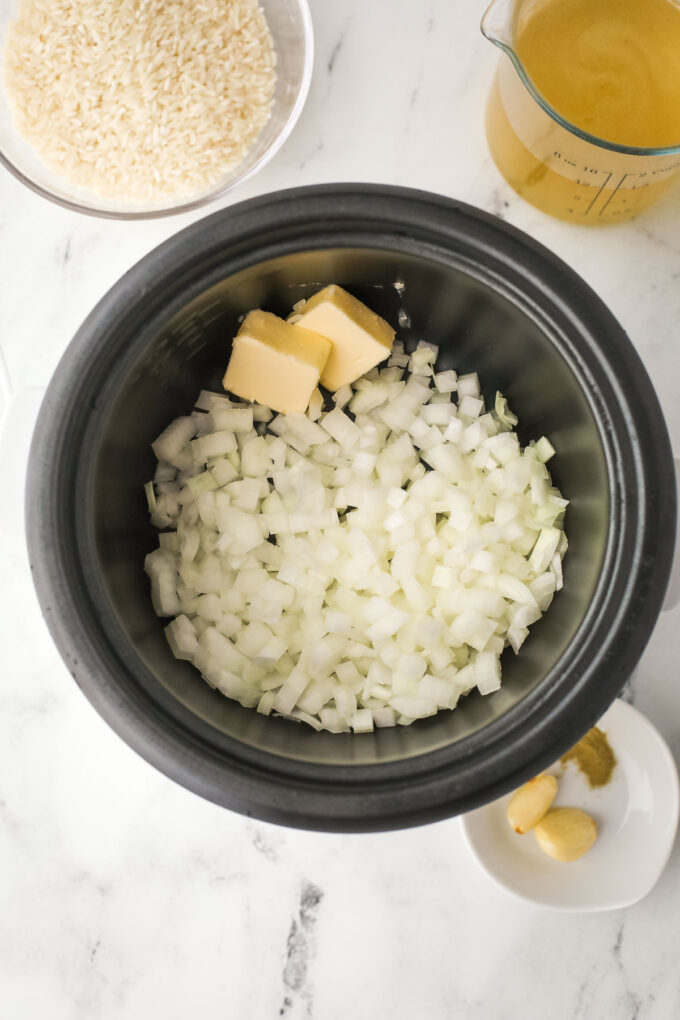 How Does a Rice Cooker Work?
When you press the "cook" button, the rice cooker's internal sensor detects the temperature and moisture inside. As the water heats up and starts to boil, it's absorbed by the rice. Rice cookers are designed to be foolproof and versatile. Many models come with additional settings for different types of rice, such as white, brown, jasmine, or even sushi rice. Some advanced rice cookers also have features like delay timers, steamers for vegetables, and even options for cooking other grains like quinoa. I have a very basic model with just two settings: cook and warm. That's really all you need!
What Kind of Rice Cooker Do I Need?
You don't need anything fancy. I have this basic Aroma rice cooker that I got on Amazon and it's great. It's less than $20 and it can make up to 6 cups of rice. There are plenty of expensive ones on the market, but you don't need anything special to make rice pilaf.
Ways to Use Rice Pilaf
Not sure what to do with your rice pilaf? Serve it alongside vegetable curry or enjoy it with chana masala. Pair it with a Greek salad or as a side dish with roasted vegetable kabobs. It also makes a great base for a grain bowl or burrito bowl!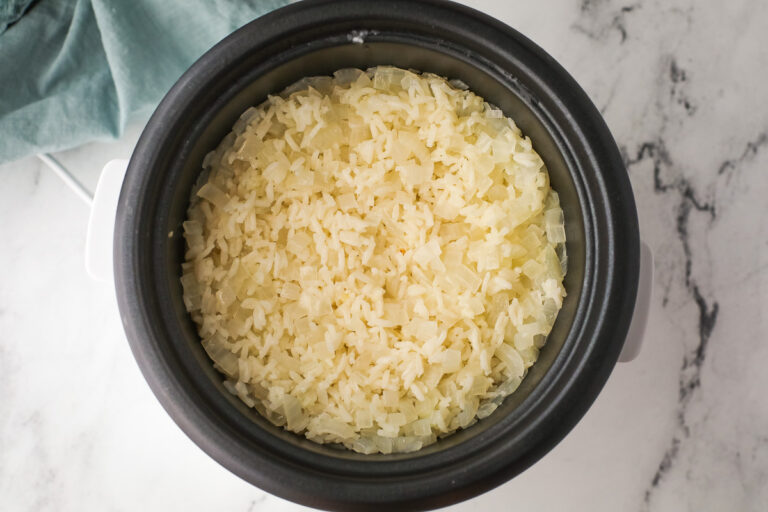 More Rice Cooker Recipes
If you're looking for more ways to use your rice cooker, try my rice cooker quinoa, cilantro lime rice, Mexican rice, rice and beans, or macaroni and cheese! Yes, you can make comfort food in a rice cooker. It's great for a college dorm or when you're using your stovetop for other recipes.
Print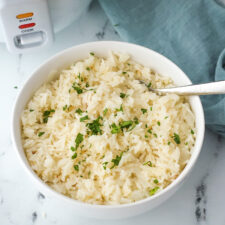 Rice Cooker Rice Pilaf
Author:
Prep Time: 5 minutes
Cook Time: 20 minutes
Total Time: 25 minutes
Yield: 3 cups 1x
Category: Side Dish
Method: Rice Cooker
Cuisine: American
Diet: Vegetarian
---
Description
This delicious rice pilaf is made in a rice cooker for an easy, flavorful side dish! This is a mostly hands-off recipe, making it a perfect recipe for busy nights!
---
2 tablespoons unsalted butter
1 small yellow onion, diced
1 cup long-grain white rice
3 garlic cloves, minced
1/4 teaspoon dried thyme
1 1/2 cups vegetable broth
Salt to taste
---
Instructions
Add the butter and onion to the rice cooker and flip the rice cooker switch to "cook."  Cook the onion for 3-4 minutes, stirring frequently, until the onion softened.
Add the rice and continue to cook while stirring frequently for 2 minutes. 
Add the garlic and thyme and cook for 30 seconds.
Add the broth and stir to combine, ensuring that the rice and onion aren't sticking to the bottom of the pot.
Place the lid on the rice cooker and allow the rice cooker to complete the cooking cycle. Once all the water is absorbed, the rice cooker will automatically shut off. Be sure to stop the cooking as soon as the rice cooker shuts off. (Some models will keep the rice warm, which can lead to burning on the bottom.)
Remove the lid and fluff with a fork. Season with salt to taste.
---
Keywords: rice cooker rice pilaf, easy rice pilaf