Easy Chana Masala
This simple chana masala recipe is an easy way to turn canned chickpeas into a deliciously flavorful meal! Skip the takeout and make this tasty recipe at home!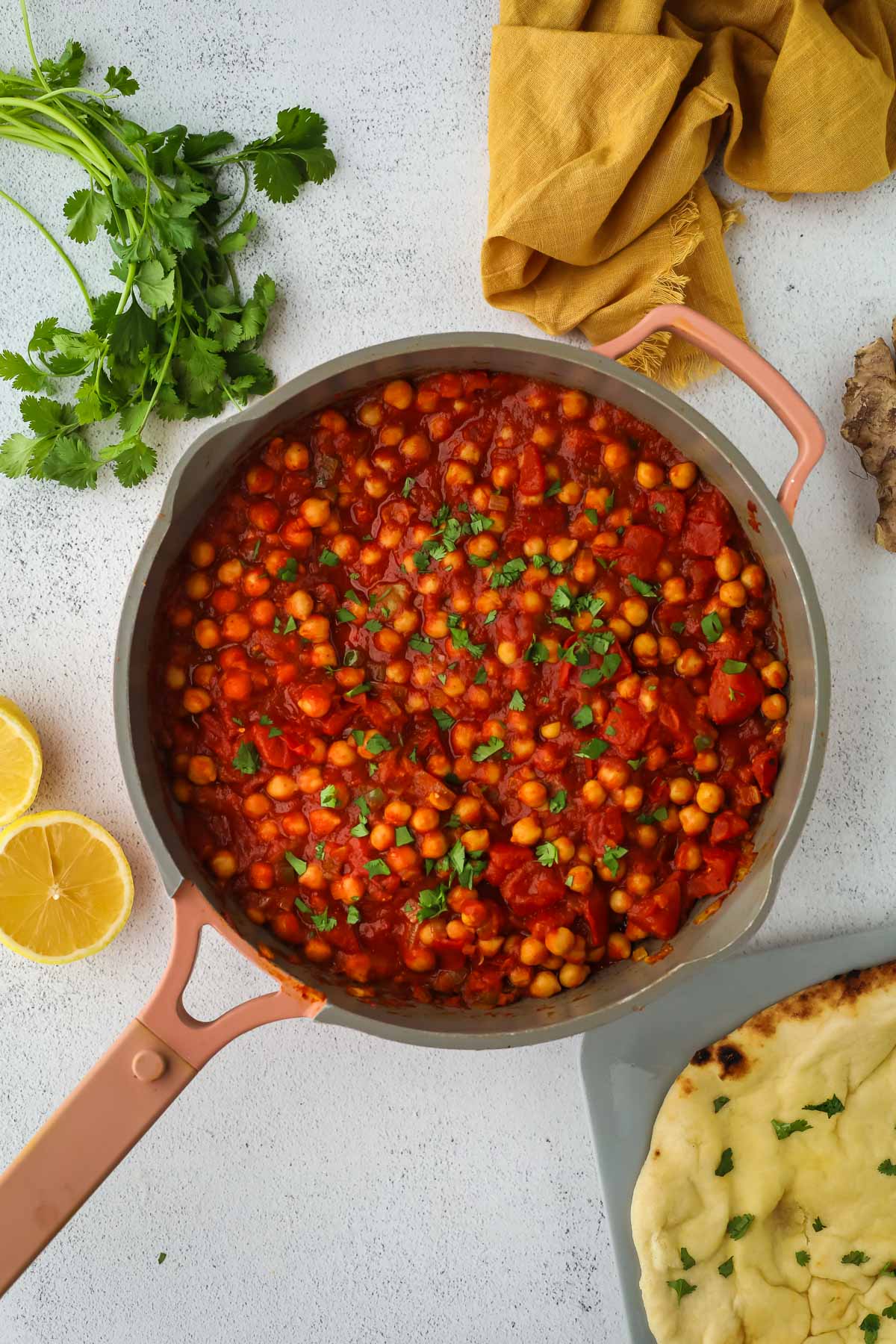 I'm not an expert on Indian food, and I've been hesitant to post this recipe because it's certainly not an authentic chana masala dish. But I've been making this simple version for years, and I love it, so I just had to share it. If you're looking for an authentic Indian recipe, try this one. I wanted to share this recipe because it's somewhat based on this recipe from Eat Live Run, and I've been making it for years. It's a straightforward recipe and a great way to try using different spices that might be new to you. Now that I keep a well-stocked spice cabinet, I can make this recipe anytime I'm craving chana masala and it hits the spot!
Ingredients & Substitutions
Butter: Provides richness and adds depth of flavor to the dish. If you want to make this recipe vegan, you can use olive oil instead.
Yellow onion, garlic, ginger, and serrano or jalapeño pepper: These aromatic ingredients form the base of the dish, infusing it with a fragrant and savory foundation.
Tomato paste: Enhances the dish's tanginess and helps create a luscious tomato-based sauce.
Coriander and cumin: Two essential spices that contribute warm and earthy flavors to the Chana Masala.
Cayenne pepper: Adds a subtle kick of heat to the dish. You can skip this if you want to keep the dish mild.
Turmeric: Provides vibrant color and a mild spicy flavor.
Garam masala: A quintessential spice blend that brings warmth and complexity to the dish.
Diced tomatoes: Adds richness and texture to the sauce, complementing the chickpeas.
Chickpeas: The star of the dish, they provide a hearty and protein-packed base. I used canned chickpeas but if you prefer to use dried chickpeas, make sure to cook them fully before adding them to this recipe.
Lemon: Adds a bright and citrusy note, enhancing the flavors of the dish.
How to Make Easy Chana Masala
What to Serve with Chana Masala
I like to serve this chana masala with rice. Try this Basmati Rice in an Instant Pot for an easy recipe! This is also delicious with garlic naan. I have a recipe for vegan naan if you want to make this quick and easy side dish! If you don't have time to work with yeast, try my simple air fryer flatbread instead.
How to Store Leftovers
To store leftover chana masala, let it cool then transfer to an airtight container and refrigerate promptly. It can be stored in the refrigerator for up to 3-4 days. When ready to eat, reheat it on the stovetop or in the microwave, adding a splash of water or vegetable broth if needed.
More Chickpea Recipes
If you love chickpeas, try my Mediterranean Chickpea Bowls, 15 Minute Chickpea Tacos, or Lemon Chickpea Soup!
Print
Easy Chana Masala
Author:
Prep Time: 15 minutes
Cook Time: 45 minutes
Total Time: 1 hour
Yield: 6 cups 1x
Category: Dinner
Method: Stovetop
Cuisine: Indian-Inspired
Diet: Vegetarian
---
Description
This simple chana masala recipe is an easy way to turn canned chickpeas into a deliciously flavorful meal! Skip the takeout and make this tasty recipe at home!
---
2 tablespoons butter
1 large yellow onion, diced
3 garlic cloves, minced
1-inch knob ginger, peeled and grated
1 serrano or jalapeño pepper, seeded and chopped
3 tablespoons tomato paste
1 tablespoon ground coriander
1 teaspoon cumin
1/2 teaspoon salt
1/4 teaspoon cayenne pepper (omit if you don't like it spicy)
1 teaspoon turmeric
1 teaspoon garam masala
1 15oz can diced tomatoes
1 8oz can tomato sauce
2 15oz cans of chickpeas, drained and rinsed
1 lemon
2 tablespoons chopped fresh cilantro
---
Instructions
In a large skillet, melt the butter over medium-low heat.
Add the thinly sliced onions and cook for about 15 minutes until they turn golden brown and caramelized.
Stir in the minced garlic, grated ginger, and serrano pepper, cooking for about 2 minutes until fragrant.
Add the tomato paste and a pinch of salt, stirring well to incorporate. Cook for 6 minutes, stirring frequently.
Mix in the ground coriander, cumin, cayenne pepper, and turmeric, and continue to cook for 3 minutes.
Add the diced tomatoes, tomato sauce, and drained chickpeas to the skillet, stirring everything together.
Cook the mixture for about 10-12 minutes until the chickpeas are heated through.
Finish the dish with a squeeze of lemon juice and top with fresh cilantro.
Serve with rice or naan, if desired.
---
Keywords: chana masala, easy chana masala, simple chana masala