Pasta with Lentils
This pasta with lentils is a hearty plant-based meal that is filled with protein! It's a great way to turn simple pantry staples into a deliciously filling dinner!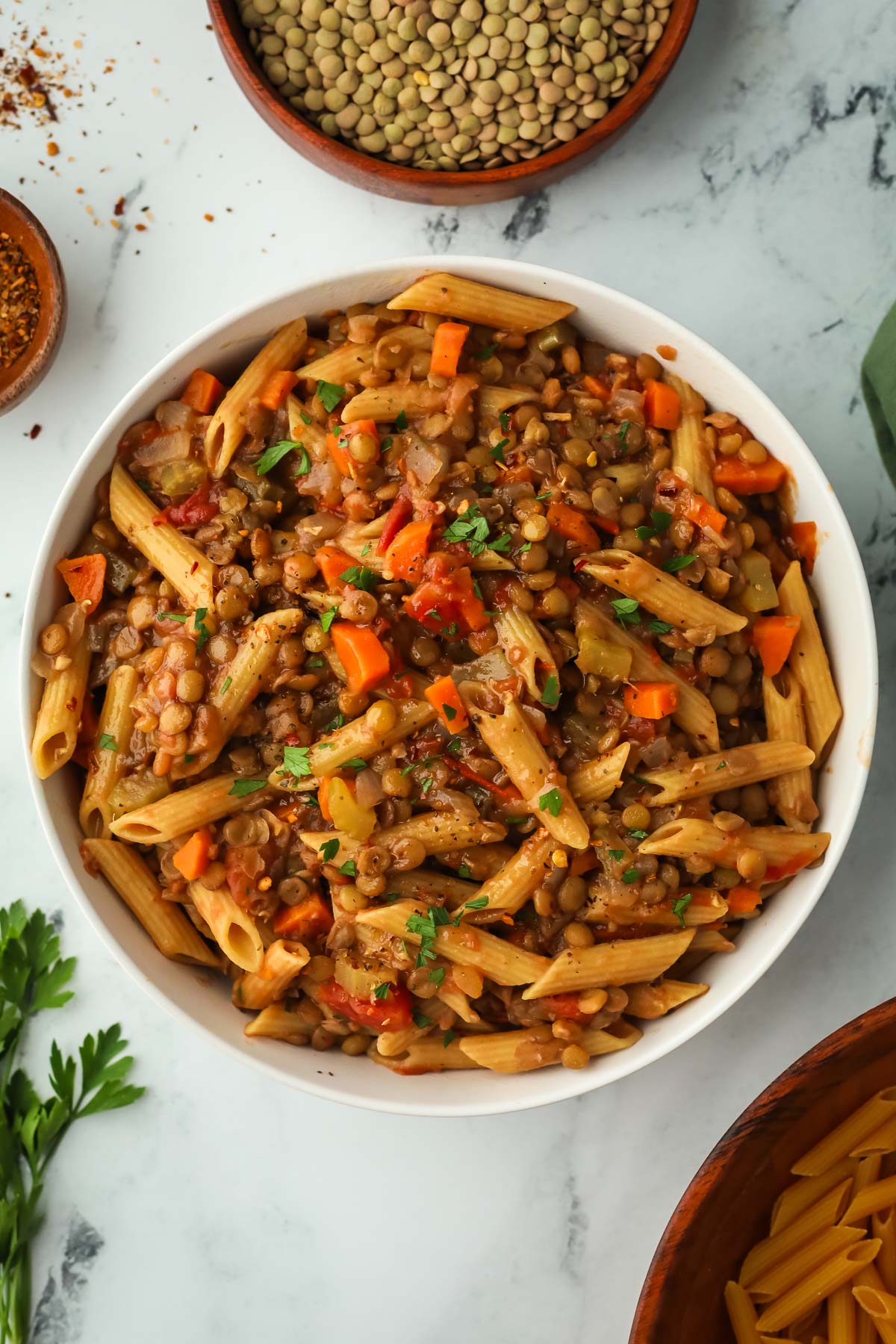 I'm always looking for ways to add more protein to my meals and this pasta with lentils is my new favorite protein-packed meal! It's plant-based, easy to make, and it mainly uses pantry staples. That means even when my fridge is looking a little empty, I can make a delicious and healthy meal without running to the grocery store.
I loosely based this recipe of this pasta and lentils from the NYT but obviously, I had to add my own twist. I added more vegetables, used whole wheat pasta, and added enough flavor that the Parmesan cheese can be optional, so it's easy to keep this vegan.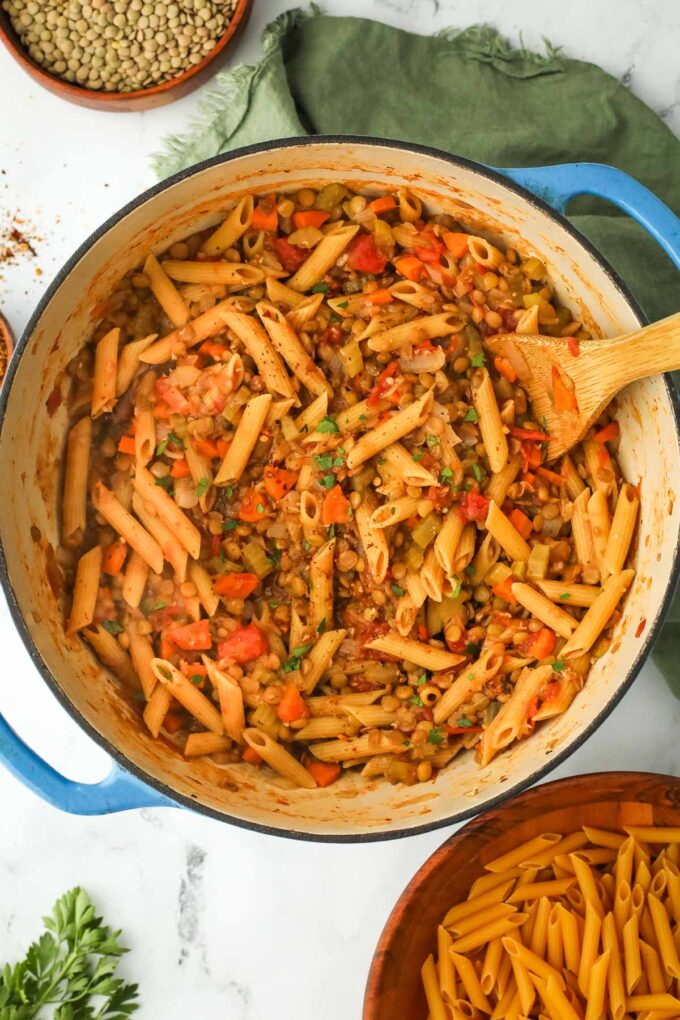 Why I Love Lentils
I love cooking with lentils because they're an inexpensive plant-based protein. They contain a whopping 9 grams of protein per 1⁄2-cup serving. A bowl of lentil soup like this one can easily provide more than 20 grams of protein. They're easy to keep in the pantry because they last a long time and they can be used in anything from soups to salads!
Types of Lentils
There are quite a few types of lentils, and they're not necessarily interchangeable.
Red lentils become very soft and breakdown when cooked. These can be great for puréed soups because they can thicken the broth. If you only have red lentils, try making this pasta sauce instead!
French lentils are sometimes called lentils de puy. These small, black lentils keep their shape well and are great tossed on salads or in wraps. These are often a favorite for meal prepping because they won't get mushy after being cooked.
Brown or Green lentils maintain their shape when cooked, but become soft with just enough "bite." Brown or green lentils can be used interchangeably and that's the type of lentil we'll use in this pasta recipe.
Tips for Cooking Pasta with Lentils
I recommend cooking the pasta until it reaches al dente, meaning it's still a bit firm to the bite. It will continue to soften as it sits in the warm lentils, and if you overcook it, it can become mushy.
You need to use brown or green lentils in this recipe. Black lentils and red lentils cook differently.
Cooking the pasta in vegetable broth helps add flavor. I like Edward & Son's "not chicken" broth, which has a great flavor. You may want to use a low-sodium broth to control the saltiness if you're trying to watch your sodium intake.
This recipe reheats well! Store it in an airtight container in the fridge and reheat leftovers in the microwave as needed. If the pasta begins to dry out when reheated, add a splash of broth.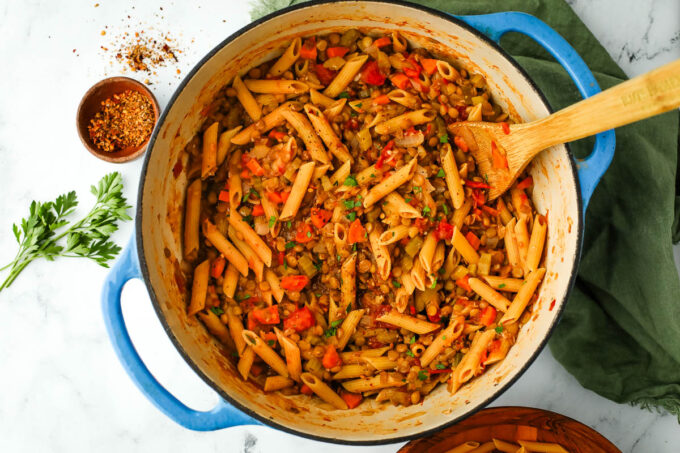 The Best Sides to Serve with Pasta
Looking for a delicious and healthy side dish? Try pairing this pasta with my vegan chopped salad or air fryer broccoli! You could also enjoy it with an appetizer like whipped goat cheese or pair it with this whole roasted cauliflower. For more ideas, check out this list of sides to serve with pasta.
More Pasta Recipes
If you're looking for more high protein pasta recipes, try my cottage cheese pasta sauce, red lentil bolognese, or high protein macaroni and cheese!
Print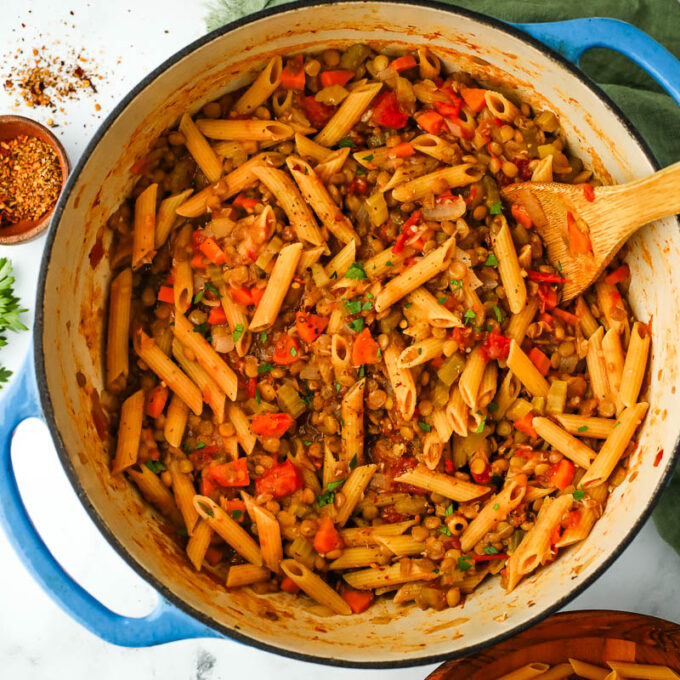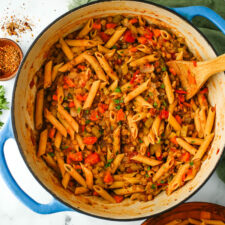 Pasta with Lentils
Author:
Prep Time: 10 minutes
Cook Time: 45 minutes
Total Time: 55 minutes
Yield: 8 cups 1x
Category: Dinner
Method: Stovetop
Cuisine: American
Diet: Vegan
---
Description
This pasta with lentils is a hearty plant-based meal that is filled with protein! It's a great way to turn simple pantry staples into a deliciously filling dinner!
---
1 tablespoon olive oil
1 yellow onion, diced
2 carrots, peeled and diced
2 celery ribs, diced
5 cloves garlic, minced
1 cup brown or green lentils
1 teaspoon oregano
1/4 teaspoon thyme
1/2 teaspoon rosemary
4 cups vegetable broth
1 15oz can fire roasted diced tomatoes
8oz whole wheat pasta
1 tablespoon red wine
Parmesan cheese for serving (optional)
---
Instructions
In a large pot or Dutch oven, heat the oil over medium heat. Add the chopped onion, carrots, and celery. Cook the mixture for 5-7 minutes over medium heat, stirring occasionally, until the vegetables are softened.
Add the garlic, oregano, thyme, and rosemary, and continue to cook for 2 minutes.
Add the vegetable broth and dried lentils. Cover the pot, boil the mixture, then reduce the heat to a simmer.
Allow it to simmer, partially covered, until the lentils are cooked but still slightly firm (al dente). This usually takes about 25 to 30 minutes.
Add the can of diced tomatoes and 1/2 teaspoon of salt to the pot. Increase the heat to high and bring the mixture to a boil.
Stir in the pasta and cook, stirring often to prevent sticking, until the pasta is al dente. This can take anywhere from 10 to 15 minutes, which may be longer than the package instructions. If the pot starts to look dry at any point, add a splash of water, just a few tablespoons at a time, prevent sticking. Note: I recommend to stop cooking the pasta as soon as it has just reached al dente, as it will continue to cook in the lentils, even after the heat is turned off.
Remove the pot from heat and stir in the red wine. Cover the pot and it sit for about 3 minutes. This allows the flavors to meld and the sauce to thicken. Stir in the grated Parmesan cheese, if using. Add salt and pepper to taste, if needed.
---
Keywords: pasta with lentils