15 Minute Vegetable Curry
This blog post is sponsored by Patient First.
This tasty vegetable curry recipe is filled with hearty red lentils and a rainbow of vegetables. It only takes 15 minutes to make this delicious plant-based meal!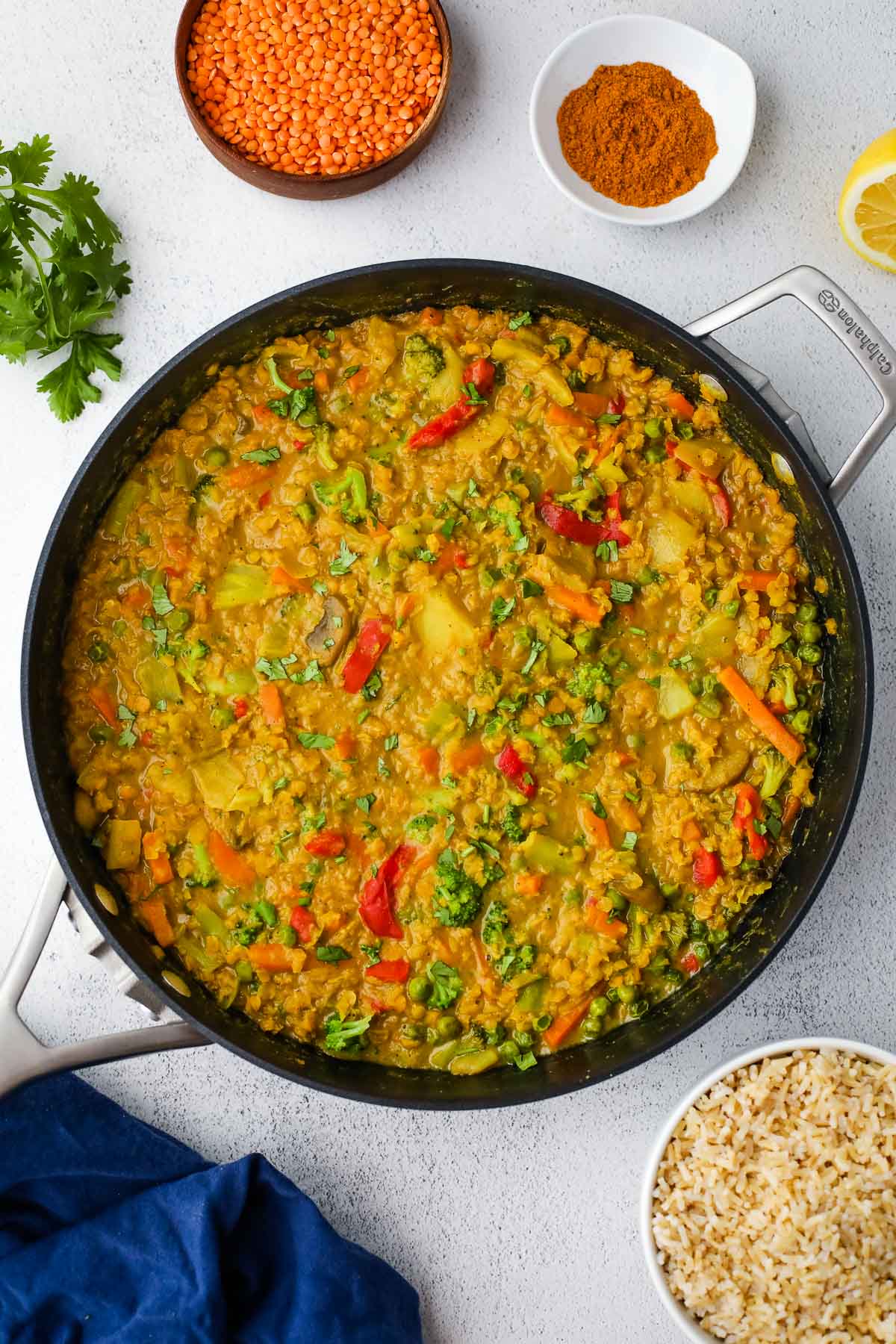 I'm so excited to share this recipe with you because it's quick and easy, filled with vegetables, and incredibly tasty! I've partnered with Patient First to create a deliciously healthy, 15-minute recipe. This vegetable curry recipe has quickly become a staple in my kitchen! It is made with flavorful spices, a blend of frozen vegetables, and plenty of red lentils to make a hearty, filling meal without spending the whole evening in the kitchen.
Patient First has been my go-to urgent care ever since my first DIY mishap when I first moved to Richmond! Now, as the mom of a very active toddler, I love that they're open every day including weekends and holidays! Be sure to check out a few of my other recipes in collaboration with Patient First including my immunity-boosting soup, apple cinnamon bread, and Mediterranean lentil soup!
Benefits of Frozen Vegetables
To help this recipe come together quickly, I used frozen vegetables since they're already washed and chopped. Frozen vegetables are a great staple to keep on hand because they're affordable, picked at the peak of their ripeness, and they last for a long time. For more tips about affordable ingredients, check out this blog post from Patient First about eating healthy on a budget!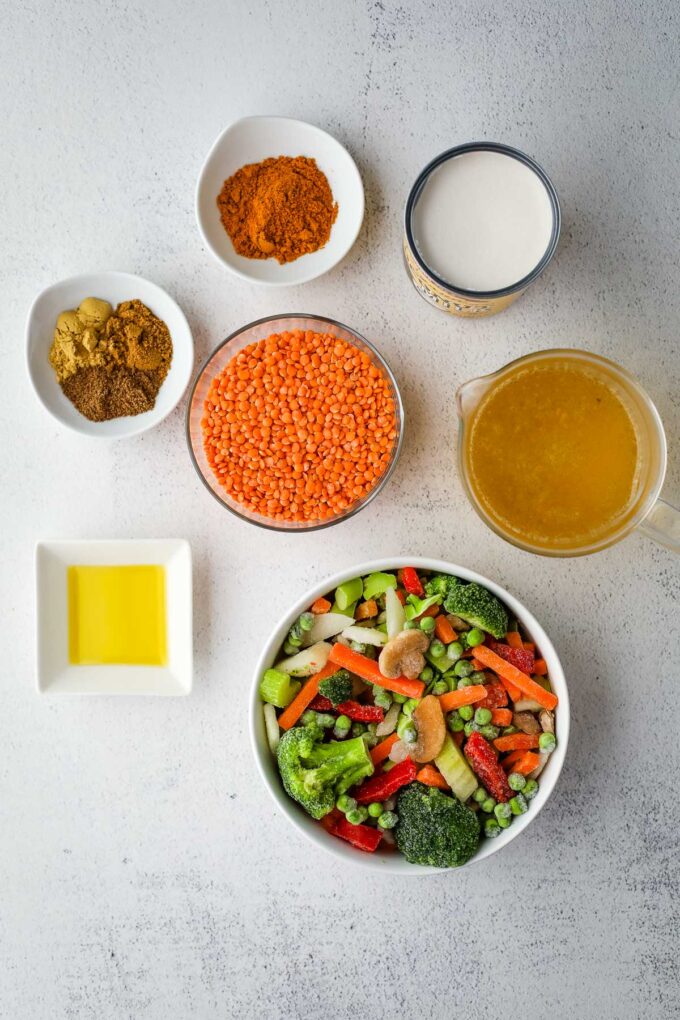 Ingredients and Substitutions
Olive oil- A little oil is used to bloom the spices which enhances their flavor. You can substitute for avocado oil or coconut oil.
Curry powder– This is the main ingredient that flavors the recipe. Be sure your curry powder is fresh and fragrant for the best taste!
Ginger– I used ground ginger but you can use freshly grated ginger if you prefer.
Cumin– A little cumin adds a warm, earthly flavor. If you don't have it, you can substitute with ½ teaspoon of additional garam masala.
Garam masala– This is actually a blend of spices that usually includes cumin, coriander, cardamom, pepper, cloves, nutmeg and cinnamon. It has a unique flavor and is commonly used in Indian cuisine. It may sound fancy but you can find it in the spice section of most grocery stores.
Vegetables– I used a stir-fry blend, but any mix of frozen vegetables will work in this dish. Just be sure the vegetables aren't seasoned.
Lentils– Red lentils break down quickly during cooking which thickens the curry. Do not substitute for other types of lentils.
Broth– I recommend using a low-sodium vegetable broth so you can control the saltiness of the dish.
Coconut milk– Be sure to use canned coconut milk which is rich and creamy. You can substitute for low-fat coconut milk if desired, but I prefer the taste of full-fat coconut milk.
Lemon– A splash of lemon juice brightens the flavor of the dish.
Cilantro– This is optional but it's a nice way to garnish the dish if you have it on hand.
The Best Frozen Vegetables for Curry
You can use any type of frozen mixed vegetables you like but I recommend a stir-fry blend that includes broccoli, red peppers, green beans, carrots, onion, and peas. You could also use a mix of cauliflower and broccoli or a blend of green beans, peas, and carrots. You can also mix and match different vegetables, so it's a great way to use up leftovers from your freezer!
Benefits of Red Lentils
Lentils are a great way to add plant-based protein and fiber to this recipe, which will help you to feel full. Lentils also contain iron, folate, zinc, and manganese, which can help you feel energized. They're inexpensive and last a long time in the pantry, making them a great pantry staple to keep on hand!
What to Serve with Vegetable Curry
I paired this curry with brown rice but you could use basmati rice or quinoa. If you want to add even more veggies to your plate, try it with cauliflower rice! Naan or flatbread make a delicious side dish and it's a great way to soak up any extra sauce!
Benefits of Plant Based Eating
This is a great option for a completely plant-based meal! It contains fiber from the vegetables, as well as protein from the lentils.
Dr. Melissa Aquilo, of Patient First in Mechanicsville, VA states "Even if you are not a vegetarian, this is a good recipe for introducing more plant based meals into your meal regimen which will increase the fiber in your diet – many of us do not get enough of that. Using spices without salt is a great way to flavor dishes too."
How to Make Vegetable Curry
Frequently Asked Questions
Can I use other lentils? No, it's important to use red lentils in this dish as they break down much faster than brown or green lentils. This helps thicken the curry while creating a hearty texture. Other types of lentils require much longer to cook.
Can I use other vegetables? Absolutely! Just keep in mind that hearty vegetables like potatoes or winter squash (such as butternut squash) may need longer to cook.
Can I make this lower in fat? Yep! You can use light coconut milk to reduce the fat content of this dish. It won't be quite as creamy, but it will still have a similar flavor.
Do I need split red lentils or whole red lentils? I recommend using split red lentils which cook slightly faster. Most grocery store red lentils are split, although it may not say so on the package. Don't stress if you're not sure whether your lentils are whole or split, since the cooking time doesn't vary by much. Whole red lentils may require 1-2 more minutes of simmering.
Print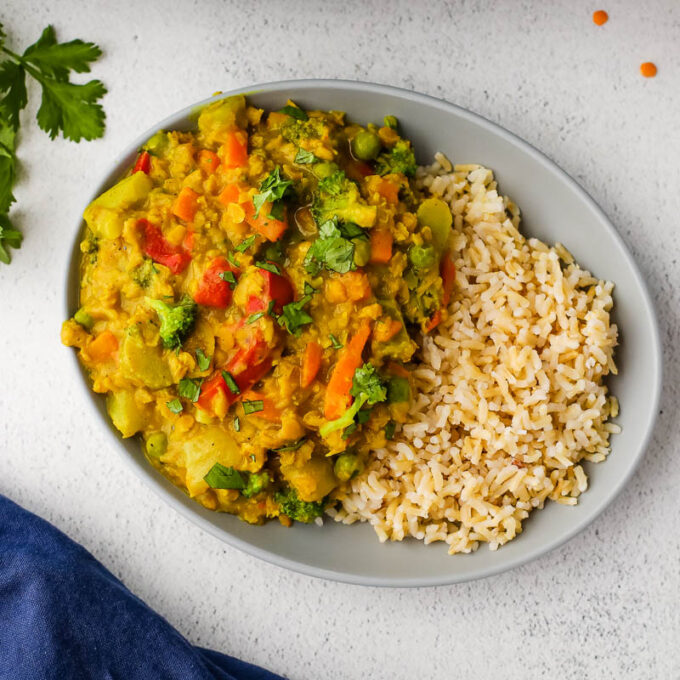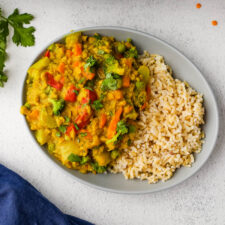 15 Minute Vegetable Curry
Author:
Prep Time: 3 minutes
Cook Time: 12 minutes
Total Time: 15 minutes
Yield: 6 cups 1x
Category: Dinner
Method: Stovetop
Cuisine: American
Diet: Vegan
---
Description
This tasty vegetable curry recipe is filled with hearty red lentils and a rainbow of vegetables. It only takes 15 minutes to make this delicious plant-based meal!
---
1 tablespoon olive oil
1 tablespoon curry powder
1 teaspoon ground ginger
1 teaspoon cumin
1 teaspoon garam masala
16oz frozen mixed vegetables
1 cup red lentils, rinsed
2 cups low-sodium vegetable broth
1 (13.5oz) can coconut milk
Lemon wedges for serving (optional)
Cilantro or parsley for garnish (optional)
---
Instructions
In a large skillet, add the olive oil, curry, cumin, garam masala, and ginger, cooking over low heat for 30 seconds to bloom the spices.
Add the frozen vegetables, lentils, and vegetable broth. Bring to a boil.
Reduce heat to medium and add the coconut milk.
Simmer until the red lentils are cooked, about 10 minutes.
Serve with lemon wedges and fresh cilantro for garnish. Pair with brown rice, if desired.
Keywords: 15 minute vegetable curry, easy vegetable curry