Quinoa Tabbouleh Salad Recipe
This quinoa tabouleh recipe is a twist on the traditional Lebanese salad, using quinoa instead of bulgur. It's filled with fresh parsley for a satisfying and healthy addition to any meal!
What is Tabbouleh Salad?
Tabbouleh (or tabouli) salad is traditionally made with finely chopped parsley, tomatoes, mint, and bulgur. It's a Lebanese salad that is typically served as a side dish and parsley is really the star of the show. Bulger is a kind of wheat, but I know many of you probably don't have bulgur in your pantry. So this non-traditional version of tabbouleh uses quinoa instead!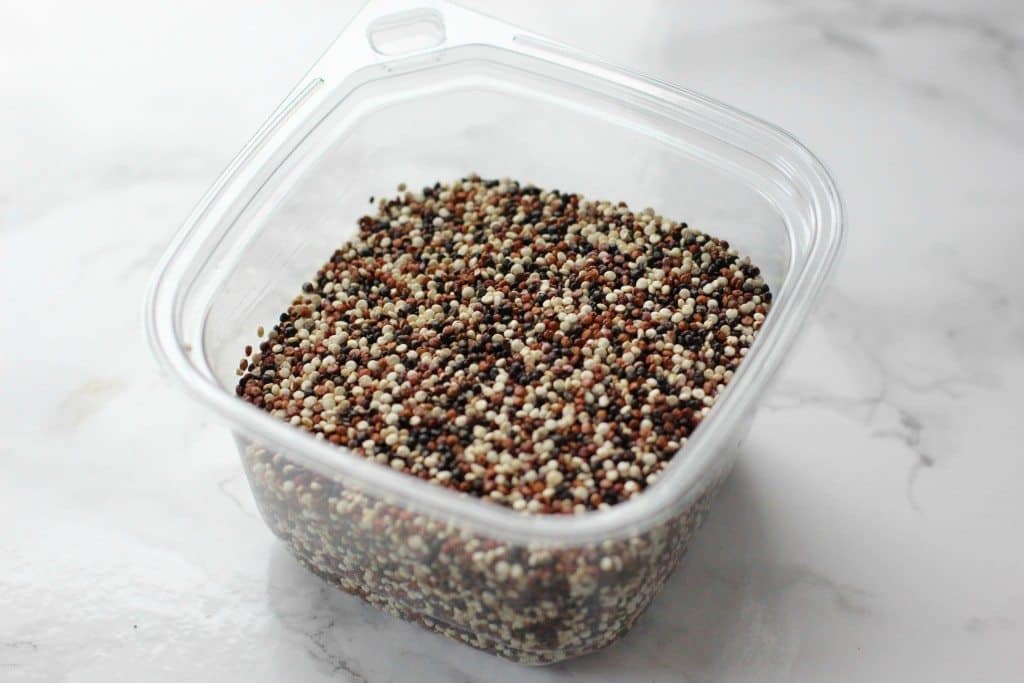 What is Quinoa?
Quinoa is technically a seed but it cooks like a grain. It has a slightly nutty flavor. You can usually find it at the grocery store near the rice. Quinoa is a fantastic ingredient to add to your diet, especially if you're a vegetarian. It's one of the few plant foods that contain all nine essential amino acids!
Quinoa Tabbouleh Ingredients
Quinoa– This will replace the bulger used in traditional tabbouleh
Fresh parsley– Parsley is really the main component of a tabbouleh salad so don't substitute this! You can use flat or curly parsley.
Fresh mint– A little fresh mint enhances the herbal flavor.
Tomatoes– I used chopped cherry tomatoes but any kind of tomato can be chopped and used in this dish.
Cucumber– While not traditionally used in a tabbouleh salad, I liked the added crunch they added to this recipe.
Olive oil– I recommend a high-quality olive oil, which will have a light, slightly fruity flavor.
Lemon juice– A squeeze of fresh lemon juice really brightens the salad.
Salt & pepper– Don't forget to season your salad to taste.
Tips for Perfect Quinoa Tabbouleh
Make sure you rinse your quinoa before cooking. Quinoa can have a bitter flavor, and rinsing gets rid of some of the bitterness.
After chopping the tomatoes, drain any liquid to avoid a soggy salad.
You can make quinoa on the stovetop, as the instructions will typically suggest, but you can also make quinoa in an Instant Pot or you can cook quinoa in a rice cooker!
Make sure you use fresh parsley! That's essential for this recipe, so dried parsley won't work in this case.
How to Store Leftovers
This quinoa tabbouleh will last 3-4 days in the fridge, stored in an airtight container. You can easily make this salad in advance, and I think the flavors are actually better after a couple of hours.
What to Serve with Quinoa Tabbouleh
This makes a great side dish for falafel or chickpea gyros. You could even turn this salad into a main dish if you added protein on top! To bulk up this dish, you can also serve it on a bed of mixed greens or chopped romaine.
More Quinoa Recipes
Print
Quinoa Tabbouleh
Author:
Prep Time: 10 mins
Cook Time: 15 mins
Total Time: 25 minutes
Yield: 3 cups 1x
Category: Side Dish
Method: Salad
Cuisine: Lebanese Inspired
Diet: Vegan
---
Description
This easy quinoa tabbouleh salad recipe uses quinoa in place of bulger, making this recipe gluten-free! Quinoa is also a great source of plant-based protein. Make this recipe for a quick and easy side dish! 
---
1/2 cup dry quinoa
1 1/2 cups fresh parsley
3 tablespoons fresh mint
1 cup cherry tomatoes or 3 small tomatoes, diced and drained
1/2 cup diced cucumber
2 tablespoons olive oil
1 tablespoon fresh lemon juice
Salt and pepper to taste
---
Instructions
Cook the quinoa according to package directions.
Once the quinoa is cooked, remove from heat and let it cool.
Toss the quinoa with parsley, mint, tomatoes, and cucumber.
Drizzle with olive oil and lemon juice.
Add salt and pepper to taste and stir until combined.
---
Keywords: Quinoa Tabbouleh