Couscous Tabbouleh
This tasty tabbouleh salad uses couscous instead of bulgur for a delicious side dish that comes together in just a few minutes! It's a flavorful side dish to pair with your favorite protein.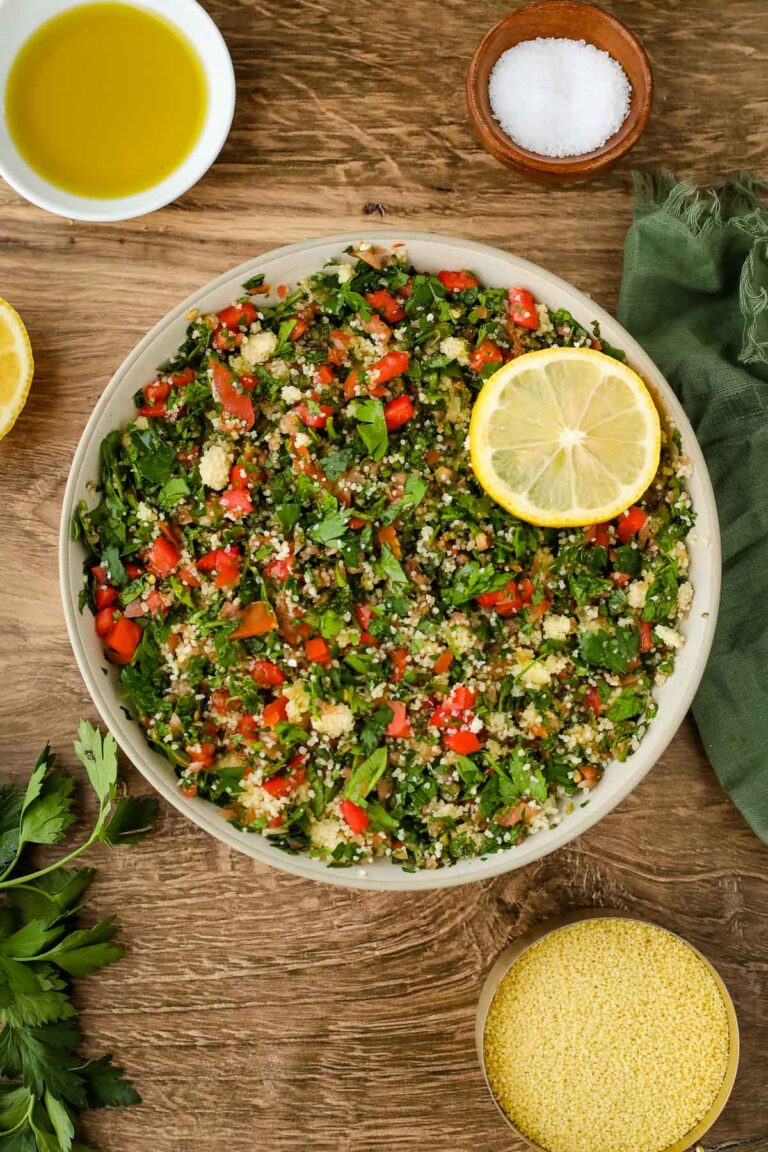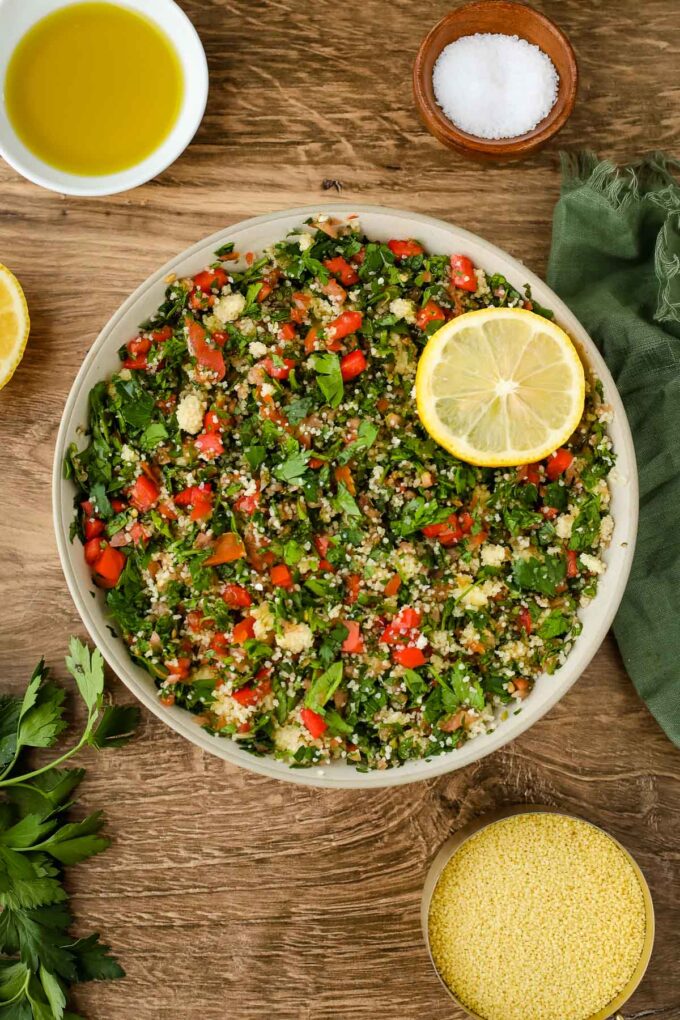 Tabbouleh is a Middle Eastern salad made with fresh herbs and it is traditionally with bulgur, which is a type of cracked wheat. I know a lot of you probably don't have it in your pantry, so I thought I'd make a not-so-traditional tabbouleh salad using similar flavors but replacing the bulgur with couscous. It worked great! This is definitely not a traditional tabbouleh salad recipe. If you're looking for a traditional recipe, try this one from Feel Good Foodie!
What is Couscous?
Couscous is actually tiny pasta. One reason I like using couscous is that is cooks very fast. There are two common types of couscous. Moroccan couscous is small and cooks in about 5 minutes. The grains are slightly bigger than coarsely ground cornmeal. Israeli couscous is larger and takes much longer to cook. For this recipe, you'll want to use Moroccan couscous.
Where to Buy Couscous
Although couscous is a pasta, it's typically sold near the rice. Trader Joe's has whole wheat couscous which also works great in this recipe. You can also order couscous on Amazon if you can't find it at your grocery store.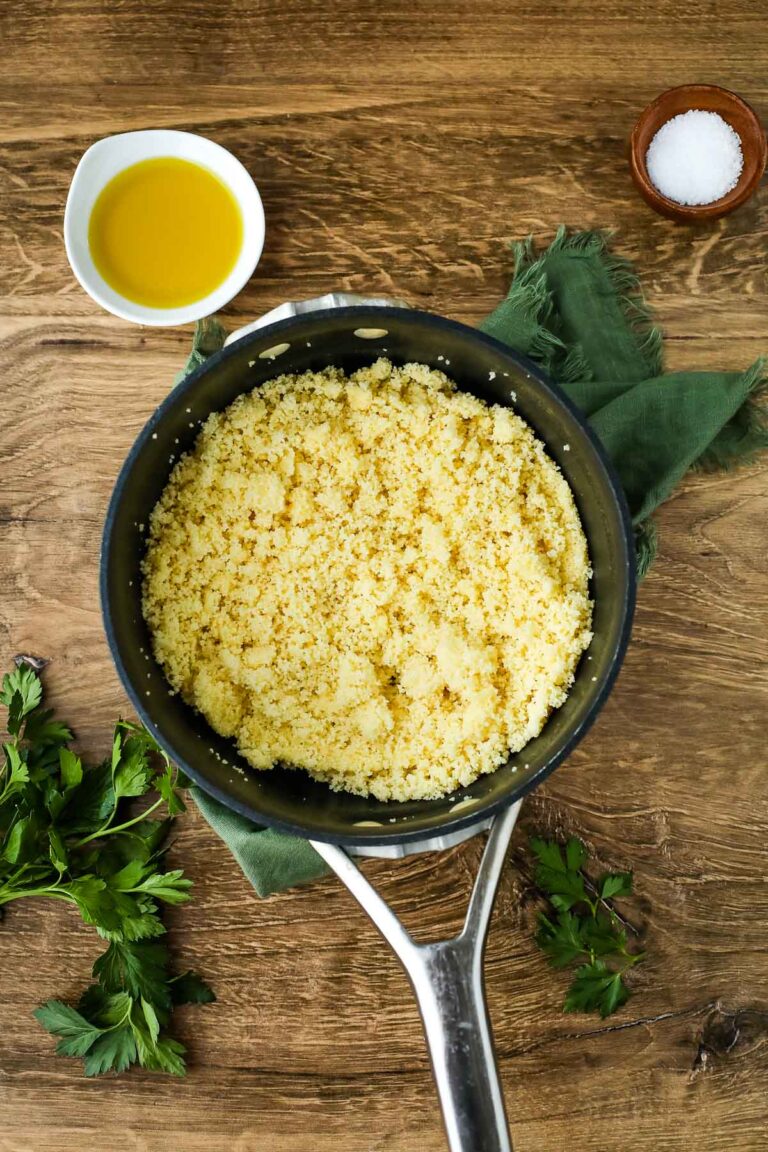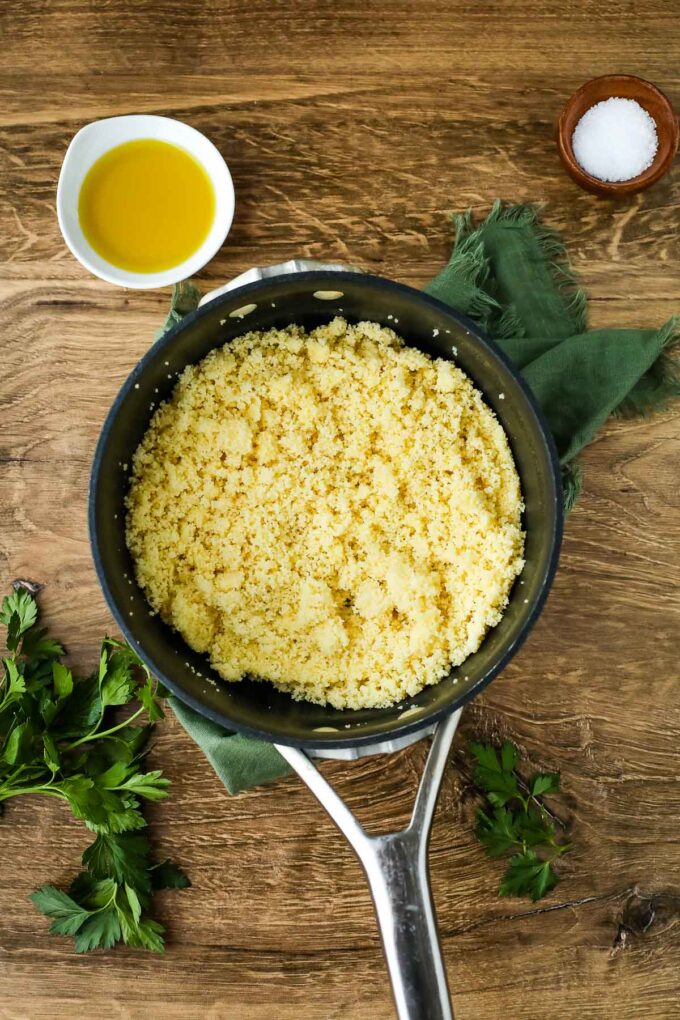 How to Prepare Couscous
Bring a cup of water to a boil, add the couscous and remove from heat. Let the couscous sit for about 5 minutes, then fluff with a fork. I usually chop most of my veggies while the couscous cooks, so I can have this side dish ready in about 10 minutes!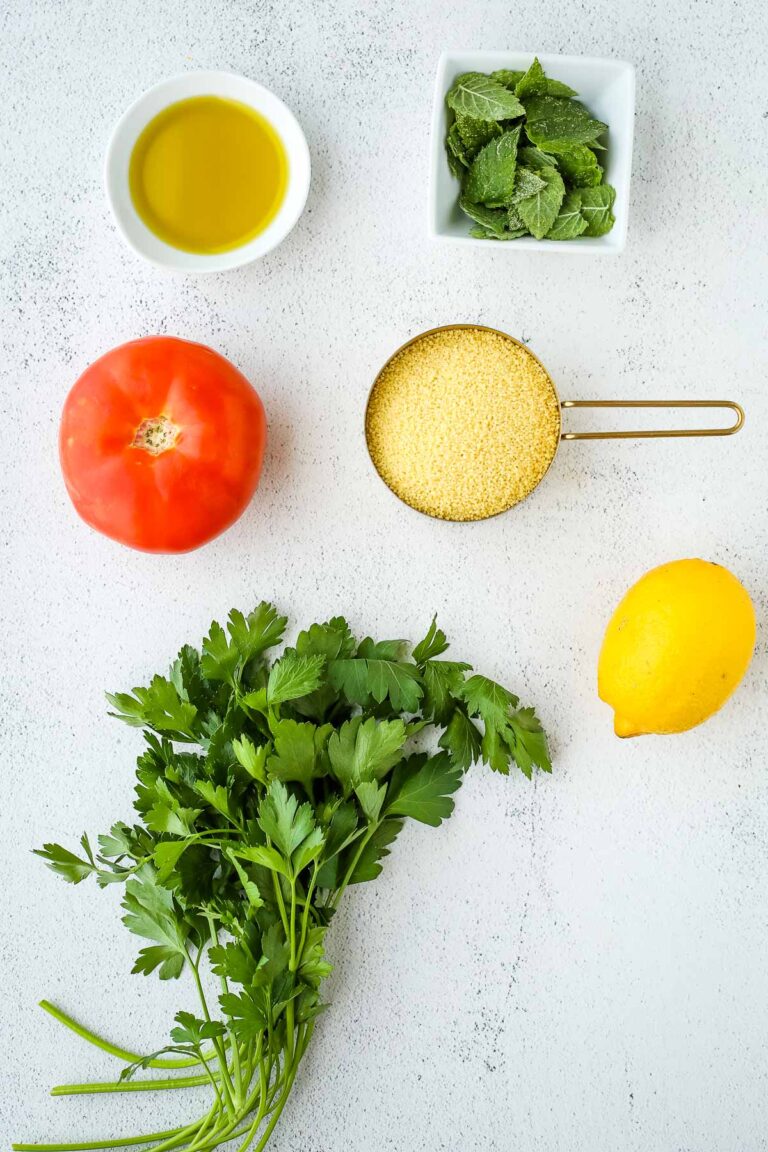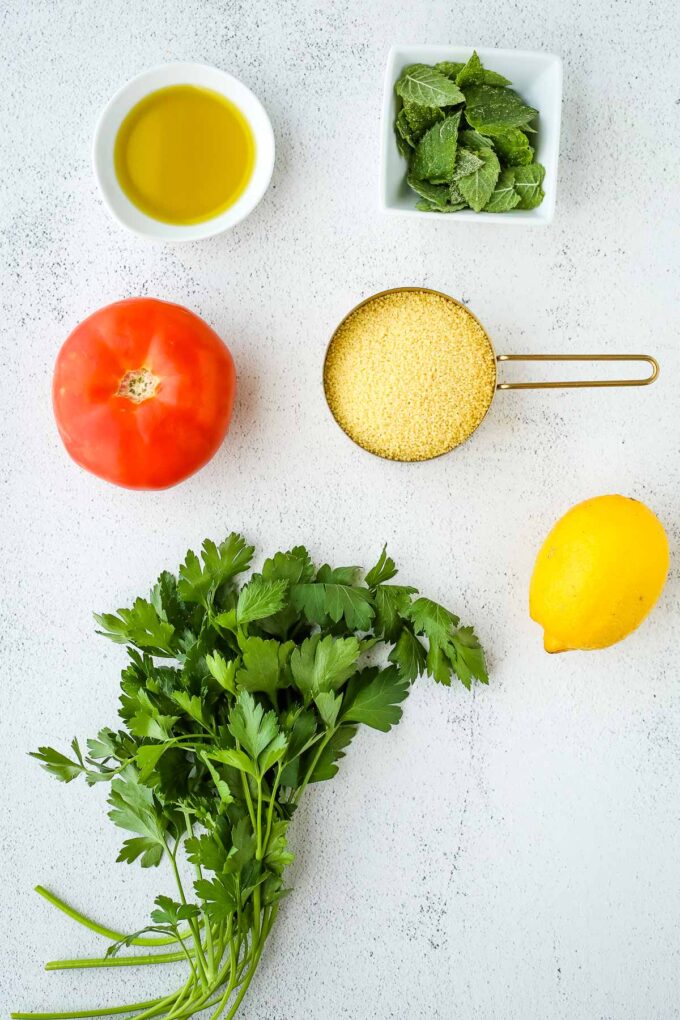 Ingredients & Substitutions
Couscous– If you don't have couscous, you can use quinoa instead. Check out my quinoa tabbouleh recipe. Or for a lower carb option, try my cauliflower tabbouleh salad.
Fresh parsley– Parsley is really the main component of a tabbouleh salad so don't substitute this! You can use flat leaf or curly parsley.
Fresh mint– Fresh mint enhances the herbal flavor.
Tomatoes– I used a large beefsteak tomato, but you can use chopped cherry tomatoes instead.
Olive oil– I recommend a high-quality olive oil, which will have a light, slightly fruity flavor.
Lemon juice– A squeeze of fresh lemon juice really brightens the salad.
Salt & pepper– Don't forget to season your salad to taste.
Tips for the Best Couscous Tabbouleh
After chopping the tomatoes, drain any liquid to avoid a soggy salad.
Once the couscous is cooked, fluff it with a fork to avoid clumping.
Make sure you use fresh herbs! It's essential for this recipe, so dried parsley and dried mint won't work in this dish.
Be sure to generously salt this salad before serving.
What to Serve with Tabbouleh
This makes a great side dish for falafel or a topping for chickpea gyros. You could even turn this salad into a main dish if you added protein on top! To bulk up this dish, you can also serve it on a bed of mixed greens or chopped romaine.
How to Store Leftovers
This couscous tabbouleh will last 3-4 days in the fridge, stored in an airtight container. You can definitely make this salad in advance, and I think the flavors are actually better after a couple of hours.
More Couscous Recipes
Print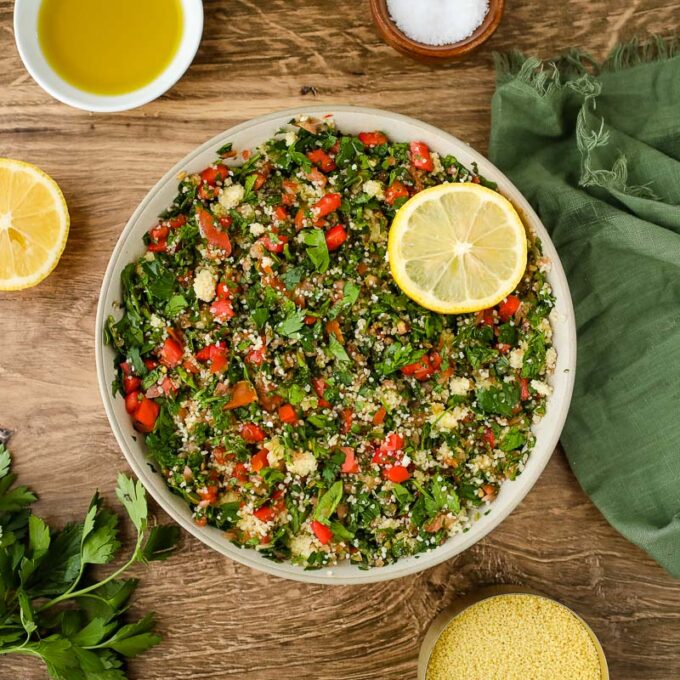 Couscous Tabbouleh
Author:
Prep Time: 10 minutes
Cook Time: 5 minutes
Total Time: 15 minutes
Yield: 4 cups 1x
Category: Salad
Method: Stovetop
Cuisine: Middle Eastern Inspired
Diet: Vegan
---
Description
This tasty tabbouleh salad uses couscous instead of bulgur for a delicious side dish that comes together in just a few minutes.
---
1 cup couscous
1 cup fresh parsley, chopped
1/4 cup fresh mint, chopped
1 large tomato diced and drained
2 tablespoons olive oil
1 tablespoon fresh lemon juice
Salt and pepper to taste
---
Instructions
Cook the couscous according to package directions.
Once the quinoa is cooked, fluff it with a fork.
Toss the couscous with parsley, mint, and tomatoes.
Drizzle with olive oil and lemon juice.
Add salt and pepper to taste and stir until combined.
---
Keywords: couscous tabbouleh