Parmesan Tomato Soup
This delicious Parmesan tomato soup is made with just seven ingredients for a simple yet flavorful recipe! Transform a few basic pantry staples into a tasty bowl of soup in minutes.
Is there anything better than a warm bowl of tomato soup? This Parmesan tomato soup recipe uses canned tomatoes and just a few pantry staples, so you can have a fresh bowl of tomato soup in no time. I love the salty Parmesan in this recipe and it's the perfect soup to serve with a slice of crusty bread or a grilled cheese sandwich!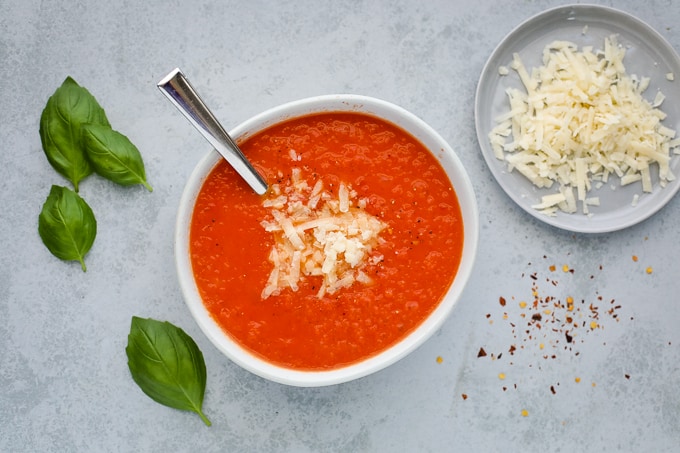 To make this Parmesan tomato soup, you'll need:
Olive oil
Onion (white or yellow is fine)
Canned tomatoes (whole or diced)
Crushed red pepper flakes
Parmesan cheese
Garlic salt (or garlic powder and salt)
Substitution Ideas
If you don't have diced tomatoes, you can use whole canned tomatoes or fresh tomatoes. If substituting fresh tomatoes, you'll need about 3 cups of chopped tomatoes.
I like crushed red pepper for a spicy flavor but if you don't like spicy food, simply leave it out or substitute with a pinch of black pepper for a milder flavor.
I like to use low sodium "not chicken" style broth, which tastes like chicken broth but is vegetarian. You can substitute any type of vegetable broth you like.
Serving Suggestions
Obviously, this tomato soup is perfect with a grilled cheese! But you can also try it with a hearty kale salad or a grilled halloumi sandwich. If you're looking for a lower-carb meal, try serving this soup with an easy halloumi salad! It has the savory flavor of a grilled cheese but it's served on a bed of greens and veggies instead of bread!
Tips for Blending Hot Soup
Blending soup is easiest with an immersion blender. This stick-style blender can be used directly in the pot. You can blend until you get your desired consistency. If you don't have an immersion blender, let the soup cool slightly and carefully transfer to a blender. When blending, ensure that steam can escape from the lid. Do not attempt this with a bullet style blender!
Print
Parmesan Tomato Soup
Author:
Prep Time: 10 mins
Cook Time: 20 mins
Total Time: 30 mins
Yield: 4 cups 1x
Category: Soup
Method: Stovetop
Cuisine: Soup
Diet: Vegetarian
---
Description
This delicious Parmesan tomato soup is made with just seven ingredients for a simple yet flavorful recipe! Transform a few basic pantry staples into a tasty bowl of soup in minutes.
---
1 tablespoon olive oil
1 medium yellow onion, chopped
2 (15 oz) cans of diced tomatoes
2 cups vegetable broth
1/4 teaspoon crushed red pepper flakes
1/4 teaspoon of garlic salt
1/2 cup freshly grated Parmesan cheese
Optional: fresh basil or additional parmesan for serving
---
Instructions
In a medium sized pot, add the olive oil and heat over medium heat for 30 seconds.
Add the onion and cook, stirring occasionally, for 5 minutes until the onion has softened.
Add the tomatoes, broth, red pepper flakes, and garlic salt and bring to a boil.
Once boiling, reduce the heat to medium-low and simmer for 15 minutes.
Add the Parmesan cheese and use an immersion blender to blend the soup to your desired consistency. If you do not have an immersion blender, carefully transfer into a blender, being careful to allow steam to escape, and blend for 10-20 seconds until slightly chunky.
Garnish with fresh basil or additional Parmesan cheese, if desired.
---
Keywords: Parmesan tomato soup
This makes a pretty incredible meal, especially with a grilled cheese! We enjoyed this with a smoked gouda grilled cheese and it was a great combination!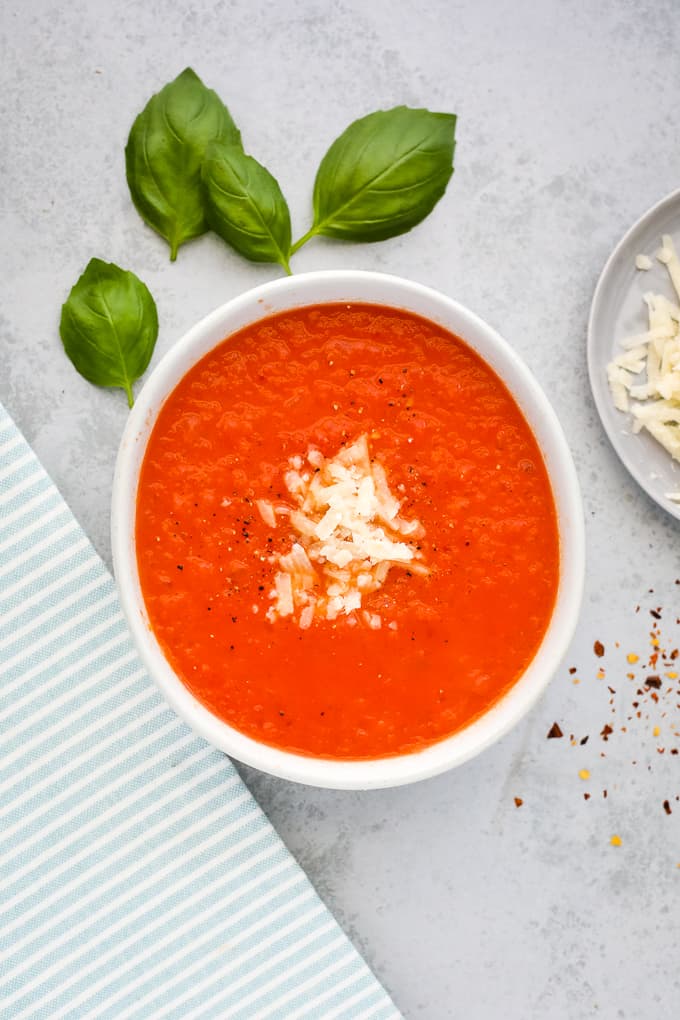 Looking for a creamier soup recipe? Try this creamy tomato soup!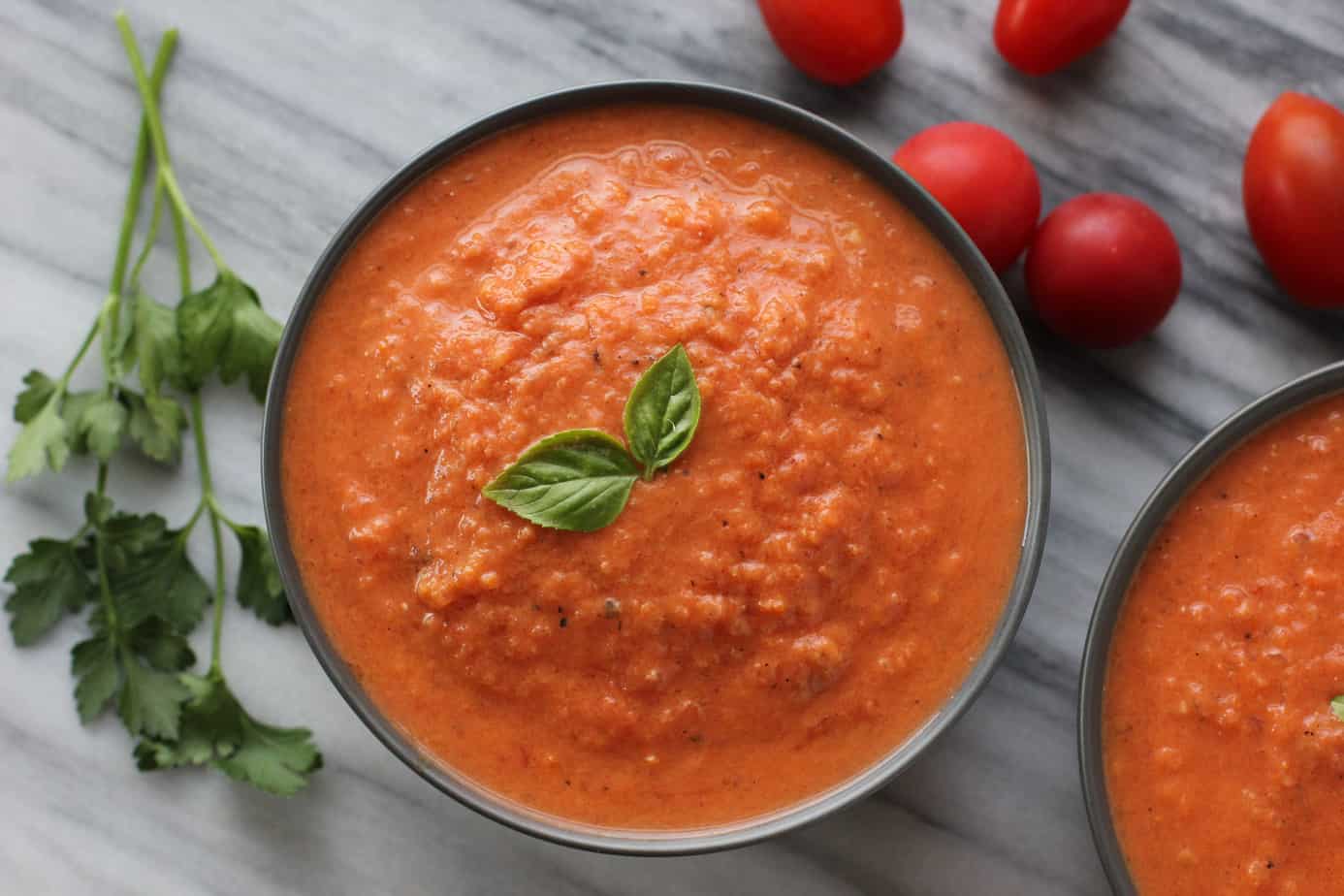 If you want to turn it into a main dish, try this budget-friendly tomato and rice soup!
Can't get enough Parmesan? Try this easy Parmesan Orzo Pasta!
What's your favorite thing to pair with tomato soup?