Orzo Rice Pilaf
This delicious orzo rice pilaf is the perfect quick and easy side dish. Fluffy rice and tender orzo pasta come together for a tasty recipe that is simple to make!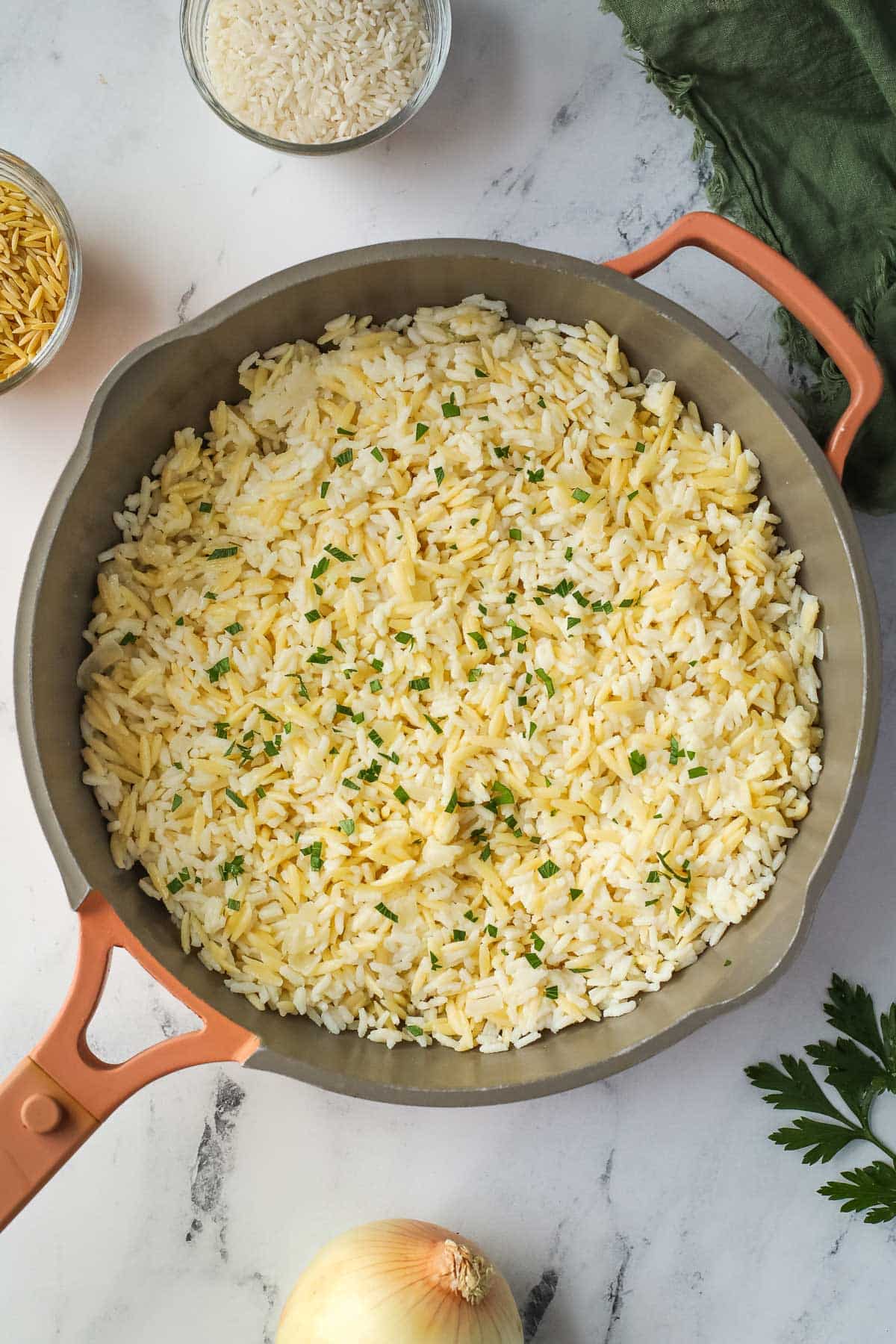 Growing up. I remember loving Rice a Roni. This uniquely simple boxed side dish was a favorite, but now I can make something similar at home! The trick to the unique texture is a combination of rice and orzo pasta. The seasonings for this recipe are simple but there are plenty of variations if you want to get creative. You could add toasted pine nuts, chopped green onions, frozen peas, slivered almonds or other chopped nuts, golden raisins, freshly grated Parmesan, or fresh herbs. This homemade rice pilaf recipe can be served with just about any meal!
Ingredients & Substitutions
White Rice- Long-grain white rice forms the base of the pilaf, providing a fluffy and separate texture when cooked. Brown rice should not be substituted as it cooks at a different rate.
Orzo – Orzo pasta, a pasta shape that resembles rice grains, adds a unique twist to the pilaf. It contributes a subtle chewy texture and the pasta's starch helps create a rich texture.
Butter or Olive Oil: Butter or olive oil adds a rich taste and helps prevent the rice and pasta from clumping.
Onion: Finely chopped onion adds depth and sweetness to the pilaf. You can substitute with a shallot if you prefer.
Seasoning: Minced garlic provides a fragrant, slightly pungent flavor that complements the other ingredients. Dried thyme and a bay leaf add additional savory flavor.
Vegetable Broth: Vegetable broth is the flavorful liquid that cooks the rice and orzo, infusing them with taste. It ensures the pilaf is aromatic, well-seasoned, and keeps the grains from drying out.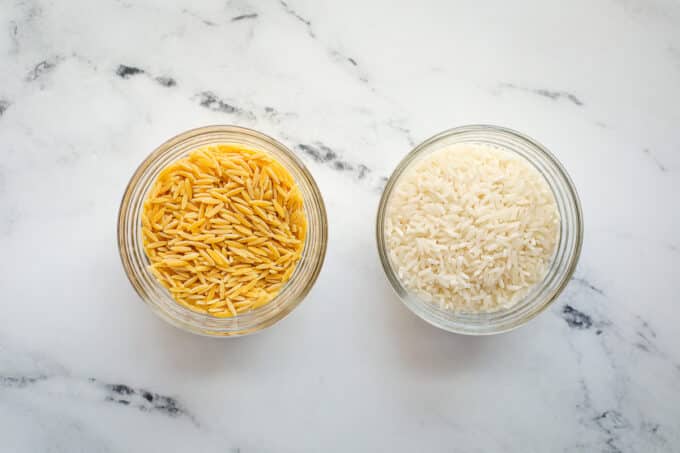 What is Orzo?
Because of its shape, many people think that orzo is a grain, but it's actually just a small pasta. The pasta is made from durum wheat semolina, the same kind of wheat used to make many types of Italian pasta. Orzo is versatile and can be used in a variety of dishes, ranging from soups and salads to side dishes and pilafs. If you're looking for other ways to use orzo, try my orzo pasta salad or vegetable orzo soup!
Frequently Asked Questions
Is orzo better for you than rice?- Orzo and white rice are similar nutritionally. Both are a good source of quick energy from carbohydrates.
Is orzo a rice or pasta? Orzo is often confused with rice, but it's actually a rice shaped pasta.
Can orzo be substituted for rice? This recipe uses both but rice and orzo can often be substituted in certain recipes. You'll often need to adjust the cooking times.
What makes a pilaf a pilaf? A pilaf is characterized by its sautéing the rice in oil or butter until it's golden brown. It's cooked with aromatics like onions and spices. This enhances flavor and texture.
Does orzo taste like rice? Orzo is technically a pasta with a very neutral flavor, similar to rice but a little less nutty. But the texture is also slightly different.
Can I make rice pilaf in a rice cooker? Yes! Try my rice pilaf in a rice cooker recipe — it's super simple!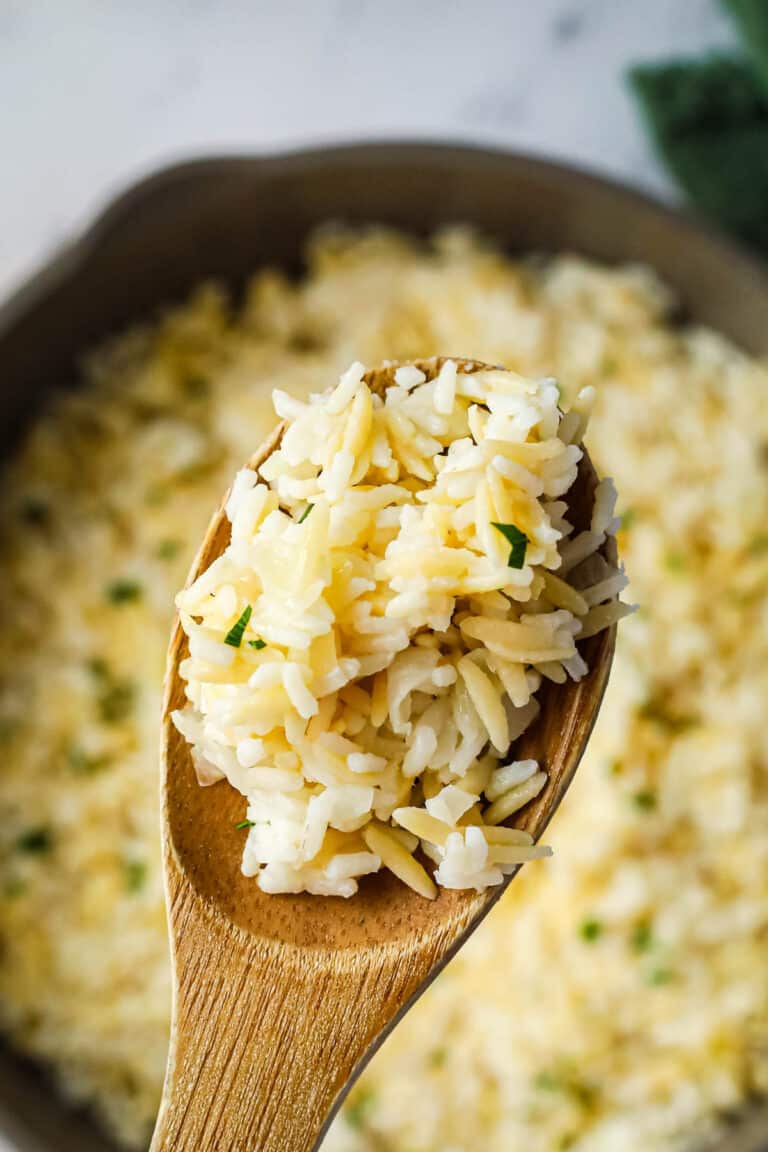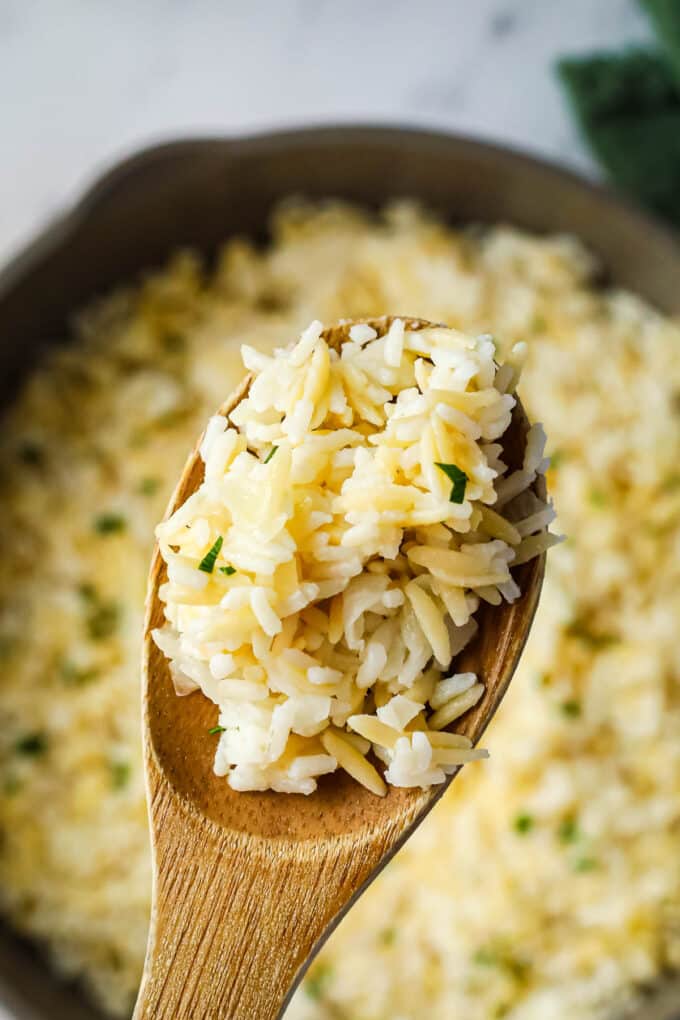 What to Serve with Rice Pilaf
Looking for a dish to pair with this rice pilaf recipe? Serve it alongside this slow cooker vegetable soup or pair it with my 15 minute vegetable curry. It can also be an absolutely delicious recipe to pair with a Greek salad like this one or my vegan butter chickpeas.
How to Store and Reheat Rice Pilaf
To store and reheat this rice pilaf with orzo, let it cool to room temperature and then store it in an airtight container in the refrigerator for 3-4 days. When reheating, prevent dryness by adding a small amount of water or broth to the rice, then reheat over low heat on the stovetop or in the microwave. Reheat only the portion you intend to eat, ensuring even heating and maintaining the dish's moisture to enjoy its original flavor and texture.
Print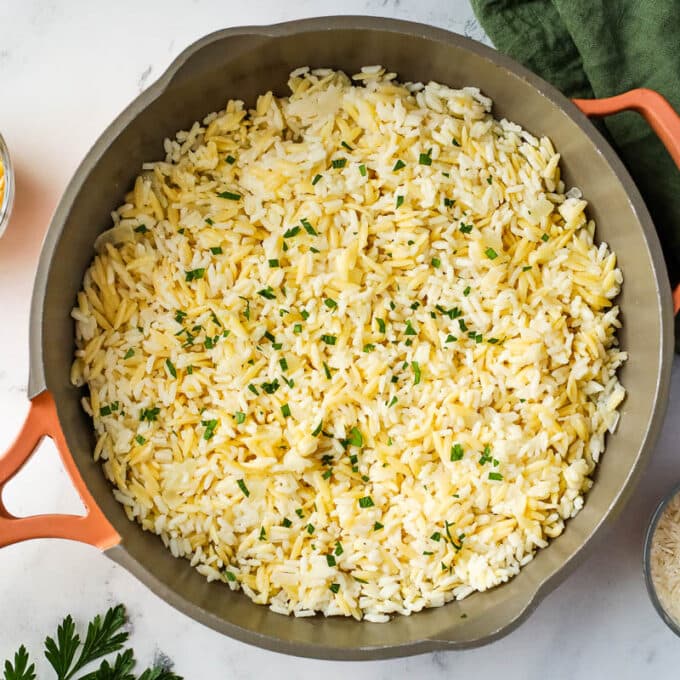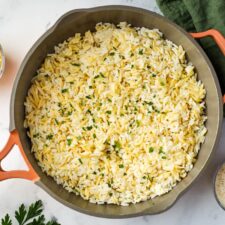 Orzo Rice Pilaf
Author:
Prep Time: 5 minutes
Cook Time: 30 minutes
Total Time: 35 minutes
Yield: 4 cups 1x
Category: Side Dish
Method: Stovetop
Cuisine: American
Diet: Vegetarian
---
Description
This delicious orzo rice pilaf is the perfect quick and easy side dish. Fluffy rice and tender orzo pasta come together for a tasty recipe that is simple to make!
---
2 tablespoons unsalted butter or olive oil
1 small onion, finely chopped
1 cup long-grain white rice
1/2 cup orzo pasta
2 cloves garlic, minced
3 cups vegetable broth
1/2 teaspoon dried thyme
1 bay leaf
Salt and pepper, to taste
Chopped fresh parsley, for garnish (optional)
---
Instructions
In a large skillet, add the butter and heat over medium heat until melted.
Add the chopped onion and sauté until it becomes translucent, about 3-4 minutes.
Stir in the minced garlic and cook for an additional one minute until fragrant.
Add the rice and orzo and continue to cook for 2-3 minutes, stirring frequently, until the rice begins to turn golden brown.
Add the vegetable broth, thyme, and bay leaf and stir to combine.
Cover the saucepan with a lid and let the rice and orzo simmer for about 18-20 minutes, or until the liquid is absorbed and the rice and orzo are tender.
Once the rice and orzo are cooked, remove the saucepan from the heat. Let it sit covered for about 5 minutes. This allows the steam to continue cooking the rice and orzo and makes them fluffy.
Remove the bay leaf, fluff the pilaf with a fork to separate the grains, and transfer to a serving dish. Sprinkle with fresh parsley for garnish, if desired.
---
Keywords: Orzo Rice Pilaf