Carrot Potato Soup
This creamy vegan carrot potato soup is incredibly delicious and surprisingly simple to make. Enjoy this veggie packed soup for a healthy twist on a classic comfort food recipe.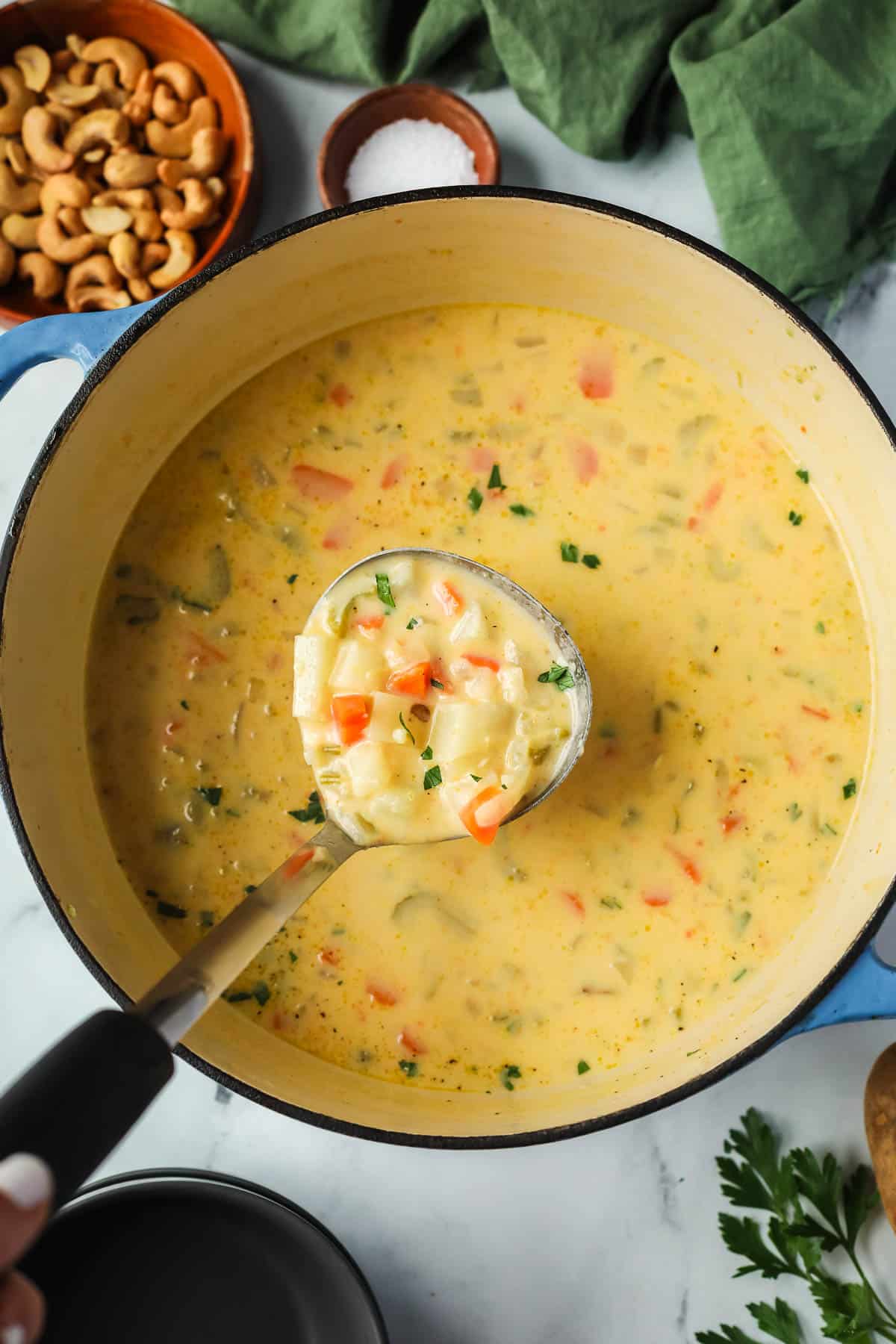 I love potato soup but lately, I've been trying to add more vegetables to my soup, so I decided to try a version that was filled with carrots and celery. It worked perfectly and I loved the consistency! To make it creamy without adding dairy, I used my homemade cashew cream. If you don't want to use cashews, you can skip the cream or use heavy cream instead.
Ingredients & Substitutions
Olive oil– I've tested this recipe with both olive oil and butter and I didn't notice a huge difference, so feel free to use either one.
Onion– I used a yellow onion, but a white onion is fine too.
Carrots– I used traditional carrots but if you're using baby carrots, you'll want about 1 cup of chopped carrots total.
Celery– This helps add a savory flavor to the soup and it's an easy way to add some extra nutrients to this recipe. If you don't have celery, you can leave it out.
Potatoes– I recommend using russet potatoes which are starchy and delicious.
Garlic– Don't skimp on the garlic! This adds flavor to the soup. You can use pre-minced garlic if you prefer.
Seasoning – I used dried thyme and a bay leaf. You can use fresh thyme if you like. The bay leaf is optional. A squeeze of lemon juice helps balance the overall flavor. You can substitute this with a splash of white wine vinegar.
Broth– You'll want a flavorful broth for this recipe. I like the vegan "not-chicken" style broth from Edward & Sons.
Cashew cream– For a super creamy texture, I used cashew cream. If you're not vegan, you can use evaporated milk or heavy cream.
How to Make Cashew Cream
There are two ways to make cashew cream. Since I don't always plan ahead, I often use the quick method. This works just fine, especially because I have a high-powered blender. If you don't have a quality blender, I recommend soaking the cashews for at least 2 hours.
Traditional method: Soak the cashews in one cup of water overnight or for 4-5 hours. Then blend on high until smooth.
Quick method: Add the cashews to a heat-safe bowl. Cover with one cup boiling water and cover the bowl with a plate. Let it sit for 15 minutes.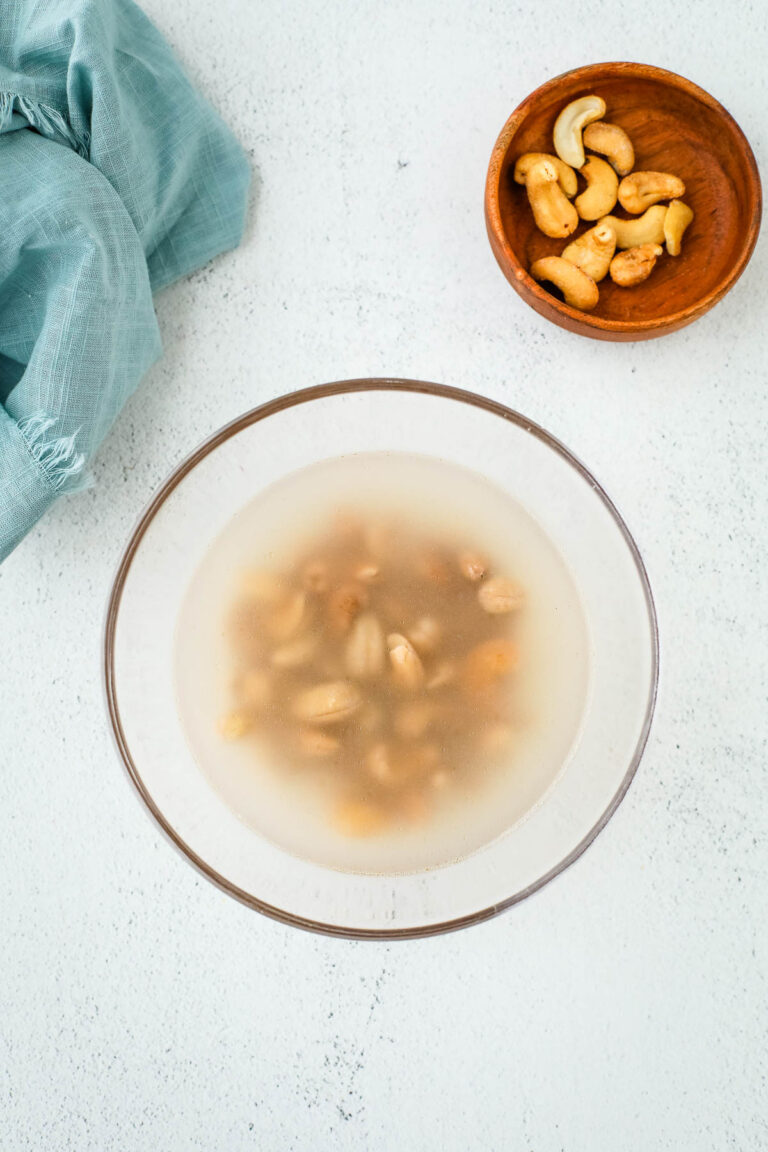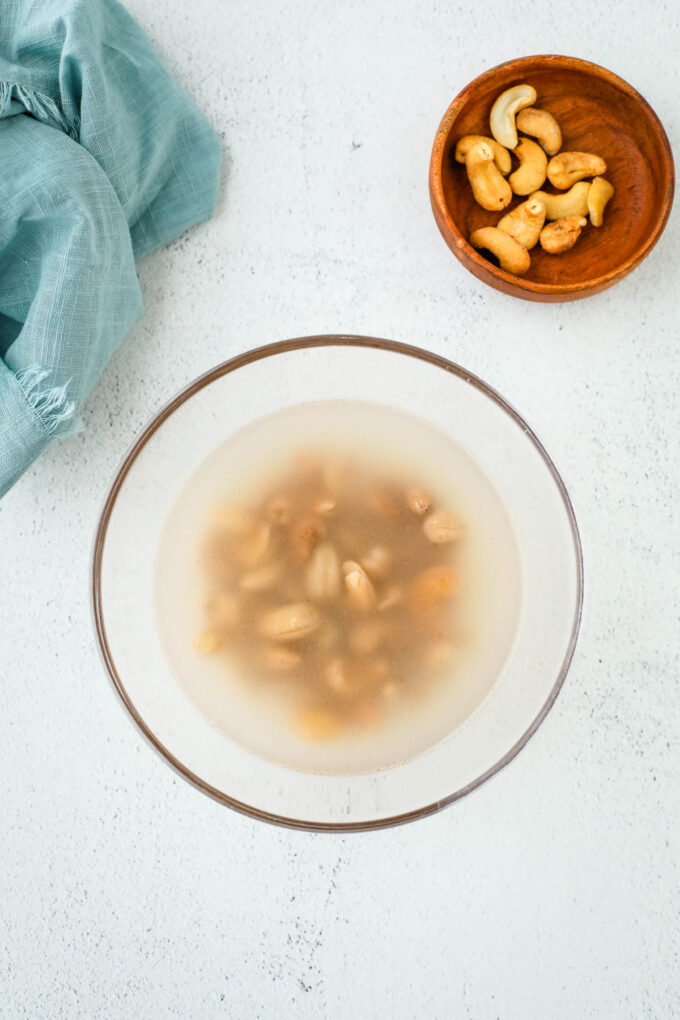 How to Blend Hot Soup
Be careful when transferring hot soup! Let the soup cool slightly before transferring it to a stand blender. Please don't attempt to pour boiling soup since it could splash and burn you. For this recipe, you'll only need to transfer one cup of hot soup to the blender with the cashews.
Let the steam escape. After you've transferred it to a traditional blender, be sure to use the vent in the lid to allow steam to escape while blending. Cover with a folded kitchen towel to prevent splatters.
Do NOT try to blend hot soup in a bullet-style blender. These blenders must be airtight before blending, and hot soup can explode. It must be cold or room temperature if you want to use a bullet blender to blend soup.
Frequently Asked Questions
Can I use sweet potatoes? Unfortunately, sweet potatoes don't have the same starchy texture as russet potatoes, so I don't recommend substituting them in this recipe.
Can I use a nut other than cashews? Unfortunately, this doesn't work with nuts like peanuts or almonds. Cashews are uniquely buttery and creamy; you won't get the same results if you use other nuts. But you can substitute with coconut milk for a different vegan option.
Can I use an immersion blender? You'll need a powerful blender to blend the cashews into cream. This can be done with an immersion blender, but I get the best results with a stand up blender.
How should I store leftovers? Store leftovers in the fridge in an airtight container for up to 4 days. Reheat in the microwave or on the stovetop.
What should I serve with this soup? I love enjoying this soup with a crusty loaf of sourdough bread. I usually have something from Wildgrain in my freezer, which makes it quick and easy to have fresh bread when I want it! You can also pair this soup with a tasty green salad or roasted vegetables. I even have a whole list of things to serve with potato soup!
More Soup Recipes
If you enjoyed this soup, be sure to try my 4 ingredient potato soup, this creamy quinoa soup, or my Instant Pot potato soup. They're all easy and delicious!
Print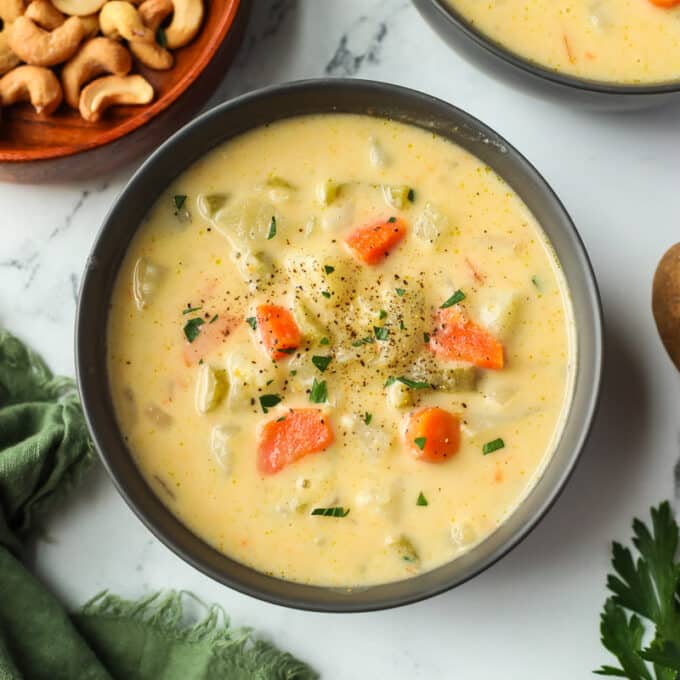 Carrot Potato Soup
Author:
Prep Time: 15 minutes
Cook Time: 30 minutes
Total Time: 45 minutes
Yield: 8 cups 1x
Category: Soup
Method: Stovetop
Cuisine: American
Diet: Vegan
---
Description
This creamy vegan carrot potato soup is incredibly delicious and surprisingly simple to make. Enjoy this veggie packed soup for a healthy twist on a classic comfort food recipe.
---
2 tablespoons olive oil
1 medium yellow onion, diced
3 large carrots, peeled and chopped
3 celery ribs, chopped
3 garlic cloves, minced
1/2 teaspoon dried thyme
2 medium russet potatoes (about 12oz) peeled and cut into 1/2 chunks
4 cups vegetable broth
1 bay leaf
1/2 cup cashews, soaked for 4 hours (see note for quick-soak method)
1 teaspoon lemon juice
Salt and pepper
---
Instructions
In a large dutch oven or pot, add the olive oil, onion, carrots, and celery and cook over medium, heat for 6 minutes, stirring occasionally.
Add the garlic, thyme, and potatoes and continue to cook for 2 minutes.
Add the vegetable broth and bay leaf and bring to a boil.
Reduce the heat to low and simmer for 20 minutes or until the vegetables are tender.
While the soup is simmering, prepare the cashew cream.
Blend 1/2 cup of soaked cashews with 1/2 cup of water. Blend until completely smooth.
Once the vegetables in the soup have softened, add one cup of soup to the blender and continue to blend until smooth.
Stir the cashew and soup mixture back into the pot.
---
Notes
To quick-soak the cashews, bring one cup of water to a boil (I do this in the microwave), then add the cashews. Cover and let sit for 10 minutes. Drain the cashews, then add them to the blender with 1/2 cup of water. Blend until smooth.
Keywords: carrot potato soup, creamy potato soup, vegan potato soup