Vegan Butter Chickpeas
These delicious chickpeas are simmered in a creamy, spicy sauce that is completely plant-based. This recipe is easy to make using just a few basic pantry staples and seasonings!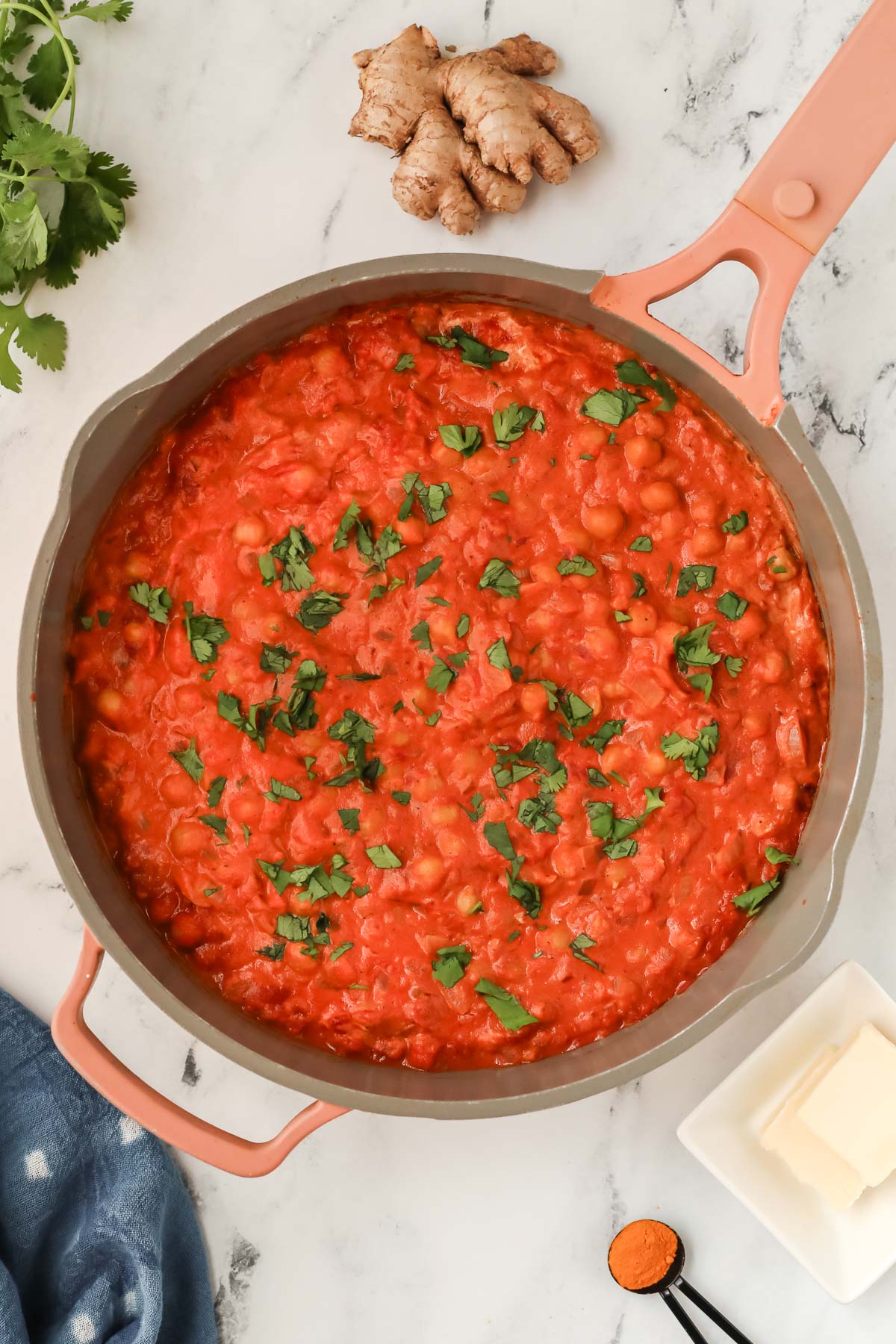 I have to admit that as a vegetarian, I've never had butter chicken, but I was inspired by these butter chickpeas from Chelsea's Messy Apron. Although a traditional sauce would call for butter and cream, I decided to keep this one plant-based. So while this recipe is called "butter" chickpeas, there's no dairy in this recipe!
The sauce gets its orange color from a mix of tomatoes, cashew cream, vegan butter, and spices. This smooth sauce balances tanginess and creaminess that works perfectly with simmered chickpeas. The spice blend, which includes ginger, garlic, cumin, paprika, turmeric, and garam masala, adds layers of flavor.
Ingredients & Substitutions
Vegan butter– This adds a rich and creamy texture to the sauce, but if you don't have vegan butter, you can substitute with olive oil and cashew cream.
Onion– I used a small yellow onion but a white onion or shallots could be substituted.
Spices– You'll need ginger, garlic, turmeric, cumin, paprika, and garam masala, which create the flavor of the sauce.
Tomatoes– I used peeled crushed tomatoes but regular tomato sauce can work, too.
Chickpeas– Canned chickpeas are the quickest but you can use dried chickpeas if you like. You'll need to cook the dried chickpeas completely before using in this recipe.
Cashews– The cream is made from cashews and it's essential in this dish. If you don't have cashews, you could substitute with a vegan creamer like Ripple's half and half, but be sure it's unsweetened.
How to Make Vegan Butter Chickpeas
How to Make Cashew Cream
The cream is made from soaked cashews blended in water. As long as you have a high-powered blender, you don't need to soak the cashews for more than a few minutes. You can read this blog post on cashew cream for more details on how to make, store, and use this vegan cream.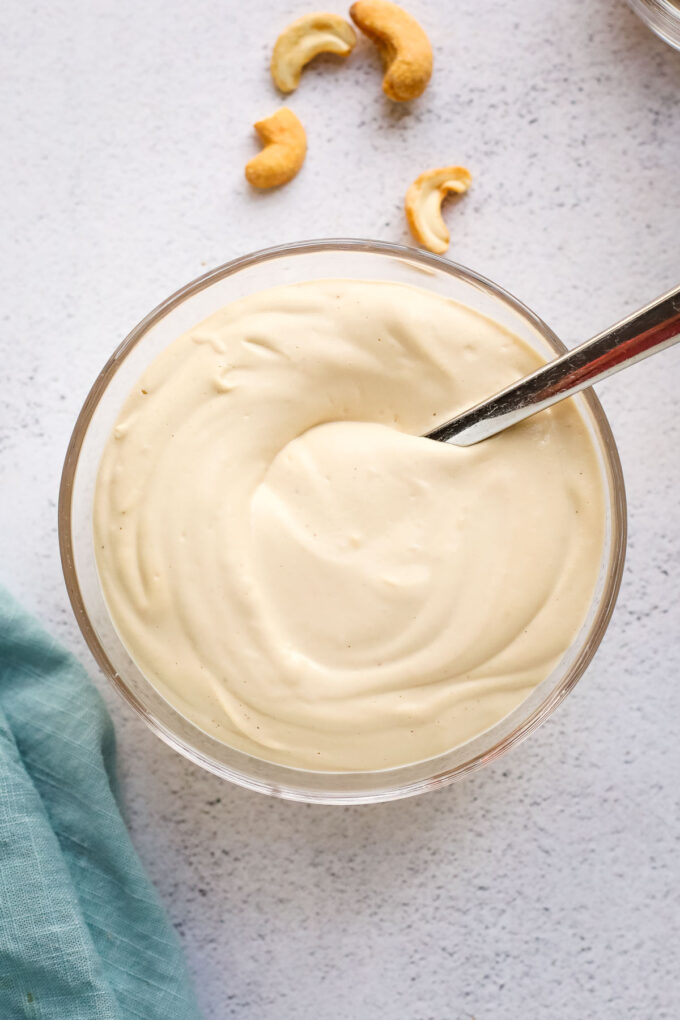 What to Serve with Butter Chickpeas
Looking for the perfect side dish to pair with this recipe? It works great with my vegan naan, which is fluffy and delicious! But it's also great with a side of rice. If you want a hands-off recipe, try my rice cooker rice pilaf.
How to Store and Reheat Leftovers
To store butter chickpeas, let them cool and transfer them to an airtight container before refrigerating for up to 3-4 days. You can reheat the chickpeas in the microwave or on the stovetop. Add a splash of water if the sauce begins to dry out.
Print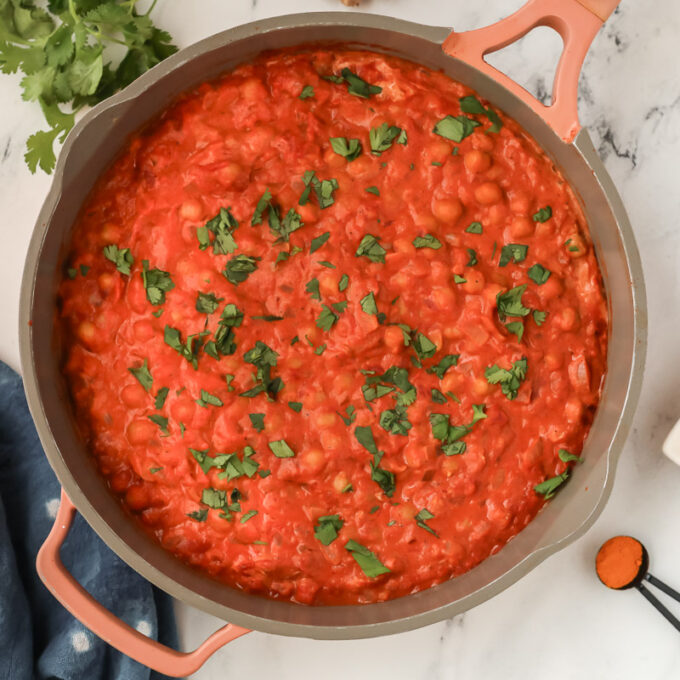 Vegan Butter Chickpeas
Author:
Prep Time: 10 minutes
Cook Time: 30 minutes
Total Time: 40 minutes
Yield: 6 cups 1x
Category: Dinner
Method: Stovetop
Cuisine: Indian Inspired
Diet: Vegan
---
Description
These delicious chickpeas are simmered in a creamy, spicy sauce that is completely plant based! This recipe is easy to make using just a few basic pantry staples and seasonings!
---
1/2 cup cashews (raw or roasted is fine)
1/2 cup water
2 tablespoons vegan butter, divided (see note for substitution)
1 small yellow onion, diced
1 tablespoon freshly grated ginger
5 cloves garlic, minced
3/4 teaspoon paprika
1 teaspoon ground cumin
1 teaspoon garam masala
1/2 teaspoon turmeric
1/2 teaspoon salt
28oz crushed tomatoes
2 15oz cans chickpeas, drained and rinsed
Fresh cilantro for garnish (optional)
---
Instructions
In a microwave safe bowl, microwave one cup of water for 2 minutes.
Carefully add the cashews to the hot water and cover with a plate. Set aside.
In a large skillet, melt 1 tablespoon of butter over medium heat.
Add the onion and cook for 4 minutes, stirring occasionally.
Add the ginger, garlic, and spices and continue to cook for 2 minutes.
Add the tomatoes and chickpeas, cover and turn the heat to high. Once the mixture is bubbling, reduce the heat to medium-low and cover, simmering for 15-20 minutes until the chickpeas are tender.
While the chickpeas are simmering, make the cashew cream. Drain the cashews and add them to a blender. Add 1/2 cup of water and blend on high until completely smooth.
Remove from heat and stir in the remaining 1 tablespoon of vegan butter (if using) and the cashew cream. Season with additional salt and pepper to taste.
---
Notes
If you do not have vegan butter, use one tablespoon of olive oil to cook the onion. Then skip adding the remaining butter in step 8. The cashew cream will still make this recipe rich and creamy!
Keywords: butter chickpeas, vegan butter chickpeas