Vegan White Bean Soup
This vegan White Bean Soup is filled with creamy white beans and a variety of vegetables. This hearty soup is a healthy way to eat your veggies!
We eat soup pretty frequently because it's such an easy way to enjoy plenty of vegetables in one dish. It's also great for leftovers and recipes like this rely on pantry staples, which means I don't have to make an extra trip to the grocery store!
Why You'll Love This Soup
This vegan White Bean Soup is easy on the budget! Beans are an inexpensive source of protein and this recipe makes a large batch, plenty to feed a crowd!
This soup reheats really well, so it's great for a meal prep recipe! You can make this at the start of the week and reheat leftovers for lunch. It can also be frozen, if you want to keep some in your freezer for busy weeknights!
The flavor is delicious and the ingredients in this soup make it a really healthy dinner that's loaded with vegetables!
White Bean Soup Ingredients
Onion, Carrots, & Celery – These three vegetables are the classic ingredients for mirepoix, which adds a great base of flavor to this soup.
Olive Oil– A little oil brings out the flavors of the vegetables as they soften.
Garlic– Fresh garlic adds additional depth to the flavor of this soup. Feel free to substitute with pre-minced garlic. You can also use garlic powder in a pinch.
Vegetable Broth– I like the "Not-Chicken" style broth from Edward & Sons. It's vegetarian but it adds a lot of flavor to the soup.
Bay Leaf– A bay leaf adds an additional layer of savory almost tea-like flavor.
Diced Tomatoes– Diced tomatoes add depth and complexity to this recipe. You can use fire roasted diced tomatoes for even more tomato flavor.
Cannelini Beans- Cannelini beans, sometimes called white kidney beans, are a soft, creamy white bean. It's the backbone of this soup and adds lots of plant-based protein and fiber.
Kale– This adds a bright green pop of color to the soup and is an easy way to add more veggies to the mix!
Fresh Rosemary– Simmering a bit of fresh rosemary in the soup adds additional flavor.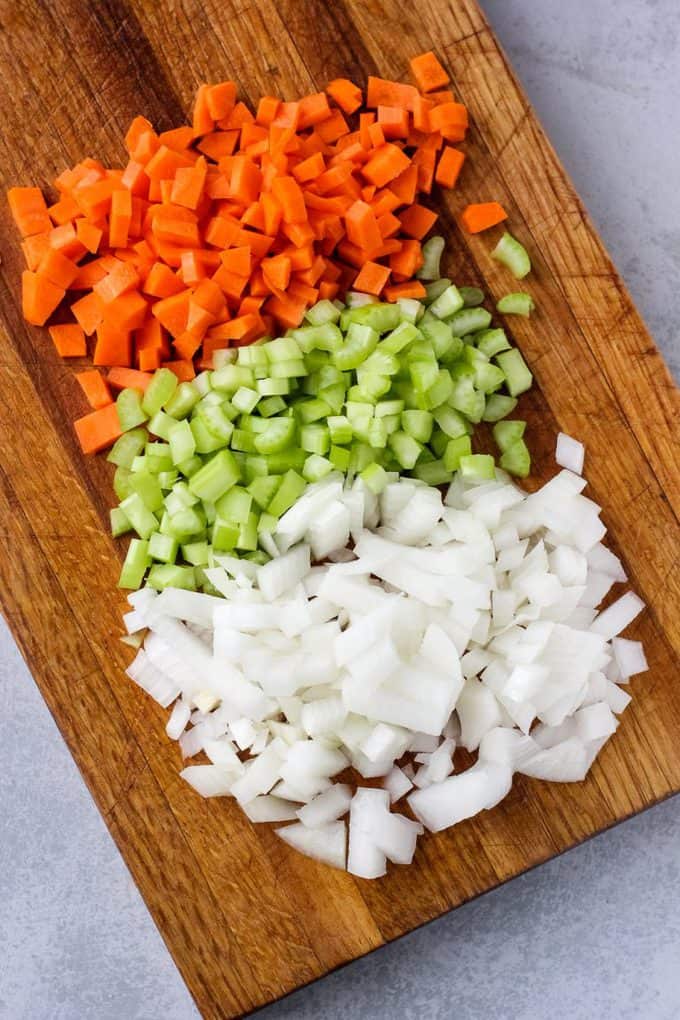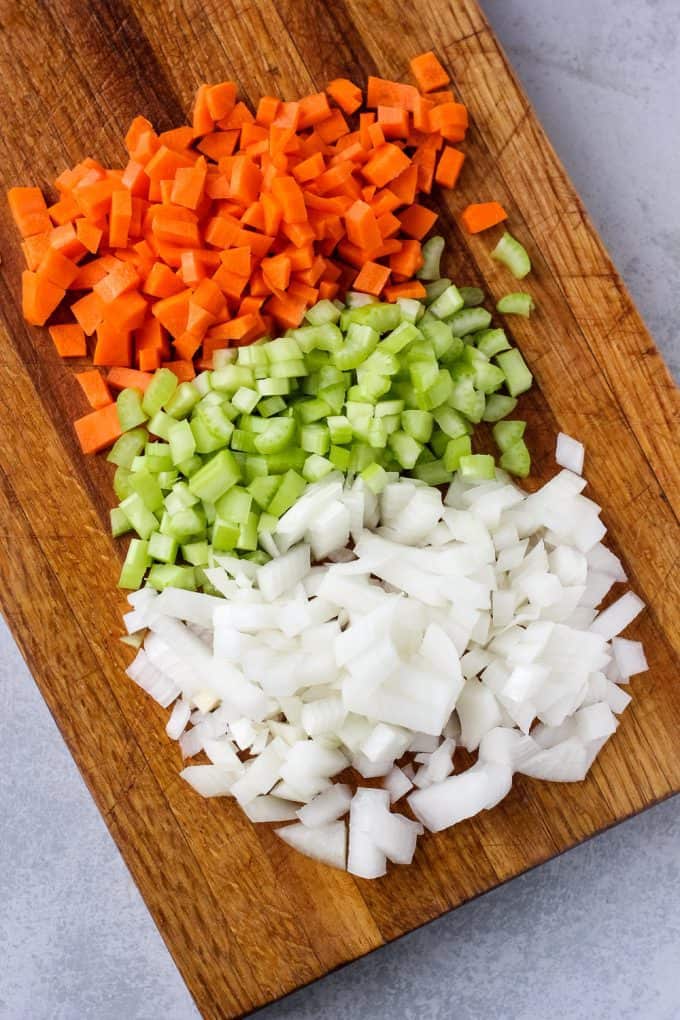 Are Cannellini Beans and White Navy Beans the Same?
Cannellini beans are also called white kidney beans or Italian white beans, but they're not the same as white navy beans. They do look similar but cannellini beans are slightly larger. Cannellini beans are also softer and creamier with a slightly nutty flavor. White navy beans have a firmer texture and a more neutral flavor.
Can I Use Dried Beans?
Yes, you can use dried beans in this recipe, but you'll need to soak them overnight, and simmer them until soft. Then you can add them to the recipe as written. Dried beans can be a great option because they're cheaper than canned beans, but canned beans tend to be most convenient.
How to Store Leftover Soup
This soup can be stored in the fridge for up to 5 days, or frozen for up to 2 months. If freezing, let cool completely and store in a glass container. Reheat on the stovetop or in the microwave.
Print
White Bean Soup
Author:
Prep Time: 15 minutes
Cook Time: 45 minutes
Total Time: 1 hour
Yield: 10 cups 1x
Category: Soup
Method: Stovetop
Cuisine: American
Diet: Vegan
---
Description
This vegan white bean soup can be made in one pot. It's perfect for a healthy, weeknight meal!
---
1 tablespoon olive oil
1 large onion, chopped
2 large carrots, peeled and chopped,
2 ribs of celery, chopped
8 cloves of garlic, crushed
4 cups of vegetable broth
4 cups of water
2 bay leaves
2 large kale leaves, torn into 1-inch pieces
1 15oz can of diced tomatoes
4 15oz cans of cannellini beans
1 large sprig of rosemary (optional)
Salt & pepper to taste
---
Instructions
Heat the olive oil in a large 6 qt pot over medium heat until it's shimmering.
Add the onions, carrots, and celery and cook over low to medium heat for about 10 minutes, until the vegetables begin to soften.
Add the garlic and continue to cook for 1 minute.
Add the broth, water, bay leaves, tomatoes, and beans.
Simmer for 20-25 minutes until vegetables are fully softened.
Add the kale and bundle of rosemary and continue to cook for 2-3 minutes until the kale is bright green.
Remove the rosemary and the bay leaf.
Add salt and pepper to taste
---
Keywords: white bean soup
What to Serve with White Bean Soup
Not sure what to serve with this soup? This Lemon Kale Salad with Avocado is a great side dish option! Or you could serve it as a side dish or appetizer to this Ravioli Lasagna. It would also be good alongside this Pasta Alla Norma recipe.
Additional Soup Recipes
Looking for more delicious soup recipes? Here are a few of my favorites: