It started with a Pinterest search for recipe inspiration. I came across this Martha Stewart recipe and I was excited because I had all the ingredients on hand and it seemed simple enough. After chopping my carrots and adding onion (rather than shallots) into my olive oil, I scrolled down to the bottom of the recipe and read some of the reviews. Almost every person that commented said it was bland. No flavor. Boring. Basic.
Uh oh.
So after I dumped in the lentils and began to let them simmer, I tried to think of what else I could add to this recipe to spice it up. I scrolled through a few Moroccan stew recipes for ideas and took a chance by adding in  a few spices. Honestly, it turned out better than I expected and I'm glad I measured everything out so I can make it again! I was originally going to add bulgur to this dish but I decided to keep it gluten free so more of you could enjoy it!
Print
Easy Moroccan Lentil Soup
This recipe is SO easy. I've made it with green or brown lentils and both are delicious!
Author:
Prep Time:

5 mins

Cook Time:

25 mins

Total Time:

30 minutes

Yield:

4 servings

Category:

Soup

Cuisine:

Moroccan
Ingredients
2 tbsp olive oil
2 cloves of garlic
1/2 medium onion
2 large carrots (or ~12 baby carrots)
1 cup of dried brown lentils (green lentils would work, too)
6 cups of vegetable broth
1 tsp salt (or to taste. It depends on the broth!)
3/4 tsp ground coriander
1 tsp turmeric
2 tsp cumin
Dash of black pepper
Instructions
Start by mincing the garlic and dicing the onion and carrots.
Add them all to a large pot with the olive oil.
Cook over medium heat for 6 minutes until the onion and carrots begin to soften.
Add the lentils and water and simmer for 20 minutes.
Add the salt and spices and simmer for another 5 minutes.
Serve hot.
Alex and I had this for lunch on one of the many snowy days last week. It was a perfect warm-you-up-from-the-inside type of recipe but I have a feeling we'll be making this again soon. Alex gave it a good review and it's a recipe that can easily be made ahead of time and packed in a lunchbox. It's also really healthy and lentils are an awesome (and cheap!) source of protein.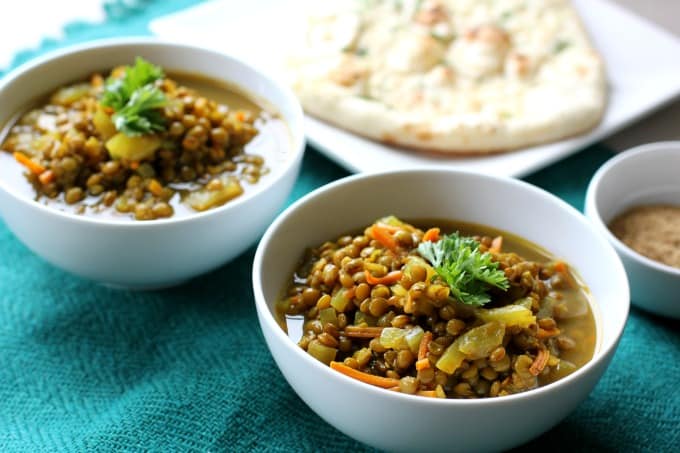 It's supposed to be pretty cold here the rest of the week, so I plan on making more comfort food!
Do you go "off recipe" or do you like to follow recipes exactly?