Peach Mango Smoothie
This peach mango smoothie is made with frozen fruit and creamy cottage cheese for a smoothie that is delicious and satisfying! This easy recipe is great for breakfast on the go!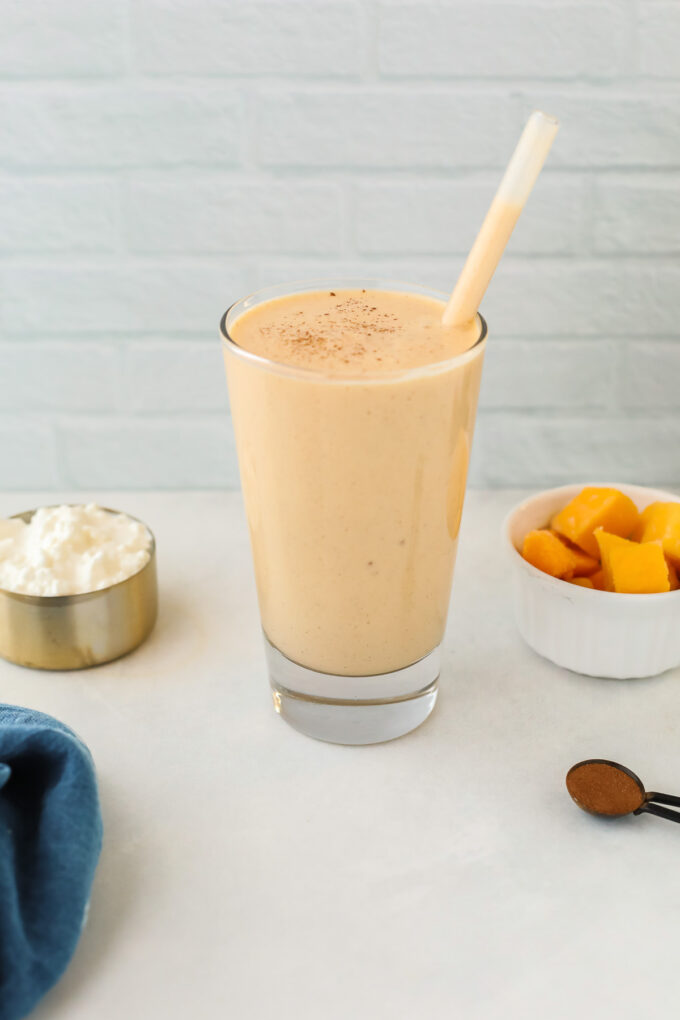 Why I Love This Recipe
I love the flavor of peaches but peach season isn't very long, so this recipe uses frozen peaches. That way, you can enjoy this smoothie all year long! The combination of peaches and mango make this smoothie nice and sweet and the cottage cheese adds a creamy texture with plenty of protein. A hint of vanilla and cinnamon make this smoothie taste like a dessert!
Peach Mango Smoothie Ingredients
Peaches– I used frozen peaches because they're a little cheaper and they're available year round, but if you want to make this recipe during peach season feel free to use fresh peaches!
Mango– I like frozen mango because you don't have to mess with peeling and pitting fresh mango, but fresh or frozen is fine.
Almond milk– Feel free to substitute any kind of milk you prefer.
Cottage cheese– I love the creamy texture this adds to the smoothie and cottage cheese is a great source of protein! For a vegan option, use vegan Greek yogurt instead.
Vanilla extract– A splash of vanilla adds sweetness.
Cinnamon– A dash of cinnamon makes this smoothie taste like a treat!
Should I Use Fresh or Frozen Fruit for a Smoothie?
You can use fresh or frozen fruit for this smoothie. If you're using frozen fruit the smoothie will have a much thicker texture. This can be great if you want to enjoy your smoothie with a spoon, but if you want something drinkable you may need to add more liquid in order for it to be thin enough to sip through a straw. I generally use frozen fruit because I like my smoothies thick and it tends to be cheaper than fresh fruit. Plus, frozen fruit is available year-round, whereas some fresh fruits are only available in certain seasons.
How to Blend the Perfect Smoothie
If you don't have a powerful blender, you may need to add a bit more liquid to get the smoothie to blend. If you want to make a spoonable smoothie, use a little less liquid for a thicker texture. If your fruit isn't frozen, it will have a much thinner texture. If you're using fresh fruit, I'd recommend reducing the almond milk and adding a handful of ice. If you want to make the texture of the smoothie thicker, follow my tips for super thick smoothies!
My Favorite Blender
I've tested a variety of blenders and my all time favorite is my Vitamix. It's super powerful and can blend frozen fruit, ice, and greens into a perfectly smooth drink. But I know a Vitamix is expensive, so a lower cost option would be this Kitchen Aid blender. I have this one as well and I'm impressed with how well it blends frozen ingredients. I also have a Nutribullet which is great for smaller, sipable smoothies. No matter what kind of blender you have, read my tips for how to get the best results from your blender.
Can I Add Greens to My Smoothie?
Yes! If you want to add a boost to your smoothie, add a handful of spinach! I recommend blending the spinach and almond milk until smooth, then adding the remaining ingredients. This helps blend the spinach completely so you don't have to worry about any large chunks in your smoothie. If you want to add kale, be sure to remove the stems first. Keep in mind that kale has a stronger, more bitter flavor. So you may need a bit of sweetener to compensate.
More Smoothie Recipes
Print
Peach Mango Smoothie
Author:
Prep Time: 5 minutes
Cook Time: 0 minutes
Total Time: 5 minutes
Yield: 2 smoothies 1x
Category: Breakfast
Method: Blended
Cuisine: American
Diet: Vegetarian
---
Description
This delicious peach mango smoothie is made with frozen fruit and creamy cottage cheese for a uniquely delicious breakfast that tastes like dessert!
---
1 cup frozen mango
1 cup frozen peaches
1 cup almond milk
1/2 cup cottage cheese
1/4 teaspoon vanilla
Pinch of cinnamon
---
Instructions
Add all ingredients to a blender and blend until smooth.
Keywords: peaches and cream smoothie, peach mango smoothie, cottage cheese smoothie