Avocado Panzanella Salad
This Avocado Panzanella Salad is an amazing combination of textures and flavors. Creamy avocado, peppery arugula, sweet and juicy tomatoes, and plenty of crusty bread make this salad a delicious vegetarian main dish! It's a great fast and easy weeknight recipe.
Why did it take me so long to make Panzanella salad? As someone who loves salad and crusty bread it's kind of a no brainer. I spotted a Panzanella salad recipe in Bon Appetit and I couldn't get it out of my mind. Their version wasn't vegetarian and I wanted to simplify it so the end of summer tomatoes could really shine. I'm so happy with where this ended up and it turned out to be a delicious dinner.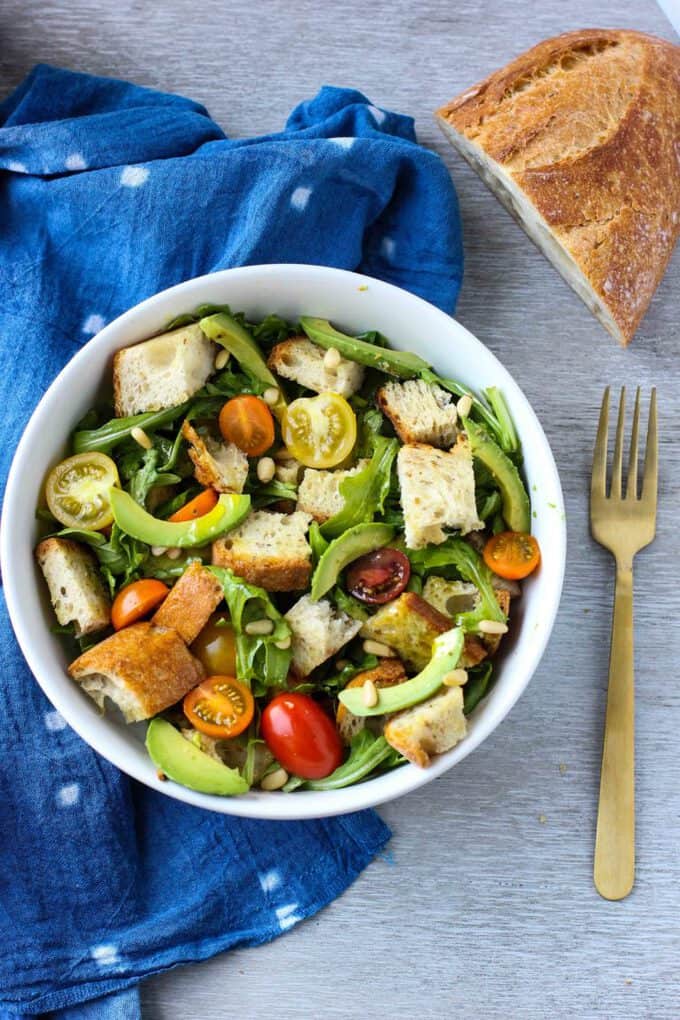 What is Panzanella?
Panzanella is a Tuscan salad traditionally made with stale bread. It often includes tomatoes and other vegetables. In this version, we use toasted bread, tomatoes, avocado, and mixed greens.
How to Serve Panzanella
It's a great side dish with just about anything but I ate mine as a main dish and it was quite satisfying. I had perfectly ripe avocados and deliciously sweet tomatoes. Both are essential for this dish! Since it's full of produce, healthy fats, and crusty bread, it's quite filling.
What's the Best Bread for Panzanella?
I like using sourdough or crusty French bread. This is a great way to use up leftover, stale bread. Obviously, you can toast a fresh loaf and it'll be delicious but it works just as well with bread that is a little dry. Anytime I have leftover bread, I pop it in the freezer. You can easily defrost it in the oven and then slice and toast it for a salad like this!
Substitution Ideas
If you don't have arugula, you can use any type of mixed greens or salad greens.
I used cherry tomatoes, but any type of chopped tomato would be delicious.
Feel free to swap out the pine nuts for sliced almonds or even toasted cashews.
Print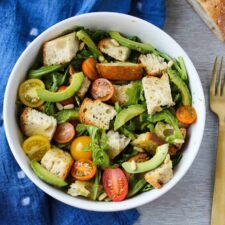 Avocado Panzanella Salad
Author:
Prep Time: 5 minutes
Cook Time: 10 minutes
Total Time: 15 minutes
Yield: 2 large servings or 4 small servings 1x
Category: Dinner
Method: Baking
Cuisine: Salad
---
Description
This avocado Panzanella salad makes a filling and delicious dinner! It's perfect for a busy weeknight or when you have a loaf of crusty bread to use up!
---
1 small loaf crusty bread (About 8 oz)
1 tablespoon olive oil, divided
1 tablespoon pine nuts
1 avocado, peeled and pitted
2 cups cherry tomatoes, halved
4 cups arugula or mixed greens
Salt and pepper to taste
---
Instructions
Preheat the oven to 400 degrees
Slice the bread into 1 inch chunks
Drizzle two teaspoons of olive oil evenly over the bread. If you have olive oil spray, that's a great way to evenly coat the bread without having to use a lot of oil.
Bake the bread for 5 minutes then add the pine nuts to the pan, flip the bread over and toast the other side.
Let the bread cool slightly.
In a large bowl, combine the bread, pine nuts, avocado, tomatoes, and arugula.
Drizzle with the remaining olive oil and sprinkle with salt and pepper.
---
Keywords: panzanella salad
This was such a tasty but simple salad. I ended up making it twice in the same week because I couldn't get it out of my mind! I used Billy Bread, a crusty loaf from a local bakery here, but you could use any crusty bread you enjoy. I'd also recommend the arugula because it adds a nice peppery flavor to the salad, but you can use any mixed greens you have on hand!
While I loved this as a main course, it can also be served as a salad. If you'd rather serve this as a side dish, why not pair it with last week's 15-minute dinner recipe? After all, these halloumi sandwiches would be good with pretty much anything!
Enjoying this 15-minute dinner series? Click here to subscribe to my email list so you never miss a recipe!
What's your favorite type of salad?