I eat a lot of salads, but it's not just because they're "healthy"; I honestly really like them. It's an easy way to get in a few servings of vegetables and as long as you switch up your toppings, the variety keeps it interesting. Carrots and tomatoes are great but I thought I'd share a few of my favorite outside-the-box toppings.
1. Apples

I love crunchy apples on top of a hearty kale salad. They're a healthy way to add some sweetness and texture. I love tossing some in this apple walnut kale salad and it has a great texture. Try it with a little blue cheese, parmesan, or pecans.
2. Roasted Potatoes
Roasted potatoes can take a salad from side dish territory to the main event. There's something so satisfying about the different temperatures. I love some warm roasted potatoes on a cold kale salad. Slice a few roasted red potatoes, toss them with olive oil, salt, and pepper, and roasted them until they're crispy. While they're in the oven you can prepare your salad and then toss it all together.
3. Strawberries

I used to think strawberries were reserved for spinach and goat cheese salads but lately I've been enjoying them on kale or mixed greens. They're delicious with salty pine nuts or almonds! They're also delicious with a crumbly feta and a little balsamic. Blueberries and raspberries are a fun alternative, too.
4. Fresh cilantro
I've been on a cilantro kick lately and I love chopping a bunch of it right into a salad! It adds such a nice flavor to fresh greens. Don't rely on the dressing for spiciness, just add some fresh herbs right in! I'll buy a big bunch and keep it in a jar of water in the fridge. It helps it stay fresh a little longer so I can grab a handful and sprinkle it right into my salad. Hello, flavor!
5. Roasted Chickpeas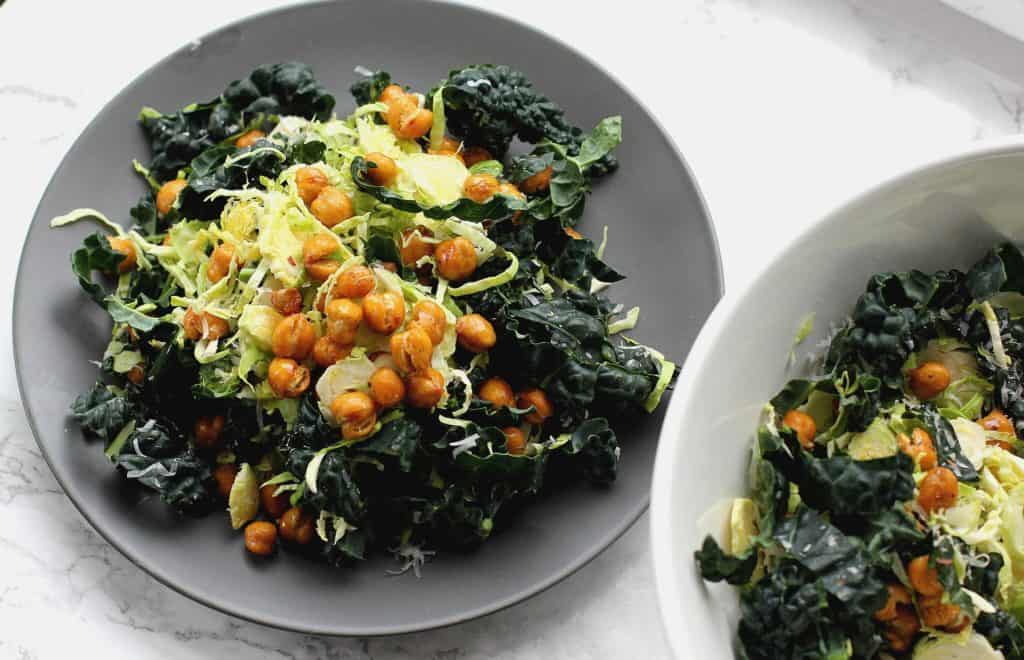 Roasted chickpeas are a delicious salad topping because they're similar to crunchy croutons but with more protein and fiber! Skip the buttery packaged croutons and try these roasted chickpeas instead.
What are your favorite salad toppings?