Cottage Cheese Mac and Cheese
Looking for a delicious twist on macaroni and cheese? Cottage cheese is the secret ingredient to make this classic dish extra rich and creamy. It's perfect for comfort food that's both nutritious and satisfying.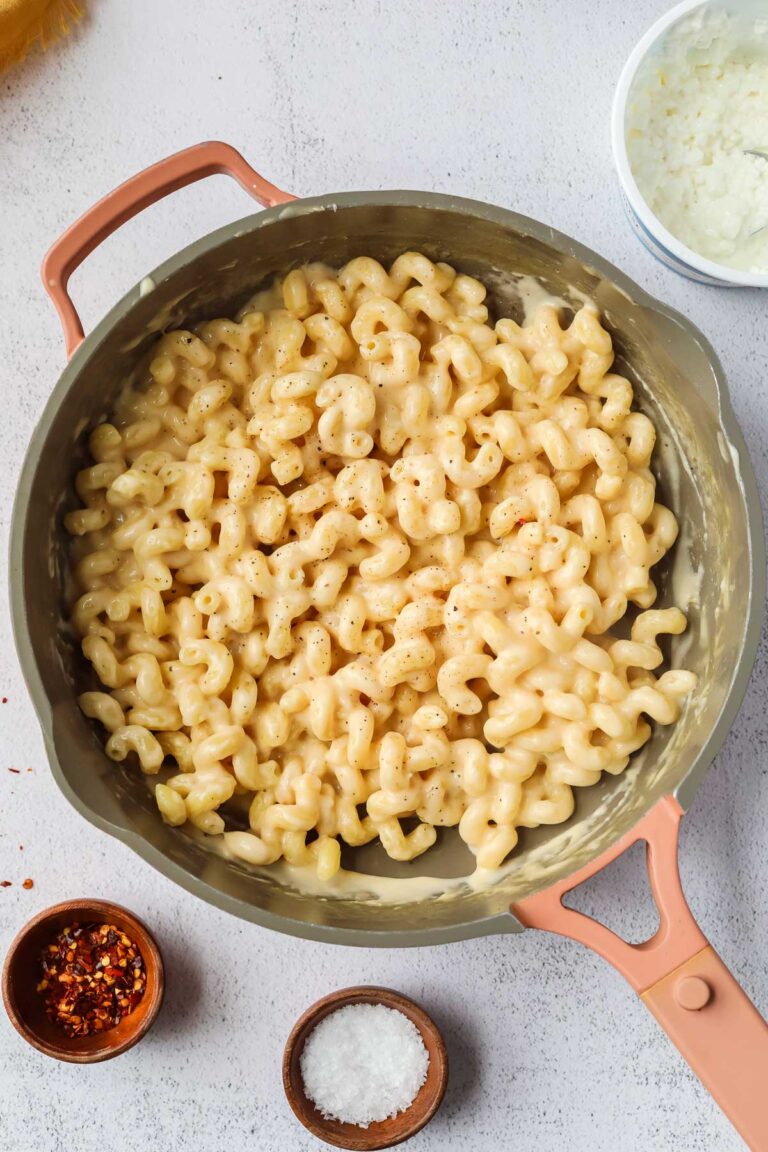 Can you make macaroni and cheese with cottage cheese?
Yes! Blending cottage cheese into the sauce makes the macaroni and cheese rich and creamy, but lower in fat and higher in protein. By blending all the ingredients together, you won't even notice the base is made from cottage cheese! It's a simple recipe that only requires a few ingredients, but it makes a delicious, homemade sauce!
Benefits of Using Cottage Cheese
Cottage cheese is an excellent source of protein, calcium, and vitamin B12. Plus, it's lower in fat and calories than heavy cream. It's a great way to create creamy macaroni and cheese without any actual cream. You can also use less cheese while still enjoying a hearty sauce. Overall, cottage cheese is a nutritious and delicious addition to this classic recipe! Looking for more ways to use cottage cheese? You have to try my healthy macaroni salad which uses cottage cheese for the dressing! You should also try my cottage cheese ice cream or cottage cheese overnight oats!
Ingredients and Substitutions
Pasta: I've made this with regular pasta and chickpea pasta and both are delicious! I think whole wheat pasta would be great, too.
Cottage cheese: Adds tanginess and creaminess to the dish as well as lots of protein. I used 4% milkfat cottage cheese.
Milk: I used 2% milk, but whole or skim milk will be fine.
Cornstarch: Helps thicken the sauce for a creamy consistency.
Shredded sharp cheddar cheese: I recommend using a block of cheese rather than pre-shredded cheese. Pre-shredded cheese contains anti-caking agents that can make the sauce grainy.
Garlic powder: Infuses a savory flavor into the dish.
Paprika: Provides a subtle smokiness and a touch of color to the mac and cheese.
How to Make Cottage Cheese Mac and Cheese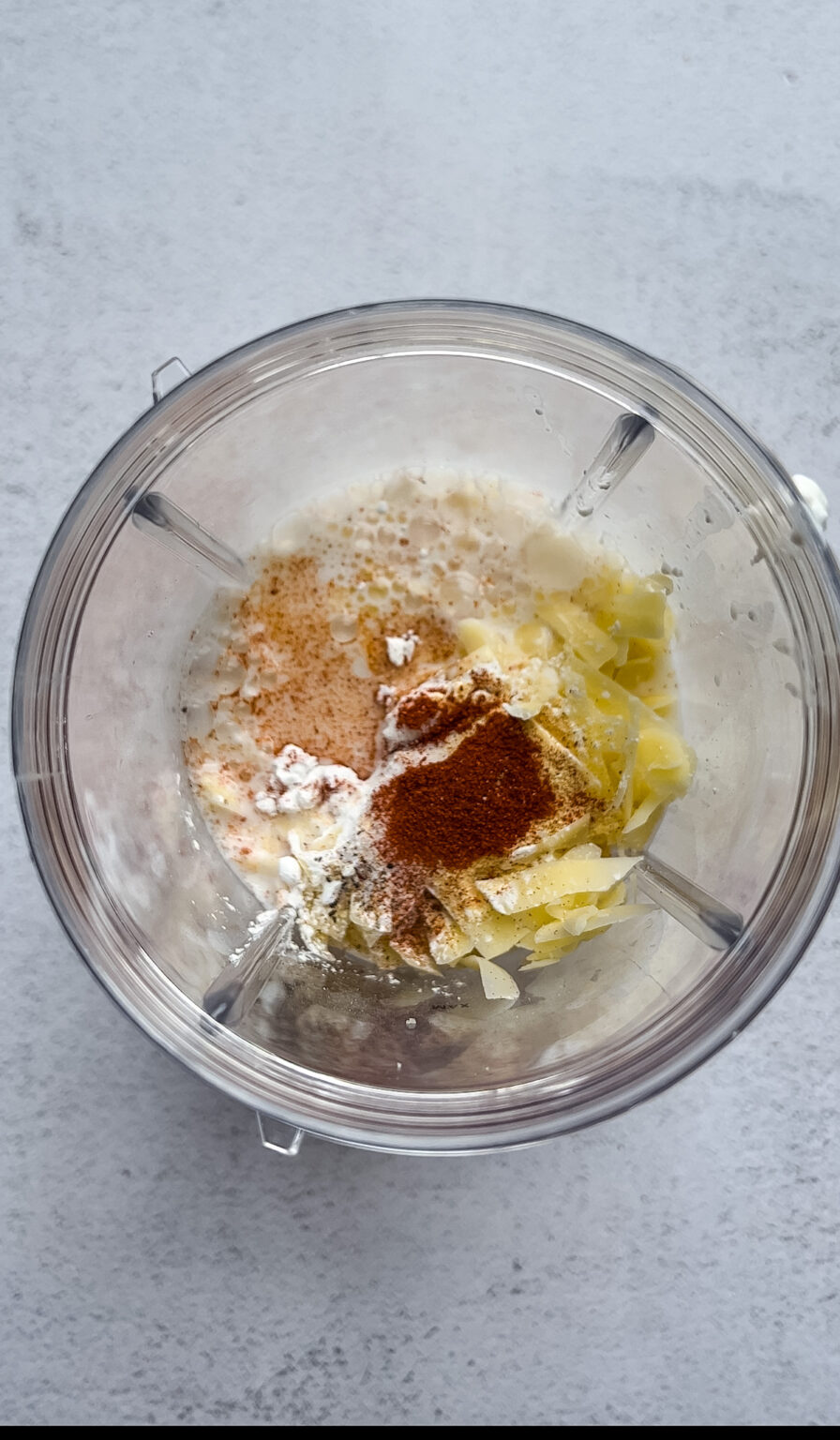 Variations and Substitutions
Reduce the amount of pasta to 6oz and add 2 cups of steamed broccoli to the pan when adding the cooked pasta. This is an easy way to add some veggies to the mix.
Craving a tomato based pasta? Try my cottage cheese pasta sauce! Looking for a vegan version? Try my cream vegan macaroni and cheese!
Turn it into baked macaroni and cheese! After combining the pasta with the sauce, transfer it to a casserole dish, top with panko crumbs, spray with a little olive oil, and sprinkle with shredded Parmesan cheese. Bake for 10-12 minutes until panko crumbs are browned.
Frequently Asked Questions
Can cottage cheese be used in cooking? Yes! It's surprisingly versatile. You can use it in pasta sauce, pancakes, oatmeal, and pudding!
What else can I add to macaroni and cheese? Add broccoli or peas for an easy way to include veggies.
What are good cheese combinations for mac and cheese? I like the flavor of extra sharp cheddar cheese, but this is also delicious with a blend of half gouda and half extra sharp cheddar.
How do you keep mac and cheese creamy? Be sure not to heat the sauce higher than medium heat. If the sauce gets too hot, the cheese can separate and become grainy.
Do you have other macaroni and cheese recipes without cottage cheese? Yes! Try my Instant Pot macaroni and cheese, stovetop mac and cheese, or rice cooker mac and cheese.
What to Serve with Macaroni and Cheese
Looking for the perfect side dishes to pair with pasta? Try this vegan chopped salad for an easy way to enjoy your veggies. Or pair this mac and cheese with a bowl of creamy tomato soup! I also love serving it with a side of this air fryer broccoli.
Print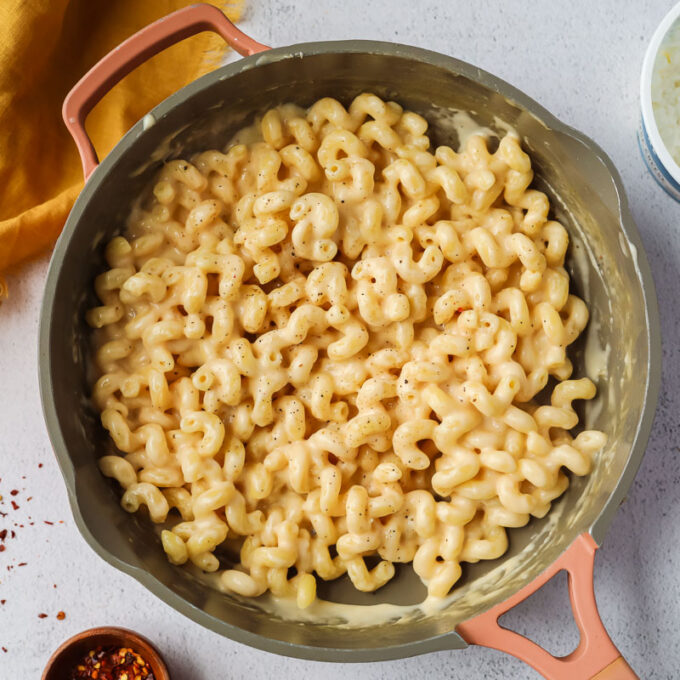 Cottage Cheese Mac and Cheese
Author:
Prep Time: 5 minutes
Cook Time: 10 minutes
Total Time: 15 minutes
Yield: 4 cups 1x
Category: Dinner
Method: Stovetop
Cuisine: American
Diet: Vegetarian
---
Description
Looking for a delicious twist on macaroni and cheese? Cottage cheese is the secret ingredient to make this pasta dish extra rich and creamy. It's perfect for comfort food that's both nutritious and satisfying. 
---
8oz pasta (you can use whole wheat, chickpea, or regular pasta)
1/2 cup cottage cheese (I used 4% milkfat)
1 cup milk (I used 2%)
1 tablespoon cornstarch
4oz shredded sharp cheddar cheese (about 1 cup)
1/4 teaspoon salt
1/8 teaspoon pepper
1/4 teaspoon garlic powder
1/4 teaspoon paprika
---
Instructions
Cook the pasta according to package directions.
In a blender, combine the cottage cheese, milk, cornstarch, cheddar cheese, and seasonings. Blend until smooth.
Pour the cheese sauce into a skillet and heat over medium-low heat. Cook for 4-5 minutes until the sauce has thickened slightly.
When the pasta is cooked, stir into the cheese sauce. Add additional seasoning to taste if desired.