Cottage Cheese Pasta Sauce
This rich and creamy sauce is secretly healthy, thanks to the addition of cottage cheese! This high-protein sauce is perfect when you're craving comfort food, but you want to enjoy something lighter!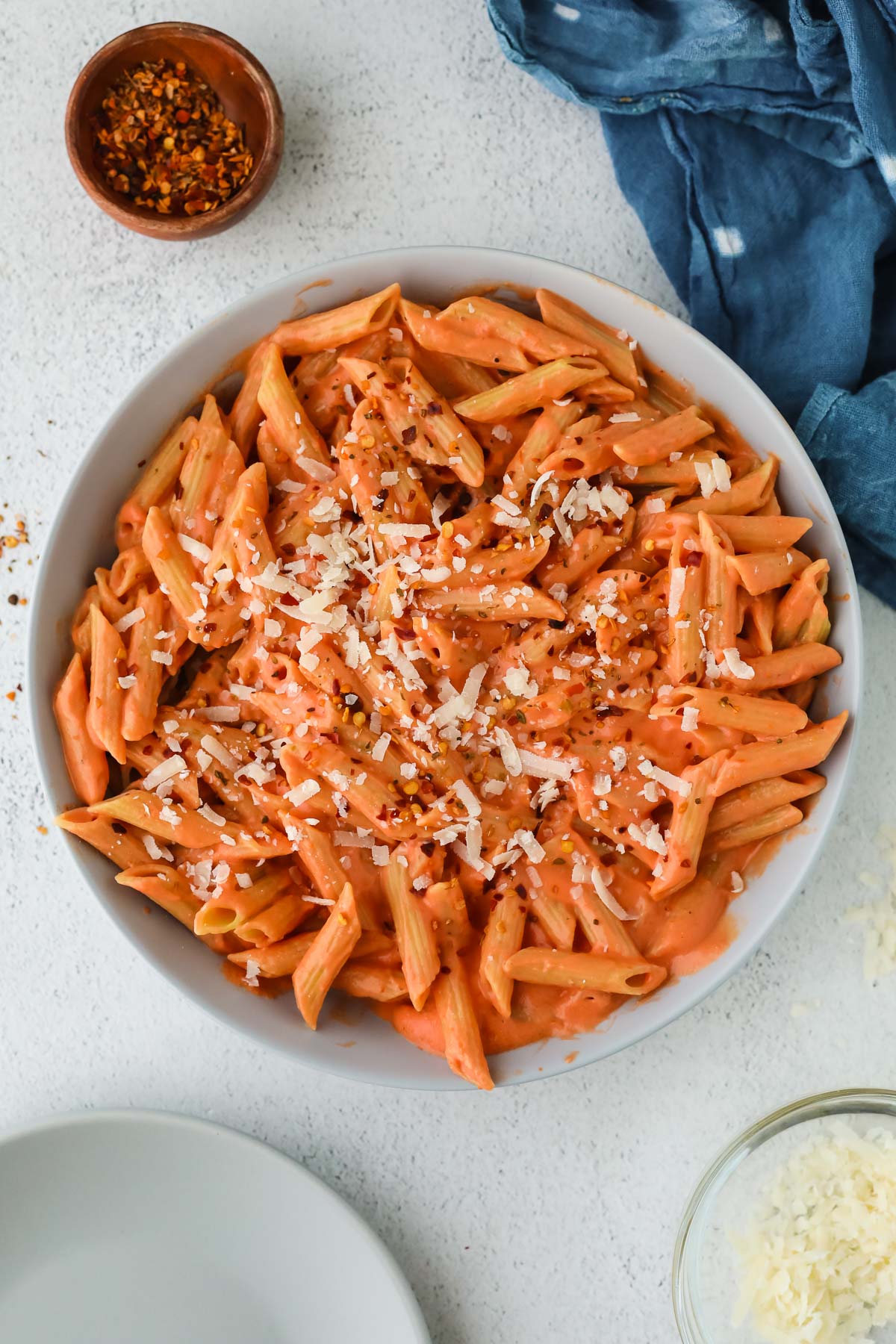 Looking for a delicious and creamy pasta sauce that's low in calories but high in protein? Look no further than this recipe for cottage cheese pasta sauce! Made with tangy cottage cheese and lots of garlic, this sauce is the perfect way to elevate your favorite pasta dish. Whether you're a vegetarian or just looking for a healthier alternative to traditional pasta sauces, this recipe will become a new favorite!
What is Cottage Cheese Pasta Sauce?
This sauce is similar to a vodka sauce, but we use cottage cheese instead of heavy cream! This makes it rich and creamy but lower in fat and higher in protein. You can use vodka or lemon juice to add the tangy, zippy flavor of typical vodka sauce. It's a simple recipe that only requires a few ingredients but it makes a delicious, homemade sauce!
Benefits of Using Cottage Cheese
Cottage cheese is an excellent source of protein, calcium, and vitamin B12. Plus, it's much lower in fat and calories than heavy cream. It's a great way to create a creamy pasta dish without any actual cream. Overall, cottage cheese is a nutritious and delicious addition to this sauce!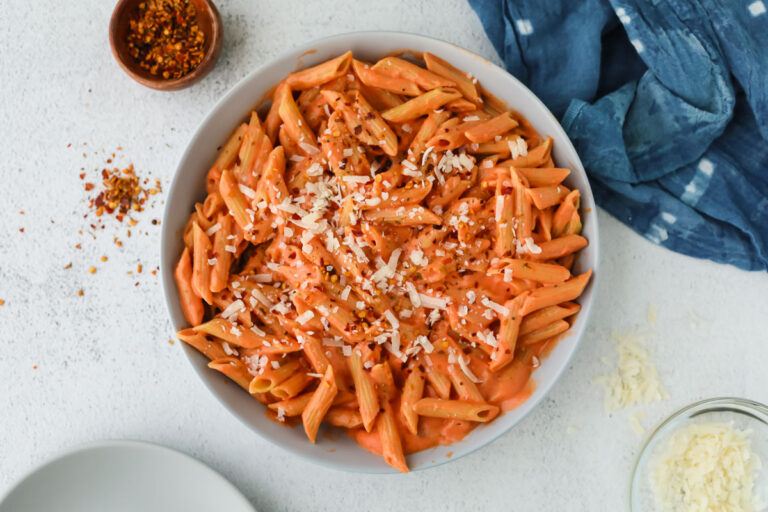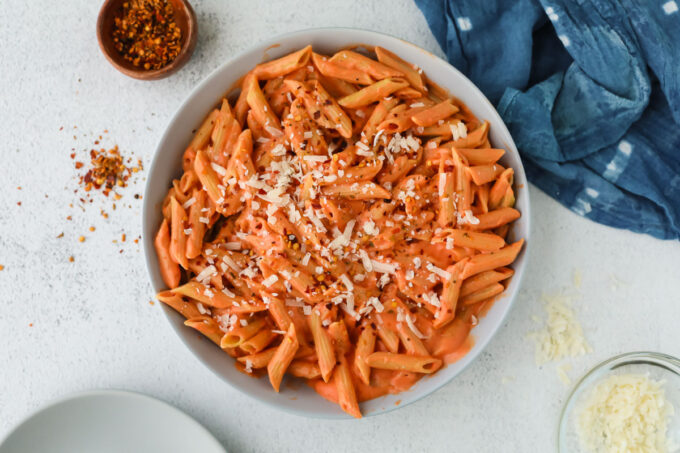 Ingredients and Substitutions
Pasta: Any pasta can be used, such as spaghetti, penne, or fettuccine. I like Barilla's Protein Plus pasta which has extra protein and fiber.
Cottage cheese: I prefer 4% milkfat cottage cheese for this recipe because it has the creamiest texture. If you're not a fan of cottage cheese, you could use ricotta cheese or cream cheese as a substitute.
Olive oil: This healthy fat adds flavor and helps to cook the garlic. Any other cooking oil can be used as a substitute.
Garlic: Adds flavor and depth to the sauce. You could use garlic powder as a substitute.
Fire-roasted diced tomatoes: You could use canned whole tomatoes or regular diced tomatoes as a substitute.
Vodka or lemon juice: This adds acidity to the sauce. This could be replaced with red or white wine vinegar or balsamic vinegar.
Pasta water: The starchy water is used to thin the sauce and help it cling to the pasta.
How to Make Cottage Cheese Pasta Sauce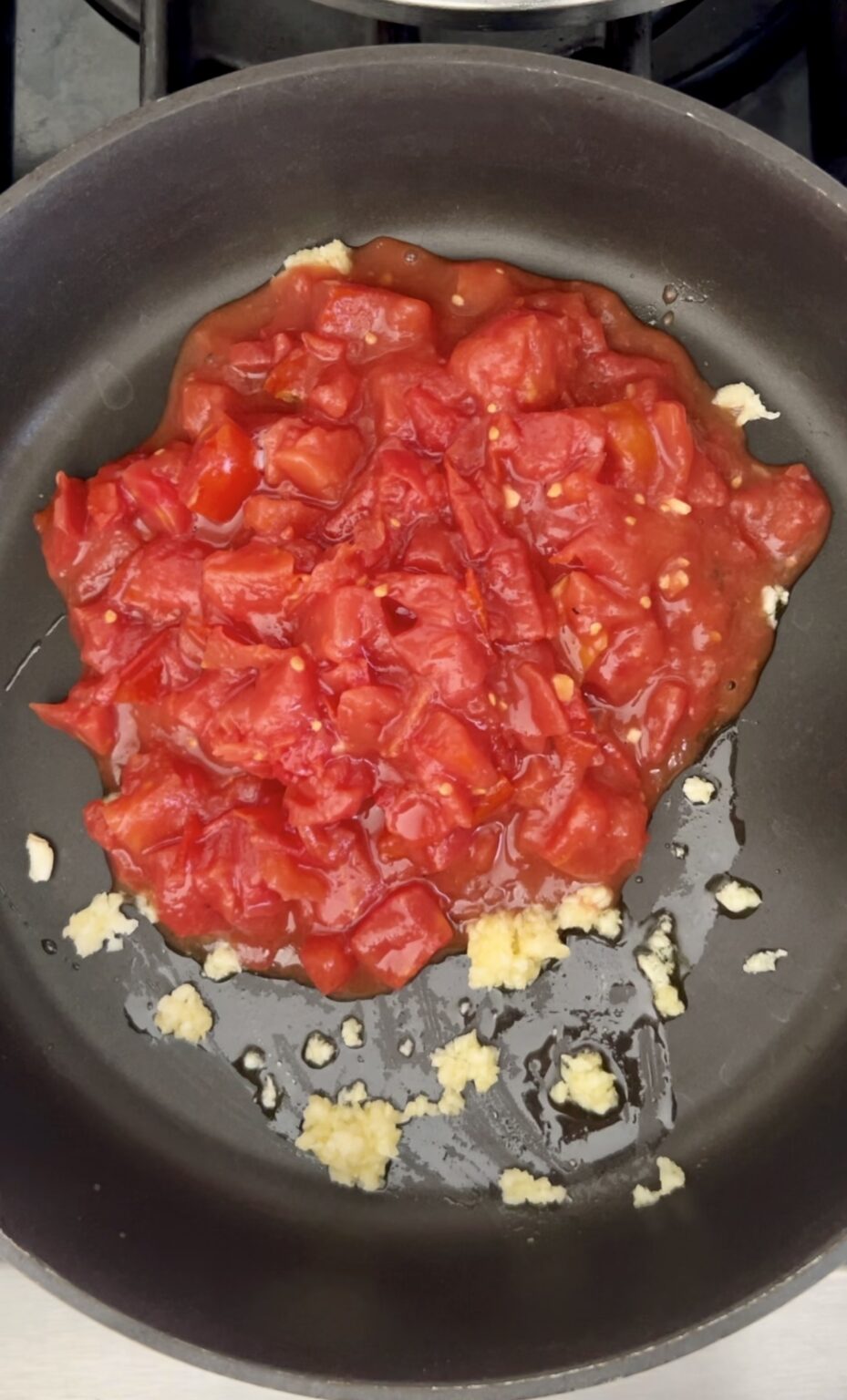 Variations and Customizations
Add a teaspoon of Italian seasoning or oregano for even more flavor.
Sprinkle fresh Parmesan and crushed red pepper flakes on top for a salty, spicy kick.
Add fresh basil on top for a fragrant and beautiful addition to your pasta.
Stir in baby spinach to the warm sauce after blending. Transfer back to the skillet and heat over medium heat for 1-2 minutes until the spinach is wilted.
If you don't like cottage cheese, try this goat cheese pasta sauce instead.
If you love this recipe, be sure to try my healthy macaroni salad recipe which is made with cottage cheese!
What to Serve with Cottage Cheese Pasta
Looking for the perfect side dishes to pair with pasta? Try my warm kale salad for an easy, unique way to enjoy your leafy greens. Or try this whole roasted cauliflower with whipped feta. It's a showstopper!
More Ways to Use Cottage Cheese
If you have leftover cottage cheese in your fridge, there are plenty of ways you can use it! Try my cottage cheese ice cream for a tasty treat. Or give your morning oatmeal a boost with this cottage cheese oatmeal. Need breakfast on the go? My cottage cheese overnight oats are a great grab-and-go option!
Print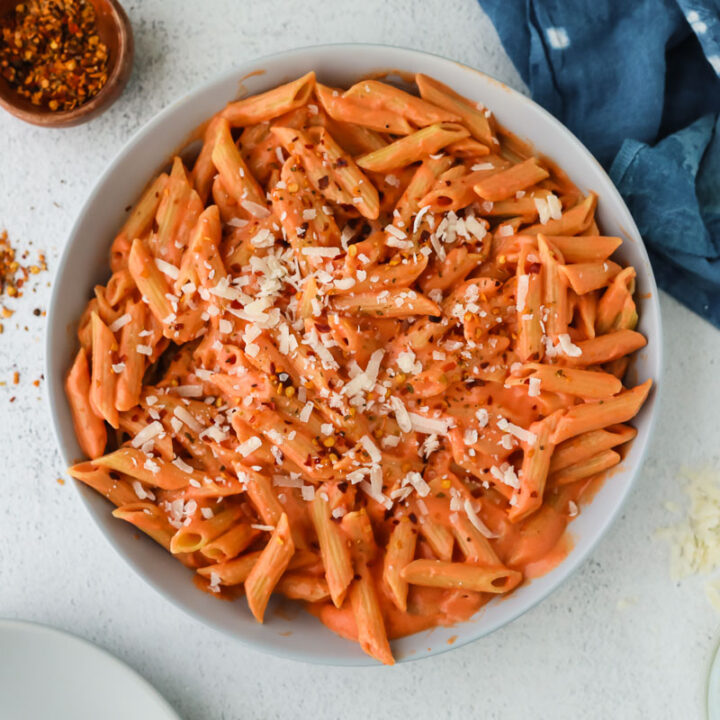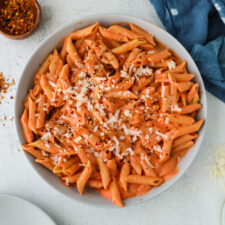 Cottage Cheese Pasta Sauce
Author:
Prep Time: 10 minutes
Cook Time: 15 minutes
Total Time: 25 minutes
Yield: About 6 cups 1x
Category: Dinner
Method: Stovetop
Cuisine: American
Diet: Vegetarian
---
Description
This rich and creamy sauce is secretly healthy, thanks to the addition of cottage cheese! This high-protein sauce is perfect when you're craving comfort food, but you want to enjoy something lighter!
---
8oz pasta (I used whole wheat penne pasta)
1 tablespoon olive oil
3 cloves garlic, minced
1 15oz can fire-roasted diced tomatoes
2 tablespoons vodka or 1 tablespoon lemon juice
1/2 cup 4% milkfat cottage cheese
1/2 cup pasta water
---
Instructions
Cook the pasta according to package directions and reserve one cup of pasta water. (You will likely only need 1/2 cup but you may want a little extra to thin the sauce.)
In a large saucepan, add the olive oil and garlic and sauté over medium-low heat for 3 minutes.
Add the tomatoes and vodka or lemon juice. Simmer over medium-high heat for 10-12 minutes or until most of the juices have evaporated.
In a blender, carefully add the cooked tomatoes, cottage cheese, and 1/2 cup pasta water, and blend until smooth. Be sure to allow steam to escape from the blender if the pasta water and tomatoes are hot. Add an additional splash of pasta water, if needed.
Combine the pasta with the sauce. Season with salt, if needed.
---
Notes
Most cottage cheese is pretty salty so you probably won't need additional salt. But since it depends on the brand of cottage cheese, add salt if needed.
Keywords: Cottage Cheese Pasta Sauce