Cottage Cheese Pudding
This creamy chocolate pudding is secretly healthy! It's made with cottage cheese, banana, and peanut flour for an easy, high-protein treat!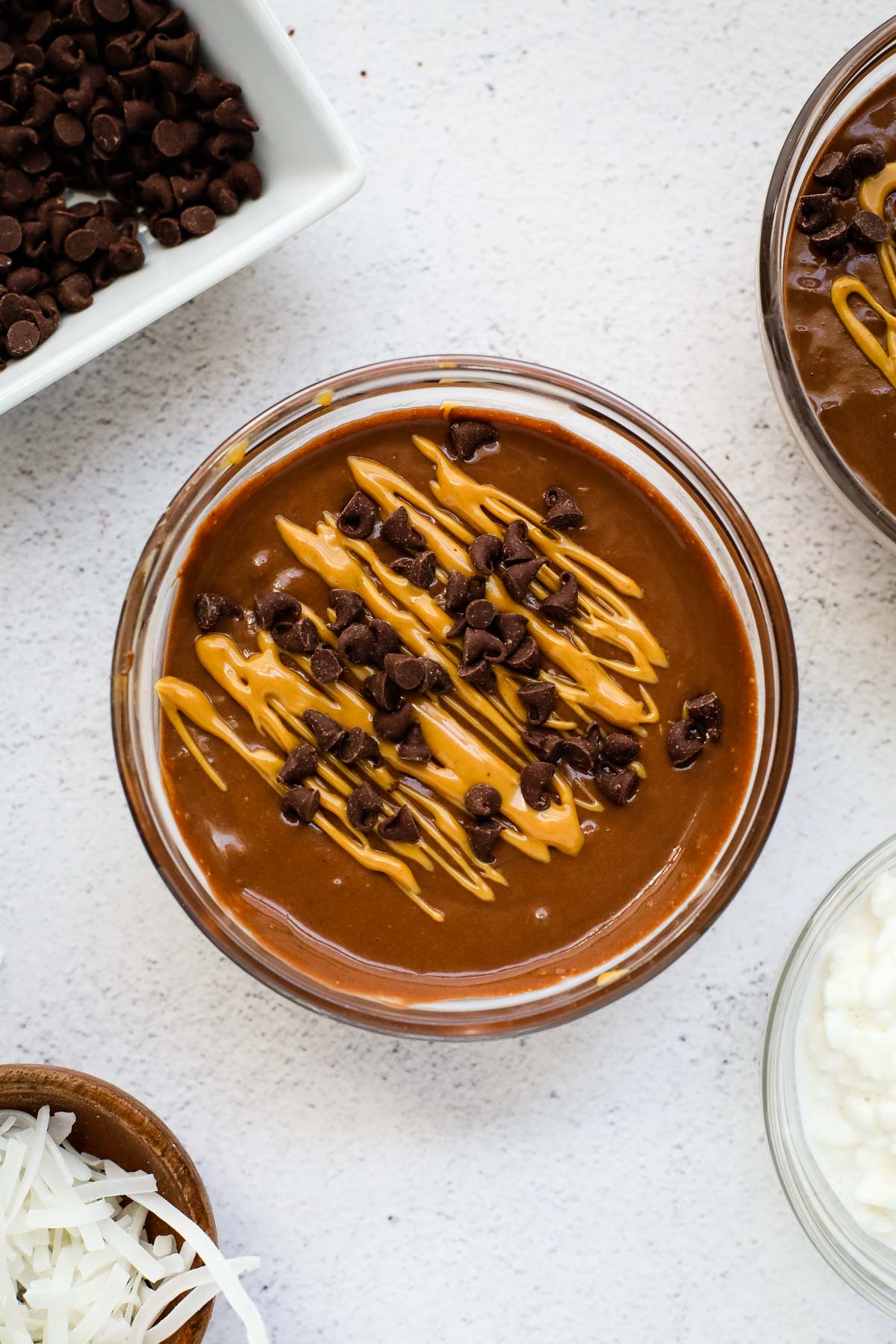 So many of you have asked for a chocolate version of my cottage cheese ice cream, which is what inspired this recipe! I found it easier to make chocolate pudding, so you don't have to wait for it to freeze. This reminded me a little bit of my avocado smoothie, but in this case, the creaminess comes from cottage cheese.
Even though this cottage cheese pudding tastes like dessert, it's healthy enough for breakfast! This recipe makes 2 servings, and each serving has 16g of protein! The cottage cheese has lots of protein and then I added peanut flour to thicken the consistency and add a tasty peanut butter flavor. I added a drizzle of peanut butter on top but it would also be good with vegan Nutella. You're going to love this healthy treat!
Ingredients and Substitutions
Cottage cheese: I used 4% milkfat, but 2% would be fine. I don't recommend fat-free cottage cheese in this recipe.
Peanut flour: This is just defatted peanut flour made by grinding roasted peanuts and removing most of the oil content. It adds lots of protein without a lot of fat and calories.
Banana: If you have a very ripe banana, you might not need as much sweetener.
Cocoa powder: Unsweetened cocoa powder adds a delicious chocolatey flavor.
Almond milk or dairy milk: I used almond milk, but any kind of milk is fine!
Honey: Adjust the sweetener to taste. I've also used stevia and it worked great!
What is Peanut Flour?
Peanut flour, or peanut butter powder, is made by pressing the oil out of peanuts and grinding them into flour. PB2 started making it in 2007 and since then many other brands have popped up. You can even find it at places like Trader Joe's and Aldi. If you have trouble finding it in stores, you can always order it from Amazon. If you don't have peanut flour, substitute with half the amount of peanut butter. (So, for this recipe, use 2 tablespoons of peanut butter.)
How to Make Cottage Cheese Pudding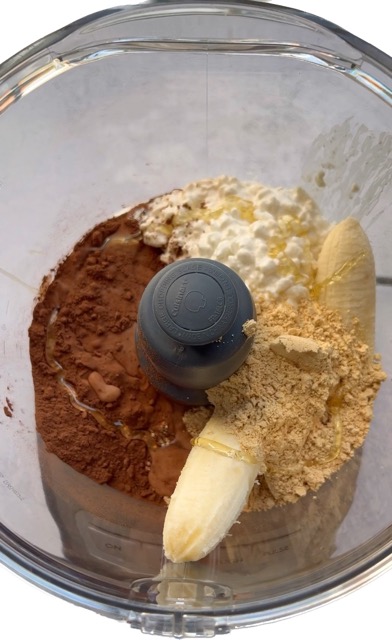 Cottage Cheese Pudding Toppings
Feel free to get creative with your pudding toppings! I went all in on chocolate and peanut butter, but there are many other tasty toppings to try. Here are a few of my favorites:
Drizzle of peanut butter or almond butter
Mini chocolate chips or cacao nibs
Sliced banana or fresh berries
Granola or coconut flakes
Crushed graham crackers
Frequently Asked Questions
Can I freeze this? The texture tends to get a bit icy when frozen, so I'd recommend eating it right away or keeping it in the fridge.
Can I make a single serving? It's a little harder for a blender or food processor to make a single serving, since it doesn't have as much to blend. I recommend making a regular batch and storing leftovers in the fridge! It will last 2-3 days in the fridge.
What if I don't have peanut flour? You can substitute with 2 tablespoons of regular peanut butter.
I hate cottage cheese. Will I like this? If you hate cottage cheese, maybe not. But if you just don't like the texture of cottage cheese, give this one a try! Since it's blended, it just tastes like pudding!
More Cottage Cheese Recipes
If you're looking for more ways to use cottage cheese, try my cottage cheese ice cream, peach mango smoothie, or cottage cheese overnight oats. All of these recipes use cottage cheese to add a healthy boost of protein to your meal!
Print
Cottage Cheese Pudding
Author:
Prep Time: 5 minutes
Cook Time: 0 minutes
Total Time: 5 minutes
Yield: 1 cup 1x
Category: Dessert
Method: Food Processor
Cuisine: American
Diet: Vegetarian
---
Description
This creamy chocolate pudding is secretly healthy! It's made with cottage cheese, banana, and peanut flour for an easy, high-protein treat!
---
3/4 cup cottage cheese
1/2 cup peanut flour
1 ripe banana
3 tablespoons cocoa powder
2–3 tablespoons almond milk or dairy milk
2 teaspoons of honey or your favorite sweetener to taste
---
Instructions
Add everything to your blender or food processor and blend until smooth.
You may need to scrape down the sides a few times. Stop the blender or food processor and use a rubber spatula to stir in any bits that haven't been mixed in.
Divide into bowls, add your favorite toppings, and enjoy!
Keywords: Cottage Cheese Pudding