This vegan macaroni and "cheese" is so creamy and delicious, no one will miss the dairy! You can make this with a few simple pantry staples, no vegan cheese or nutritional yeast required.
Years ago, when I was a vegan, the two foods I never seemed to be able to replace were cheese and yogurt. A lot of the vegan versions have come a long way since then, but I still haven't been able to find a vegan macaroni and cheese that tasted as creamy as the real thing.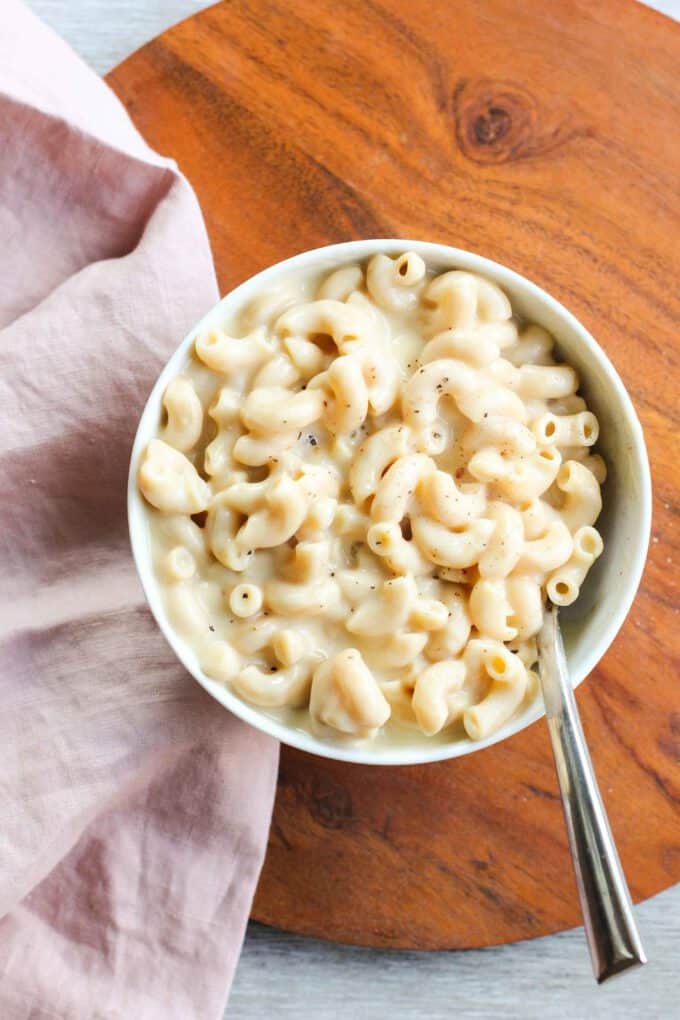 I've been wanting to create a vegan macaroni and cheese recipe for years but I was never able to get it quite right. Until now. I'm so excited to share this recipe with you because while it's vegan, it doesn't require any weird ingredients or processed "fake" cheese. You don't have to soak any cashews overnight and you don't have to buy ingredients you'll never use again.
The trick to this velvety vegan macaroni and cheese? The humble potato. Who would have thought? The starch from a simple russet potato gives the sauce an amazing texture. You'll swear it contains cream but it's just vegetables, a handful of cashews and a touch of oil.
Is it magic? Maybe.
I actually made this recipe four different ways. (I told you, I wanted it to be perfect!) While adding a couple tablespoons of nutritional yeast does give it an additional boost of "cheesy" flavor, you 100% don't need to use it if you don't already have it in your fridge. No nooch, no problem. Oh, and just in case you also wanted gluten free vegan macaroni and cheese, I've got you covered. I made this with chickpea noodles and it was equally delicious.
Tips for a smooth sauce
Be sure to boil the vegetables until completely soft. The potatoes should practically fall apart when poked with a fork.
Blend the cashews, oil, mustard, and garlic with the cooking water before adding the vegetables.
Once you add the vegetables, blend blend blend! You may need to blend for up to 3 minutes to get it completely smooth. This works best with a high powered blender but you should be able to get it creamy with a regular blender.
Print
Vegan Macaroni and Cheese
---
Description
This vegan macaroni and "cheese" is so creamy and delicious, no one will miss the dairy! You can make this with a few simple pantry staples, no vegan cheese or nutritional yeast required.
---
Scale
Ingredients
8 oz

macaroni (regular or chickpea noodles)

1

medium russet potato, peeled and cubed

⅓ cup

chopped carrots

1

small yellow onion, peeled and roughly chopped

1 cup

cooking water, reserved

⅓ cup

cashews (raw or roasted is fine)

1 tablespoon

olive oil or avocado oil

1

clove garlic, peeled

1 teaspoon

salt (adjust to taste)

¼ teaspoon

Dijon mustard

¼ teaspoon

black pepper
---
Instructions
Add the potato, carrots, and onion to a large pot.

Cover with water and bring to a boil.

Simmer for 15-20 minutes until the vegetables are fork tender.

While the vegetables are cooking, prepare the macaroni according to the package directions in a separate pot.

Once the vegetables are soft, reserve 1 cup of the cooking water, then drain the rest of the water from the pot of vegetables.

In a blender or food processor, blend the cooking water, cashews, salt, garlic, mustard, and oil.

Add the vegetables and continue to blend. Since the veggies will be hot, be sure to let steam safely escape through the top of the blender.

Blend until completely smooth.

Stir the cooked macaroni with the cheese sauce and serve immediately.
---
Notes
Note: I also tried a baked version of this, topping it with breadcrumbs. It was good, but I preferred the stovetop version a bit more. It was a little creamier.
I'm so excited about this recipe. Macaroni and cheese has been one of my favorite comfort foods since childhood. Cracking the code on a good vegan recipe has taken a lot of trial and error, but I really think you'll enjoy this one!
If you try this vegan macaroni and cheese, leave a comment below and let me know how you liked it!