Pesto Cavatappi Pasta
This pesto cavatappi pasta recipe is a delicious meal made with just 5 ingredients! This 15 minute recipe is perfect for a busy weeknight meal!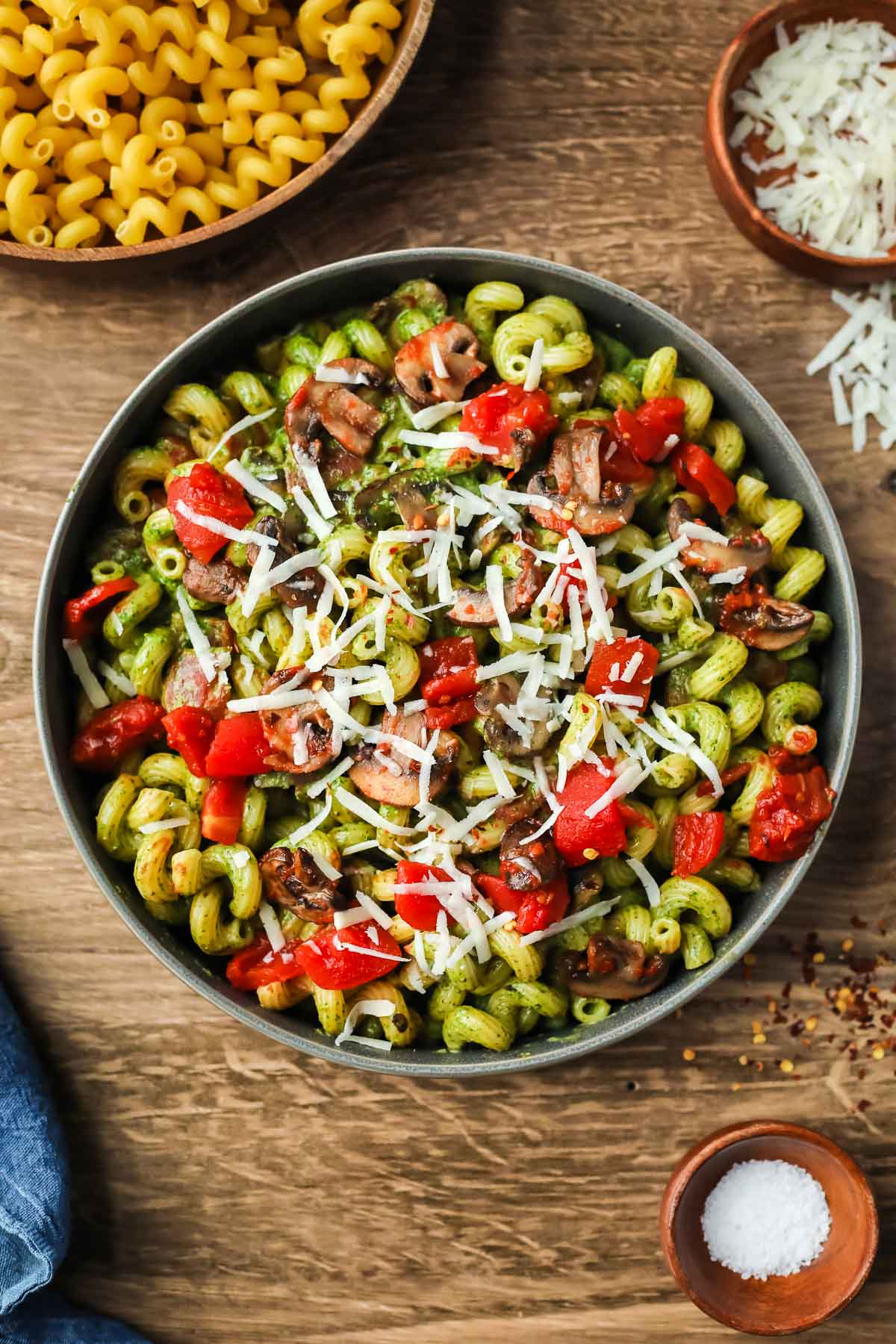 When it comes to pasta, cavatappi noodles are one of my favorite shapes. I know, I know, it might sound silly to have a favorite pasta shape, but I think this noodle lends itself to so many tasty sauces! Its short shape makes it easy to toss with your favorite ingredients, and the ridges on the noodles help grip the sauce. While you could use any noodle in this recipe, I highly recommend getting your hands on these spiral noodles!
This recipe requires using some of the starchy pasta water to create a luxurious sauce. Unfortunately, that means gluten-free noodles and chickpea noodles don't work quite as well in this recipe. You can still use them in a pinch, but the sauce will be a bit thinner and won't cling to the pasta quite as well.
The Best Sauce for Cavatappi Noodles
As I mentioned, these noodles work great with a variety of sauces but for this recipe, I paired them with pesto. I love the flavor of this dish, and the pesto clings nicely to the ridges in the noodles! My favorite store-bought pesto is Buitoni's Pesto, which has a great flavor that tastes homemade. America's Test Kitchen recommended it and I'm glad I tried it! If you need a vegan option, Trader Joe's Kale and Pine Nut Pesto is also good. And of course, you can make your own if you like.
Noodles & Company Copycat
This recipe was inspired by the Noodles & Company pesto cavatappi pasta. Of course, it's not the exact recipe but I think it's pretty close! If you love that takeout dish, you'll definitely like this recipe. The best part is, you can customize this exactly the way you like it! If you want to add protein, you can. Or if you want to keep it simple, it's pretty filling as is! If you love Noodles & Company, be sure to try my Penne Rosa recipe!
Is Parmesan Cheese Vegetarian?
Sometimes I'll get asked if Parmesan cheese is vegetarian, and technically, it's not. Traditionally, Parmesan cheese (and many kinds of cheese) are made with animal rennet, which comes from the stomach lining of a calf. It's not vegetarian in the way that many marshmallows are not technically vegetarian, as they typically contain gelatin. I don't personally eliminate Parmesan cheese from my diet, but if you're a strict vegetarian, there are options that use vegetable rennet instead. BelGioioso makes vegetarian-friendly Parmesan cheese.
How to Make Pesto Cavatappi Pasta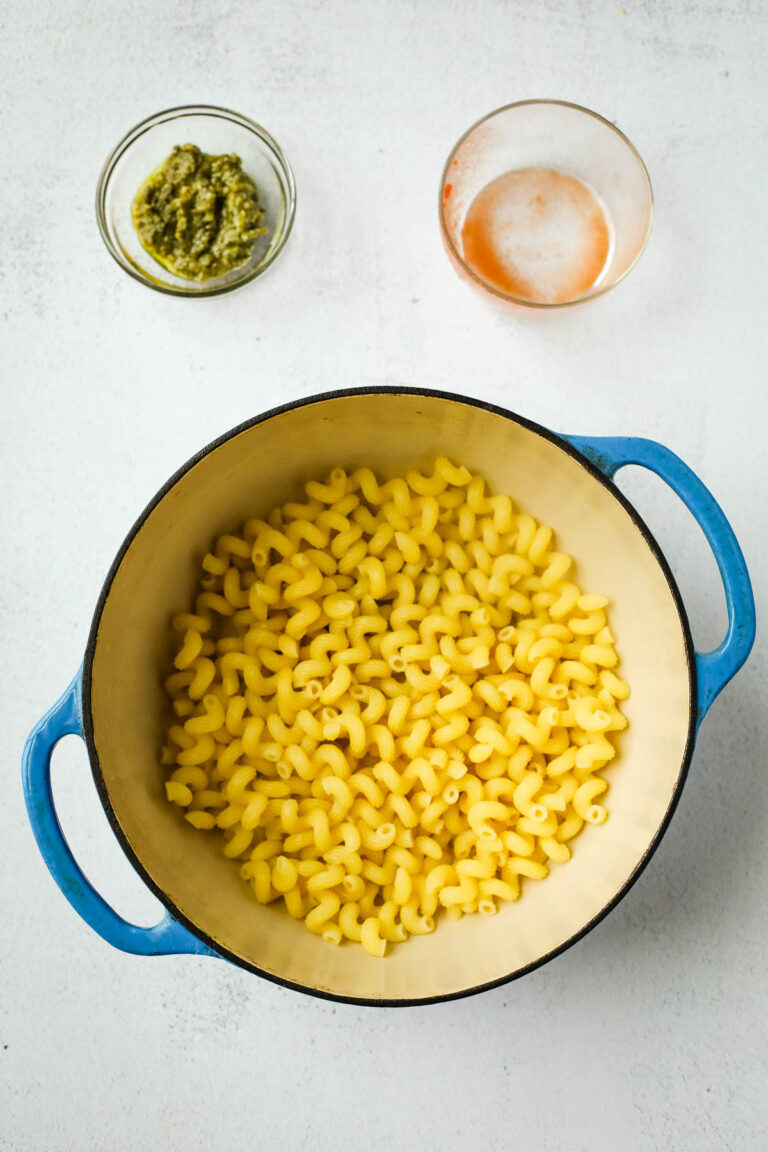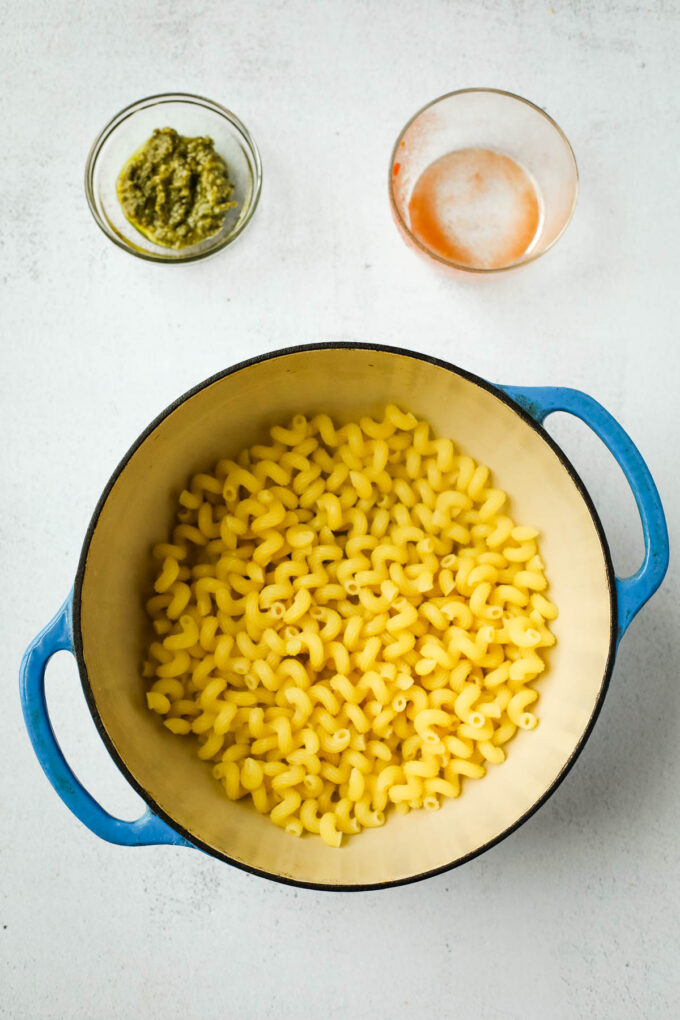 Additions and Substitutions
To make this recipe vegan, use a vegan pesto (the Trader Joe's pesto is vegan) and skip the Parmesan cheese.
If you want to sneak in some extra veggies, try blending one cup of baby spinach with the pesto and pasta water. Blend until completely smooth. It'll make your pesto bright green but no one will be able to taste the spinach! (Trust me, I did it for my family!) Or you can add the spinach to the skillet in the last minute or two of cooking the tomatoes.
If you want to add a little extra protein, try sautéing a can of drained white beans with the tomatoes and mushrooms. The flavor and texture works great in this dish and it's a nice boost of protein and fiber.
Whole wheat cavatappi is a bit harder to find but DeLallo makes some!
What to Serve with Pesto Cavatappi Pasta
Looking for the perfect dish to pair with this pasta? Try my vegan Caesar salad with crispy chickpeas for a filling and delicious side. If you need something quick, my air fryer green beans are also a delicious option. I have a list of the best side dishes for pasta, so check out if you want to see more ideas!
How to Store Leftovers
Leftovers should be stored in an airtight container in the fridge. It will last up to 4 days. To reheat, microwave on 50% power in one minute intervals, stirring between each interval, until heated through. You may need to add a splash of water if the pasta starts to dry out.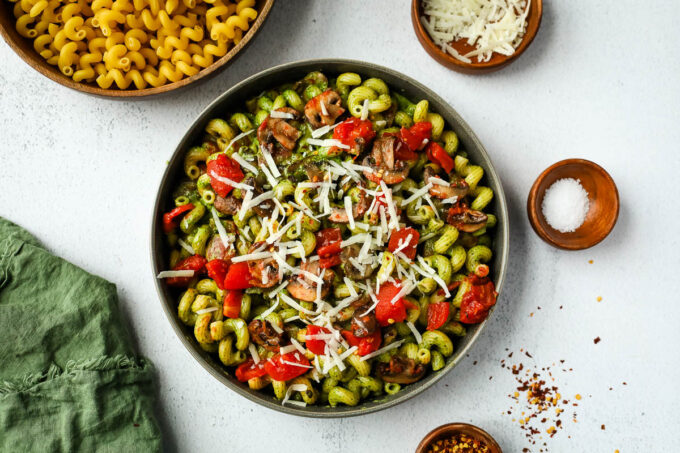 Frequently Asked Questions
What is the difference between macaroni and cavatappi? Both noodles are hollow on the inside but cavatappi are a larger, spiral corkscrew type of noodle. In fact, "cavatappi" is Italian for corkscrew. If you can't find cavatappi, I'd recommend substituting it with penne or rigatoni.
Where can you buy cavatappi pasta? This shape is a bit harder to find, but I've found it at Publix, Wegmans, Whole Foods, and Kroger! It can be harder to find a whole wheat version, but you can always order it online if needed.
How long does cavatappi pasta take to cook? I recommend checking the box as each brand can be a bit different, but mine took about 8 minutes until it was al dente, which means firm to the bite. You don't want to overcook the pasta, or it will become mushy.
Print
Cavatappi Pasta
Author:
Prep Time: 5 minutes
Cook Time: 10 minutes
Total Time: 15 minutes
Yield: Serves 3-4 1x
Category: Dinner
Method: Stovetop
Cuisine: American
Diet: Vegetarian
---
Description
This pesto cavatappi pasta recipe is a delicious dish made with just a handful of ingredients! This 15 minute recipe is perfect for a busy weeknight meal!
---
8oz cavatappi pasta
1 cup pasta water
4oz mushrooms, sliced
1 14oz can diced tomatoes
1/3 cup prepared pesto
1/4 cup freshly shredded Parmesan cheese
Salt to taste
---
Instructions
In a large pot or dutch oven, bring 4 quarts of salted water to a boil. Add the pasta and cook until al dente, according to package directions. Reserve one cup of pasta water.
In a separate skillet, heat the olive oil over medium heat for 30 seconds. Add the mushrooms and cook for 3 minutes, stirring frequently, until some of the moisture is released.
Add the tomatoes and continue to cook for 4-5 minutes, stirring occasionally, until most of the liquid has evaporated.
Combine the pesto and 1/2 cup of the pasta water with the pasta, then add the mushrooms and tomatoes. Add more pasta water if needed.
Sprinkle with Parmesan cheese and serve. Add salt to taste, if needed.
---
Keywords: pesto cavatappi
More Pasta Recipes
Looking for more cavatappi pasta recipes? Be sure to try my Baked Greek Pasta Recipe! I also used cavatappi in my Tomato Goat Cheese pasta which is so creamy and delicious!