Tomato Goat Cheese Pasta
This creamy pasta recipe is made with canned tomatoes and goat cheese for a simple sauce that tastes rich and luxurious but it comes together quickly.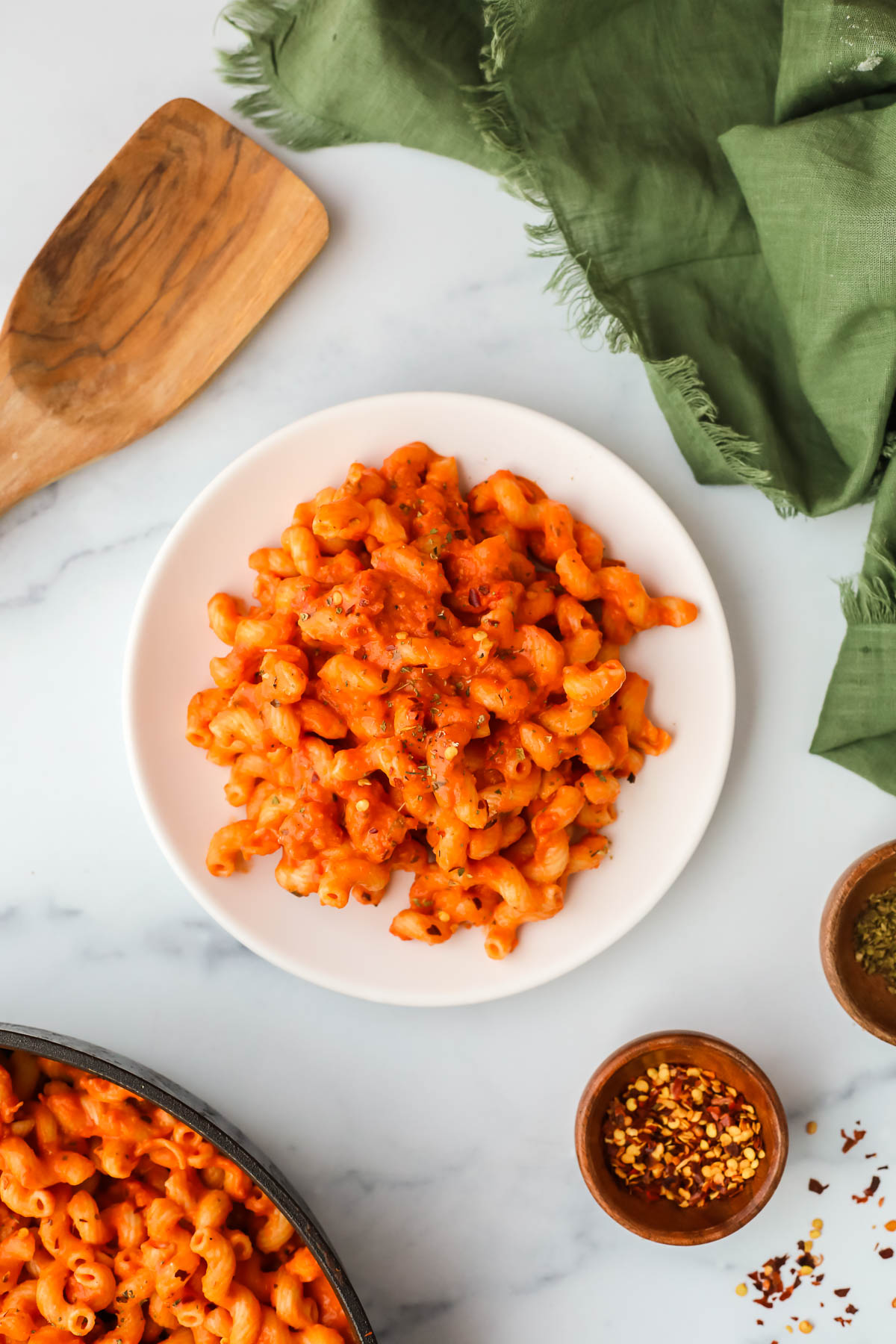 I love goat cheese and ever since I started making this Goat Cheese Dip, I've been thinking about how tasty it would be to turn it into a pasta sauce. It was surprisingly easy to make a delicious sauce with just a handful of ingredients and I love how this turned out! Goat cheese makes this sauce incredibly rich and creamy without the need for any actual cream. If you're looking for another tasty 15 minute pasta recipe, try this try this sun-dried tomato pasta recipe!
Ingredients
Canned tomatoes– I recommend using whole canned San Marzano tomatoes. It's really important to use a high-quality tomato. I've tested this with the "cheap" crushed tomatoes and it wasn't nearly as good. With simple recipes, it's critical to use really good ingredients.
Garlic– I love garlic so I used quite a few fresh cloves.
Olive oil– A little olive oil really enhances the overall flavor of the sauce.
Oregano– I love a pinch of dried oregano but you could use Italian Seasoning instead.
Goat cheese– Again, high-quality goat cheese is really important to add flavor to this sauce.
This recipe makes about 2 1/2 cups of sauce, which for us, was perfect for 8-ounces of pasta. But you can double the recipe if you want to make a larger batch.
Goat Cheese Sauce Shortcut
If you want to skip making your own sauce, you can use storebought pasta sauce. Simply combine 20-ounces of marinara sauce with 4-ounces goat cheese. I've used Rao's Tomato Basil and Barilla's Tomato Basil Vero Gusto sauce and both work incredibly well in this recipe. It's an easy trick that works great when you're short on time!
How to Make Goat Cheese Pasta
The Best Goat Cheese for Pasta
I recommend using a 4-ounces of plain, unflavored goat cheese. Do not buy pre-crumbled goat cheese. Crumbled cheese has anti-caking agents added to keep it from clumping, but doesn't melt as well as a log of goat cheese. I used some from a local farm and it was so creamy with just the right amount of tang.
My Favorite Pasta
You can use any type of pasta for this recipe but I recommend a short noodle such as cavatappi, rotini, or rigatoni. I used chickpea pasta to give this recipe more protein and fiber. You could also use whole wheat pasta or gluten-free pasta.
How to Store Leftovers
You can store the leftover sauce in an airtight container in the fridge for up to 4 days. When you're ready to serve, reheat the sauce on the stovetop or in the microwave. I do not recommend freezing this sauce.
More Goat Cheese Recipes
Print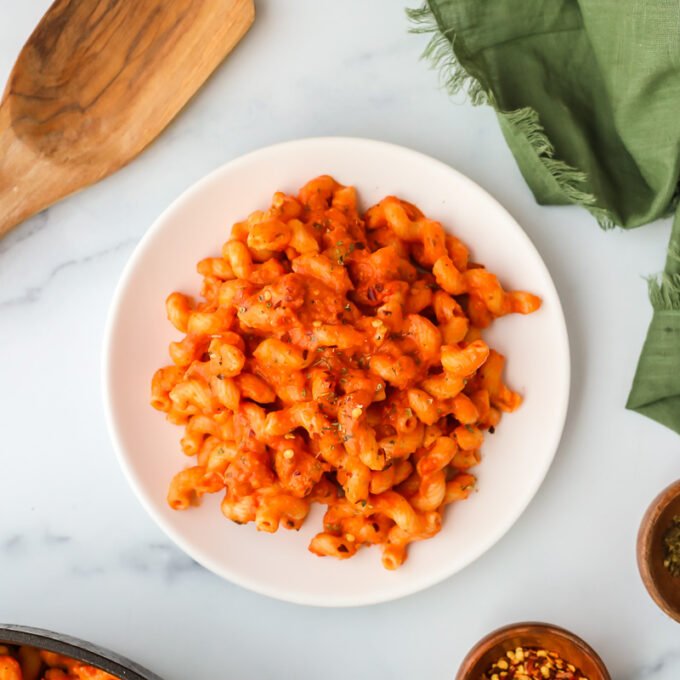 Tomato Goat Cheese Pasta
Author:
Prep Time: 10 minutes
Cook Time: 20 minutes
Total Time: 30 minutes
Yield: Serves 4
Category: Dinner
Method: Stovetop
Cuisine: American
Diet: Vegetarian
---
Description
This creamy pasta recipe is made with canned tomatoes and goat cheese for a simple sauce that tastes rich and luxurious but it comes together quickly.
---
8oz pasta
2 tablespoons olive oil
6 cloves garlic, chopped
28oz can of crushed tomatoes
1/4 teaspoon oregano
1/4 teaspoon crushed red pepper flakes (optional)
4oz goat cheese
Salt to taste
---
Instructions
Cook the pasta according to package instructions.
In a large skillet, add the olive oil and heat over medium heat for 30 seconds.
Add the garlic and cook for 3 minutes, stirring occasionally.
Add the tomatoes, oregano, and crushed red pepper flakes and stir. Simmer for 10-15 minutes over medium heat until slightly thickened.
Stir in the goat cheese until the goat cheese melts into the sauce.
Stir in the cooked pasta until evenly coated.
Keywords: tomato goat cheese pasta