Whole Wheat Naan Pizzas
These whole wheat naan pizzas are perfect when you're craving pizza but you want something healthy! Whole wheat naan is the perfect base and these individual flatbreads are loaded with green veggies!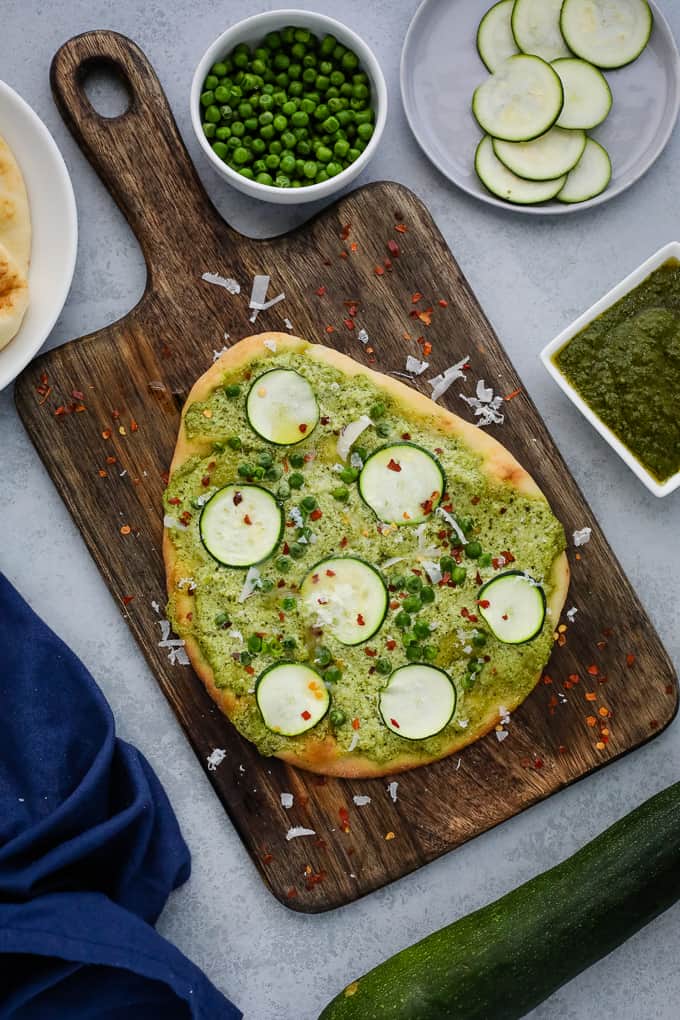 If you follow me on Instagram then you know that pizza is one of my all-time favorite foods. Alex and I even bought an outdoor pizza oven because we love it so much! But I'll admit that pizza isn't known for its nutritional benefits and it's easy to eat a whole pizza in the blink of an eye and wonder where those leftovers went…
So I thought it would be fun to share one of my favorite ways to build in portion control and add some extra veggies to your plate! That's where these naan pizzas come in!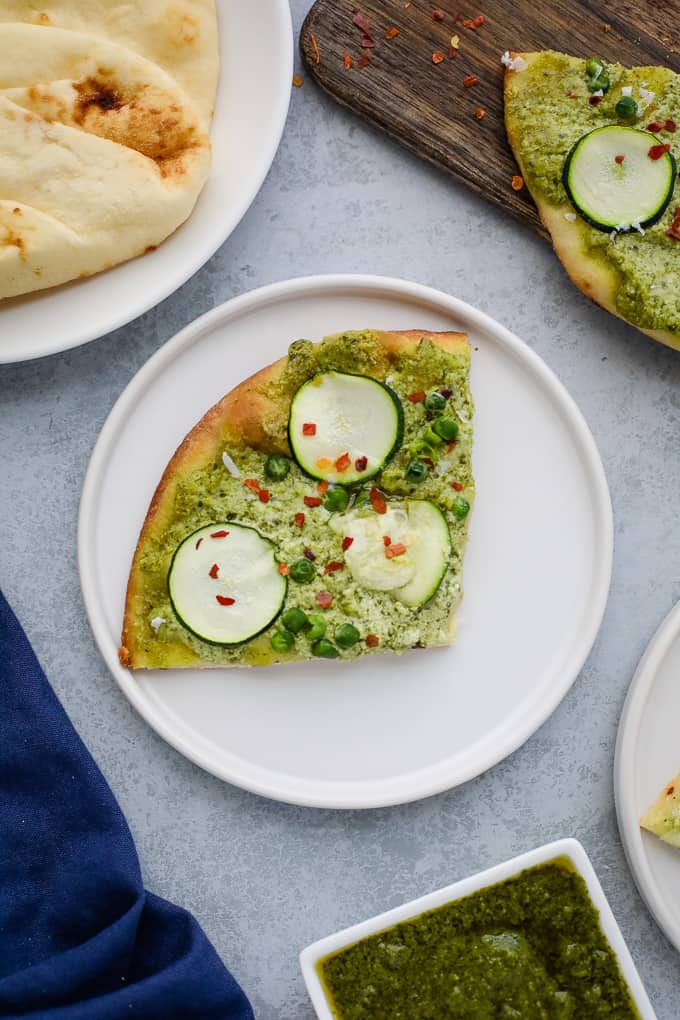 The Best Naan for Pizza
I found the Stonefire brand whole wheat naan at Wegman's but you can use whatever brand you like. You don't have to use whole wheat naan but it's a great way to add some protein and fiber to this recipe. The naan I used was about 10″ long, in a slightly oval shape. You can use whatever size you find, but you may need to adjust the number of toppings. You can also use mini naan if you wanted to make kid-sized version of these pizzas!
If you want to make your own Naan, try my recipe for easy vegan naan. Most naan recipes require yogurt but this one is vegan, so there's no yogurt needed.
Ingredients for Veggie Naan Pizzas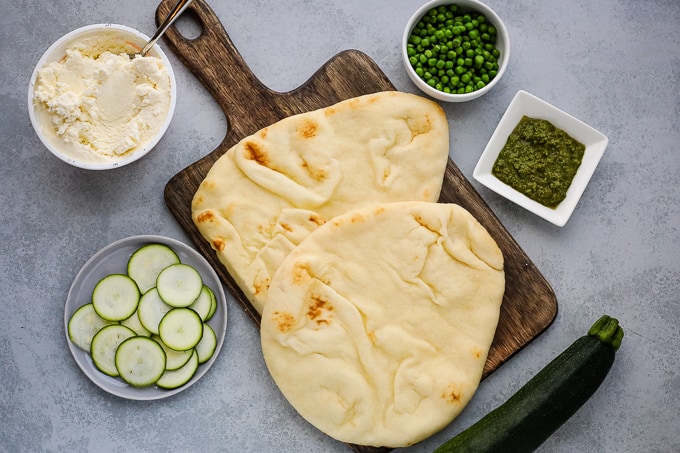 Whole Wheat Naan– I like using a whole wheat version of naan because it has a little more protein and fiber.
Pesto– I like the Trader Joe's brand, but any kind of pesto will do! You can even use this cilantro pesto recipe, if you want to make your own but you don't have any basil!
Ricotta- Whether you use whole milk ricotta or part-skim ricotta, either way, you'll be adding about 7g of protein to your pizza! Not bad for about 100 calories.
Zucchini– Thinly sliced zucchini is a great pizza topping! Be sure to slice it very thin so it can cook quickly.
Peas– These are an easy way to add a little more green to yor pizza! Canned or frozen is fine.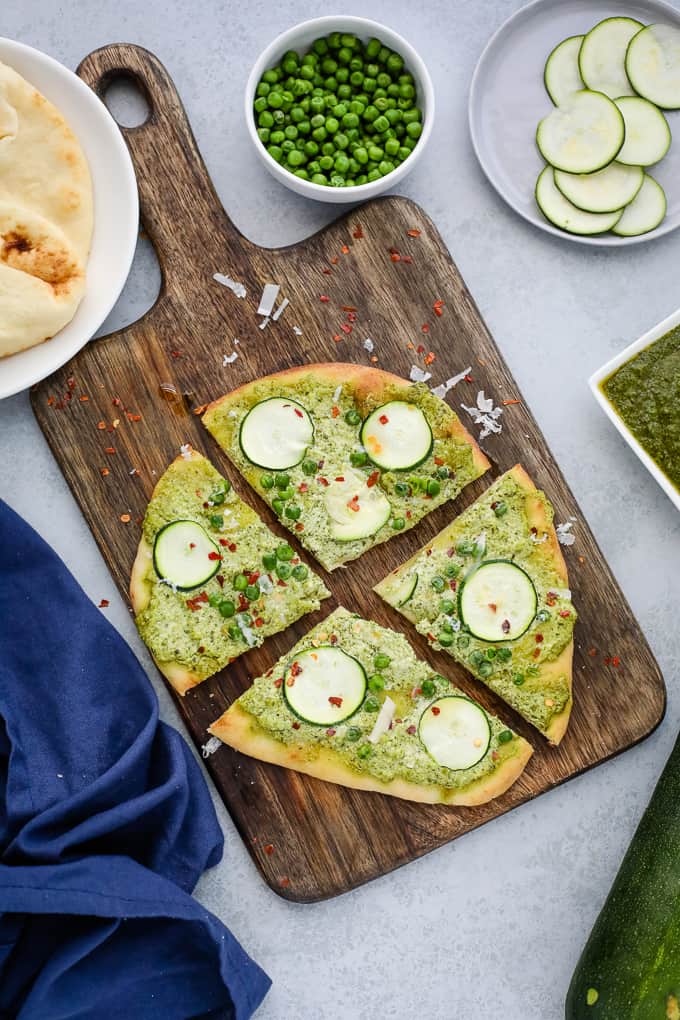 Substitutions Ideas
If you can't find whole wheat naan, you can use regular naan. You could even use mini pieces and make smaller pizzas.
If you don't have zucchini, you could use bell peppers. Slice the bell pepper into very thin strips and arrange in a single layer on the pizza.
If you don't have pesto, you could use 3 tablespoons of shredded parmesan cheese and a drizzle of olive oil and turn this into a white flatbread pizza!
How to Make Your Own Whole Wheat Flatbread
No naan? No problem! If you want to make a simple flatbread pizza at home, follow the steps for this whole wheat flatbread recipe. It's not as fluffy and chewy as naan, but it's easy to make with just a few ingredients. It's great for a quick pizza!
Print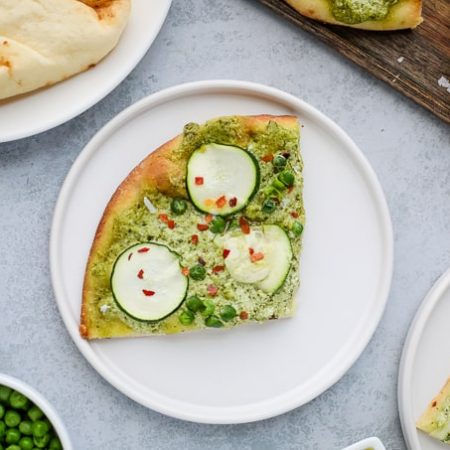 Whole Wheat Naan Pizzas
Author:
Prep Time: 5 minutes
Cook Time: 10 minutes
Total Time: 15 minutes
Yield: 2 pizzas 1x
Category: Dinner
Method: Baking
Cuisine: Pizza
---
Description
These whole wheat naan pizzas are perfect when you're craving pizza but you want something healthy! Hearty pieces of naan are the perfect base and these individual flatbreads are loaded with green veggies!
---
2 large pieces whole wheat naan (about 8–10" around)
1/2 cup ricotta cheese (part skim or whole milk)
2 tablespoons pesto
1/4 cup peas (frozen is fine)
1 small zucchini, sliced thin
Shredded parmesan and crushed red pepper for serving (optional)
---
Instructions
Preheat oven to 425 degrees.
Bake Naan for 2 minutes until lightly browned on the edges.
While the Naan is baking, mix together the ricotta and pesto.
Spread a thin layer of the ricotta across each piece of naan.
Sprinkle with a single layer of peas and zucchini slices.
Bake in the oven for 5-7 minutes until the zucchini and peas are cooked and the crust is crispy.
Sprinkle with parmesan and red pepper, if desired.
---
If you have leftover zucchini, you can chop it into 1/4″ thick half-moon shapes, and roast it in the oven along with your pizzas. Toss with a bit of olive oil and sprinkle with salt and pepper. It's an easy side dish to make so you don't have to let zucchini leftovers go to waste!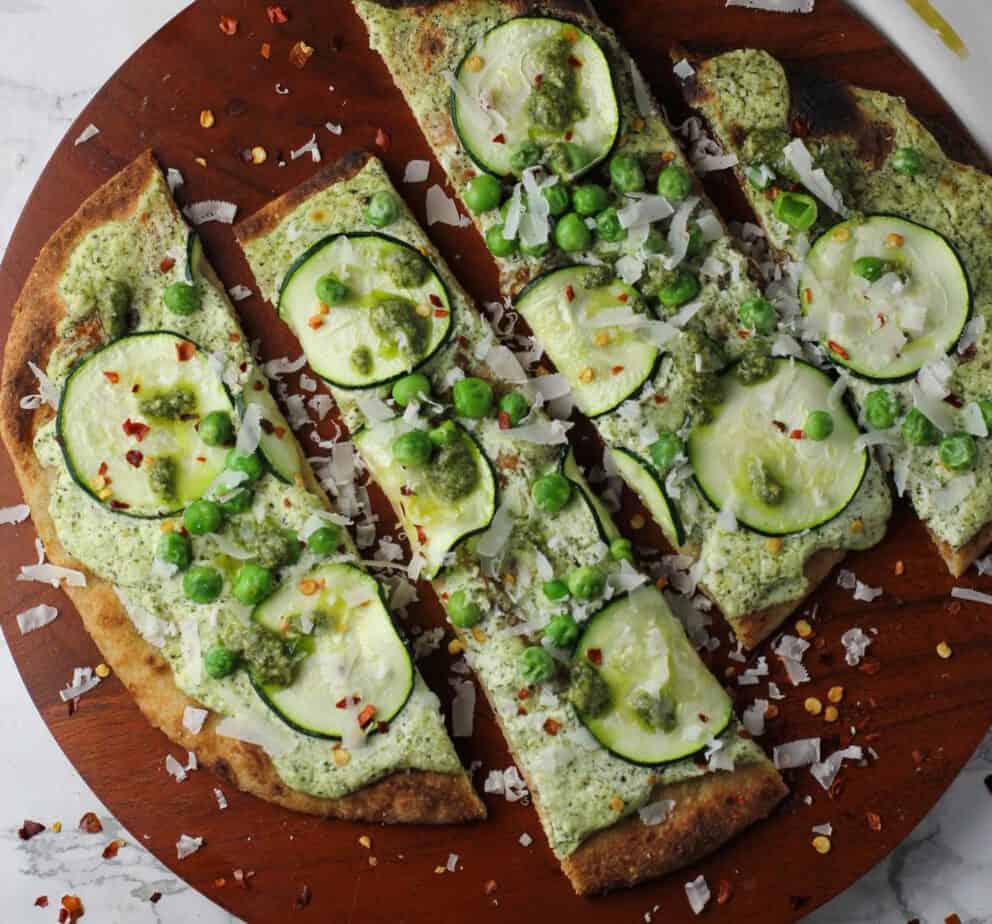 Looking for other pizza recipes? Here are a few of my favorites!
What's your favorite pizza topping?