Avocado Yogurt Dressing
This avocado yogurt dressing is deliciously creamy and perfect on top of your favorite salad or drizzled over tacos. It's full of healthy fats and protein for a tasty meal!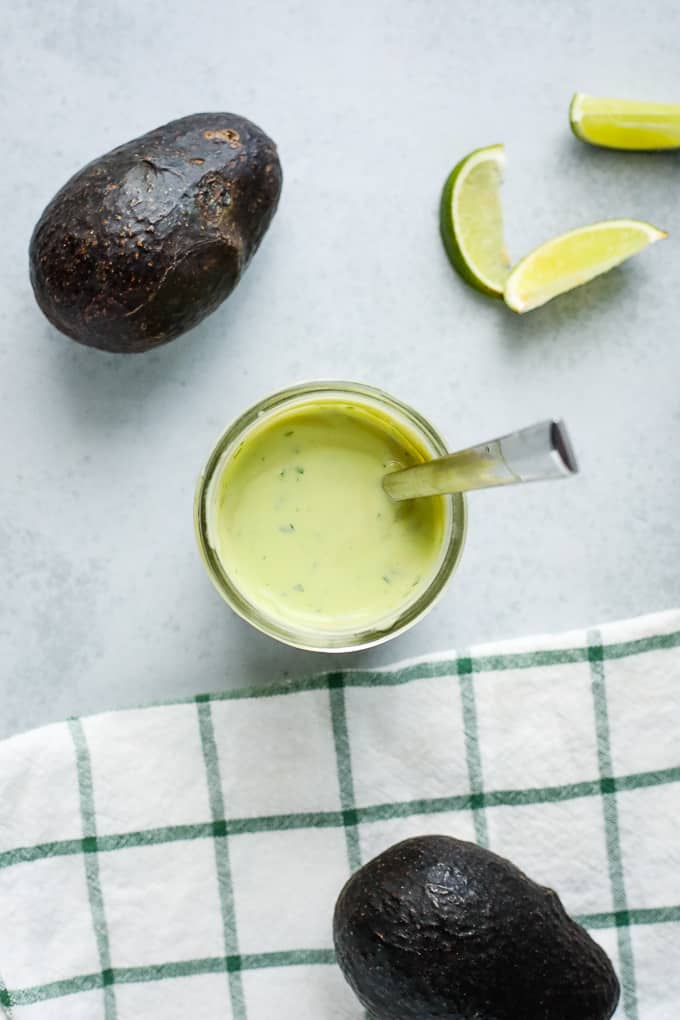 This dressing is super creamy thanks to ripe avocados, and the Greek yogurt gives it a delicious tangy flavor. If you like things spicy, you can turn up the heat with pickled jalapenos, or you can leave them out for a more mild flavor. If you love cilantro, this one is for you!
Avocado Yogurt Dressing Ingredients
Avocado– Be sure your avocado is ripe and soft.
Yogurt– I prefer to use full fat Greek yogurt, but any plain Greek yogurt will work. Just be sure it's not sweetened or flavored.
Cilantro– Fresh cilantro is a must! Do not try to substitute dried cilantro.
Lime juice– I keep a jar of lime juice in the fridge so I always have some juice on hand, but obviously freshly squeezed is great, too!
Pickled jalapenos– This is optional but I love the spicy flavor these add to the dressing!
Salt– A little salt enhances the flavor.
Water– You may need a little water to thin out the dressing so you can drizzle it.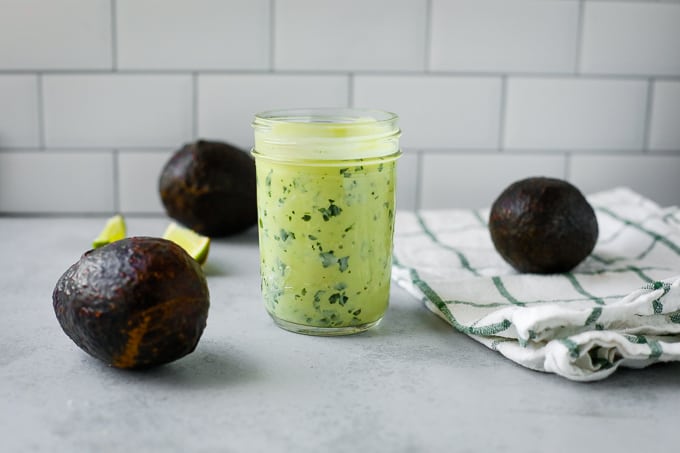 How to Store Cilantro
Before we get into making this dressing, I have to share my favorite tip for storing cilantro! Rather than just keeping it in a produce bag in the fridge, place the cilantro stems in a glass of water, like a bouquet of flowers. Then loosely cover with a plastic bag. Change the water every few days. This will help keep the cilantro fresh for as long as possible.
How to Get Perfectly Ripe Avocados
I like to pick out avocados before they're close to being ripe. Most of the time, if they're already ripe in the store, they're like to be bruised.
To ripen avocados quicker, keep them in a bowl with bananas! The ethylene gas released from the bananas will help soften the avocados faster.
Once the avocados are soft, put them in the fridge. This will keep them at their peak of ripeness for much longer!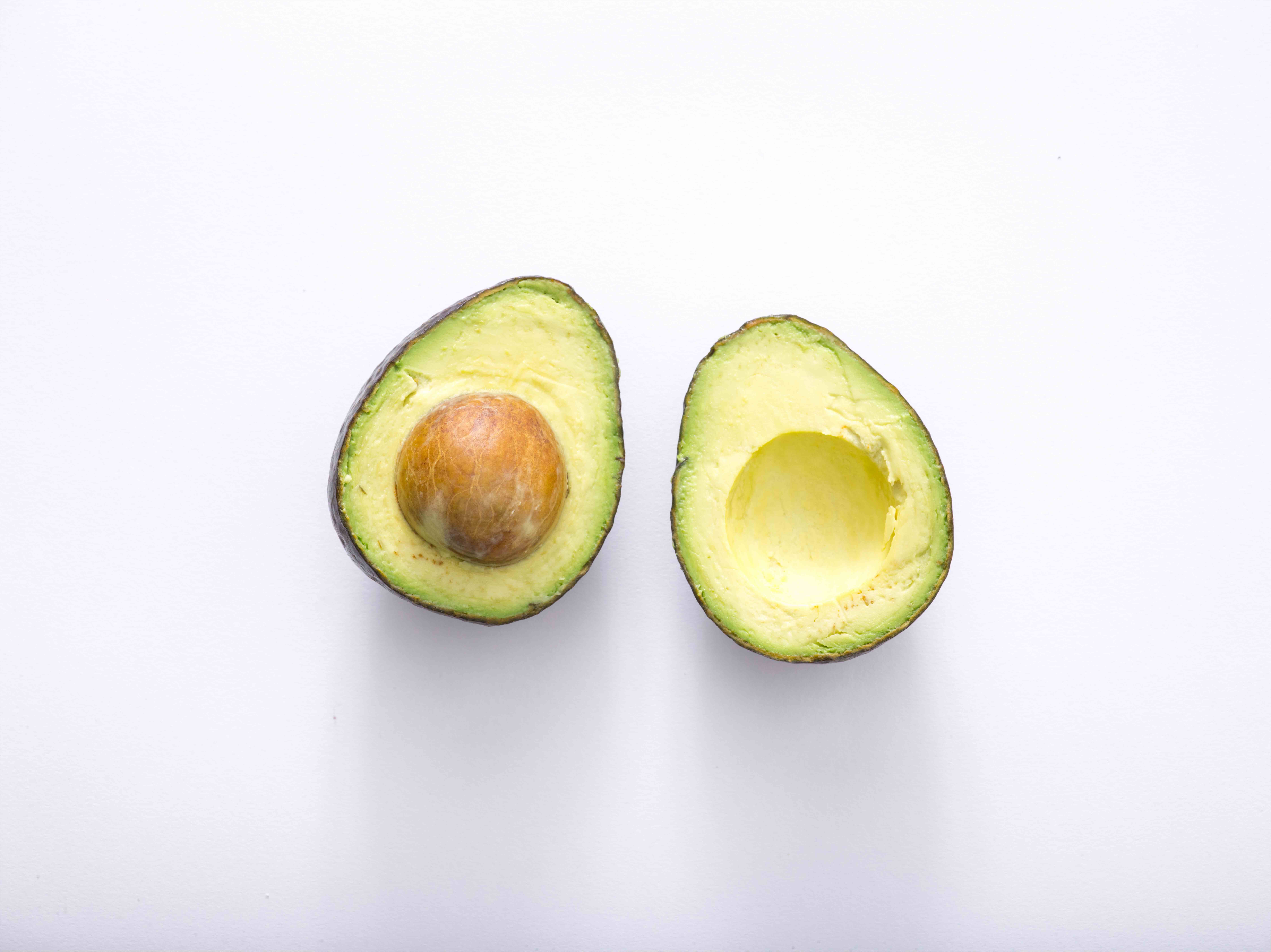 Tips for Making Avocado Yogurt Dressing
Be sure your avocados are soft and ripe. If you're using small avocados, use two. If you're using a large avocado, you can just use one.
I like to use 2% or full fat plain Greek yogurt but you can use any type of Greek yogurt you like. Just be sure it's not sweetened.
There's no need to remove the stems from the leafy part of the cilantro. Just remove the longer stems at the end.
Making this dressing in a small food processor is easiest, but if you don't have a little food processor, you can make it in a bowl with a fork. Chop the cilantro finely, then mash the ingredients until incorporated.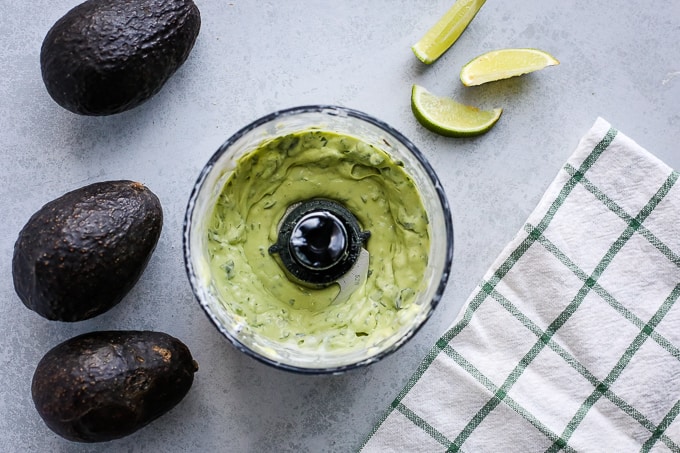 How to Use This Dressing
This creamy dressing would be perfect on top of this chopped vegetable salad instead of bottled ranch dressing. It would also make an excellent dressing for this tempeh taco salad. And while you're at it, try drizzling this sauce over these spicy Buffalo Cauliflower Tacos! If you like this dressing, be sure to try my burrito sauce, too!
More Cilantro Recipes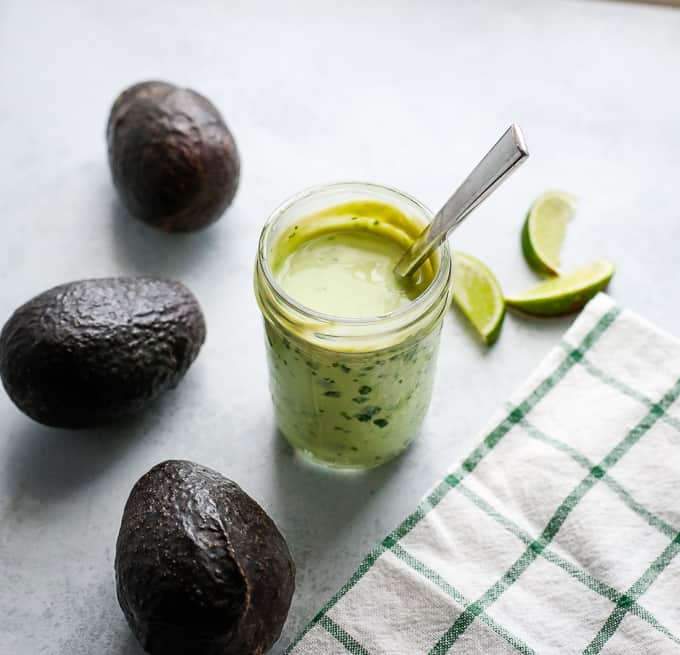 Print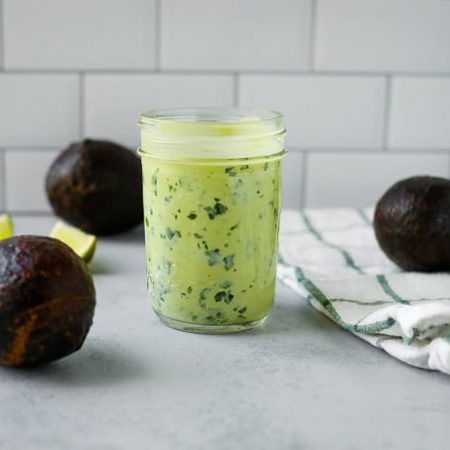 Avocado Yogurt Dressing
Author:
Prep Time: 5 mins
Cook Time: 0 minutes
Total Time: 5 mins
Yield: 8 servings 1x
Category: Salad Dressing
Method: Blended
Cuisine: Dressing
---
Description
This avocado yogurt dressing is deliciously creamy and perfect on top of your favorite salad or drizzled over tacos. It's full of healthy fats and protein for a tasty meal!
---
1 avocado, pitted and peeled
2/3 cup 2% plain Greek Yogurt
Juice from 1 lime
1/4 cup fresh cilantro, loosely packed
1 tablespoon diced pickled jalapenos (optional)
Pinch of salt
1–2 tablespoons water (optional)
---
Instructions
In a food processor or blender, add the avocado, yogurt, lime juice, cilantro, and jalapeno.
Blend until smooth, then add salt to taste.
Add water to thin, if desired.
---
Keywords: avocado yogurt dressing
More Dressing Recipes
What's your favorite taco topping?