Vegan Green Goddess Dressing
I remember the first time I had Green Goddess dressing. It was in the salad bar line at work and I was intrigued by this new addition to the dressing line up. It was so good that I did some Googling to figure out what was in it. I was disappointed to learn that this seemingly-healthy sounding dressing was basically just sour cream and mayonnaise with some herbs in it.
Clearly, this dressing needed a makeover. I loved the idea of blending handfuls of fresh herbs to create a flavorful dressing and all the mayo seemed unnecessary. So I started playing around with a few blends and I made this vegan, mayo-free Green Goddess dressing that is deliciously flavorful, even if it's not quite as creamy as the original version.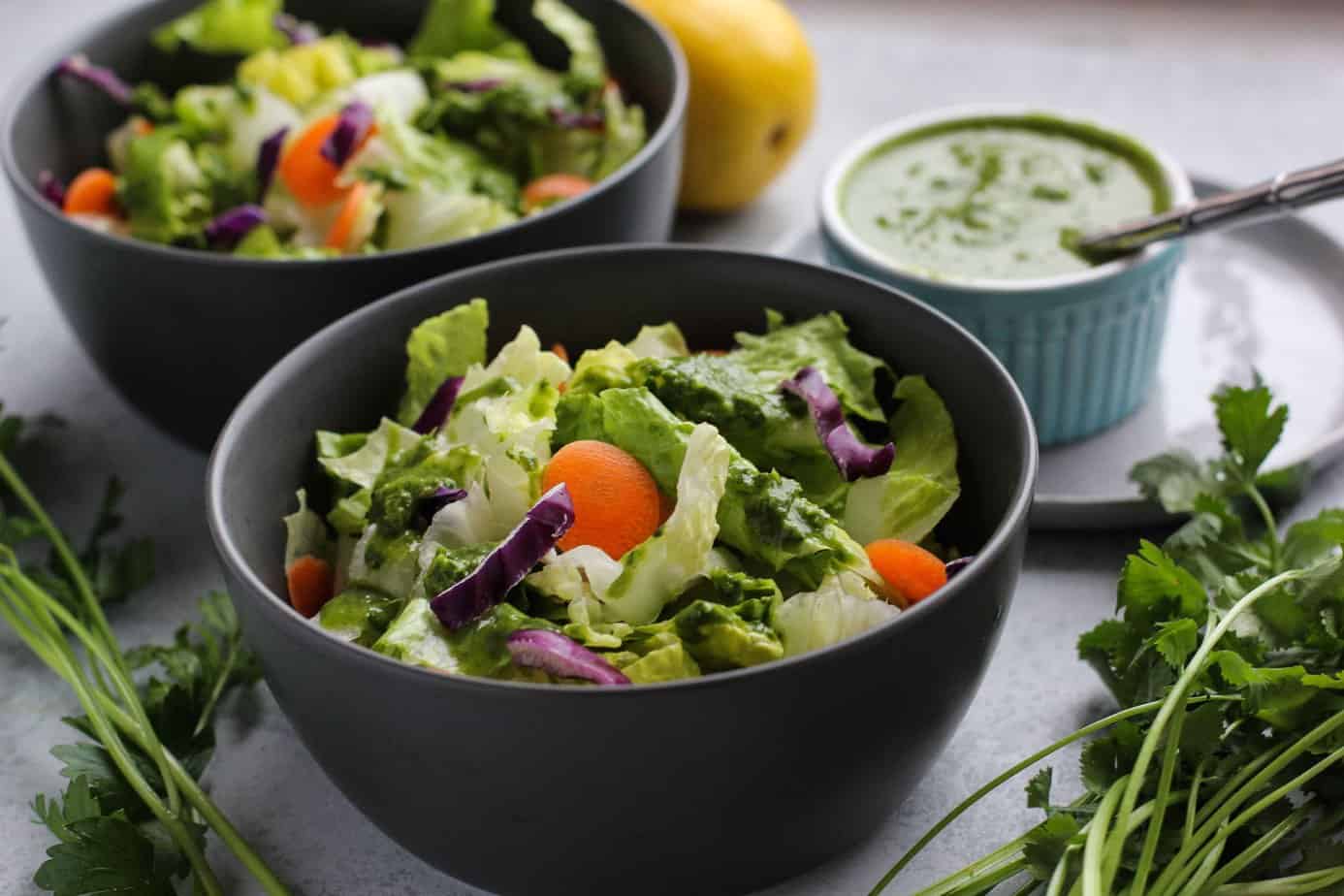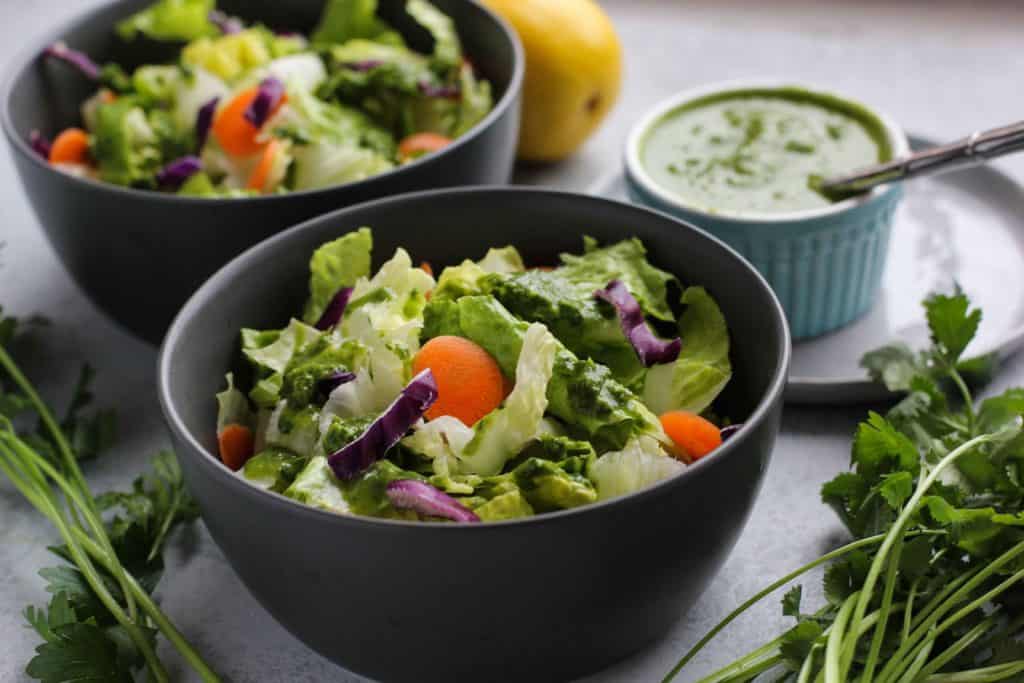 This version is bright and fragrant with the tang of lemon juice and a delicious savory flavor from the parsley. This was perfect on a salad but I feel like it would be equally tasty as a sandwich spread, almost like pesto!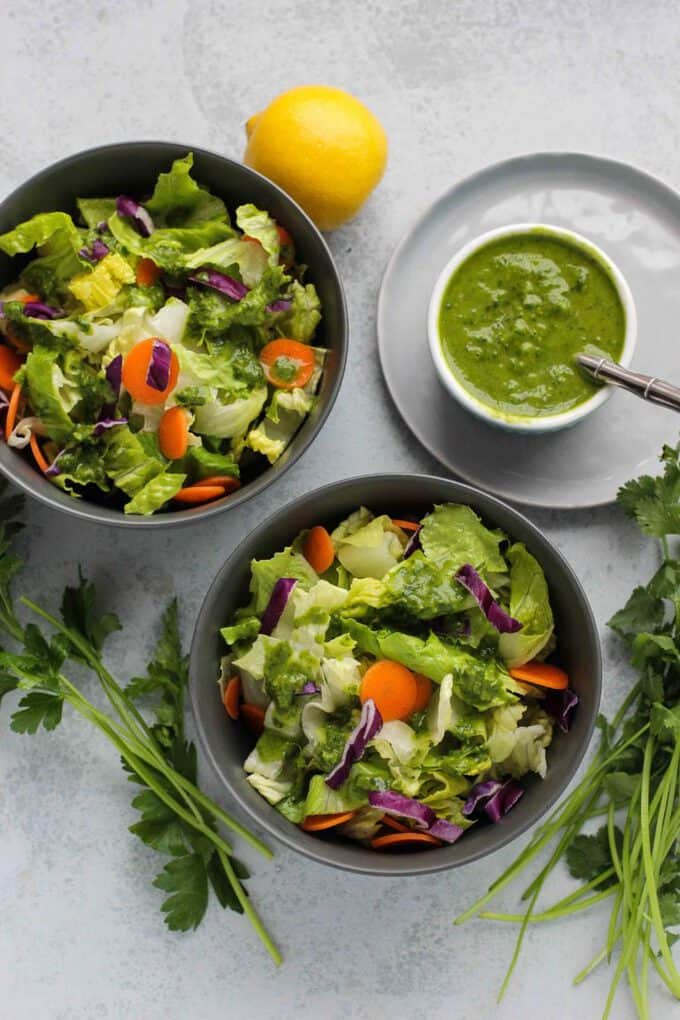 Is this exactly like a traditional Green Goddess dressing? Admittedly, not quite. Although based on what I've seen, the official definition of "green goddess dressing" seems to be pretty broad. That said, feel free to make a few substitutions. If you're short on parsley, you can substitute a bit more cilantro and vice versa. Don't worry, this doesn't have to be an exact science.
Print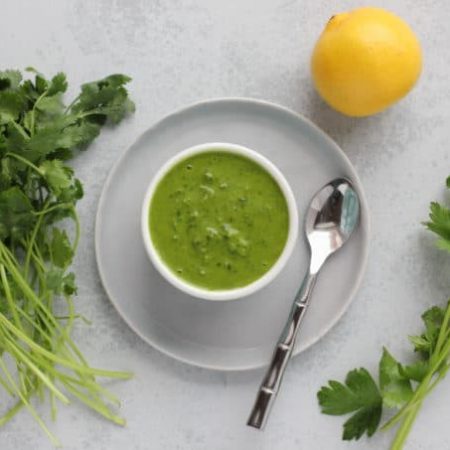 Vegan Green Goddess Dressing
Author:
Prep Time: 5 minutes
Cook Time: 0 minutes
Total Time: 5 minutes
Yield: 3-4 Servings 1x
Category: Salad dressing
Method: Blending
Cuisine: Salad dressing
---
Description
This vegan Green Goddess dressing is a much healthier version than the original! It's bright and fragrant with the tang of lemon juice and a delicious savory flavor from the parsley.
---
1 cup fresh cilantro (stems included)
½ cup fresh flat-leaf parsley (thicker stems removed)
¼ cup olive oil
2 tablespoons lemon juice
¼ teaspoon garlic powder
¼ teaspoon salt
---
Instructions
Combine all ingredients in a food processor or blender and blend until smooth, scraping down the sides as necessary.
Store in an airtight container.
---
Notes
This recipe makes about 1/3 cup of dressing.
Keywords: vegan green goddess dressing
I served this on top of a leafy green salad and I added a few of these homemade whole wheat croutons for a little crunch. I've also dunked carrots straight into this dressing as a dip and it's delicious!
You can store this dressing in an airtight container in the fridge for 3-4 days.
What's your favorite kind of salad dressing?