Vegan Green Goddess Dressing
This vegan Green Goddess salad dressing is a flavorful dressing made from fresh herbs, lemon juice, and a little bit of olive oil. This is a delicious, healthy dressing you can use on your favorite salad!
I remember the first time I had Green Goddess dressing. It was in the salad bar line at work and I was intrigued by this new addition to the dressing lineup. It was so good that I did some Googling to figure out what was in it. I was disappointed to learn that this seemingly healthy-sounding dressing was basically just sour cream and mayonnaise with some herbs in it.
Clearly, this dressing needed a makeover. I loved the idea of blending handfuls of fresh herbs to create a flavorful dressing and all the mayo seemed unnecessary. So I started playing around with a few blends and I made this vegan, mayo-free Green Goddess dressing that is deliciously flavorful, even if it's not quite as creamy as the original version.
What is Green Goddess Dressing?
The official definition of "green goddess dressing" seems to be pretty broad, but most versions seem to be a combination of mayonnaise, sour cream, and fresh herbs. While I love the flavor of fresh herbs blended into salad dressing, I wanted to make something a little healthier to use on my favorite salads.
Is Green Goddess Dressing Vegan?
Generally, no. It's usually made with dairy products and some versions even contain anchovies. Luckily, it's easy to make a vegan friendly version! If you wanted to make this dressing creamier, you could also add in a little bit of vegan mayonnaise, but I like this vinegarette-style dressing! I noticed a lot of vegan versions of this salad dressing used avocado, but I don't usually have extra avocados around, so I made a green goddess dressing, no avocado required!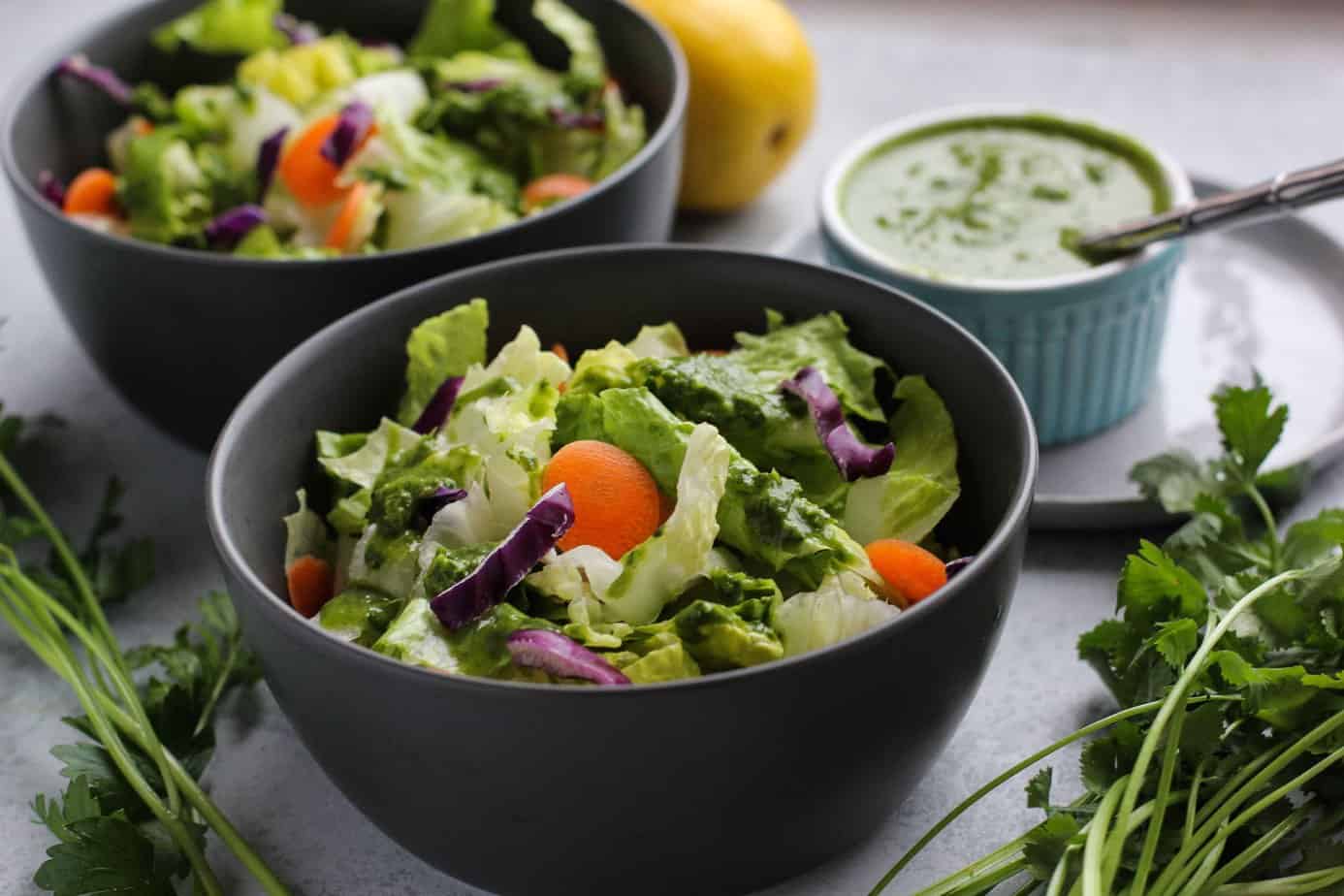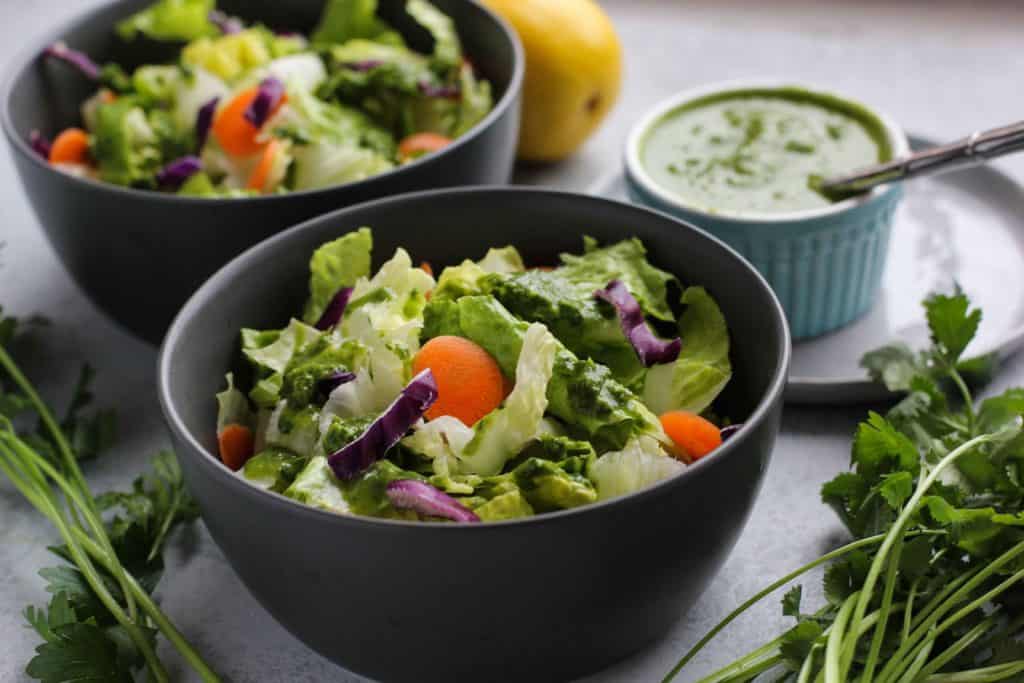 Vegan Green Goddess Dressing Ingredients
Cilantro– Fresh cilantro is a must! You can blend the stems right into the dressing. This adds a slightly citrus flavor to the dressing. If you have leftover cilantro, try my easy cilantro sauce!
Parsley– You can use flat leaf or curly parsley. Either one will add a delicious savory flavor.
Olive oil– A little healthy fat makes this dressing taste more substantial and helps enhance the overall flavor.
Lemon juice– Freshly squeezed lemon juice adds a bright acidic note to the dressing.
Garlic powder– I like using garlic powder rathan than raw garlic which can have a bit too strong of a flavor.
Salt– Add salt to taste.
This version of a green goddess dressing is bright and fragrant with the tang of lemon juice and a delicious savory flavor from the parsley. This was perfect on a salad but I feel like it would be equally tasty as a sandwich spread, almost like pesto! This recipe reminds me a little bit of the vegan green goddess dressing from Trader Joe's.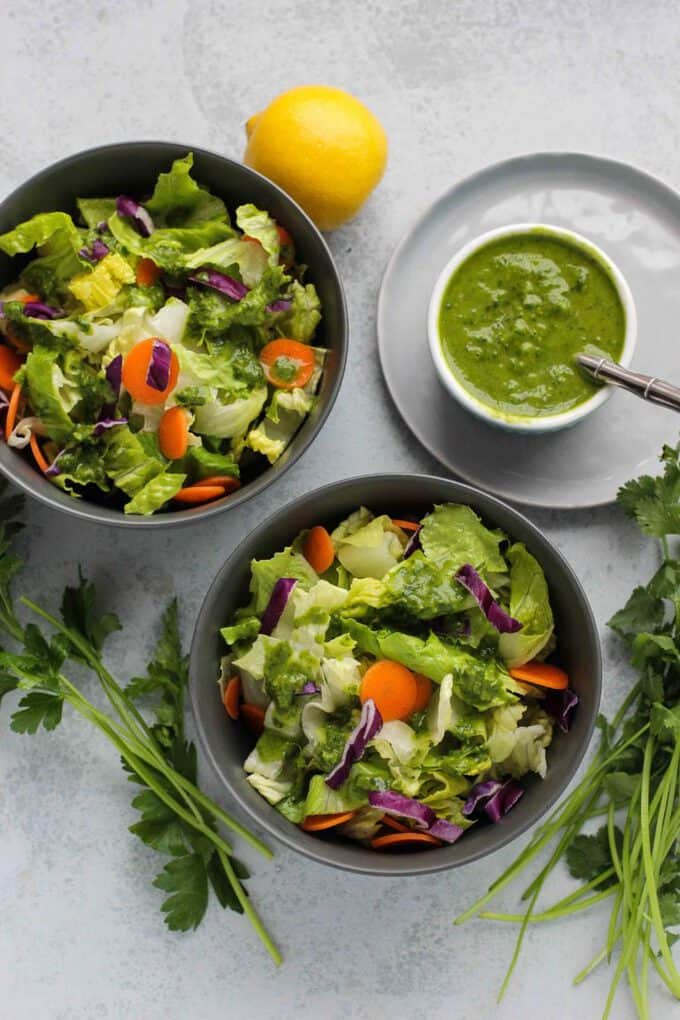 How to Use Green Goddess Dressing
Obviously, this dressing is delicious drizzled on your favorite salad but don't stop there! Try it as a sandwich spread or mash it into chickpeas to create a chickpea salad sandwich. Drizzle in on top of roasted vegetables or try it with this crispy air fryer halloumi.
More Salad Dressing Recipes
Print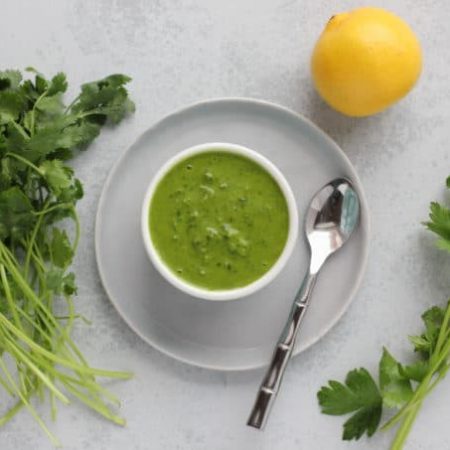 Vegan Green Goddess Dressing
Author:
Prep Time: 5 minutes
Cook Time: 0 minutes
Total Time: 5 minutes
Yield: 3–4 Servings 1x
Category: Salad dressing
Method: Blending
Cuisine: Salad dressing
---
Description
This vegan Green Goddess dressing is a much healthier version than the original! It's bright and fragrant with the tang of lemon juice and a delicious savory flavor from the parsley.
---
1 cup fresh cilantro (stems included)
½ cup fresh flat-leaf parsley (thicker stems removed)
¼ cup olive oil
2 tablespoons lemon juice
¼ teaspoon garlic powder
¼ teaspoon salt
---
Instructions
Combine all ingredients in a food processor or blender and blend until smooth, scraping down the sides as necessary.
Store in an airtight container.
---
Notes
This recipe makes about 1/3 cup of dressing.
Keywords: vegan green goddess dressing
I served this on top of a leafy green salad and I added a few of these homemade whole wheat croutons for a little crunch. I've also dunked carrots straight into this dressing as a dip and it's delicious!
You can store this dressing in an airtight container in the fridge for 3-4 days.
What's your favorite kind of salad dressing?