Avocado and Orange Salad
This simple 5 ingredient salad combines creamy avocado and sweet oranges for a deliciously simple side dish! Pair this healthy salad with your favorite dinner to add more leafy greens to your plate.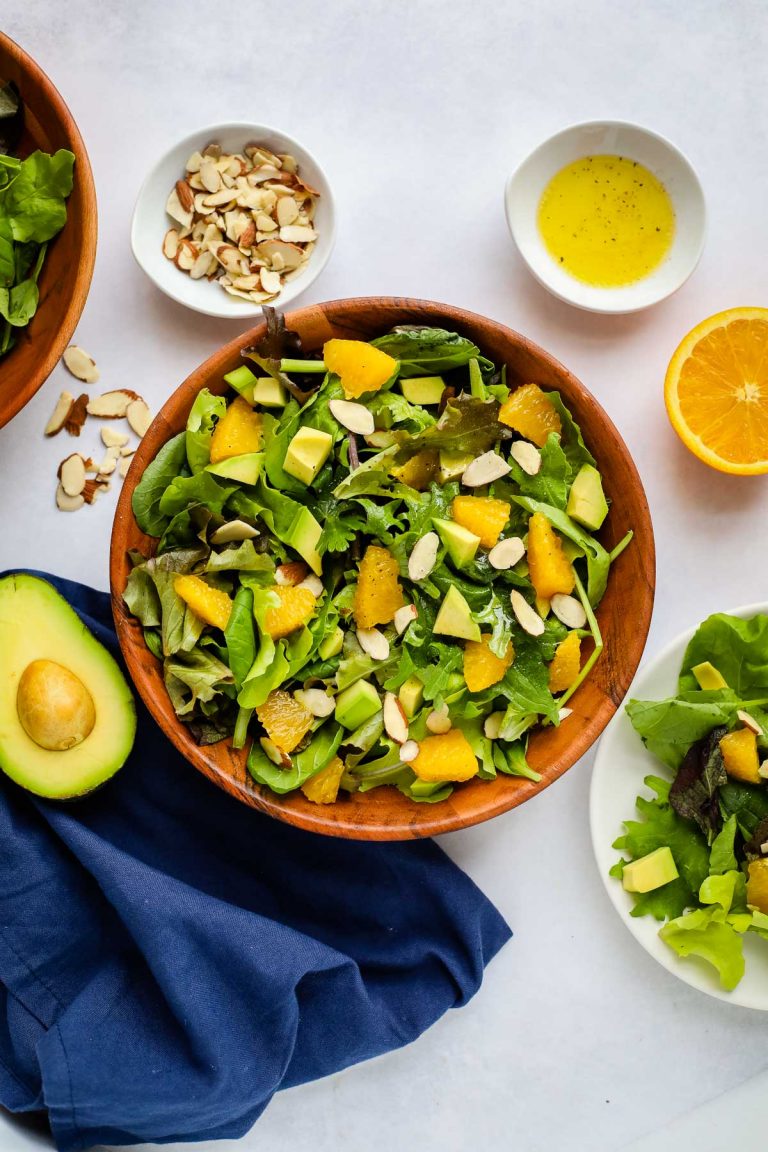 Why I Love This Recipe
This avocado and orange salad is only five ingredients and it comes together quickly and easily. The oranges aren't just a tasty salad topping, the juice from the orange actually helps create a delicious simple dressing! This is one of the easiest salads so it's a great one for a busy weeknight or a quick lunch!
Avocado and Orange Salad Ingredients
Avocado– Creamy avocado adds healthy fat to this salad to make it more filling.
Oranges– Oranges add a sweet flavor to the salad and the reserved juice from the oranges creates a simple dressing when mixed with olive oil.
Almonds– Sliced almonds add a delicious crunch to the texture of this salad.
Olive oil– A little olive oil mixes with juice from the orange to create a light and delicious dressing. A little salt and pepper is all you need to spice it up!
Mixed greens– You can use spinach or a blend of mixed greens. I recommend using tender lettuces like a spring mix. I used a blend of salad greens from my local CSA, which were colorful and delicious!
How to Segment an Orange
For the best flavor I recommend segmenting the orange, which removes all of the white, pithy parts of the orange. The pith tends to have a bitter flavor and a tough texture, so by removing it we're left with sweet, juicy pieces of orange.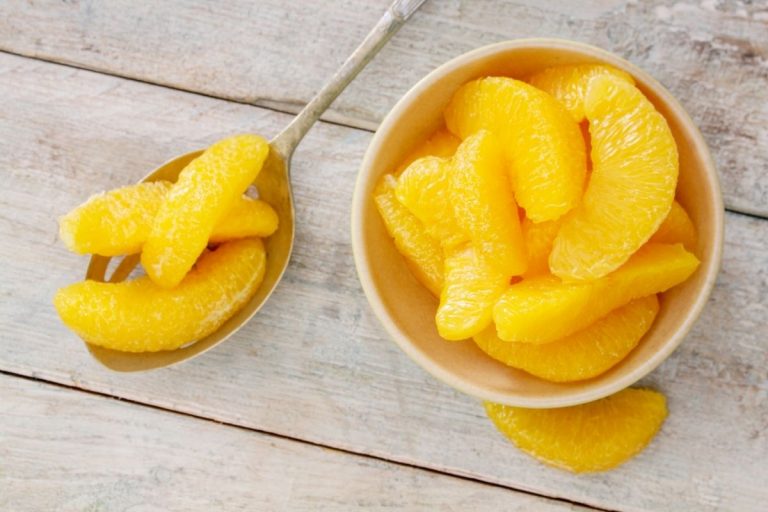 Using a small sharp pairing knife, carefully slice off the top and bottom of the orange.
Using slow downward strokes, slice the skin away from the flesh and discard. I do this in small, 1/2″ strips so I can get as close as possible without wasting the flesh of the orange.
Carefully cut between the membranes to segment the orange.
Set the pieces aside, then squeeze the remaining membrane over a small bowl to capture the juice of the orange.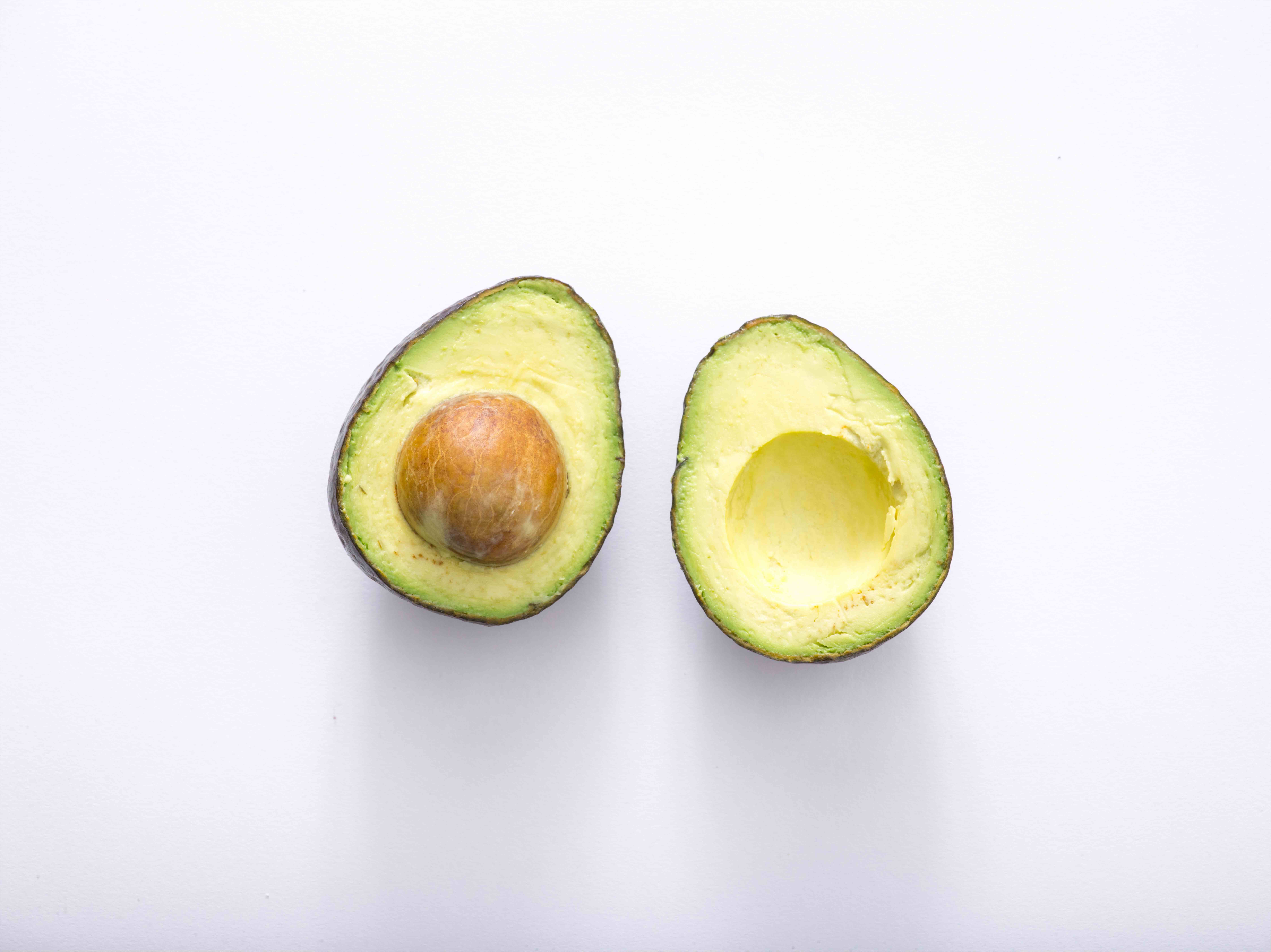 The Best Way to Get Perfectly Ripe Avocados
When buying avocados, look for firm ones that aren't close to being ripe yet. Most of the time, if they're already ripe in the store, they're likely to be bruised.
To ripen avocados quicker, keep them in a bowl with bananas. The ethylene gas released from the bananas will help soften the avocados faster.
Once the avocados are soft, put them in the fridge. This will keep them at their peak of ripeness for much longer!
Substitution Ideas
For an easier option, you can use mandarin oranges. Look for mandarin oranges packed in 100% juice. Drain the oranges, reserving the juice. You'll want about 2 tablespoons of orange juice for the dressing.
You can use any type of mixed greens you like. I prefer a spring mix or spinach. You can even use arugula, which will have a slightly peppery flavor.
If you don't have almonds, try chopped walnuts or pine nuts. I recommend roasted, salted nuts for the most flavor.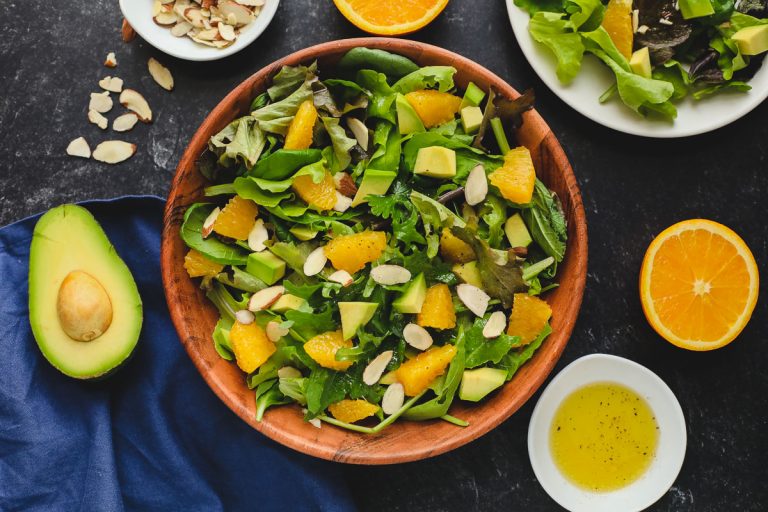 Tips for the Perfect Salad
I don't recommend making this recipe in advance because the greens will start to get soggy and wilt. But you can combine the orange slices, avocado, and dressing together and store them in the fridge for up to 1 hour. The dressing will help prevent the avocado from browning. Then when you're ready to serve the salad, simply toss the greens and the avocado and orange mixture. Top with almonds just before serving to keep them crunchy.
More Salad Recipes
Print
Avocado and Orange Salad
Author:
Prep Time: 10 mins
Cook Time: 0 minutes
Total Time: 10 minutes
Yield: 2 1x
Category: Salad
Method: No Cook
Cuisine: Salad
---
Description
The creamy avocado and sweet orange slices give this spinach salad a wonderful flavor! It's an easy weeknight side dish!
---
2 tablespoons olive oil
1 large navel orange segmented with juices reserved
1 avocado, cut into 1" pieces
4 cups of mixed greens or spinach
2 tablespoons sliced almonds
Salt and pepper to taste
---
Instructions
Whisk the olive oil with the orange juice and add salt and pepper to taste.
In a large bowl, add the mixed greens and top with orange segments, avocado, and almond slices.
Drizzle with dressing and add additional salt and pepper to taste, if needed.
---
Keywords: Avocado Orange Salad