Apple Nachos
This simple apple nachos recipe is a great way to turn apples into a unique treat! It's perfect for an after-school snack or a mid-afternoon bite!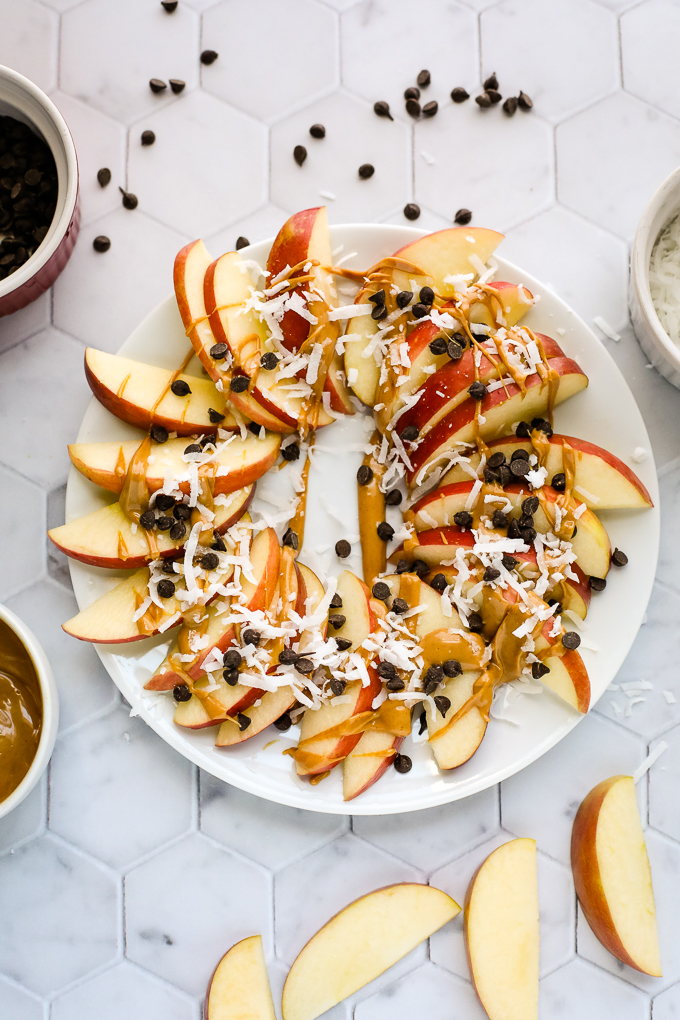 Ok, ok these aren't really "nachos" but they're a fun way to transform apples into an addictive treat! While these are obviously a great kid-friendly snack, I have to say that this is one of my personal favorite afternoon treats! You can switch up the toppings depending on what you crave and this is the kind of recipe that little ones can help you assemble!
How to Make Apple Nachos
The recipe is simple and you only need a few basic ingredients.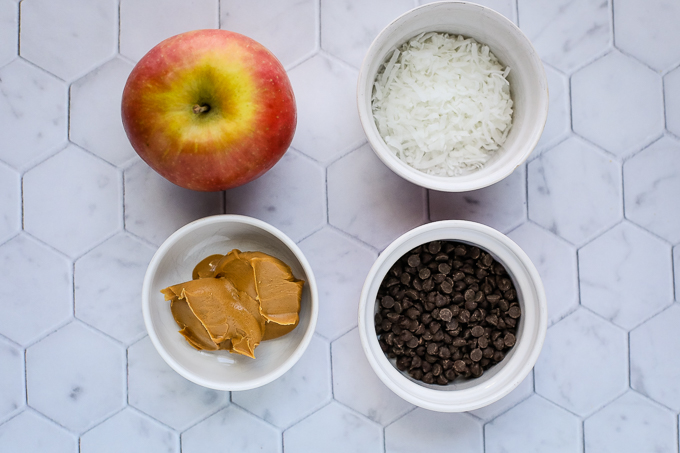 Thinly slice apples, arrange on a plate, drizzle with nut butter and add your favorite toppings! The fun thing about this recipe is that the possibilities are endless!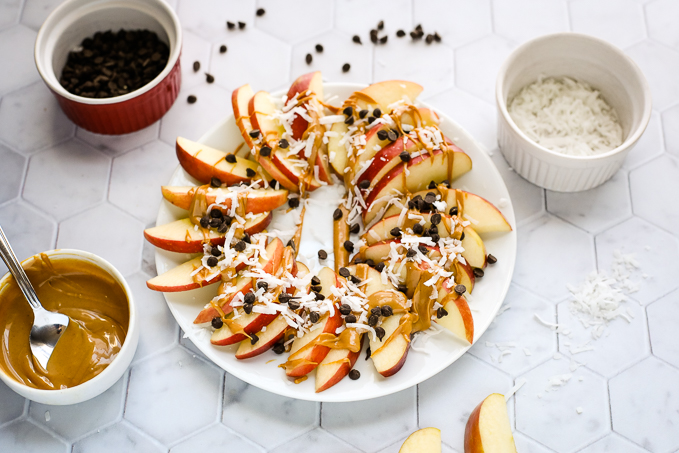 The Best Apples for Nachos
I recommend using sweet red apples like Honeycrisp, Fuji, or Jazz. These can be a bit more expensive though, so feel free to use whatever is on sale! You can use green apples like a Granny Smith Apple but keep in mind they'll be tart. I tend to prefer a sweeter apple for this recipe.
Apple Nacho Topping Ideas
I used peanut butter, coconut, and chocolate chips but there are lots of different toppings you can use based on your favorite flavors.
Peanut Butter– I used a creamy peanut butter, but crunchy works, too! If you want to make it easier to drizzle, pop it in the microwave for a few seconds, to make it pourable.
Almond Butter- Like peanut butter, I recommend using a creamy almond butter. Be sure it's salted, otherwise, you'll want to add a pinch of salt.
Cashew Butter- If you haven't tried cashew butter, it's so rich and creamy. It's great in this recipe!
Nutella– If you want more of a chocolate flavor, try Nutella or a chocolate hazelnut spread.
Coconut Shreds– I like sweetened shredded coconut but you can use unsweetened coconut if you prefer.
Mini Chocolate Chips– Mini chocolate chips are easier to sprinkle but if you only have regular chocolate chips or chocolate bars, just chop it a bit before you sprinkle it on the apple nachos.
Crushed Graham Crackers- I love the sweet and crunchy flavor that crushed graham crackers can add to these nachos!
Chopped Walnuts– Roasted walnuts or cashews can also be a fun addition to these nachos!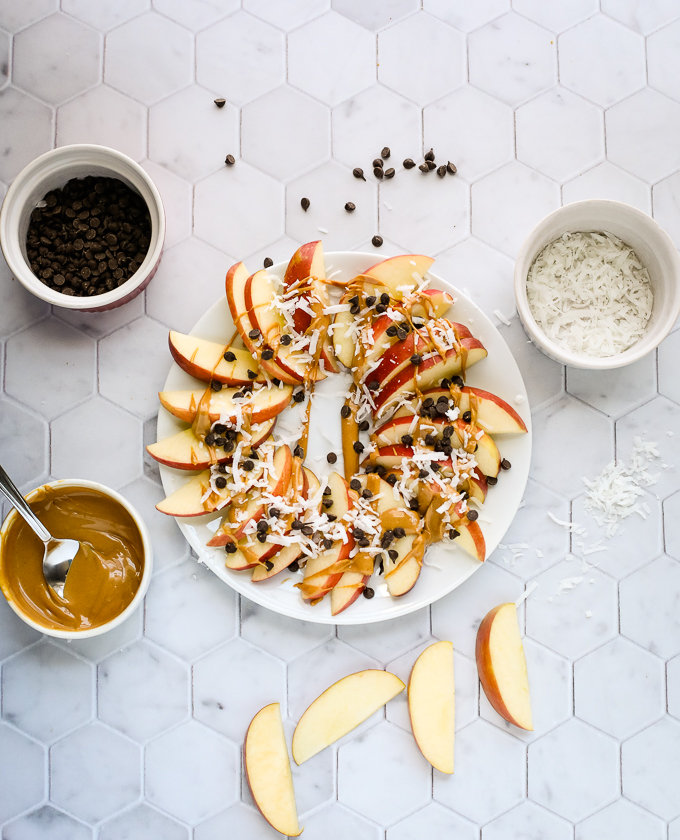 Tips & Tricks
I recommend slicing the apple as thin as possible. The more slices, the better! This also makes it easier to fan them out in order to drizzle the topping evenly.
These apple nachos are best if eaten right away, otherwise, the apple will begin to brown.
Microwave the peanut butter for a few seconds in order to make it easier to drizzle. Depending on how thick your peanut butter is, you may need to microwave it a bit longer. In order to prevent burning, I recommend microwaving on 50% power.
If you want to make a lower-calorie plate of apple nachos, use my low calorie peanut butter dip instead of peanut butter.
I like using mini chocolate chips so you can get a bit of chocolate in every bite. If you only have larger chips or chocolate bars, roughly chop the chocolate chips into small pieces then sprinkle them on top.
More Apple Recipes
Print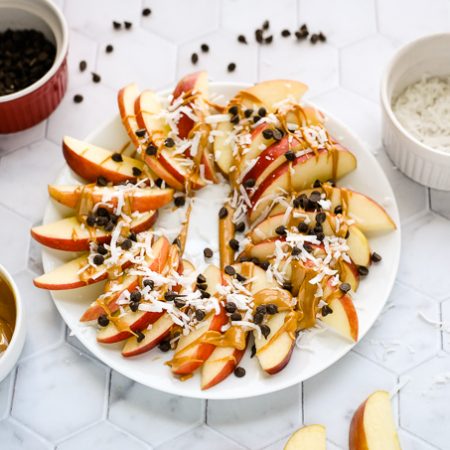 Apple Nachos
Author:
Prep Time: 5 minutes
Cook Time: 0 minutes
Total Time: 5 minutes
Yield: Serves 2
Category: Snack
Method: No Cook
Cuisine: Snack
Diet: Vegetarian
---
Description
This simple recipe is a great way to turn apples into a unique treat! It's perfect for an after school snack or a mid-afternoon bite!
---
1 large apple (I like Honeycrisp or Fuji)
1 tablespoon peanut butter or almond butter
1 tablespoon sweetened coconut shreds
1 tablespoon mini-chocolate chips
---
Instructions
Thinly slice apples and arrange in a single layer on a plate.
Drizzle with your favorite nut butter. If the nut butter is too thick to drizzle, warm in the microwave for 15-30 seconds until it's melted and easy to spread.
Sprinkle with coconut shreds and mini-chocolate chips.
Looking for more tasty snacks? Here are a few of my most popular healthy snacks!
Chickpea Chocolate Chip Cookies