Apple Cinnamon Bread
This post was created in partnership with Patient First. As always, all thoughts and opinions are my own.
Fall is in the air, and this weather has me craving apples! From apple cinnamon bread to apple muffins, I can't seem to get enough. Honeycrisps are my favorite, but Fujis would be a close second!
It's the perfect time of year to head to an orchard, pick your favorites, and get creative in the kitchen! I worked with my friends at Patient First to put together some tips to help you get started.
Tips for a day of apple picking
Apple picking can be a perfect family activity because you can enjoy the outdoors and use it as a learning opportunity for kids. Dr. Beth Jenkins, who practices at Patient First's Midlothian center, pointed out that apple picking is a great family activity! "It's fun for children, provides exercise time outdoors, breathing fresh air and vitamin D from sunshine as well as teaching kids about nature."
With a little preparation, you can make the most of your apple picking adventure! Once you've selected a nearby orchard, pack a few essentials to help things go smoothly:
Bring a water bottle so you can stay hydrated. While you might not work up a sweat picking apples, you'll be moving around a lot, and you may find yourself getting thirsty!
Don't forget a reusable bag or basket! While most orchards will provide a paper bag for picking and weighing, you may want to transfer them to a sturdier container for the drive home. (This helps to avoid apples rolling around in your trunk!)
Watch out for poison ivy! It's common around apple orchards, and little ones might not know to avoid it! If you do have a run-in with poison ivy, check out these tips from Patient First.
Bring a pack of baby wipes for a quick way to clean dirty hands! After picking lots of apples, you'll want to be able to wash your hands, and if a sink isn't available, baby wipes make this easy!
Make sure you wear sunscreen! Even in cooler temperatures you should still stay protected from the sun, particularly on your face and hands. Bring a travel-sized bottle for touch-ups if you plan to stay outdoors for most of the day!
Remember to check for ticks. As soon as you come home, do a quick check to make sure there are none on your body. Patient First has some great tips to avoid ticks.
You've heard an apple a day keeps the doctor away and there might be some truth to that! Dr. Jenkins says, "Apples are healthy and should be included frequently in your diet. They are a good source of fiber to improve digestive health. Apples are great snacks for kids as they are easy to eat, tasty and can replace other less healthy snack foods. I recommend an apple a day to many of my patients."
Once your kitchen is stocked with fresh apples, it's time to get baking!
I've been so excited to share this Apple Cinnamon Bread recipe with you. It's one of my favorites! If you love apples as much as I do, this is a must-make.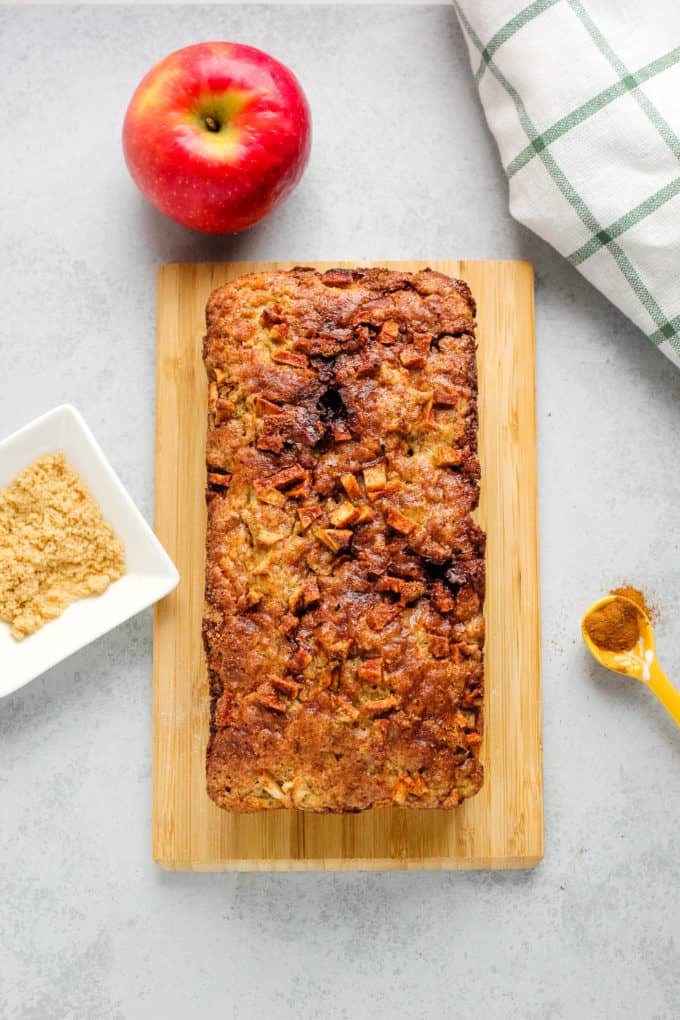 Print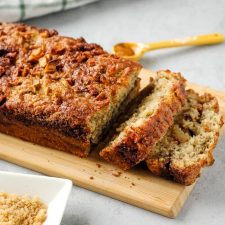 Apple Cinnamon Bread
Author:
Prep Time: 15 minutes
Cook Time: 1 hour
Total Time: 1 hour 15 minutes
Yield: 10 slices 1x
Category: Breakfast
Method: Baking
Cuisine: Bread
---
Description
This apple cinnamon bread is a delicious fall treat! It's perfect with a cup of coffee for breakfast or add a scoop of ice cream to turn this into dessert!
---
1 cup packed light brown sugar (divided)
1/3 cup coconut oil, softened
2 teaspoons vanilla extract
2 eggs
1 1/2 cups all-purpose flour
1 1/2 teaspoons baking powder
½ teaspoon salt
1/2 cup almond or soy milk
1 large apple, peeled and finely chopped (about 2/3 cup)
1 1/2 teaspoon ground cinnamon
---
Instructions
Preheat oven to 350
Spray a 8×4 inch loaf pan with non stick spray
In a small bowl, combine ⅓ cup brown sugar and cinnamon and set aside.
Combine remaining brown sugar and coconut oil until smooth.
Add vanilla and eggs and mix until combined
Add flour and baking powder, then milk.
Pour half the batter into the prepared pan.
Cover with half of the apples.
Pat apples into batter with the back of a spoon.
Sprinkle with half of sugar and cinnamon mixture.
Pour the remaining batter over apple layer; top with remaining apples and add more brown sugar-cinnamon mixture.
Pat topping into the batter with the back of a large spoon.
Bake for 55-60 minutes or until toothpick inserted into the center comes out clean.
Let cool for 10 minutes, then transfer to a cooling rack.
---
Keywords: Apple Cinnamon Bread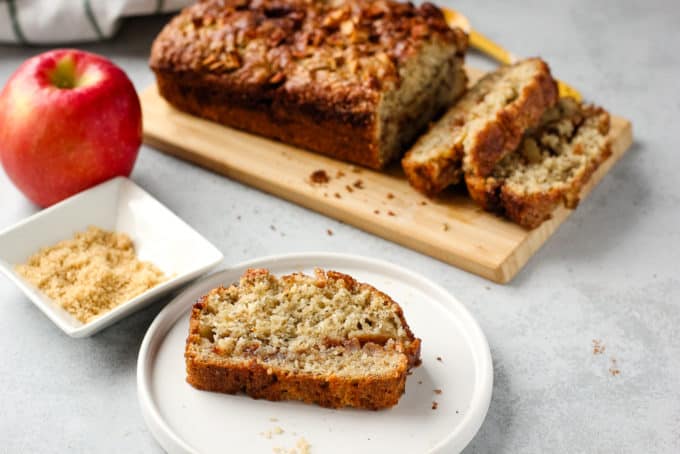 Apple Cinnamon Bread Substitution Ideas
For a lower sugar option, Dr. Jenkins recommends substituting ½ cup of baking stevia for ½ cup of brown sugar.
To make this vegan, use two tablespoons of chia seeds mixed with six tablespoons of water, in place of the eggs. Simply whisk together the chia seeds and water and let sit for 5 minutes. Once it thickens, mix it into the bread and skip the eggs!

Looking for more recipe ideas?
What's your favorite kind of apple?