Low Calorie Peanut Butter Dip
If you love peanut butter as much as I do, then you need to try this creamy peanut butter dip! It's lower in calories and packed with protein so it's a perfect snack!
I'm obsessed with peanut butter. The problem is, it takes like, 3 tablespoons of peanut butter to sufficiently dip an entire apple. And while I love peanut butter, I do have to face the facts, that 1 measly tablespoon packs in 100 calories. Those add up quickly. What's a girl to do? Whip up a batch of this creamy peanut butter dip, and start snacking!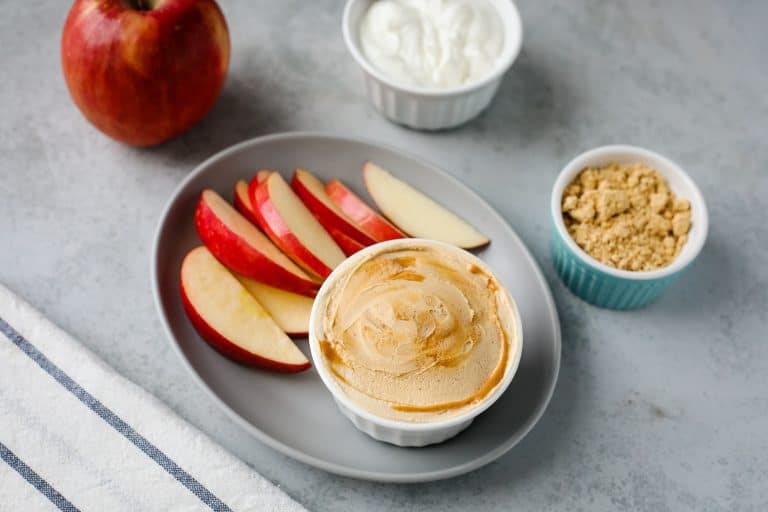 Health Benefits of Peanuts
Peanuts are a great source of many essential nutrients, including protein, healthy fats, vitamins, and minerals. They're also rich in powerful antioxidants which may help protect against cell damage and chronic disease. Peanuts are a good source of monounsaturated fats, which may help reduce LDL (bad) cholesterol levels. Since they're a good source of fiber, they can also help keep blood sugar levels stable. While I love peanuts and peanut butter, I have to recognize that peanut butter is high in calories and fat. While it's the good kind of fat, it does mean the serving size is a bit small. And if you love peanut butter like me, sometimes you want to enjoy a whole bowl of peanut butter! Thanksfully, this low calorie peanut dip is a good solution for volume eaters like me.
How to Make Low-Calorie Peanut Butter Dip
All you need for this peanut butter dip is two simple ingredients: Greek yogurt and peanut flour! But there are plenty of other things you can add if you like. For a sweeter dip, swirl in a bit of honey! For a creamier dip, add a teaspoon or two of regular peanut butter.
What is Peanut Flour?
Peanut flour is made by pressing the oil out of the peanuts and finely grinding the peanuts to a flour consistency. It contains less fat and calories than peanut butter, since most of the oil has been pressed out during the grinding process. It obviously has a strong peanut flavor and is often used to add flavor to smoothies, sauces, and other dishes.
Where to Buy Peanut Flour
You can usually find peanut flour at the grocery store by the natural peanut butter. Two of my favorite brands are PB2 and PBFit. If you can't find it at the grocery store, you can order it on Amazon here!
Print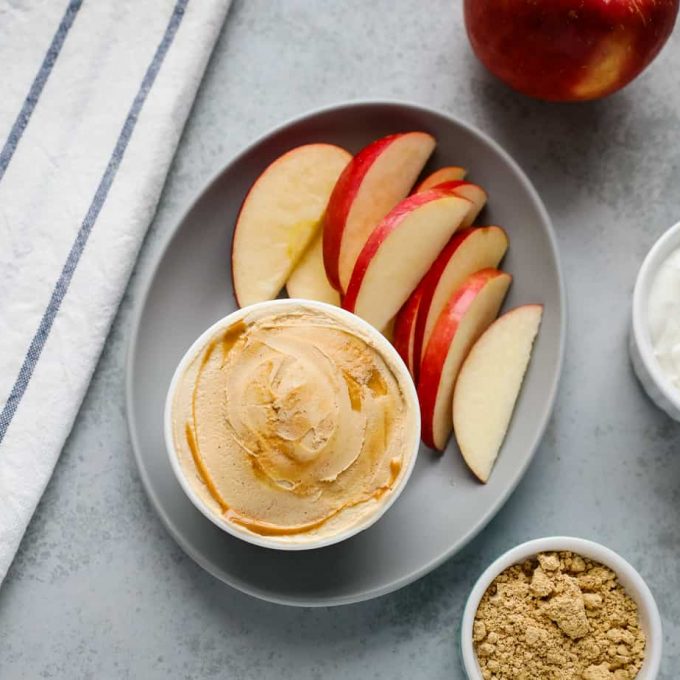 Low Calorie Peanut Butter Dip
Author:
Prep Time: 5 minutes
Cook Time: 0 minutes
Total Time: 5 minutes
Yield: 1/4 cup 1x
Category: Snack
Method: No Cook
Cuisine: Dip
---
Description
If you love peanut butter, then you need to try this creamy peanut butter dip! It's lower in calories and packed with protein so it's a perfect snack!
---
3 tablespoons Greek yogurt (plain or vanilla can work)
2 tablespoons peanut flour (see note below)
Pinch of salt
Pinch of stevia or sweetener (optional)
---
Instructions
Combine everything in a bowl and stir until completely smooth.
Use as a dip for fruit or spread it on toast!
---
Notes
Note: If you can't find peanut flour (or PB2) and you don't feel like ordering it from Amazon, feel free to use regular peanut butter! It'll be a little higher in fat and calories, but at least it's good fat! You can reduce it down to 1 tbsp and it'll still be super creamy and peanut butter-y.
Keywords: peanut butter dip

How to Use Low-Calorie Peanut Butter Dip
As a dip for pretzels, bananas or apple slices
Spread it on toast or crackers
Add it to smoothies or shakes for a creamy, nutty flavor
Drizzle it over oatmeal or pancakes
Dunk freshly baked apple chips
Are you as peanut butter obsessed as I am?