Air Fryer Edamame
This simple air fry edamame is a delicious recipe that's ready in just a few minutes! You can turn frozen edamame into a tasty side dish with just a few basic ingredients.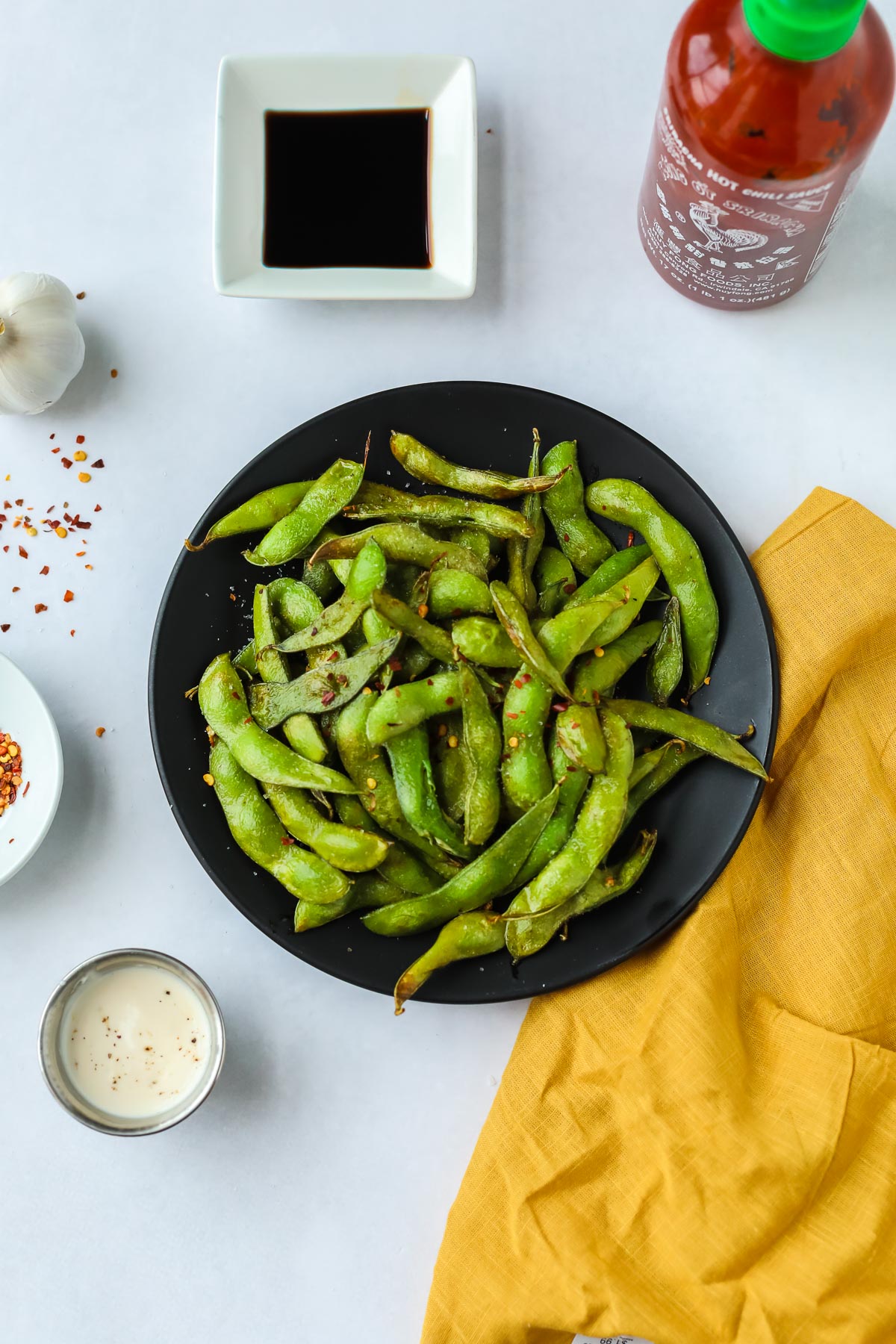 I love this air fryer edamame recipe because it only takes a few minutes to assemble and I can make it with just a handful of pantry ingredients. I usually keep a bag of frozen edamame on hand and then have an easy side dish ready in a flash! This recipe works with shelled or unshelled edamame, but I've provided the measurements for edamame that are still in the pods.
What is an Air Fryer?
If you're new to cooking with an air fryer, think of it like a convection-style oven. Hot air circulates around a metal basket which creates a crispy outer layer. You can "fry" foods with minimal oil so it's a great way to make a healthy side dish. I love it because it preheats quickly and cooks food in a flash so I can whip up a side dish like this one in minutes. Curious to learn more about air frying? Don't miss my Air Fryer Tips & Tricks!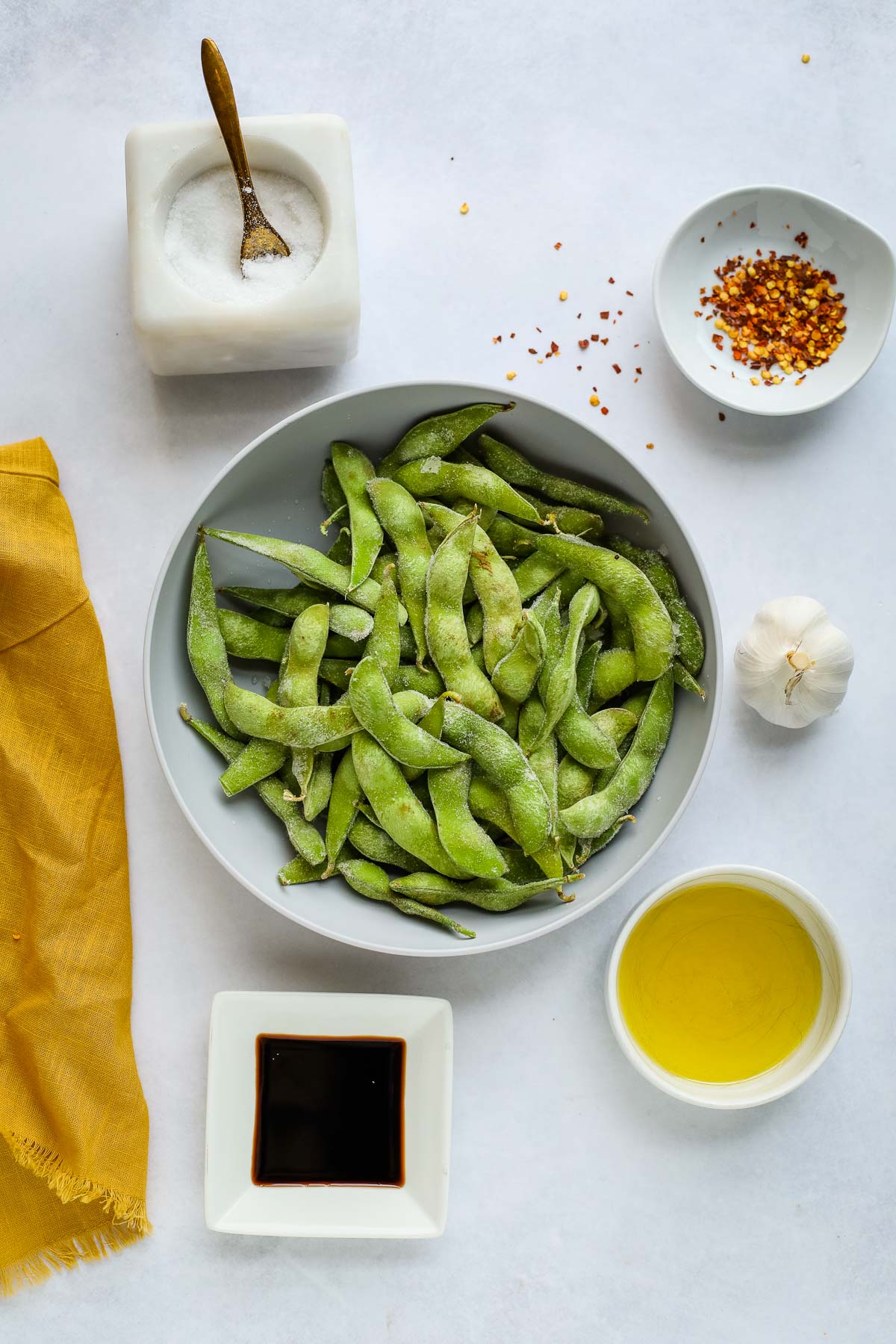 What is edamame?
Edamame is the name for soybeans. You'll typically find them in the frozen section at the grocery store. They come in a thick pod, which is inedible. To eat the edamame, use your teeth to pull the bean from the pod, then eat the bean and discard the pod. You can also buy shelled edamame, which may be sold fresh or frozen.
Is edamame healthy?
Yes! Edamame is a great source of plant-based protein! One serving of this air fryer edamame has 13g of protein! It's also a great source of fiber with almost 6 grams per serving. It's also fairly low in calories, so you can eat a pretty large serving. It makes a great side dish to add to your favorite stir fry or noodle bowl.
How to Make Edamame in an Air Fryer
You can use fresh or frozen edamame. I've included the directions for cooking frozen edamame, so if you're using fresh you may need to reduce the cooking time by a few minutes.
Toss the edamame with a little olive oil, salt, and garlic or garlic powder.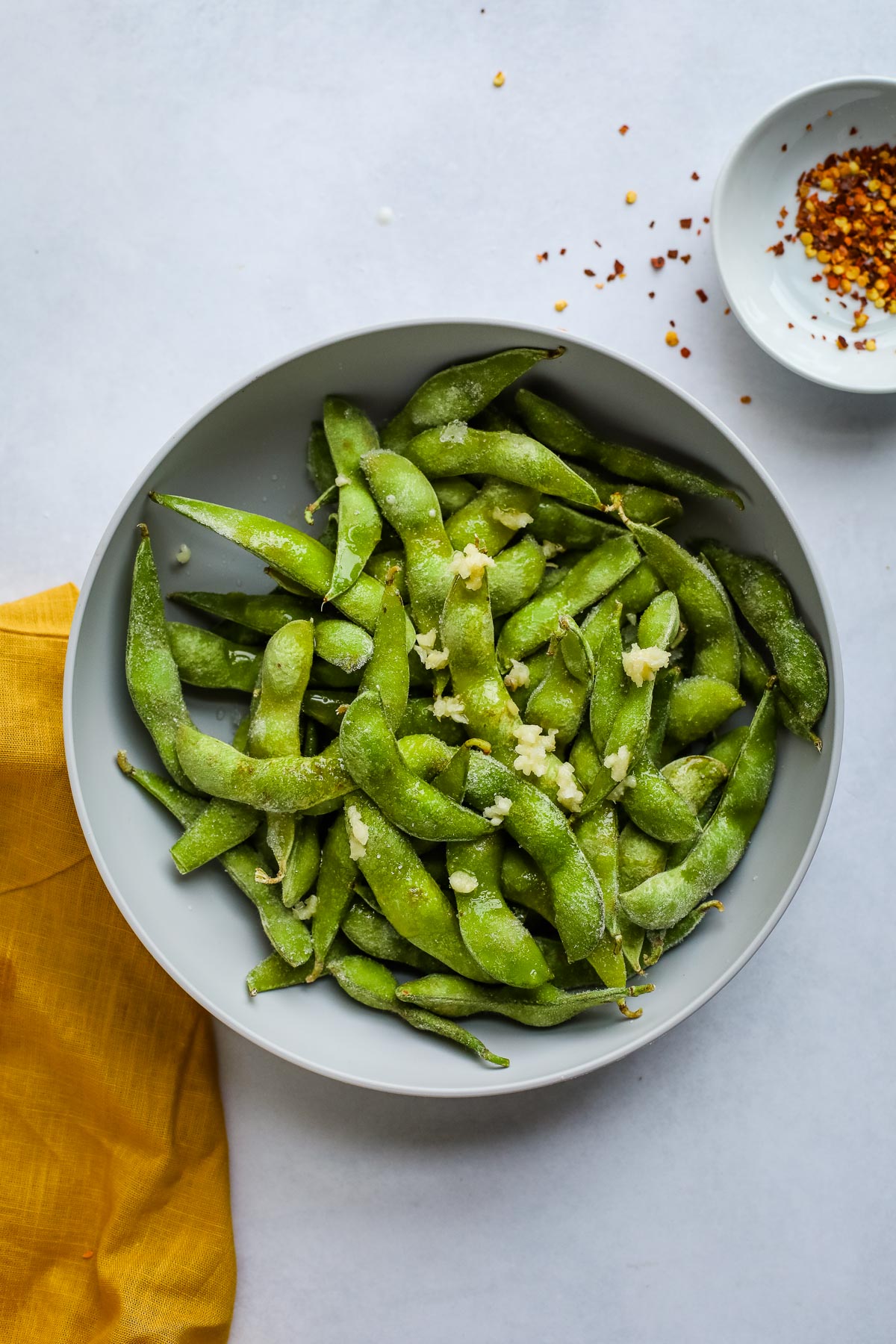 Then spread the edamame into a single layer in the air fryer basket and fry for 5-7 minutes until browned.
Dipping Sauces & Serving Suggestions
This edamame is delicious on its own but you can also serve it with soy sauce or sriracha for even more flavor. Try adding a little chili garlic paste for a spicy flavor or try a drizzle of Trader Joe's Chili Onion Crunch for a unique twist! When serving the edamame, be sure to provide a little bowl or dish for people to discard of the edamame pods, which are too tough to eat. I recommend serving this edamame with these lentil lettuce wraps or this easy coconut curry noodle bowl!
Can I Double the Recipe?
Yes! Feel free to double the recipe but you may need to cook it in two batches. An air fryer works best when the basket isn't too crowded or full. So if you decide to double the recipe, you may need to divide it into two batches in the air fryer depending on the size of your basket.
Tips & Tricks
I think the edamame is best served with coarse sea salt, meaning the grains of salt are larger than typical table salt. This is what you'll typically find at restaurants and I think it really enhances the flavor of the dish!
You can also make this recipe with shelled edamame just keep in mind the measurements will need to be adjusted.
More Edamame Recipes
More Air Fryer Side Dish Ideas
Print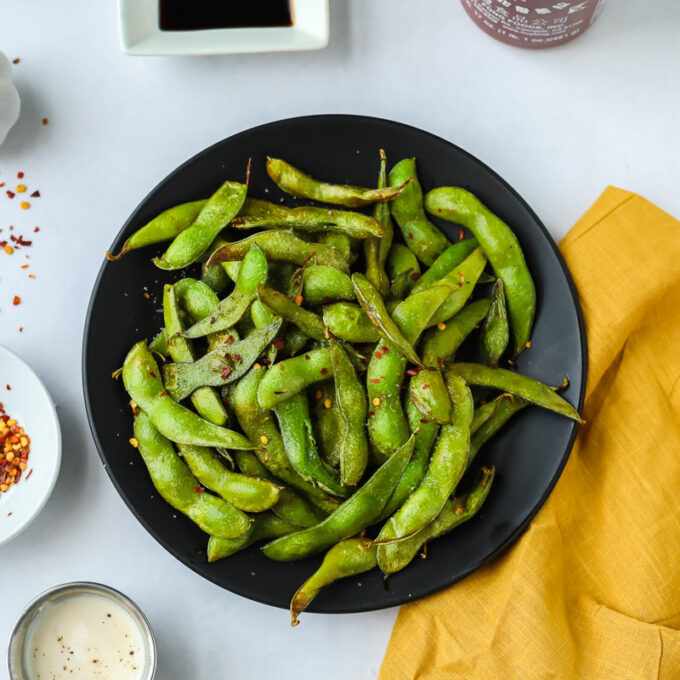 Air Fryer Edamame
Author:
Prep Time: 5 minutes
Cook Time: 10 minutes
Total Time: 15 minutes
Yield: 2 servings 1x
Category: Side Dish
Method: Air Fryer
Cuisine: American
Diet: Vegan
---
Description
This simple air fry edamame recipe is a delicious side dish that's ready in just a few minutes! You can turn frozen edamame into a tasty side dish with just a few simple ingredients.
---
8 oz frozen edamame (in the pods)
1 tablespoon olive oil
2 cloves garlic, minced or 1/2 teaspoon garlic powder
Coarse sea salt
Red pepper flakes and/or soy sauce for serving
---
Instructions
Preheat the air fryer to 390 degrees.
Toss the frozen edamame with olive oil, garlic, and a pinch of salt.
Spread the edamame into a single layer in the air fryer basket and cook for 5 minutes.
Stir the edamame to ensure even cooking and continue to cook for 3-4 minutes or until browned.
Sprinkle with additional salt to taste. Serve with crushed red pepper flakes and/or soy sauce if desired.
---
Keywords: air fryer edamame