Easy Lentil Salad
This easy lentil salad comes together in just a few minutes with simple pantry staples! It's vegetarian, high in protein, and a perfect healthy lunch or side dish!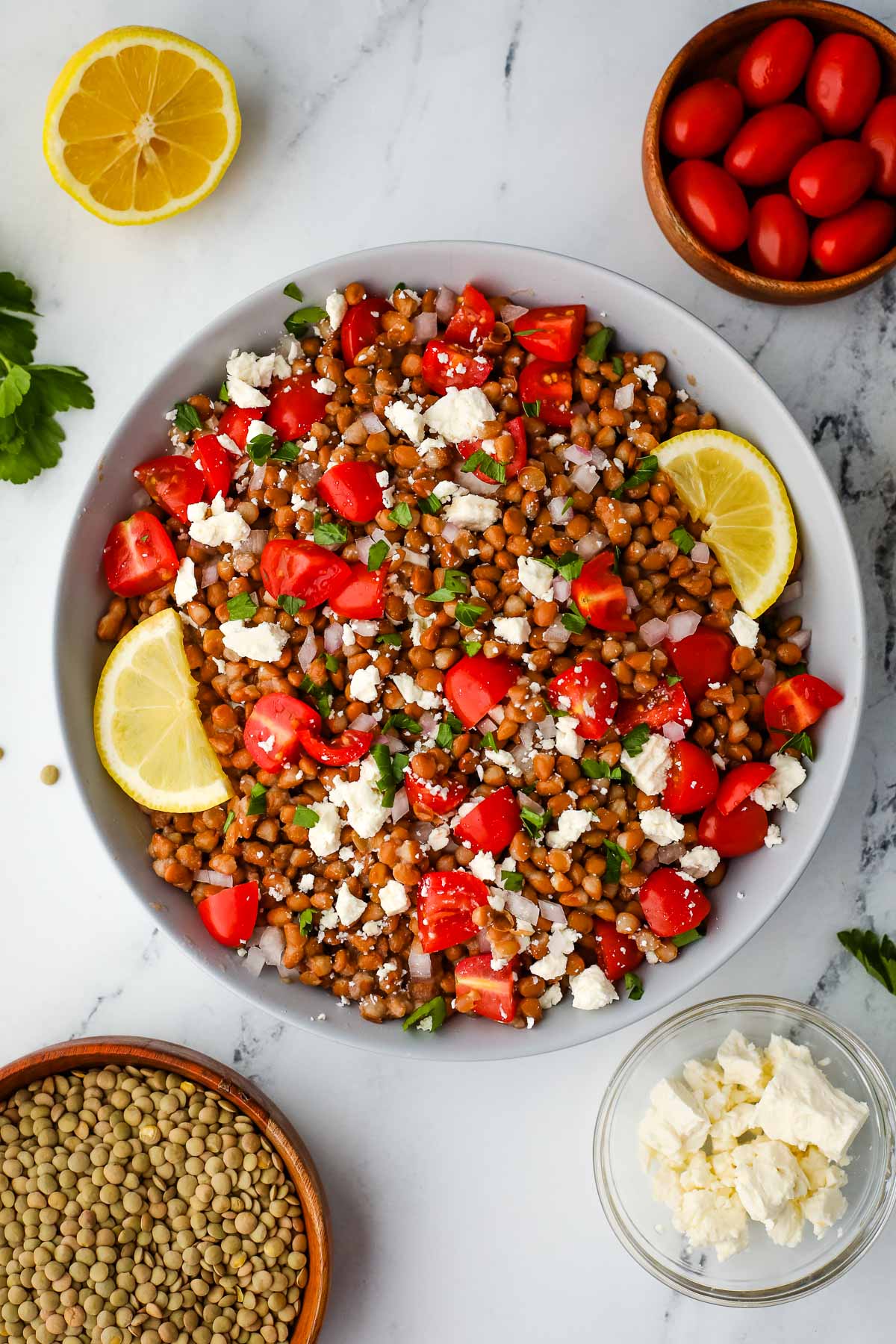 I prepped a batch of lentils to make lentil tacos and I found myself with a few cups to spare. I also had some feta that was begging to be used. A few minutes later, I had a lentil salad that I kept eating by the forkful. I was actually shocked at how delicious this was with just a few ingredients, so I wanted to pass it along! This is a perfect make-ahead recipe to pack for lunch!
Sometimes I feel silly posting recipes as simple as this one, but these are the recipes I make repeatedly. I don't like buying specific ingredients for one recipe, so I like it when I can use the rest of the feta from these stuffed peppers and the last of the red onion from these black bean tacos.
Benefits of Eating Lentils
Lentils are one of my favorite foods to keep in my pantry! They're a very inexpensive source of protein. They're a good source of iron, and they also contain a lot of fiber, which helps regulate blood sugar and keeps you full! If you're looking for a simple lentil recipe, try this one! Since they last a long time, I recommend keeping a bag or can of lentils in your pantry at all times!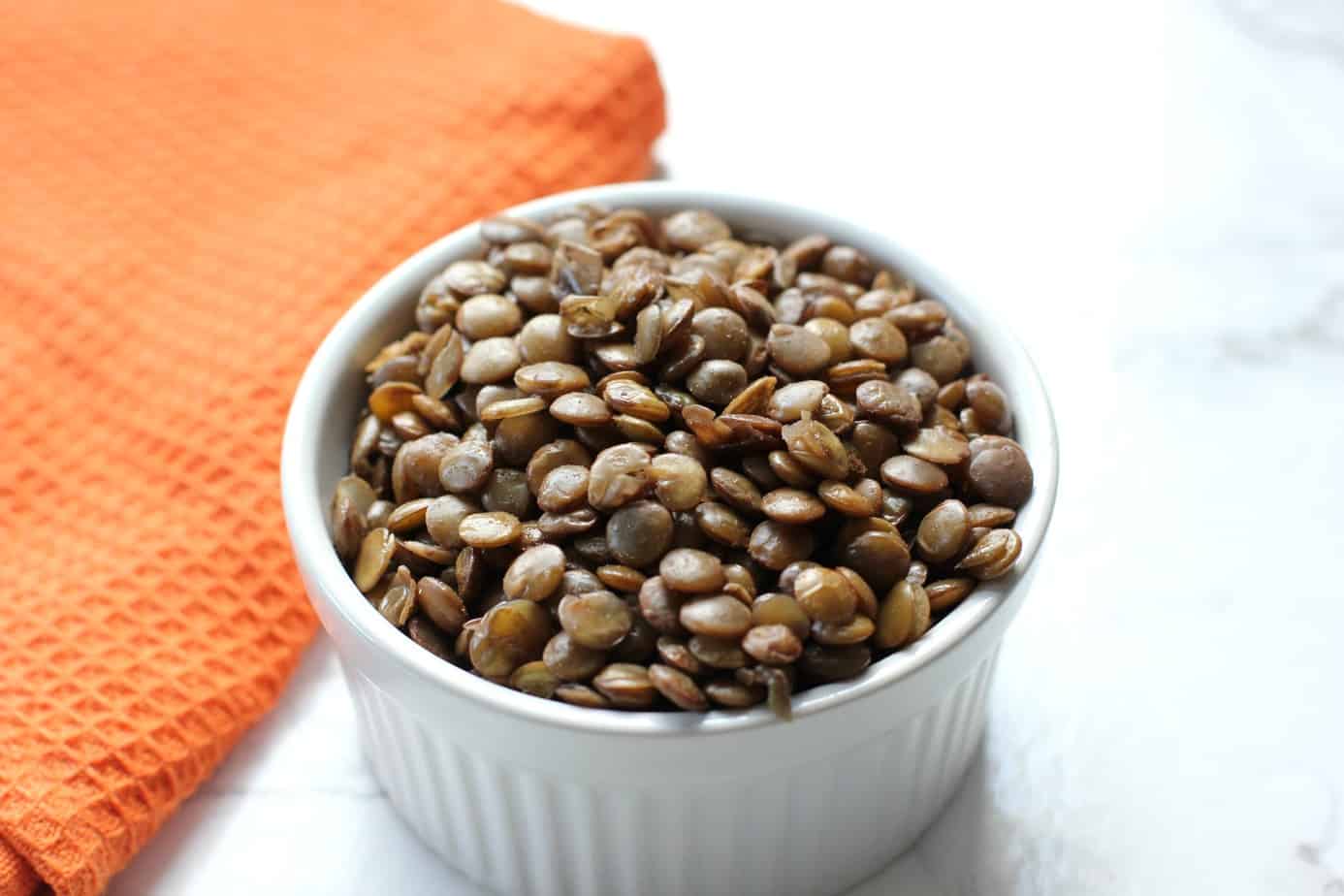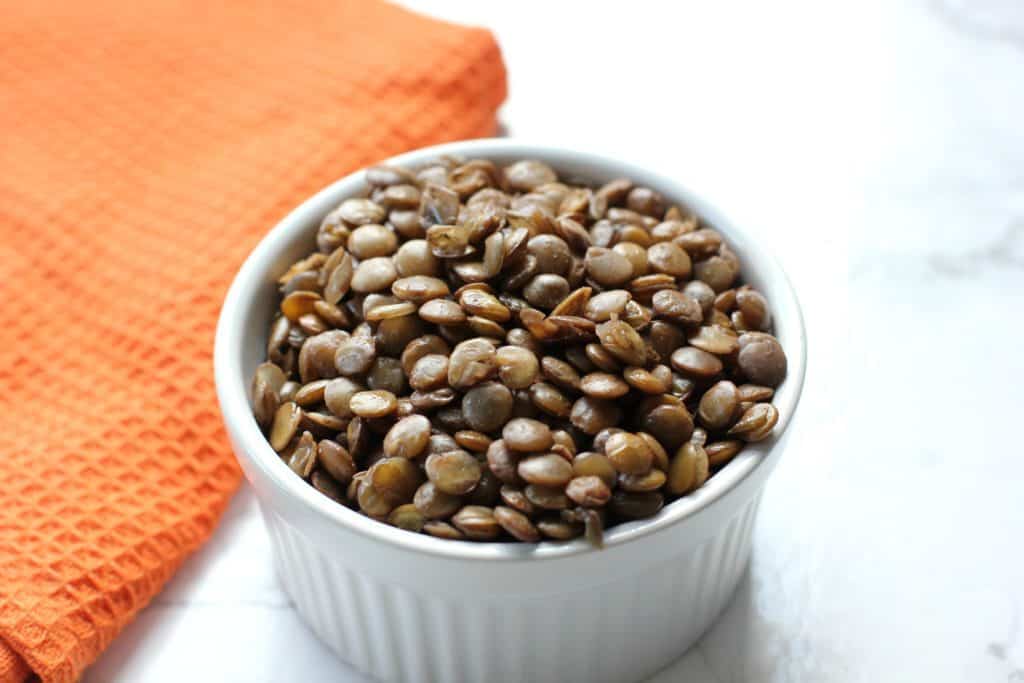 The Best Lentils for Salad
I've made this recipe with regular brown lentils, but it's even better with French lentils if you can find them! French lentils have a more firm texture than regular brown or green lentils. They soften when cooked, but they still hold their shape. Sometimes French lentils are called black lentils or lentils du Puy. You can often find them at places like Whole Foods or specialty grocery stores. But this recipe can still be made with regular brown or green lentils.
For a very quick option, you can use leftover lentils or you can use canned lentils. Just be sure to drain and rinse them well before using them in the salad.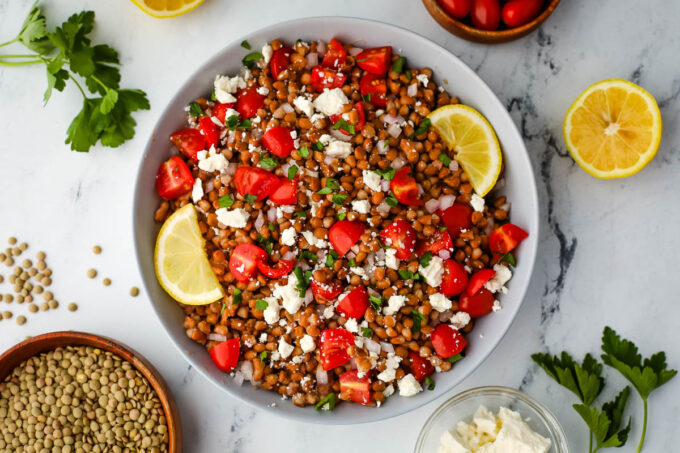 How to Cook Lentils
Add one cup of lentils and 3 cups water to a saucepan. Cover and bring to a boil. Reduce the heat to low and simmer, stirring occasionally, for 15 to 18 minutes until the lentils are tender but not mushy. Drain any excess water, let cool, then add to the salad.
Variations and Substitutions
If you want to add greens to this salad, try serving it on a bed of arugula! To keep it dairy-free, swap out the feta cheese for roasted, salted almonds or cashews. Add diced bell pepper or sweet mini peppers to the mix for additional colorful veggies.
Frequently Asked Questions
Can I make this recipe in advance? Yes! This recipe can be made up to 2 days in advance. In fact, I think it's best after it has been in the fridge for a couple of hours. It's a great packed lunch!
How should I store leftovers? Store the salad in an airtight container in the fridge for up to 3 days.
Print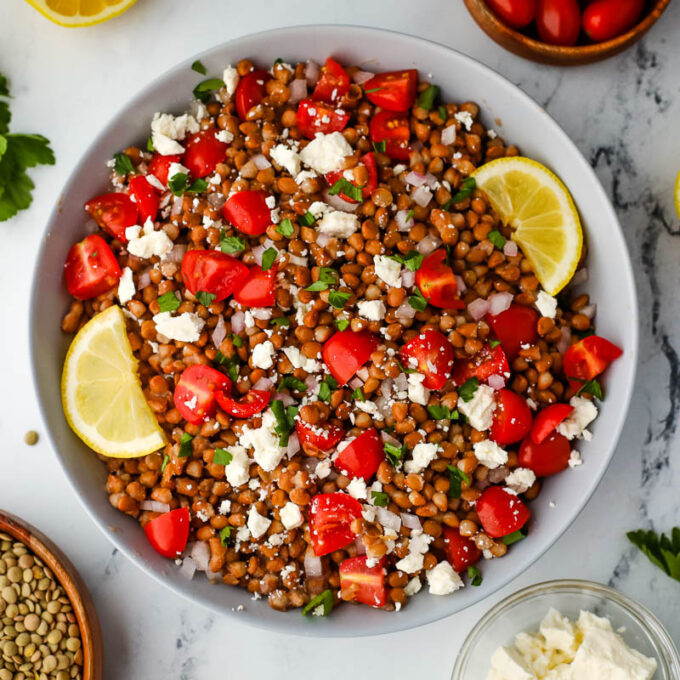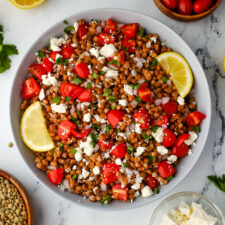 Easy Lentil Salad
Author:
Prep Time: 5 minutes
Cook Time: 0 minutes
Total Time: 5 minutes
Yield: 2 large bowls 1x
Category: Salad
Method: No Cook
Cuisine: Salad
---
Description
This easy lentil salad comes together with basic pantry staples in just a few minutes! It's vegetarian, high in protein, and a perfect healthy lunch or side dish!
---
2 cups cooked brown lentils (see note)
2 tablespoons diced red onion
1/4 cup crumbled feta cheese
2 tablespoons chopped fresh parsley
1 tablespoon olive oil
2 tablespoons lemon juice
Salt & pepper to taste
---
Instructions
Add the lentils, onion, feta, and parsley to a large bowl.
Drizzle with olive oil and lemon juice and season with salt and pepper. Toss to combine.
---
Notes
French lentils and black lentils hold their shape better than regular brown or green lentils, but regular lentils will still work just fine. Do not use red or yellow lentils, which are too soft.
Keywords: Easy lentil salad
Looking for other simple salad ideas? This chickpea salad is another great recipe that you can assemble in just a few minutes!