I haven't been eating as many salads lately, since it's been so chilly. This meant that I had a couple of bunches of kale sitting in my fridge, begging to be used. I finally decided I'd use them up on a warm kale salad. After having such a delicious dish at The Savory Grain, I had a rough idea in mind of how I wanted to turn out. This actually turned out to be a simpler salad than I thought (thanks to an avocado gone bad) and I think this would be a lovely side dish, or a main dish if you added a little quinoa.
Warm Kale Salad
Ingredients
1 tbsp olive oil
¼ tsp garlic powder
1 bunch kale
½ lemon
½ cup shredded Parmesan Romano cheese
Salt and pepper to taste
Instructions
Heat up the oil in a large sauce pan, and add in the garlic powder.
Tear the kale into small pieces, removing the stems.
Add them to the oil and toss to coat.
Cook the kale over medium heat for 2 minutes, just until it softens. It shouldn't take long, and you don't want it to get soggy.
Juice half of a lemon, and drizzle over top.
Toss with the shredded cheese and add a little salt and pepper.
Serve warm.
P.S. I just got a new recipe plug in, so now it's easy for you to print/save a recipe!
It felt good to get in some greens, since I hadn't been doing a wonderful job of that recently. Saturday was so busy, I barely had time for anything more than a few slices of pizza. I did, however, manage to find time to take a class at Richmond Barre.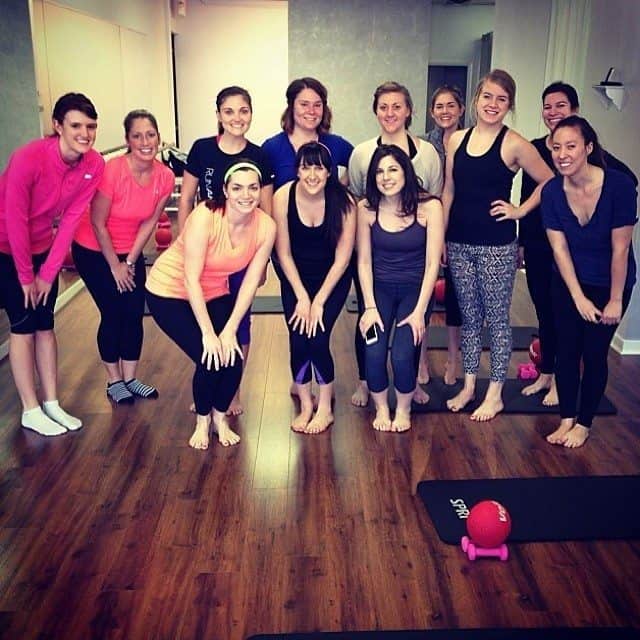 Saturday afternoon we had a Virginia Bloggers barre class at Richmond Barre, and let me tell you, I'm going to be sore for awhile. My legs were shaking! I can't wait to go back! It was also so much fun getting to meet some new-to-me bloggers in person! Thanks to everyone who came out for the class!
What did you do this weekend?