Wednesday nights are quickly becoming my favorite weeknight. Alex and I have small group bible study with some friends from church, and we start every meeting off with a meal together. There is something about eating dinner around a big table that just brings people together.
Of course, there is an added challenge of a few dietary restrictions mixed in the group. I'm a vegetarian, Alex is a semi-pescatarian, Daniel has a peanut allergy, and Emily was avoiding gluten.
Wow, we're quite a bunch, right?
Well I know cooking meatless can be a little confusing for lots of people, so I like to bring side dishes that can act as a main dish. Since Jeanie was bringing chicken and veggies in a crockpot on Wednesday, I came armed with a salad that packs in more protein and nutrients than you could imagine!
First of all, Kale is one of the most nutrient dense foods out there. (Meaning, calorie for calorie, this stuff has got tons of good-for-you vitamins, minerals, and antioxidants.) Then we've got quinoa, a complete source of protein that contains all nine essential amino acids that your body needs. Great, right? Now we just have to make these things taste good.
I started with a basic garlicky kale recipe, but pumped it up so it could round out as a main dish. Give this one a try!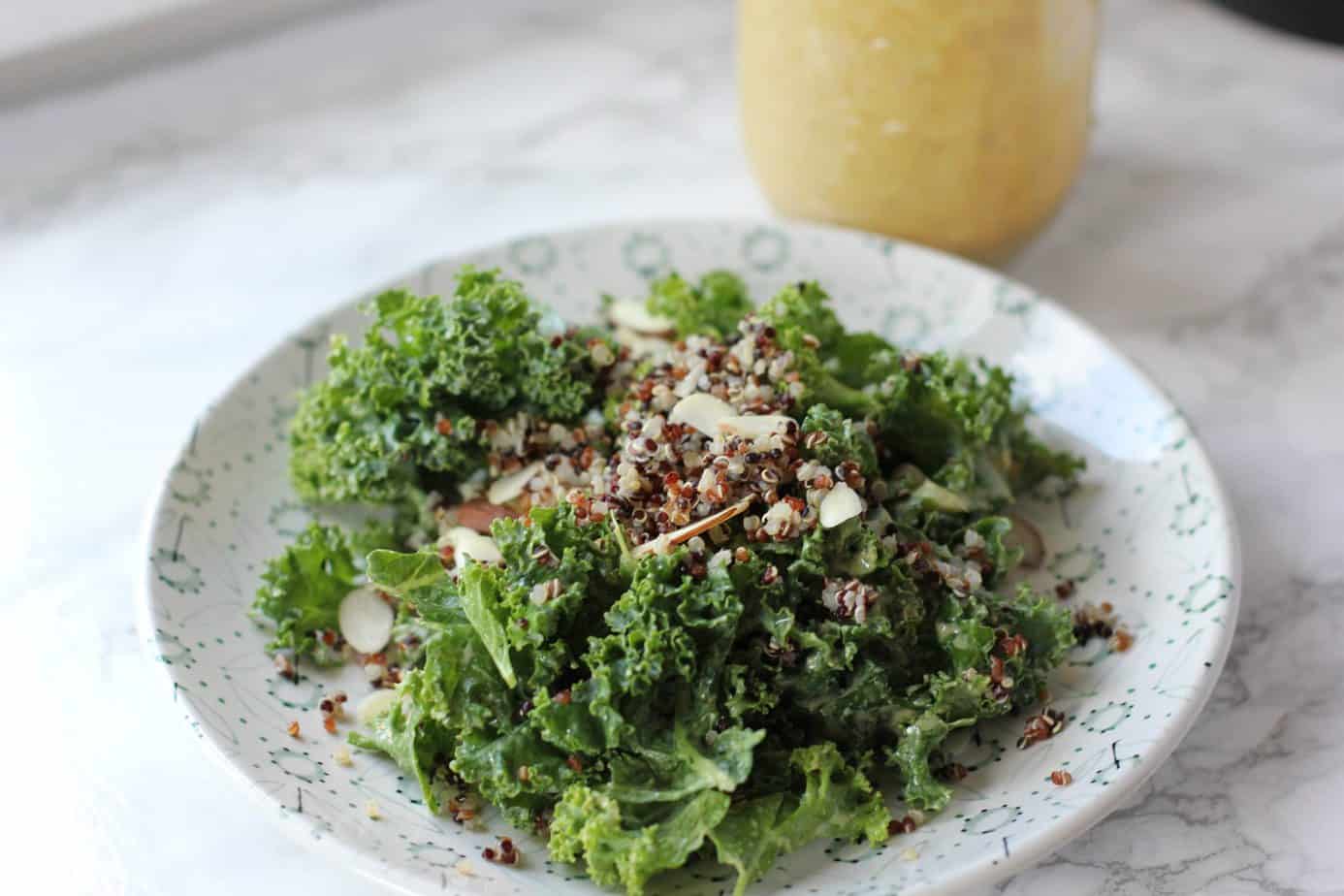 Print
Kale and Quinoa Salad
Prep Time:

30 mins

Cook Time:

15 mins

Total Time:

45 mins

Yield:

4
---
Ingredients
Kale and Quinoa Salad
Vegan, gluten free. Serves 8 as a side, or 4 as a main dish.
   2 cups dried quinoa
   2 cups vegetable broth
   2 bunches of kale
   2 tbsp tahini
   1/2 cup nutritional yeast
   1/4 cup liquid aminos (or soy sauce)
   1/4 cup apple cider vinegar
   juice from 1 lemon
   1/4 tsp minced garlic
   1/4 cup sliced almonds
---
Instructions
Rinse the quinoa in cold water. Then drain, and add to a large pot.
Toast the quinoa over medium heat, just until it begins to dry. You'll have to stir it a lot so it doesn't burn!
Add the vegetable broth and bring to a boil.
Simmer for about 12 minutes, or until most of the water has been absorbed.
Set aside to cool.
Wash the kale and pat dry.
Tear the kale into pieces, removing the stems.
In a small bowl, or salad dressing shaker, combine the tahini, nutritional yeast, liquid aminos, apple cider vinegar, lemon juice, and garlic.
Shake until combined.
Pour it over the kale and massage the dressing over the leaves.
Let sit for 30 minutes, to let the kale soften.
Add in the quinoa and almonds, and mix thoroughly. Serve!
---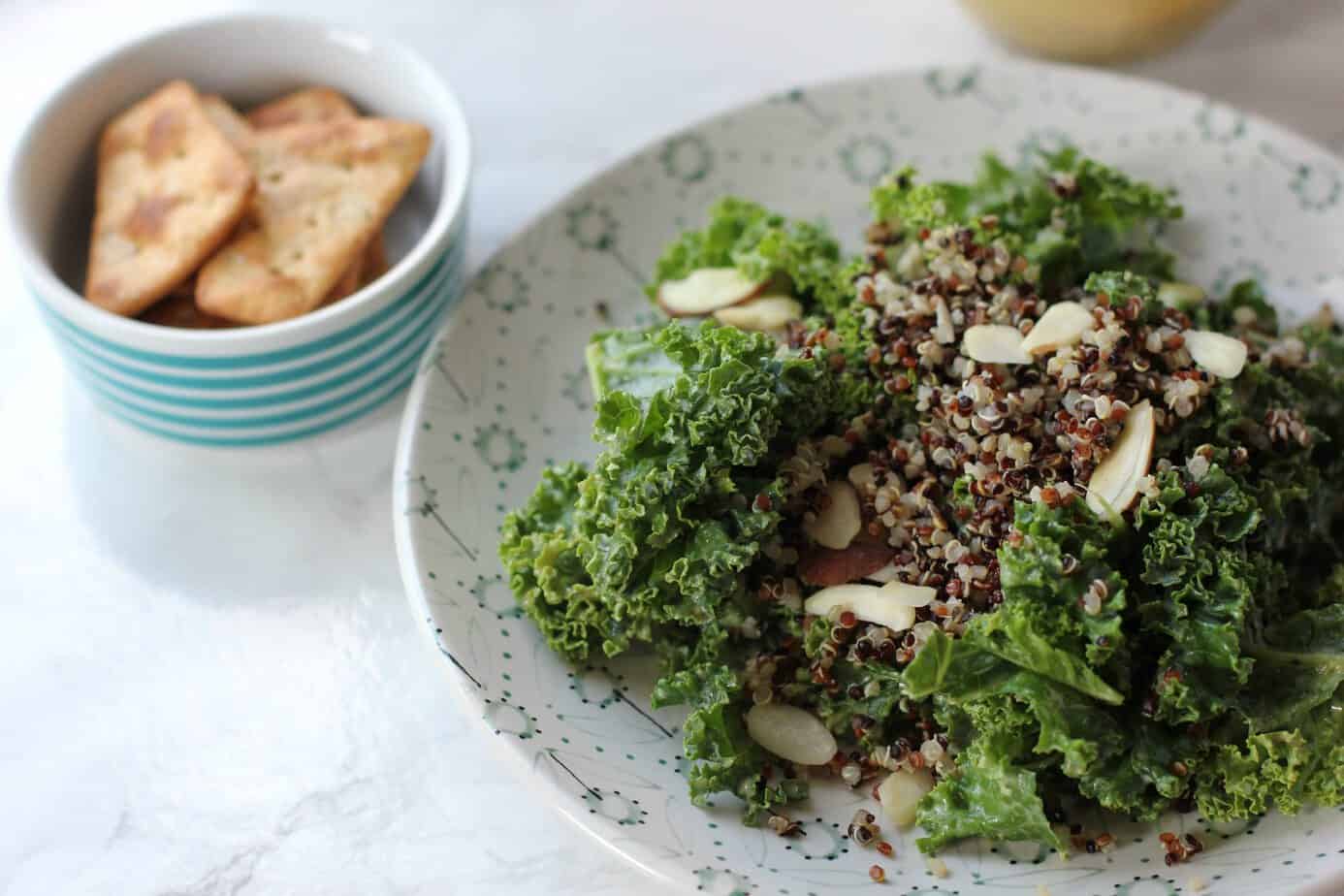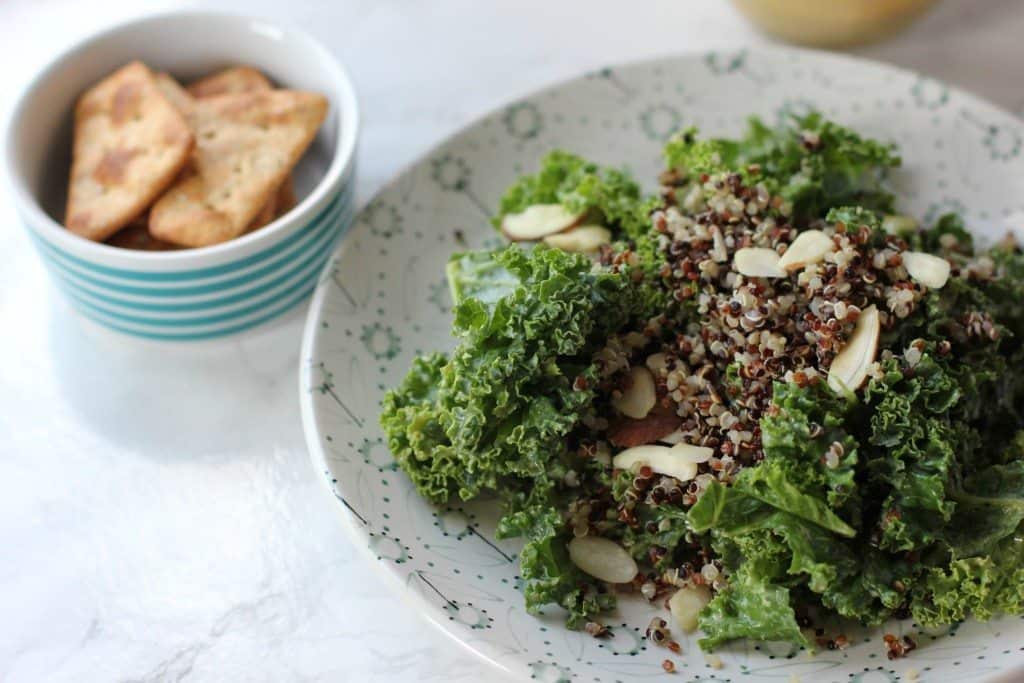 This kale and quinoa salad recipe is super filling. I had some leftovers for lunch yesterday, and it kept me full until the evening. Not to mention this recipe is full of good ingredients! I know some of these things aren't your standard pantry items, but I promise it's worth it! (You can also pick up a bottle of Garlic Tahini dressing from Whole Foods if you don't want to make your own!)
Do you have any allergy-friendly recipes?