Berry Overnight Oats
These delicious overnight oats are packed with a combination of berries for a tasty breakfast that you can make in advance for busy mornings.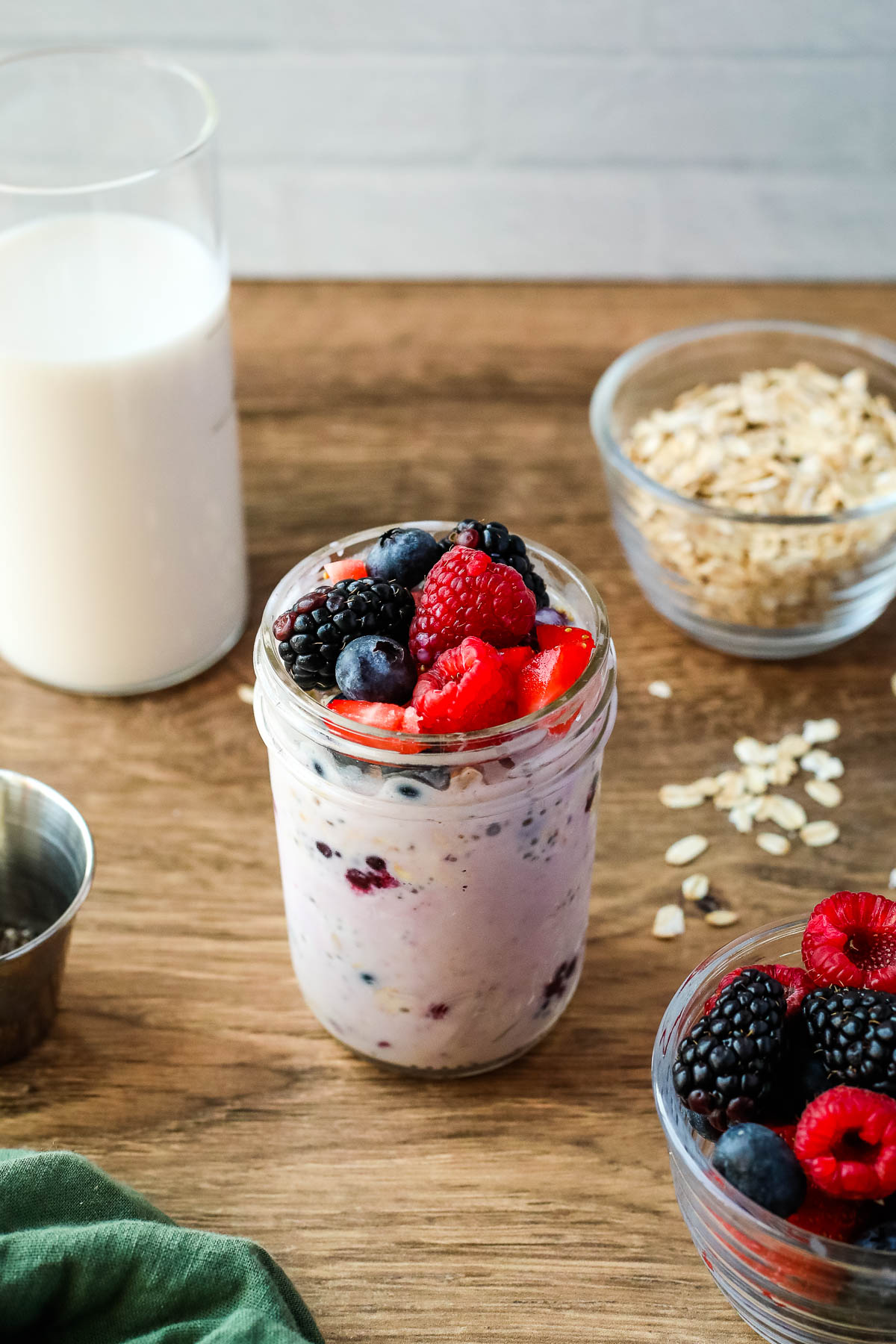 I love overnight oats and I've made many different versions, but this one is the most fruity! I was hooked on berries all summer long, so I decided to make a berry-packed overnight oat recipe! The best part is you can use fresh or frozen berries for this recipe! So no matter what season it is, you can make this recipe.
If you want to add more protein to these berry overnight oats, you can either add Greek yogurt or add half a scoop of protein powder. I don't recommend adding more than half a scoop as protein powder usually contains sweetener and it can make these oats too sweet.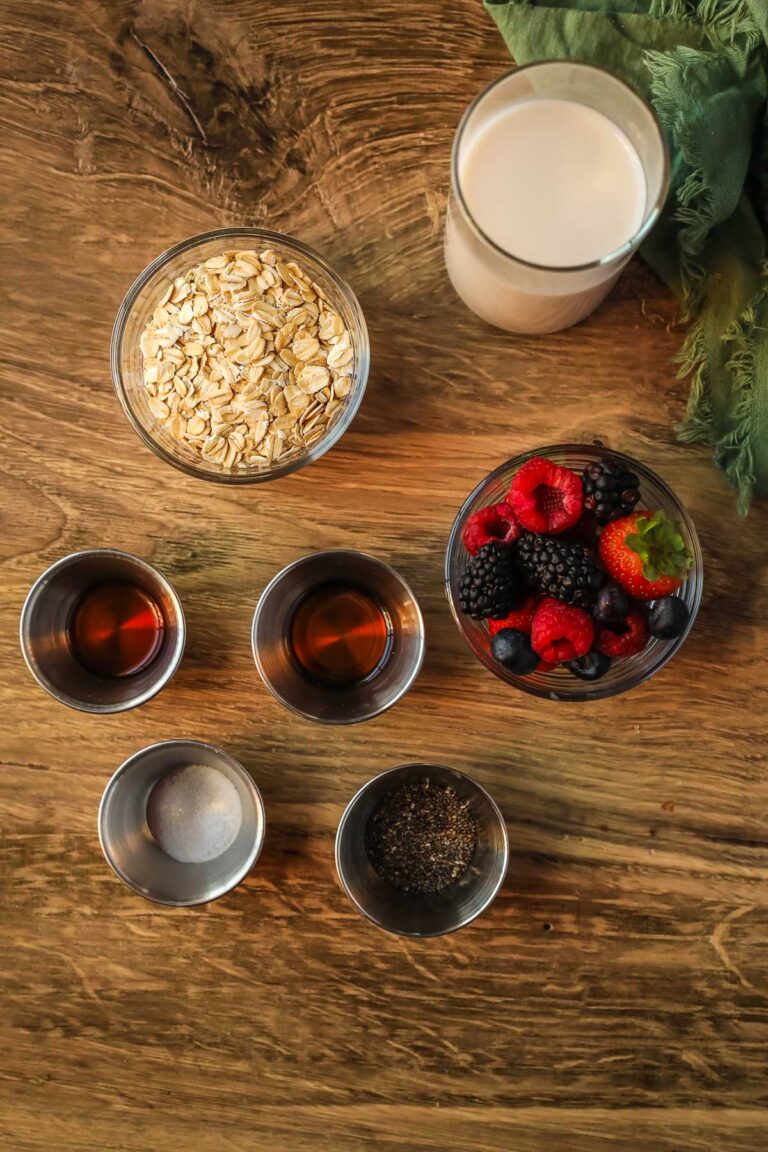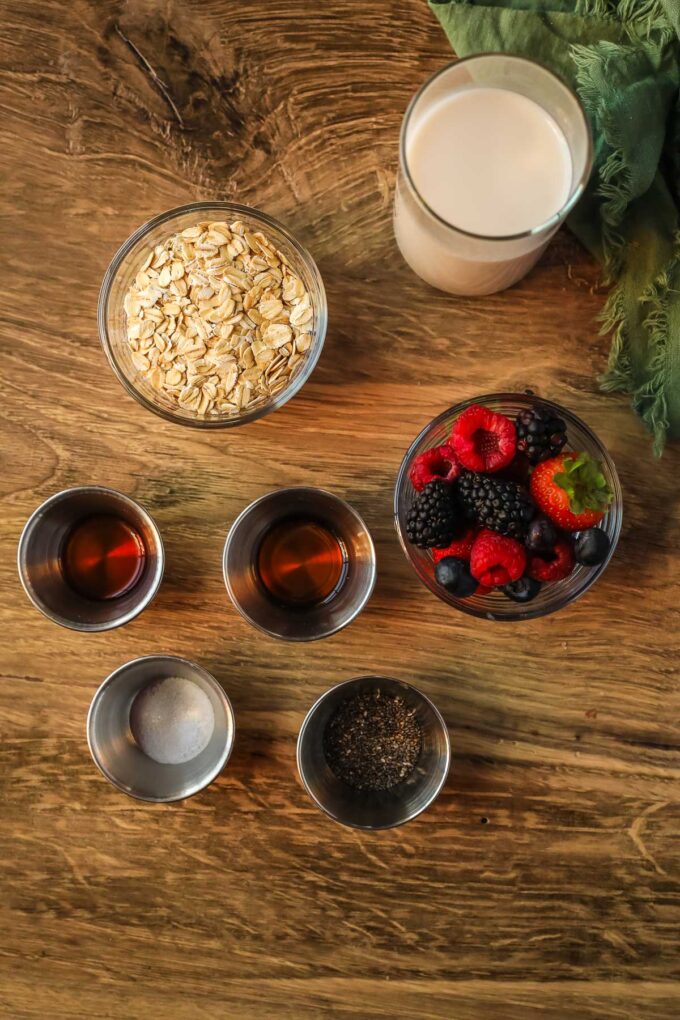 Ingredients & Substitutions
Rolled Oats– Rolled oats or old-fashioned oats work best in this recipe. Quick-cooking oats tend to break down too much when sitting overnight.
Milk– I used almond milk, but you can use dairy, coconut, or any milk you prefer.
Maple Syrup– I used a little maple syrup for sweetness, but you could also use honey or stevia if you prefer.
Vanilla– A little vanilla extract helps add sweetness.
Salt– A pinch of salt enhances the overall flavor.
Chia Seeds– This helps thicken the oats. You can leave them out if you don't have any, but it does make the oats much thicker. If you don't have chia seeds, I recommend using yogurt in place of half of the milk, to create a thicker consistency.
Berries– I used a combination of strawberries, blueberries, blackberries, and raspberries. Fresh or frozen berries work fine. If you don't have berries, try my apple cinnamon overnight oats or my banana bread overnight oats instead.
Topping Ideas
I love topping this recipe with additional fresh berries but you can also sprinkle on granola, chopped walnuts, or shredded coconut. If you want to add some additional healthy fats, try a drizzle of peanut butter or almond butter for a PB&J-style twist!
Do I have to use chia seeds to make overnight oatmeal?
Chia seeds are tiny seeds that are packed with fiber, protein, healthy fats, calcium, manganese, and magnesium. When mixed with a liquid, they expand and thicken. They create a puddling-like texture in these overnight oats. You can typically find chia seeds in the organic section of the grocery store, but you can also order chia seeds on Amazon. If you don't have chia seeds, don't worry — you can still enjoy this recipe! The oats just won't be quite as thick.
How to Make Overnight Oats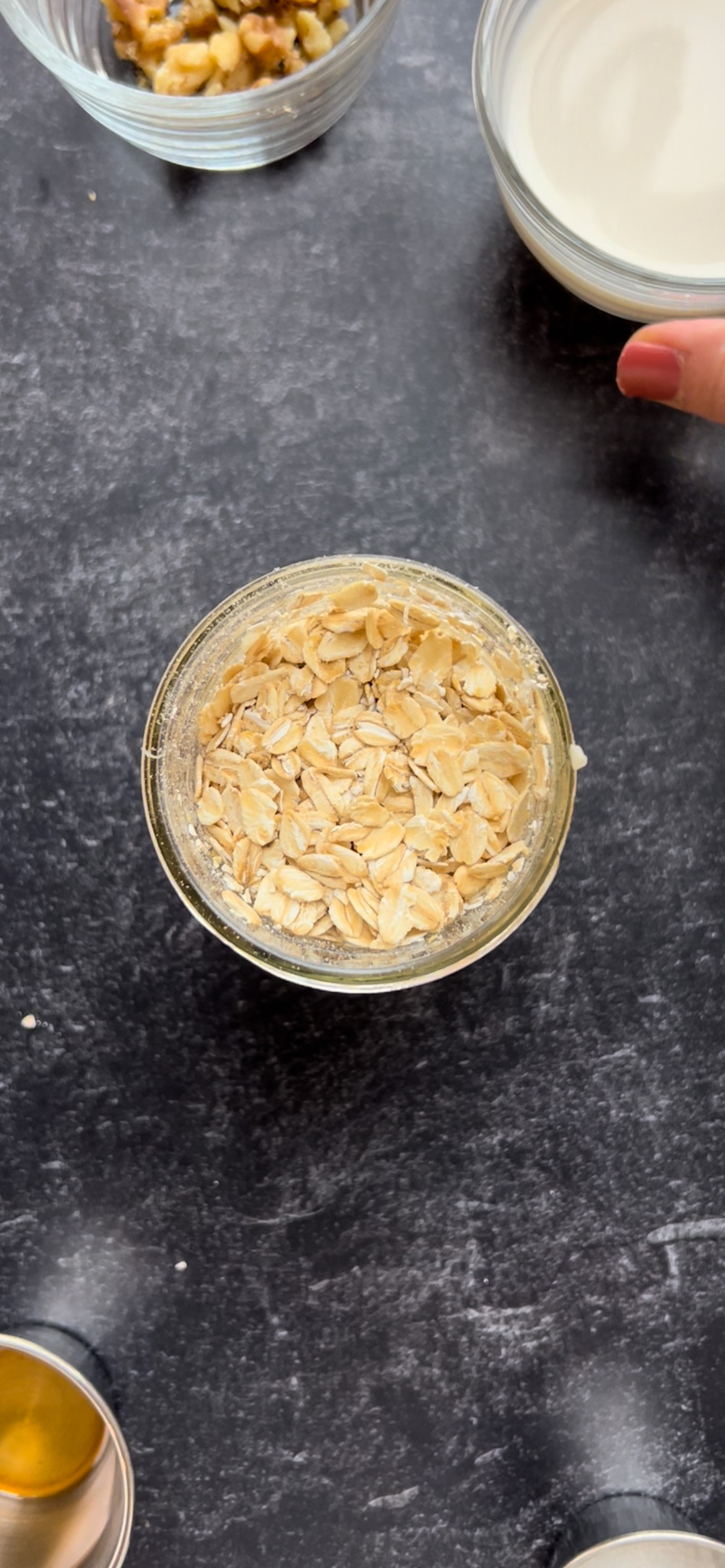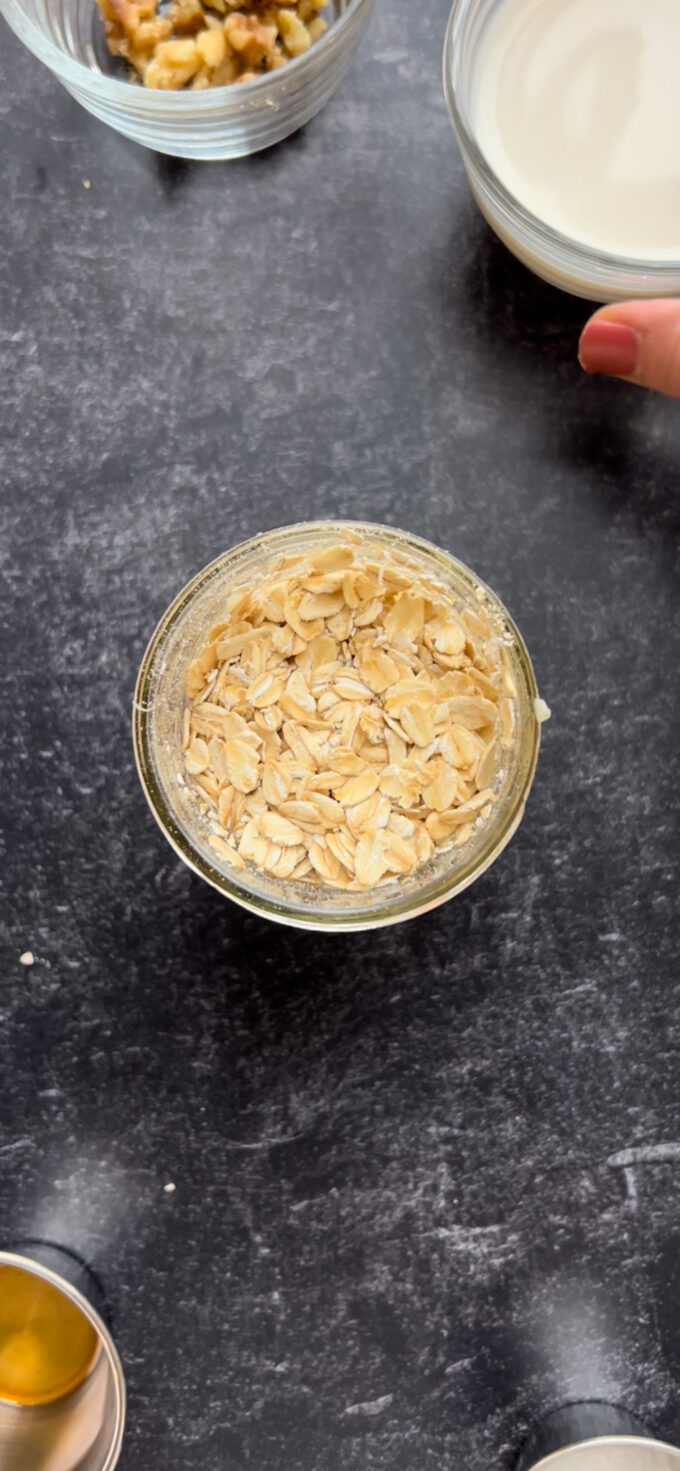 Frequently Asked Questions
Do overnight oats have to sit overnight? No, the oats will be ready after just a few hours. But they can be soaked overnight, so you can make the oats in advance if you like. They're a great meal prep recipe!
Can I use steel cut oats? No, steel cut oats don't soften the same way as rolled oats. But if you have steel cut oats to use, try my baked steel cut oats!
Can I heat up my overnight oats? Yes! If you like warm oats, microwave them for a minute or two before eating them.
Can I make these oats without sugar? I like to add a sweetener for the best flavor. I've made these oats with stevia and I like the taste. You can also use monk fruit or whatever alternative sweetener you like.
Can I double the recipe? You sure can! You can make a larger batch and scoop out each serving as needed or you can prepare it in separate jars.
Do I have to use a mason jar? No. Any small container with a tight-fitting lid like a Pyrex container, will work fine. You can also repurpose containers like glass yogurt or spaghetti sauce jars! While the recipe makes about 1 cup of oats, I recommend using a larger container so you can easily mix the ingredients together.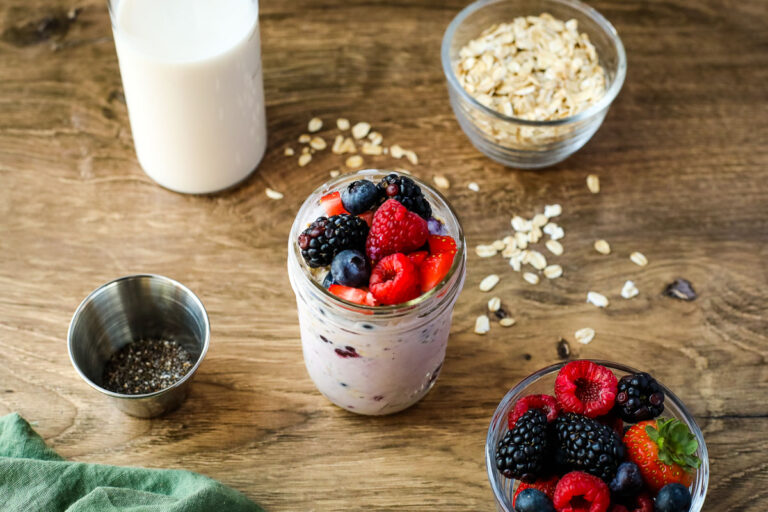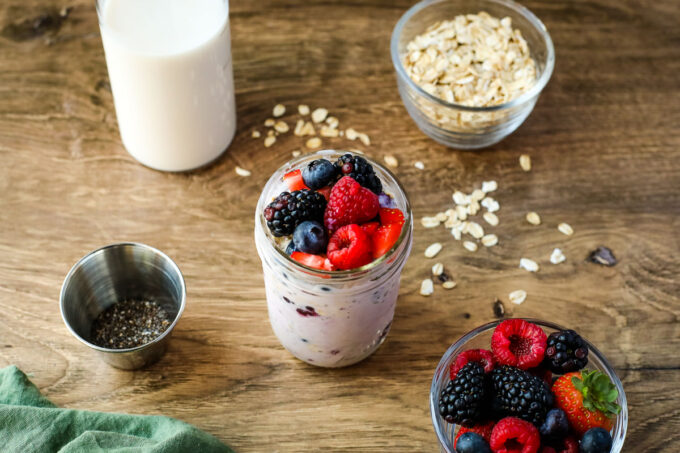 More Overnight Oat Recipes
Looking for more overnight oat ideas? I have tons! My peanut butter overnight oats are probably my most popular recipe, but pumpkin and peach are great seasonal options! If you're looking for a no-sugar-added recipe, try my banana bread overnight oats. If you don't have chia seeds, my blueberry muffin overnight oats don't require any chia seeds.
Print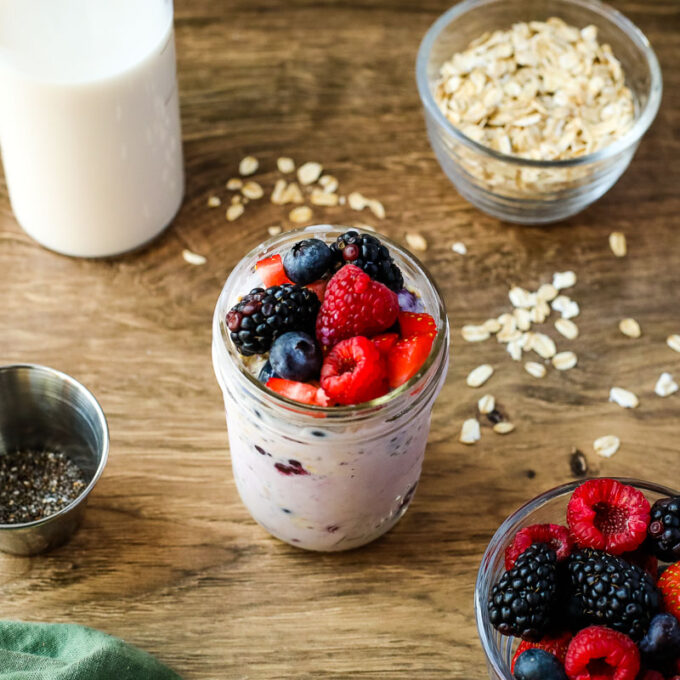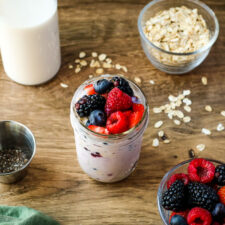 Berry Overnight Oats
Author:
Prep Time: 5 minutes
Chill Time: 2-3 hours
Cook Time: 0 minutes
Total Time: 45 minute
Yield: 1 serving 1x
Category: Breakfast
Method: No Cook
Cuisine: American
Diet: Vegetarian
---
Description
These delicious overnight oats are packed with a combination of berries for a tasty breakfast that you can make in advance for busy mornings.
---
1/2 cup rolled oats
1 teaspoon maple syrup (or more to taste)
1 tablespoon chia seeds
1/2 cup almond milk
1/4 teaspoon vanilla
Pinch of salt
1/2 cup fresh or frozen blueberries, blackberries, raspberries, and/or strawberries
---
Instructions
Add all the ingredients to a bowl or jar and stir until combined.
Seal with a lid and place in the fridge for 2-3 hours or overnight.
---
Keywords: berry overnight oats