Vegan Kale Crunch Salad
This simple kale crunch salad is made with leafy kale, crunchy cabbage, sliced almonds, and a simple homemade vinaigrette. This simple side dish only takes a few minutes to make!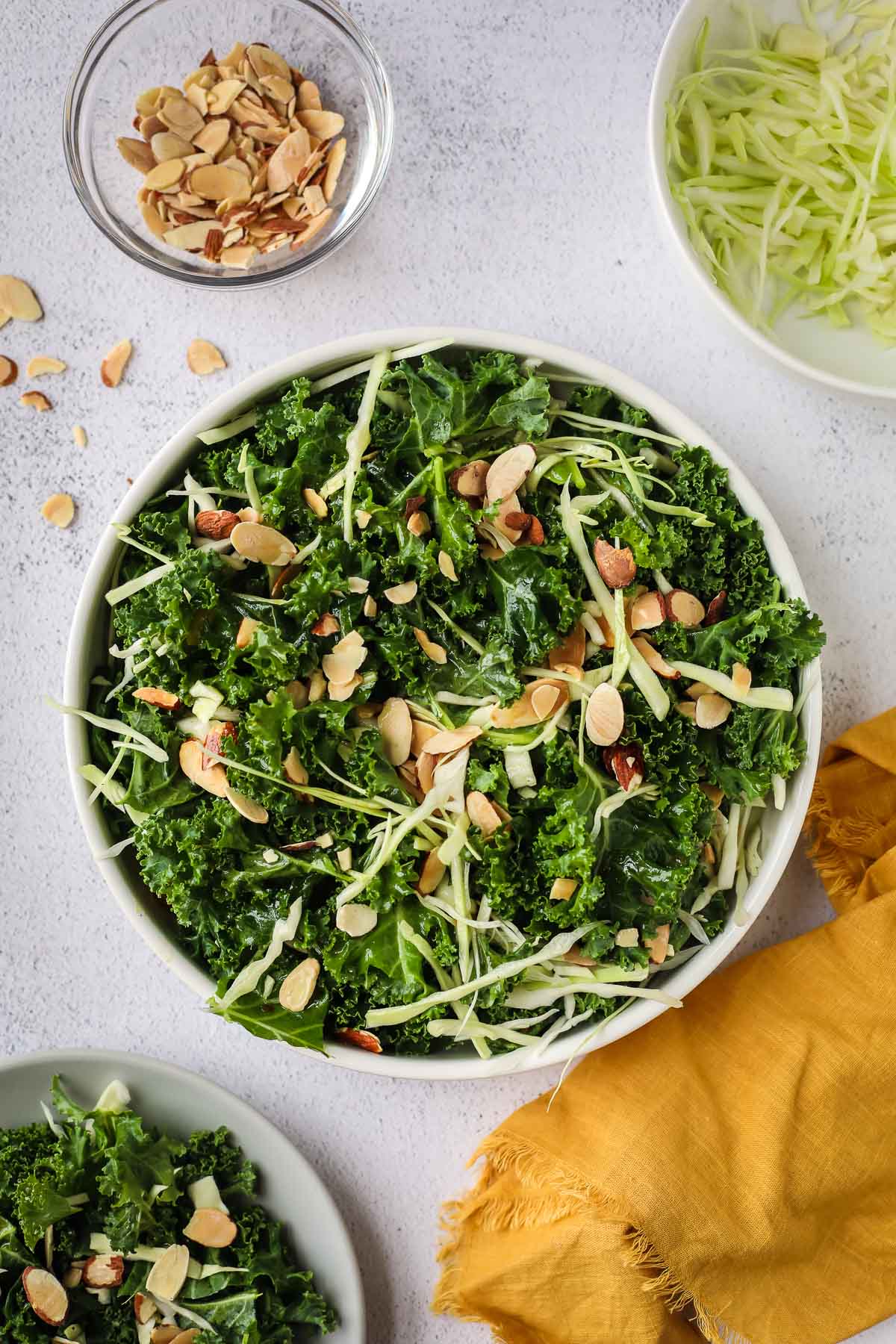 This kale crunch salad recipe is based on the salad from Chick-Fil-A. This copycat recipe is a simple combination of greens, almonds, and a maple vinaigrette, but it's a satisfying side dish! It's a perfect balance of savory and sweet flavors, with a satisfying crunch from the almond and cabbage. It's also packed with nutrients, including vitamins A, C, and K and fiber. While this recipe is simple, there are plenty of variations so you can create your favorite salad!
I also love this recipe because you can make it in advance. Since kale and cabbage are hearty, you don't have to worry about them wilting right after you add the dressing. This makes a great recipe for a packed lunch or a potluck!
Ingredients & Substitutions
Kale– I prefer curly kale for this recipe but you can use flat leaf dinosaur kale (also called Tuscan kale) if you prefer.
Cabbage– I used green cabbage but you could substitute with red cabbage if you like.
Almonds– I used sliced almonds but you can use slivered almonds. Another option is to roughly chop whole almonds.
Olive oil– This creates a satisfying base for the dressing.
Apple cider vinegar– Thiss adds a tangy, slightly sour flavor.
Maple syrup– This adds sweetness to balance out the vinegar.
Dijon mustard– This adds a slightly sharp, tangy flavor.
Salt & pepper– Don't forget to season with salt and pepper.
Variations and Additions
If you want to add even more flavor to this salad, here are a few additions you could make:
Romaine lettuce– If you're not a fan of kale, try this with chopped romaine instead.
Roasted pumpkin seeds– These add a salty, savory crunch to the salad. This also makes a great substitute for almonds if you want a nut-free option.
Chickpeas– You can use chickpeas straight from the can or roast them first before adding them to your salad. This is a great way to turn into into more of a main dish!
Apples– Chopped apples make a great addition to this salad! Try a sweet red apple like Honeycrisp or add a diced Granny Smith for a tart flavor.
Parmesan– For a savory, salty addition, try adding freshly shredded Parmesan cheese on top.
How to Make a Kale Crunch Salad
Tips for the Best Kale Salad
Kale is a hardy green that needs to be massaged to become tender. Once you've washed your kale, massage it with your hands until it softens. You can also massage the dressing directly into the kale.
Choose the right dressing for your kale salad. Since kale is naturally bitter, an acidic dressing, such as one made with lemon juice or vinegar, can help break down the fiber in the kale and make it easier to chew.
Remove the stems from your kale before adding the leaves to your salad. The stems are tough and extremely bitter, so it's best to remove them. You can either fold the leaves in half and slice the stems off or tear the leaves away from the stems. Discard the stems.
If you find kale hard to digest, try my warm kale salad instead. If you're still not loving kale, read these reasons why you may not like kale.
Frequently Asked Questions
Is the kale crunch salad healthy?– Yes! This salad is a great source of nutrients and fiber. It's fairly low in calories and the fat comes from the almonds and olive oil, meaning it's the "good" kind of fat.
What does Chick-fil-A kale crunch salad have on it?– This salad is made with kale, cabbage, almonds, and a maple vinaigrette dressing.
Can I make this salad in advance? Yes! Kale and cabbage don't wilt very easily so you can make this salad in advance. For the best texture, I recommend waiting to add the almonds until you're ready to enjoy your salad. This preserves their crunchy texture.
Print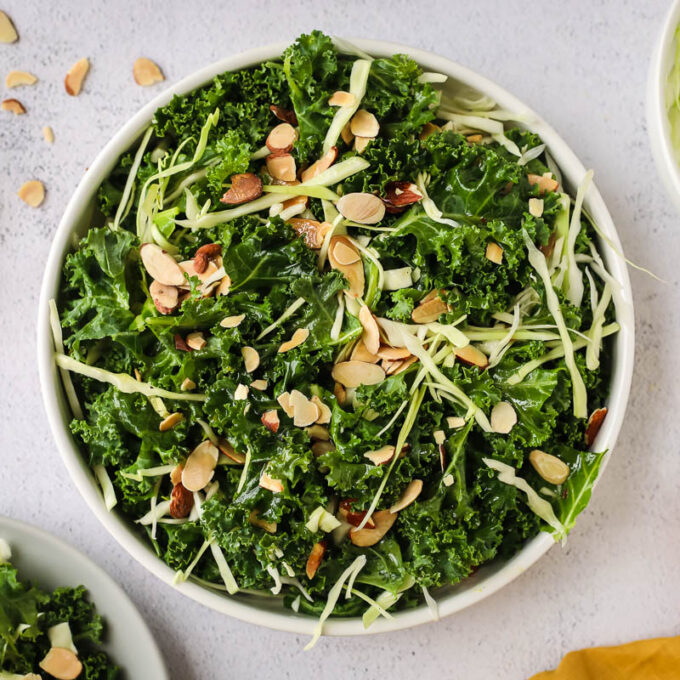 Vegan Kale Crunch Salad
Author:
Prep Time: 10 minutes
Cook Time: 0 minutes
Total Time: 10 minutes
Yield: 6 cups 1x
Category: Salad
Method: No Cook
Cuisine: American
Diet: Vegan
---
Description
This simple kale crunch salad is made with leafy kale, crunchy cabbage, sliced almonds, and a simple homemade vinaigrette. This simple side dish only takes a few minutes to make!
---
For the salad
6 cups finely chopped curly kale
1 1/2 cups shredded green cabbage
1/3 cup sliced almonds
For the dressing
2 teaspoons apple cider vinegar
1 teaspoon Dijon mustard
2 tablespoons maple syrup
3 tablespoons olive oil
1/4 teaspoon salt
Pinch of black pepper
---
Instructions
Remove the stems from the kale leaves and tear the leaves into bite-sized pieces.
Place the kale in a large mixing bowl and toss with the shredded cabbage and almonds.
In a small bowl, whisk together the olive oil, apple cider vinegar, maple syrup, Dijon mustard, salt and pepper.
Pour the dressing over the salad and toss everything together until the greens are well coated.
Serve immediately or refrigerate until ready to serve.
---
Keywords: chick-fil-a copycat, vegan crunch