Not surprisingly, I cook a lot. And sometimes a recipe turns out fantastic but I know I'll never make it again because it was just too complicated. There's something satisfying about tackling a difficult recipe, but once you've done it… it's not as magical to do it again. But when something turns out fantastic and it's super easy then I know it's going to be a regular feature at the dinner table. When I took a bite of this goat cheese pasta I couldn't believe it was so easy. Seriously, get excited.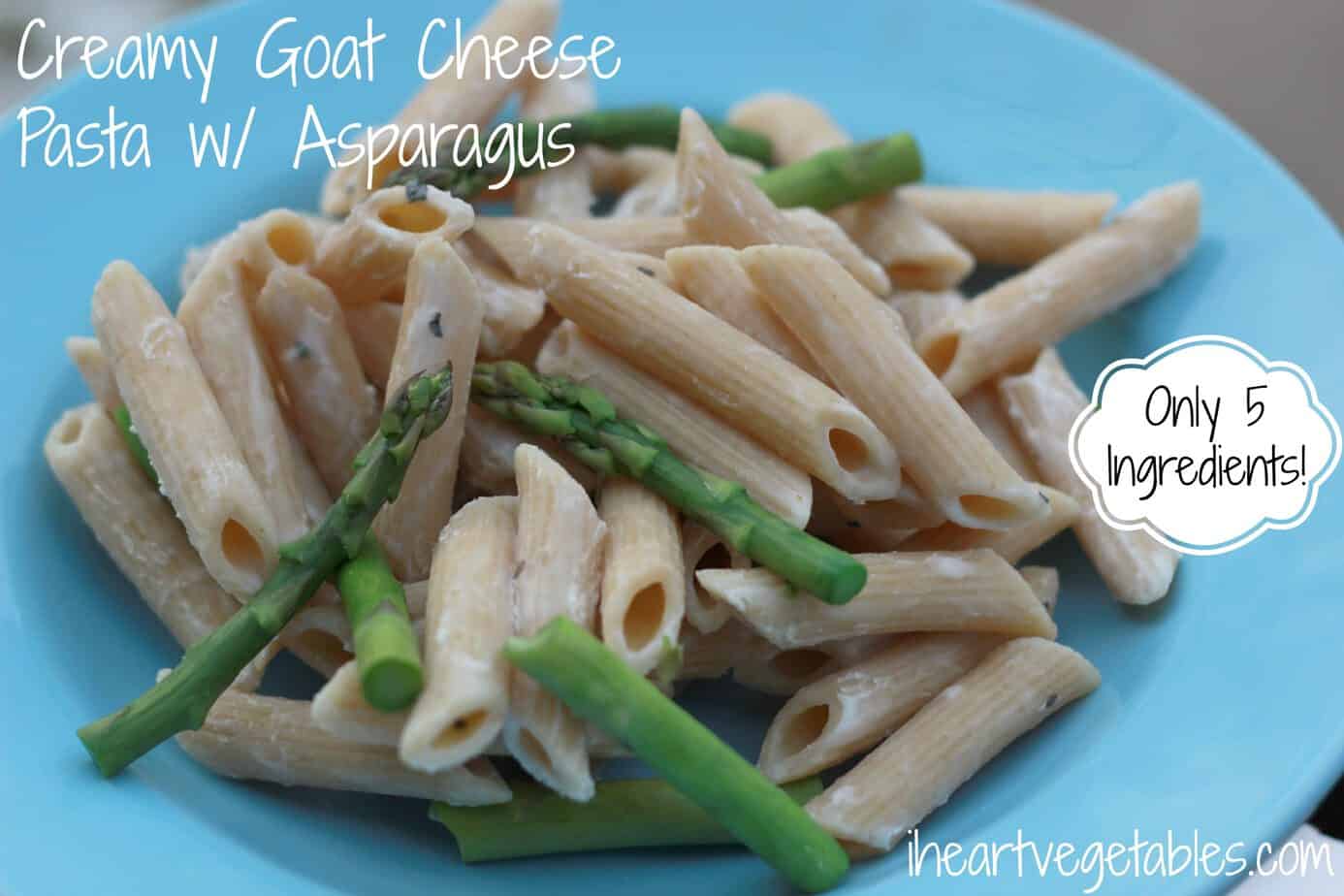 5 Ingredient Creamy Goat Cheese Pasta
Creamy and delicious pasta, with only a handful of ingredients.
Ingredients
12 oz whole wheat pasta
4 oz soft goat cheese
½ pound fresh asparagus
1 tbsp butter
Salt & pepper to taste
Instructions
Preheat the oven to 450.
Bring a large pot of water to a boil.
Wash the asparagus and snap about 1 inch off of the ends. Lay them out on a cookie sheet and dot with butter. I just diced the butter into chunks and sprinkled it over the asparagus. Bake at 450 for about 10 minutes.
Add the pasta to the boiling water and cook until al dente. (This should take about as long as the asparagus.)
Reserve 1 cup of pasta water and then drain the rest. Add the pasta water to the goat cheese and stir until creamy. Add to the pasta.
Chop the asparagus and add into the creamy pasta. Sprinkle with salt and pepper.
Alex and I had this on Tuesday night, when I came home after drinks with a friend. I wanted to make something quickly since we were eating a little later than normal. This was the perfect solution! I'll be totally honest with you, I had some for leftovers and I didn't love it as much the second day, so I wouldn't recommend reheating this one in the microwave. Luckily, it's pretty easy to adapt depending on how much of it you want to make.
I also have a vegan brownie recipe I might need to share with you soon. They turned out better than I expected and even though I'm not vegan, I rarely have eggs in my house so recipes like that are good to have around. Now I'm just glad it's Friday! My question today is a little selfish because I have some goat cheese left over. So tell me…
What's your favorite goat cheese recipe?