What to Make with Halloumi Cheese
Halloumi cheese is one of my favorite ingredients to use in everything from salads to sheet pan dinners! If you're not sure how to use this salty cheese, I've got plenty of recipe ideas to get you started!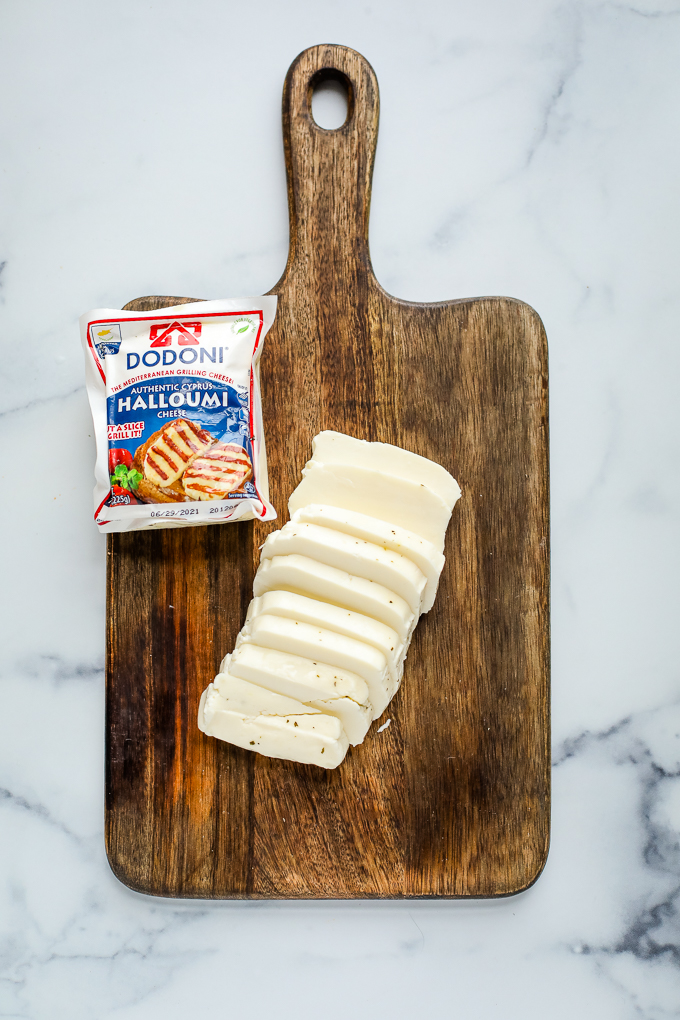 What is Halloumi Cheese?
Halloumi is a salty cheese that originated in Cyprus and is typically used in Mediterranean cuisine. It's a firm cheese that holds its shape at high temperatures because it has a high melting point, so it's perfect for frying. It has a salty flavor similar to feta and it can be used in a variety of recipes! It's traditionally made with a combination of goat and sheep's milk but sometimes it's made with cow's milk.
How to Cook Halloumi Cheese
Stovetop Method
The most popular way to cook halloumi is to pan fry it in a skillet. Since this cheese already contains a lot of fat, you really don't need to use much oil. You'll want just enough to prevent the cheese from sticking. Cut it into thin pieces and cook the halloumi slices in a nonstick skillet.
Air Fryer Method
I love cooking Halloumi in an air fryer because it doesn't require any additional oil and it cooks quickly while creating a crispy outside and a chewy interior. If you have an air fryer, I recommend trying this air fryer halloumi recipe!
Sheet Pan Method
Halloumi can also be made in the oven by cooking it on a sheet pan. In order to get the best crispy exterior, I recommend broiling the cheese. The goal is to create browning on the outside. I recommend using a silicone mat to help prevent sticking. Parchment paper should not be used at high temperatures, so be aware that you'll need a silicone mat, non-stick baking sheet, or a little non-stick spray.
Where to Buy Halloumi
Halloumi can be a little hard to find but it's usually sold with the specialty cheeses at the grocery store. You can usually find it near the feta and mozzarella cheese. I've also found it at local markets in my area.
How to Store Halloumi
It's typically sold in a vacuum-sealed pack that will last a long time in the fridge. I do not recommend freezing it. If you have leftover halloumi, keep it in an airtight container in the fridge. If you have leftover fried halloumi, you can reheat it in a frying pan or in the air fryer. Simply cook it for 1-2 minutes on each side until heated.
How much does halloumi cheese cost?
This cheese tends to be a little more expensive than other cheeses. It's a sheep's milk cheese and it's more of a specialty product so it's hard to find at discount stores. The cheapest I've seen it is at Trader Joe's, so keep your eyes peeled to see if you can snag it there!
Is Halloumi healthy?
This cheese isn't the healthiest ingredient on its own, but it's a great thing to pair with a salad or roasted vegetables! It's high in sodium and saturated fat, so I don't recommend eating a lot of it, but it can be a great addition to your meal. You can easily create a healthy meal around halloumi cheese!
What is a good substitute for halloumi?
Halloumi is a unique cheese so it's hard to find a similar substitute. The flavor is probably most similar to feta, so if you're using the cheese on something like a salad, I'd recommend using feta. If halloumi is more of the main event, you might want to try paneer. Paneer is a cheese that is often used in Indian cooking. It's firm and doesn't melt when cooked, so it's better for things like tacos and sandwiches.
What are the best halloumi recipes?
Here are my favorite recipes to make with this salty, delicious cheese!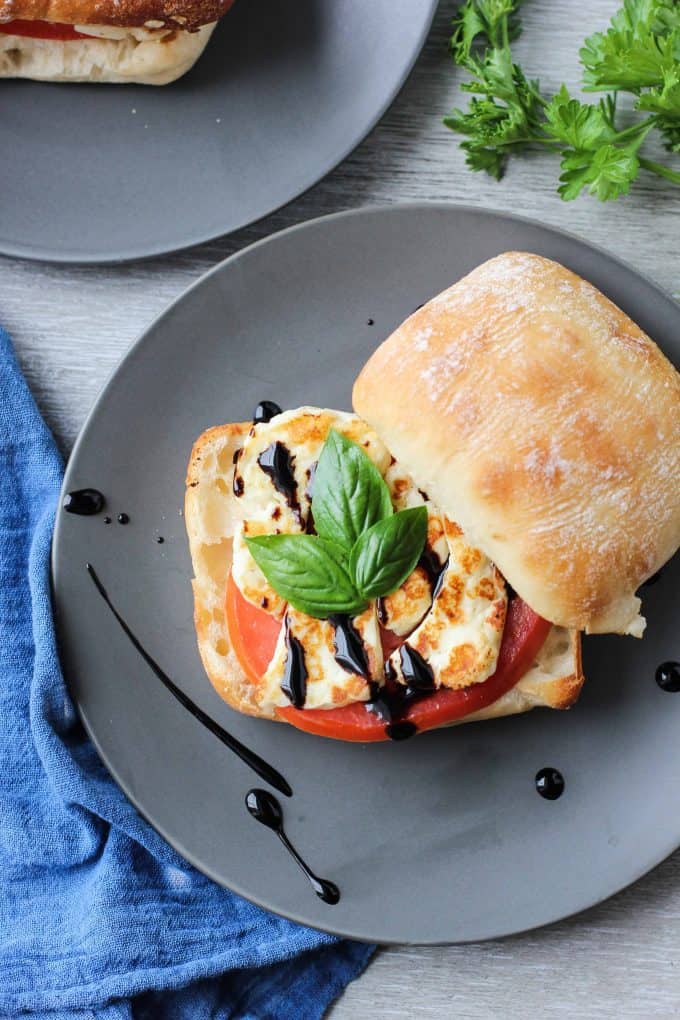 Halloumi is pan "grilled" until crispy and then served on ciabatta bread with tomato and a little drizzle of balsamic glaze. It's so simple but so delicious!
This salad has a homemade vinaigrette dressing that pairs perfectly with this salty cheese. The tomatoes and red onions are a perfect way to balance out this delicious cheese. You could also pair it with tomatoes and basil for a unique twist on a Caprese salad, perfect for warmer months!
Taco night just got cheesy! I love the way halloumi creates a "meaty" filling for tacos. Add a drizzle of the homemade chipotle sauce and some of your favorite taco toppings to turn this into an addictive main dish!
Sheet Pan Halloumi and Vegetables
This sheet pan meal is made with peppers and onions to help balance out this cheese and create a delicious, healthy dinner! This is a great low-carb recipe and it's so colorful! Add a drizzle of homemade cilantro sauce to take this recipe to the next level.
These are just a few of my favorite ways to use this salty cheese! Got a question about halloumi? Ask it in the comments below!