Whole Wheat Flatbread Recipe (No Yeast Required)
This whole wheat flatbread is made in just 15 minutes, no yeast required! You can mix it up and cook it on the stovetop in just a few minutes, so you can have flatbread ready whenever you need it!
I love flatbread. Pita, naan, wraps, literally anything in the flatbread category. But for some reason, I'd never tried making my own. So I decided to tweak my olive oil bread recipe into a flatbread recipe and I figured while I was changing it up, I should test out a whole wheat version. In just a few minutes, I had an easy whole wheat flatbread recipe, no yeast required!
This recipe uses white whole wheat flour. I bought it at Trader Joe's but if you don't have a Trader Joe's near you, check out King Arthur Flour. They have it at most grocery stores or you can order it online. If you don't want to buy another bag of flour, you could do a blend of half whole wheat and half all-purpose flour.
What's the difference between white whole wheat flour and regular whole wheat flour?
It's actually a different variety of wheat. White whole wheat flour is made with hard white spring or whiter wheat. It includes the bran, germ, and endosperm, making it "whole" wheat. Since it's made with hard white wheat instead of hard red wheat, like whole wheat flour, it has a paler color and its taste is milder. You'll still taste more of a nutty flavor compared to regular all-purpose flour because it includes the fibrous bran and germ of the wheat, but it's a milder whole-wheat flour so it's great if you're getting used to the taste of whole wheat.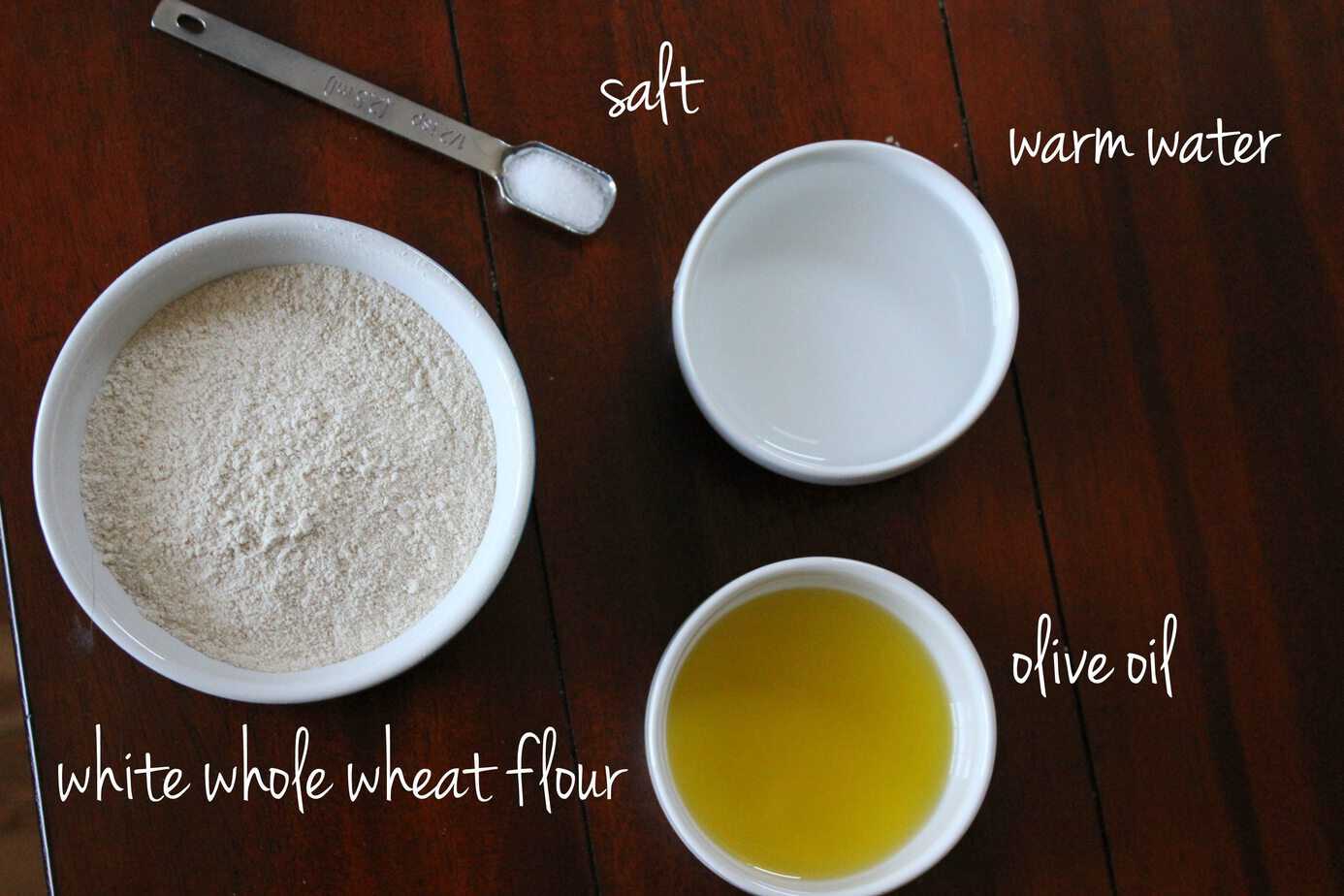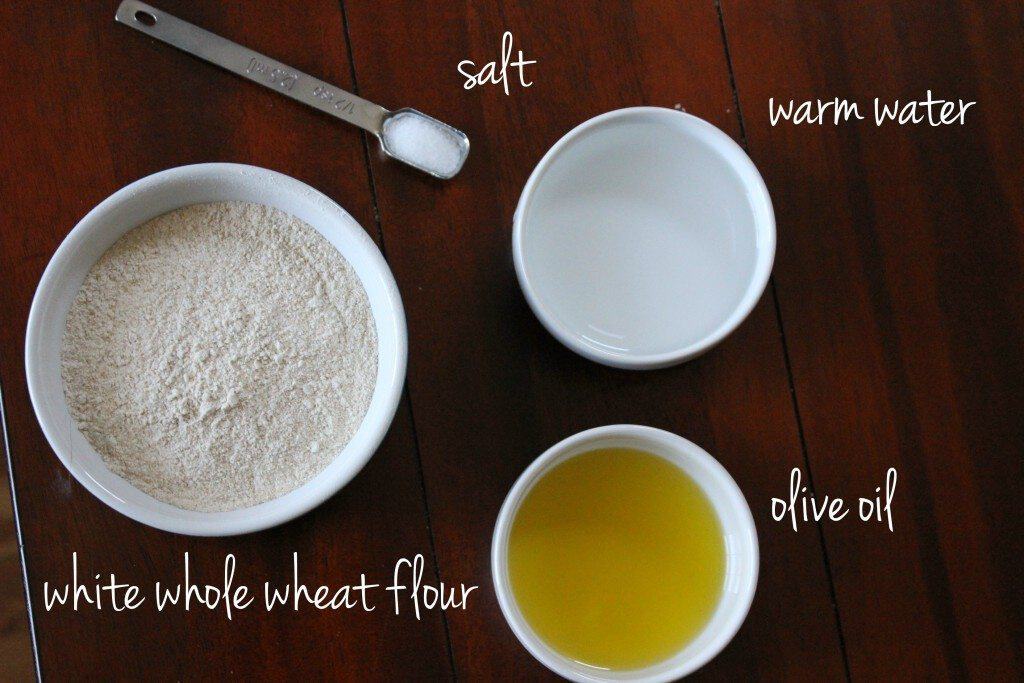 How to Make Whole Wheat Flatbread
In a large bowl, combine the warm water and salt and stir until the salt is disolved. Then mix in the olive oil. Add the flour and use a spoon to mix it. It may be easier to use your hands, once it starts to turn into a shaggy dough.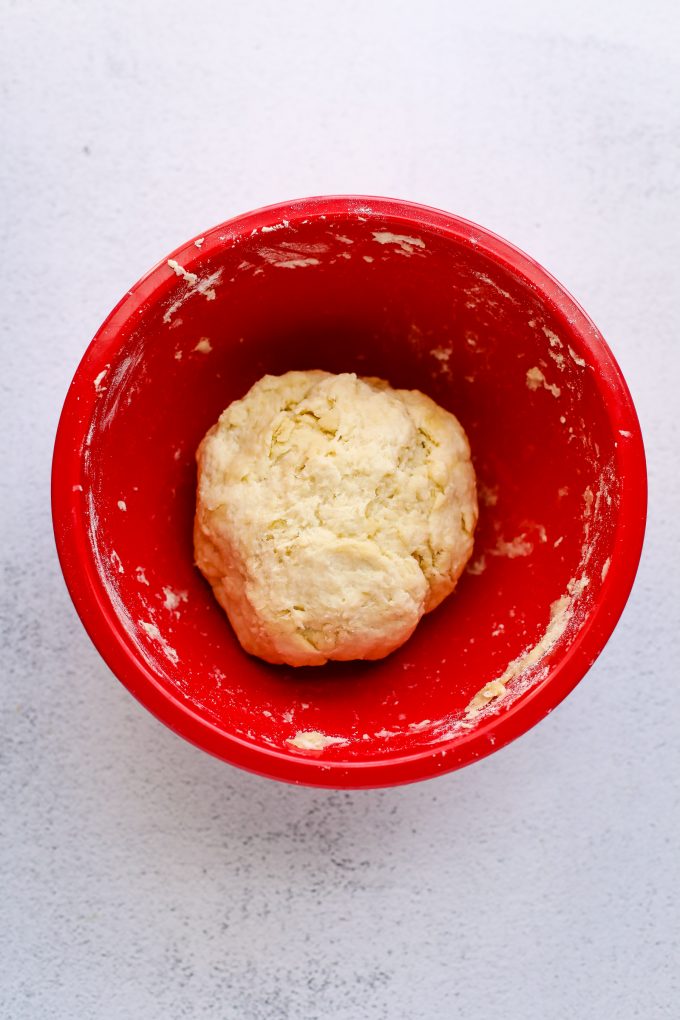 Cut the dough into 8 equal pieces. For larger flatbreads, cut into 4 pieces.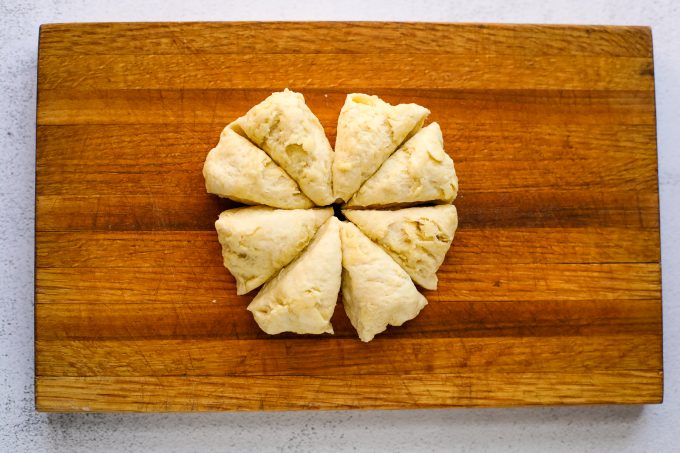 Use a rolling pin to roll the dough until very thin. You may need to flour your workspace and your rolling pin to avoid sticking.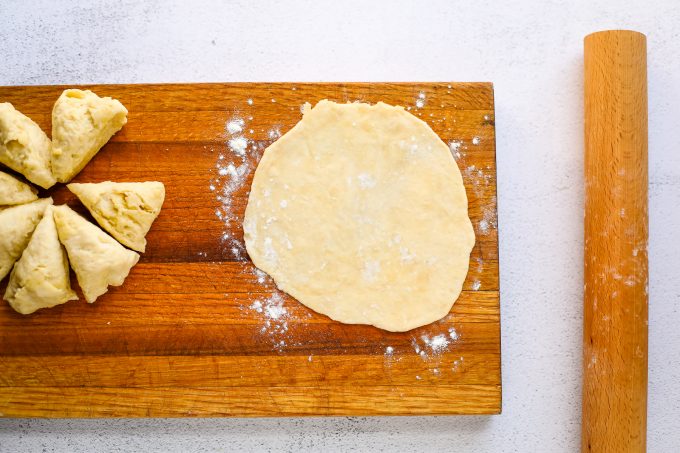 In a large skillet, cook the flatbread, one at a time, over medium heat for 2-3 minutes. Then flip and continue to cook for 3 minutes until lightly browned.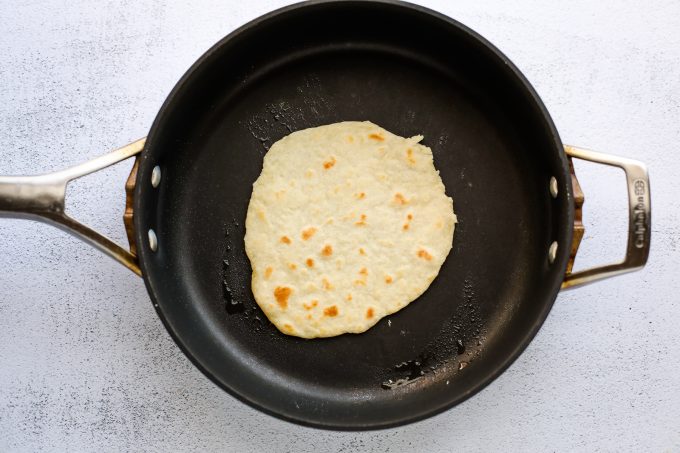 To keep the flatbread warm while you cook the rest of the dough, wrap the stack of flatbreads in a clean dish cloth.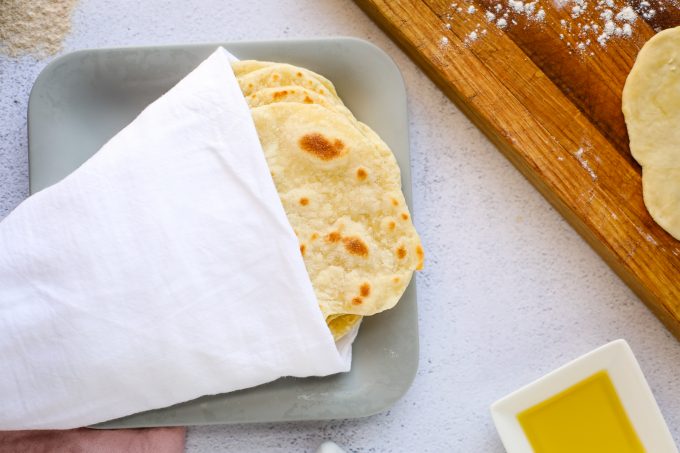 Substitution Ideas
I used white whole wheat flour to give these a little more protein and fiber but you can also use all-purpose flour, whole wheat flour, or a combination of the two.
The olive oil makes these flatbreads soft and pliable, so I don't recommend leaving it out. But you can substitute vegetable oil or canola oil, if needed.
You can reduce the salt if you're watching your sodium intake. You can also add your own spices or dried herbs to the dough, if you want to add a little extra flavor!
How to Use Whole Wheat Flatbread
You can use these flatbreads in a variety of ways! Try them as a little pizza, like this white flatbread pizza recipe or this vegan flatbread pizza. Or dip them into za'atar spiced hummus! You can also use these in place of flour tortillas for your favorite tacos. I've used them as the shell for these broccoli tacos and it worked out perfectly!
Print
Easy Whole Wheat Flatbread (4 Ingredients!)
Author:
Prep Time: 10 mins
Cook Time: 5 mins
Total Time: 15 minutes
Yield: 8 1x
Category: Side Dish
Method: Cooking
Cuisine: American
---
Description
This whole wheat flatbread is made in just 15 minutes, no yeast required! You can mix it up and cook it on the stovetop in just a few minutes, so you can have flatbread ready whenever you need it!
---
2/3 cup warm water
1 teaspoon salt
1/4 cup olive oil
2 cups white whole wheat flour
---
Instructions
Combine the warm water and salt and let the salt dissolve.
Stir in the olive oil.
Add in the whole wheat flour and use a wooden spoon to stir until the dough starts to get sticky.
Work it with your hands until the moisture is distributed. This may take 2-3 minutes of kneading.
Cut it into 8 small pieces and roll each of the pieces out into a very thin sheet.
Heat in a pan over medium heat for 2-3 minutes per side, until browned.
Keywords: whole wheat flatbread
How to Store Leftover Flatbread
Store leftovers in an airtight container at room temperature. To warm the flatbread, wrap in a damp paper towel and microwave for 10 seconds.
Looking for more bread recipes? Try this no yeast olive oil bread!