Easy Falafel Sandwich
This delicious falafel sandwich is made with canned chickpeas so you can make this recipe in just 15 minutes! Drizzle it with a simple tahini sauce to take it to the next level!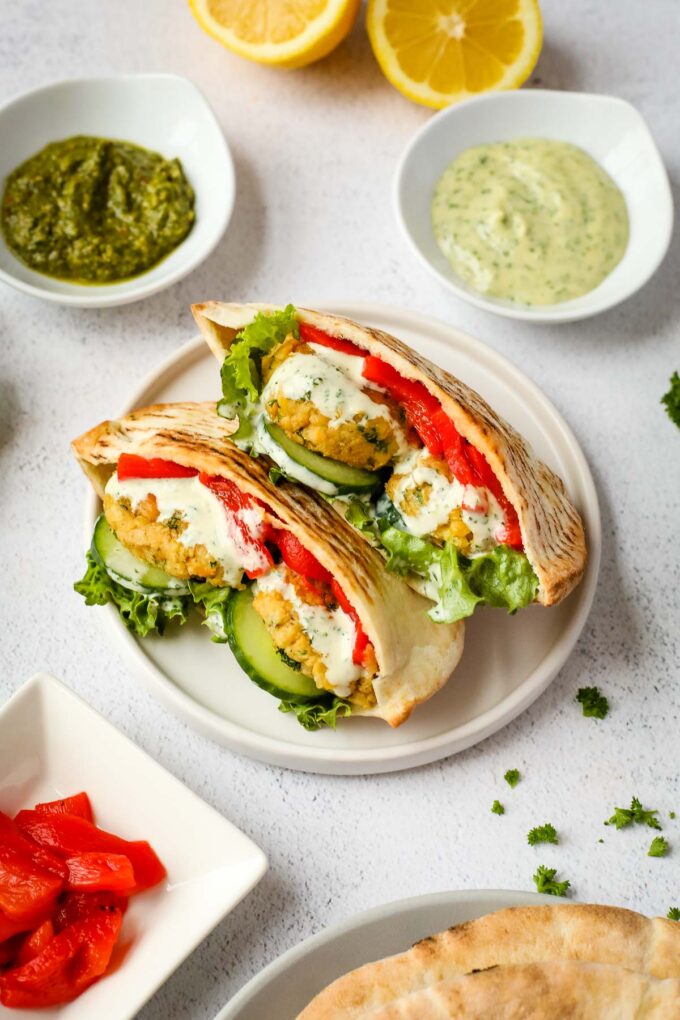 I love falafel and lately I've been making it at home. It's traditionally made with dried chickpeas and while that's the proper way to make falafel, I'm going to share my little shortcut: canned chickpeas. I know it's not exactly the same as falafel made with dried chickpeas but the result is falafel that is crispy on the outside and tender on the inside. Plus, it only takes a few minutes to make.
For this sandwich, I added a few of my favorite sandwich toppings and drizzled on a simple homemade tahini sauce. It's simple but the combination is quite good. It's perfect for a quick meatless dinner or midday meal.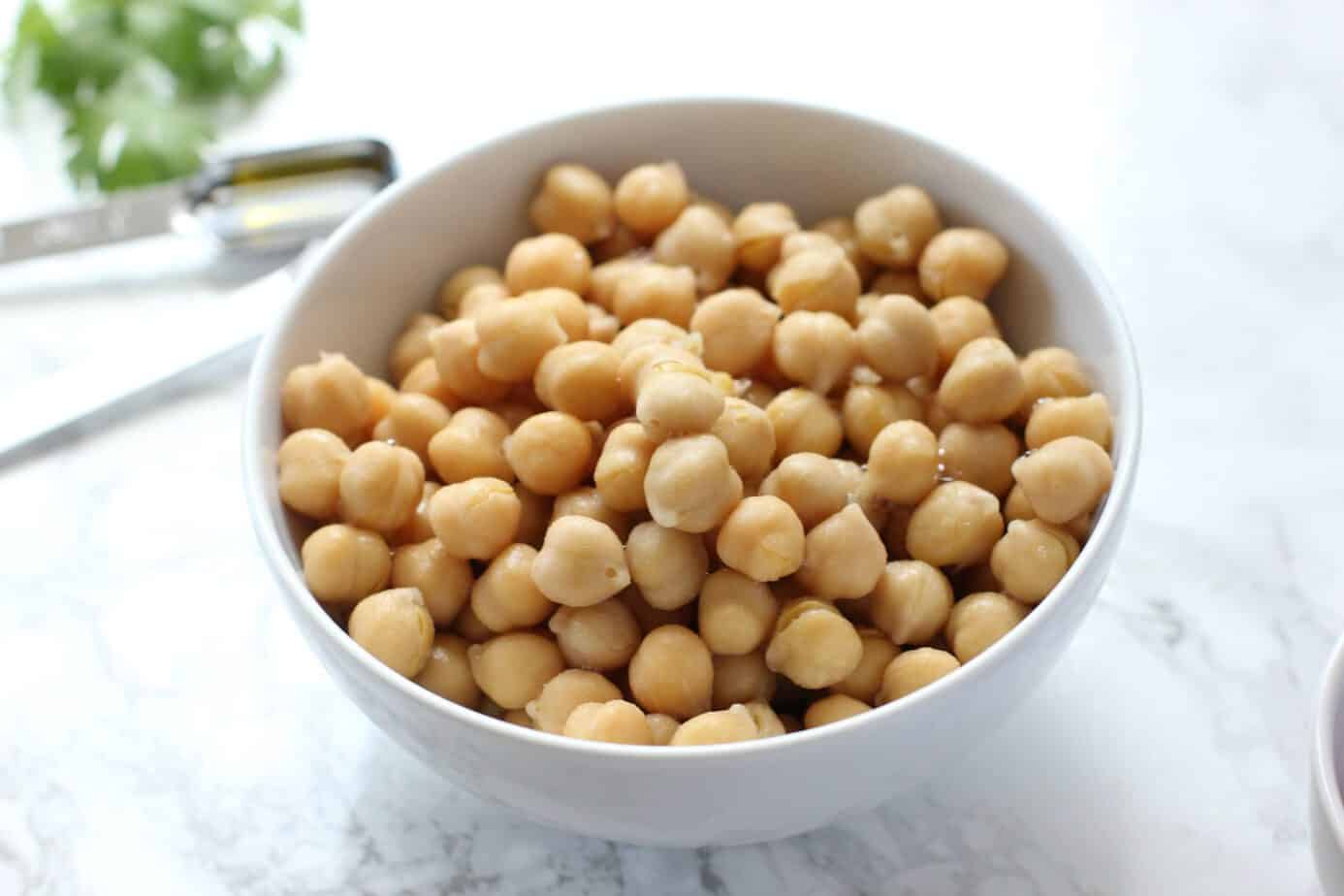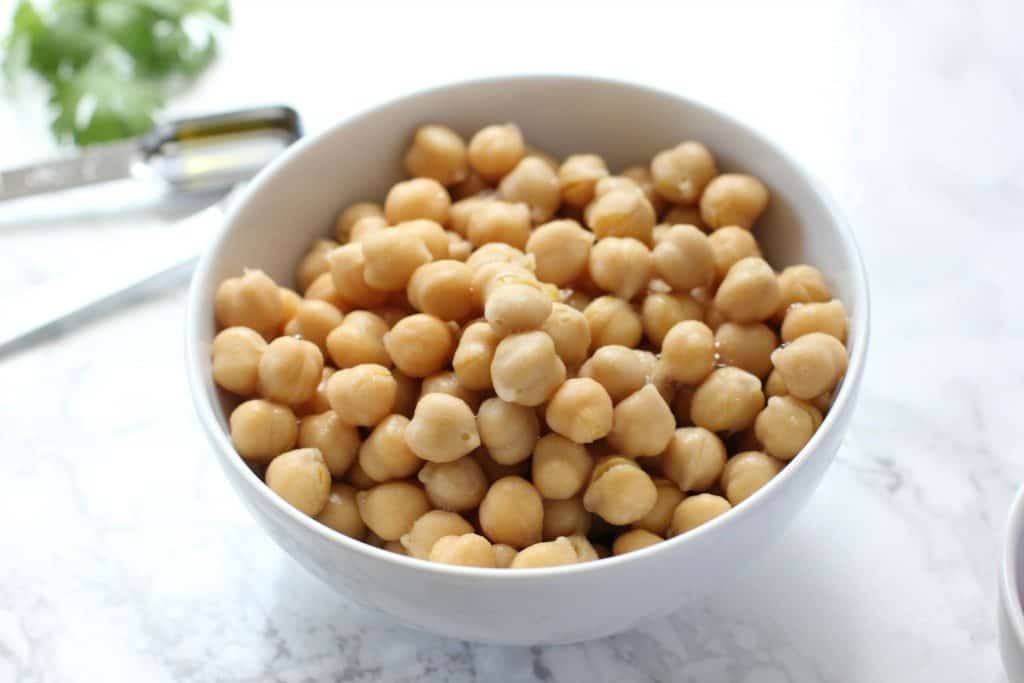 Ingredients and Substitutions
Chickpeas– Traditionally, falafel is made with dried chickpeas but I make easy vegan falafel using canned chickpeas to save time.
Garlic powder– I used garlic powder for a milder garlic taste, but you can substitute with 2 cloves of fresh garlic, minced, if you prefer.
Lemon juice– This adds brightness to the overall flavor. If you don't have lemon juice, substitute with a splash of red wine vinegar.
Cumin– This adds a warm, earthy, herbal flavor to the falafel.
Parsley– I highly recommend fresh parsley as dried parsley doesn't have much flavor.
Za'atar seasoning– This is optional but it's one of my favorite seasoning blends for falafel, hummus, and other Middle Eastern inspired dishes. I highly recommend adding some to your pantry!
Tahini– This sesame paste is the base of our sauce and it's a great way to add creaminess to sauces and dips.
Mayonnaise or Veganaise- This also adds creaminess to the sauce. Regular or vegan mayo works great.
What is Tahini?
Tahini is a paste made from ground sesame seeds that is widely used in Middle Eastern, Mediterranean, and North African cuisine. To make tahini, sesame seeds are first toasted and then ground into a smooth paste that kind of resembles creamy almond butter. Sometimes the oil will separate and float to the top of the jar so be sure to stir the tahini well before using. Tahini is available in most grocery stores, often sold near the natural nut butters like cashew butter and almond butter.
How to Make Falafel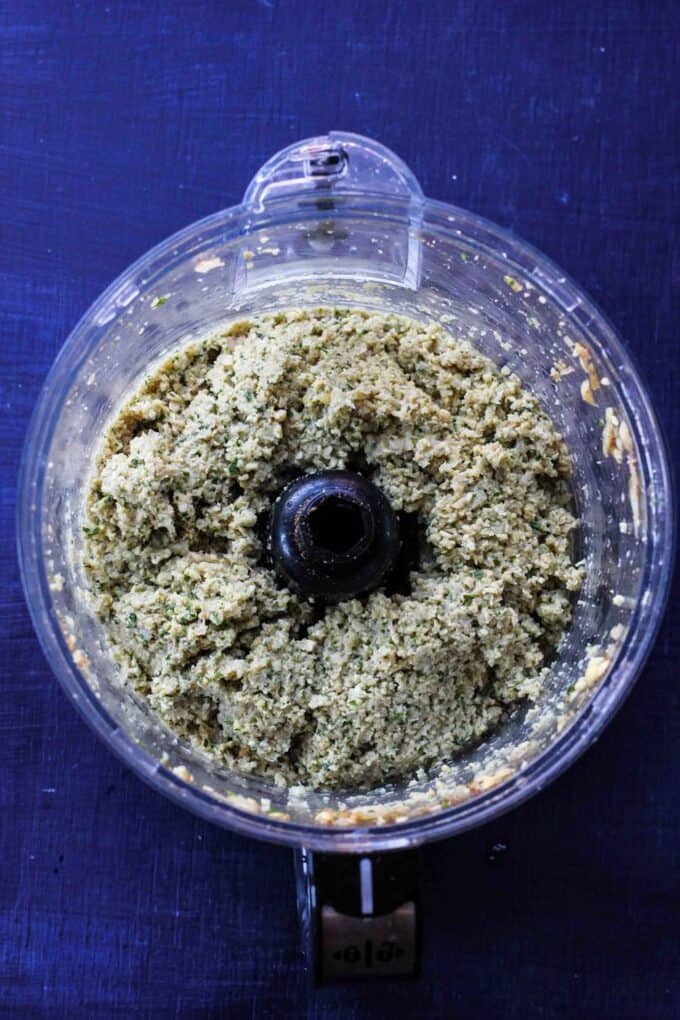 The Best Sauces for Falafel
I included a simple tahini sauce recipe to pair with this sandwich but if you want to switch it up, there are tons of other sauces that are delicious on this falafel! If you like things spicy, try this zhoug sauce which is cilantro based, but packs a fiery punch. If you like cilantro but you want something less spicy, try my cilantro sauce instead. If you like the flavor of curry, this curry dip also makes a wonderful sandwich spread.
Tips for the Best Falafel Sandwich
I used Trader Joe's pita pockets for these sandwiches. Place the pita on a plate and cover it with a damp paper towel. Microwave the pita for 15-20 seconds or until it is soft. This is the easiest way to refresh pita bread, which can dry out over time.
The falafel is best served hot, but if you are meal prepping this in advance, reheat your falafel in the air fryer or on the stovetop just before serving. This is the best way to keep the exterior slightly crispy without drying out the inside.
You could also enjoy this falafel sandwich as a wrap using your favorite whole wheat tortillas or you can make my homemade vegan naan for a fluffy sandwich wrap. If you wanted a lower-carb option, enjoy this falafel on a bed of mixed greens instead.
What to Serve with Falafel
If you're looking for a simple dish to enjoy with this falafel pita, try my roasted broccoli or green beans which can be made in the air fryer in minutes! If you don't have an air fryer, you can still make perfect roasted vegetables in the oven which would make a great side dish! This would also be delicious with a bowl of cheesy cauliflower soup on the side.
Print
Vegan Falafel Sandwich
Author:
Prep Time: 10 minutes
Cook Time: 5 minutes
Total Time: 15 minutes
Yield: 2 pita sandwiches 1x
Category: Dinner
Method: Stovetop
Cuisine: American
Diet: Vegetarian
---
Description
This delicious falafel sandwich is made with canned chickpeas so you can make this tasty recipe in just 15 minutes! Drizzle it with the homemade tahini sauce to take it to the next level!
---
1 15oz can chickpeas, drained and rinsed
1 teaspoon garlic powder
1 tablespoon lemon juice
1/2 teaspoon cumin
1/4 cup curly parsley, stems removed
1/4 teaspoon salt
1/4 teaspoon za'atar seasoning (optional)
2–3 tablespoons all-purpose flour
1–2 tablespoons olive oil
2 pita pockets, cut in half
1/4 cup thinly sliced English cucumber
1/4 cup roasted red pepper, cut into strips
1/2 cup chopped romaine or green leaf lettuce
For the Tahini Sauce:
1 tablespoon tahini
2 tablespoons mayonnaise or Veganaise
1 tablespoon lemon juice
1/4 cup finely chopped parsley
Salt to taste
---
Instructions
Add the chickpeas, garlic powder, lemon juice, cumin, parsley, salt, za'atar seasoning, and 2 tablespoons of flour to a food processor.
Pulse for 10-15 seconds until chunky. If the mixture is too wet, add an additional tablespoon of flour.
Use a 1/4 cup measuring cup to scoop up the mixture and press it into patties
Heat 1 tablespoon of olive oil over medium heat in a large skillet.
Gently place the patties into the skillet and cook over medium heat for 3-4 minutes until golden brown on the bottom.
Flip and continue to cook the falafel for 2-3 minutes, adding the additional tablespoon of oil, if necessary.
Remove from pan and place on a paper towel to cool slightly.
Whisk together the tahini, mayonnaise, lemon juice, parsley, and salt.
Divide the falafel into the pita pockets. (I did 1 1/2 pieces of falafel in each half of pita bread.) Stuff with lettuce, cucumbers, and red peppers.
Drizzle with tahini sauce.
---