Broccoli Sandwiches
These open faced broccoli sandwiches are topped with roasted broccoli, melted provolone cheese and a red wine vinegar sauce for a simple, yet delicious meal.
After I got hooked on broccoli tacos I started wondering why I hadn't tried broccoli in more main dish recipes. I started thinking about a broccoli sandwich and finally, I gave it a try! While it was good as a traditional sandwich, Alex and I liked the open face concept even more, because you can easily enjoy twice the broccoli without worrying about the toppings spilling out of the sandwich. But feel free to enjoy this stacked, as a traditional sandwich, if that's what you like!
This is a great way to add more greens to your plate. It's no surprise that broccoli is a healthy toast topper. It is an excellent source of vitamins C, K, and A, as well as folate and fiber. It also contains minerals such as calcium, iron, and potassium. Broccoli is also a great source of fiber, which helps regulate digestion and keeps the digestive system healthy. It's just one more reason to love this broccoli sandwich recipe!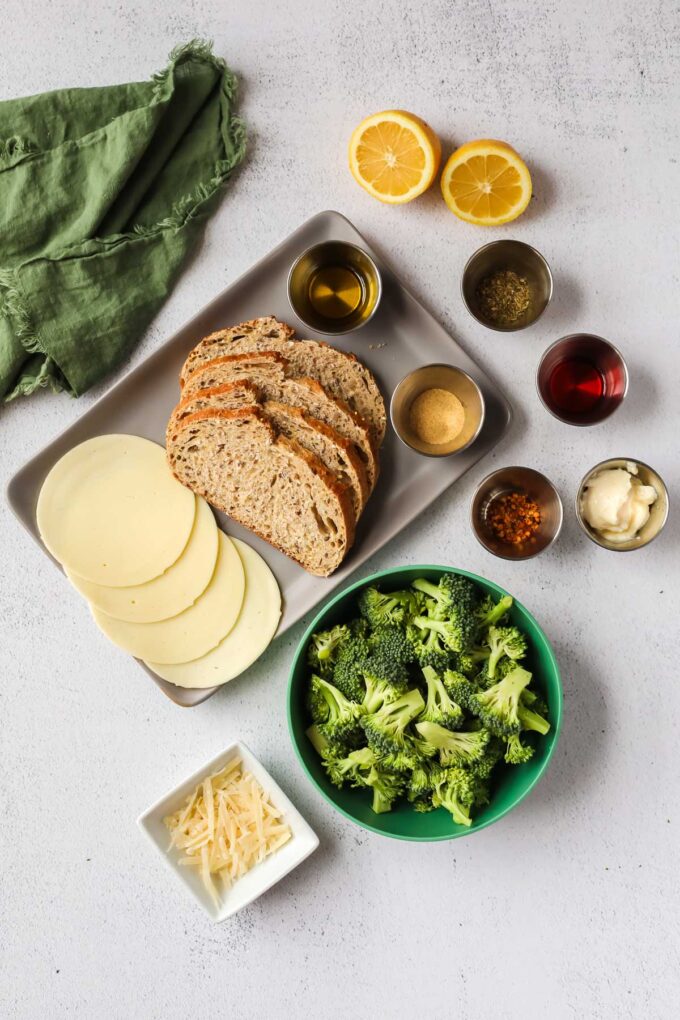 Ingredients and Substitutions
Broccoli– I recommend using fresh broccoli but frozen broccoli can work. Follow these directions for roasting frozen broccoli.
Bread– I like using a hearty wheat bread such as Dave's Killer Bread or a whole grain loaf cut into one-inch slices. You want something sturdy that can stand up to a lot of toppings.
Cheese– I used provolone cheese which melts quickly and pairs nicely with the broccoli. You could substitute the provolone with mozzarella. A little Parmesan adds a salty, umami flavor that takes this recipe to the next level! Use real Parmesan cheese for the best taste.
Sauce– The sauce is optional but I think it adds a nice creamy, tangy flavor to the sandwich. If you want to skip the sauce, just add a squeeze of lemon juice on top instead.
How to Make Broccoli Sandwiches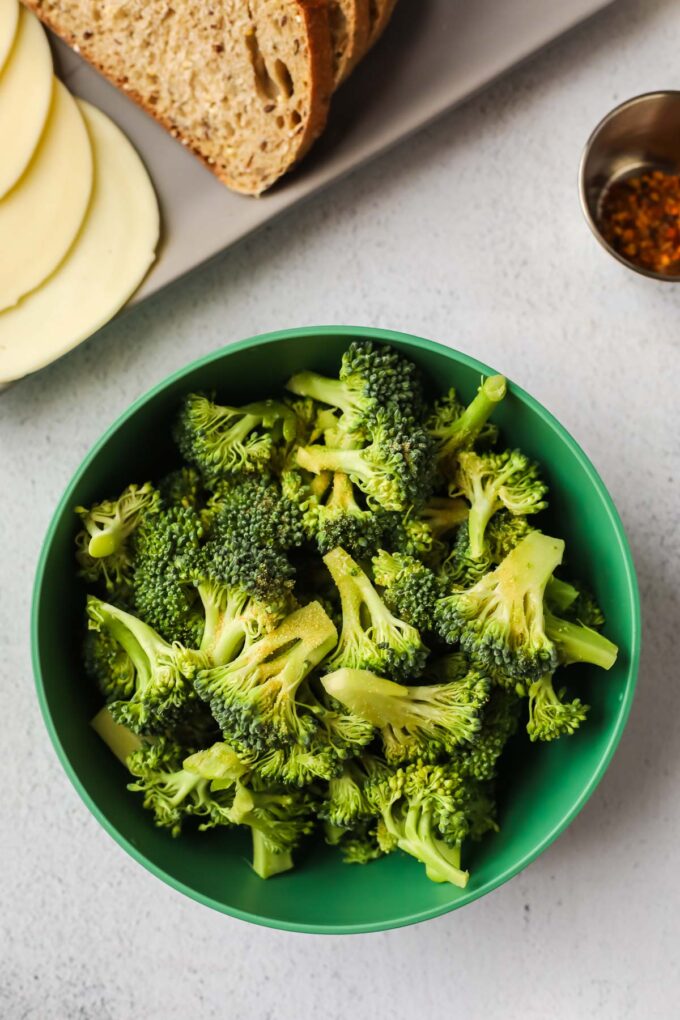 Tips for the Best Broccoli Sandwich
Try to cut the broccoli into evenly-sized pieces so that it all cooks at the same rate. When roasting the broccoli, be sure not to crowd the pan. Keep it in a single layer so the heat can cook the broccoli evenly. Don't forget to flip the broccoli halfway through roasting.
I recommend using a hearty sandwich bread for this recipe. It needs to be sturdy enough to hold up to a lot of toppings! I used a whole grain loaf sliced into one-inch slices. If you want a storebought bread option, try Dave's Killer Bread. They have a lot of great seeded grain breads that are thick and hearty!
How to Make Broccoli Sandwiches in the Air Fryer
If you want to make this recipe faster, make it in the air fryer! You can toast the bread in a toaster (or in the air fryer) and then cook the broccoli in the air fryer using these directions. Once the broccoli is roasted, place it on the toasted bread and top with cheese. Pop it back in the air fryer for 1-2 minutes or until the cheese is melted. You may need to work in batches depending on the size of your air fryer.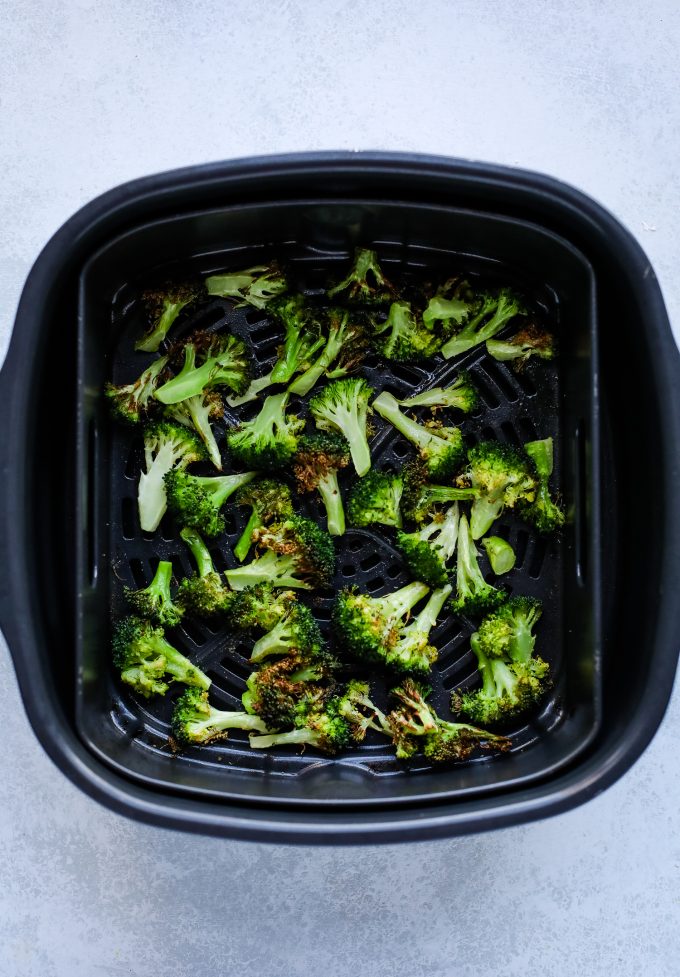 What to Serve with Broccoli Sandwiches
Need the perfect side dish idea? Try these sandwiches with a bowl of my creamy tomato soup for a unique twist on the classic combo. Or pair these toasts with this vegan chopped salad for an easy way to get more veggies into the meal.
More Vegetarian Sandwich Recipes
I know it can be hard to come up with meatless sandwiches, but I've put together a pretty extensive list for whatever you're craving! This tempeh sandwich has 32g of protein so it's great when you want to load up on plant based protein! If you love falafel, my easy falafel sandwich is a must-make. And if you love cheese like I do, my 15 minute halloumi sandwiches are a fun twist on grilled cheese!
Print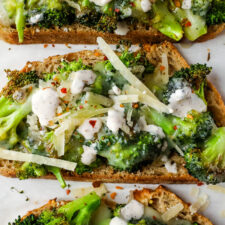 Open Faced Broccoli Sandwiches
Author:
Prep Time: 5 minutes
Cook Time: 25 minutes
Total Time: 30 minutes
Yield: 4 Slices 1x
Category: Dinner
Method: Oven
Cuisine: American
Diet: Vegetarian
---
Description
These open faced broccoli sandwiches are topped with roasted broccoli, melted provolone cheese and a red wine vinegar sauce for a simple, yet delicious meal.
---
4 cups chopped broccoli
1 tablespoon olive oil
1/2 teaspoon garlic powder
Salt to taste
4 thick slices hearty sandwich bread
4 slices provolone cheese
1/4 cup shredded Parmesan cheese
For the sauce
1 tablespoon mayonnaise
1 teaspoon red wine vinegar
1/4 teaspoon oregano
1/4 teaspoon Italian seasoning
Pinch red pepper flakes
Salt to taste
---
Instructions
Preheat oven to 400 degrees.
Place the bread on a baking sheet and allow it to toast in the oven while the oven preheats. Once the bread is golden brown on the edges, remove it from the oven.
Toss the broccoli with olive oil, garlic powder, and salt.
Spread the broccoli onto a baking sheet and roast for 15-20 minutes, flipping once halfway through, until broccoli is beginning to brown on the edges.
Top each slice of toast with roasted broccoli. Top with provolone cheese and bake for another 2-3 minutes until cheese is melted.
Remove from oven and sprinkle with Parmesan cheese.
In a small bowl or jar, whisk together the mayonnaise, red wine vinegar, oregano, Italian seasoning, red pepper flakes, and salt.
Drizzle the sauce on top of the sandwiches and serve.
---
Keywords: broccoli sandwich