Vegan Cranberry Pecan Muffins
These soft and fluffy muffins are studded with sweet cranberries and crunchy pecan pieces. Made with chia seeds and coconut oil, these cranberry pecan muffins are completely vegan.
I've been on a bit of a baking kick recently and when I noticed a bag of dried cranberries leftover from the holidays, I started thinking about how I could use them in a muffin recipe. Pecans seemed like the perfect thing to pair with these tart berries, and these vegan cranberry pecan muffins came together quickly and easily!
I used my vegan blueberry muffin recipe as a starting point and made a few tweaks along the way, to create these soft and fluffy vegan cranberry pecan muffins! Alex and I have been enjoying these for breakfast on busy mornings and they're perfect with a cup of coffee!
Instead of eggs, these muffins use a "chia seed egg" which is an easy and healthy replacement!
Chia seeds are an excellent source of omega-3 fatty acids, aka the "good" fats. They are also an excellent source of fiber at 10 grams per ounce! They contain protein as well as iron, calcium, magnesium and zinc. Not bad for a little seed. And the amazing thing is, they are a pretty great egg replacer!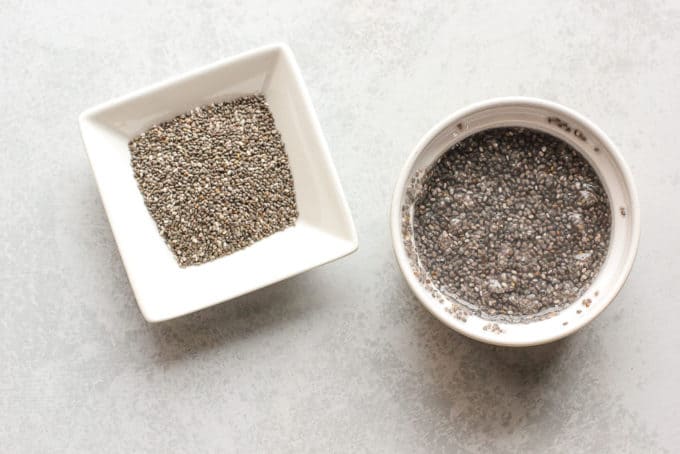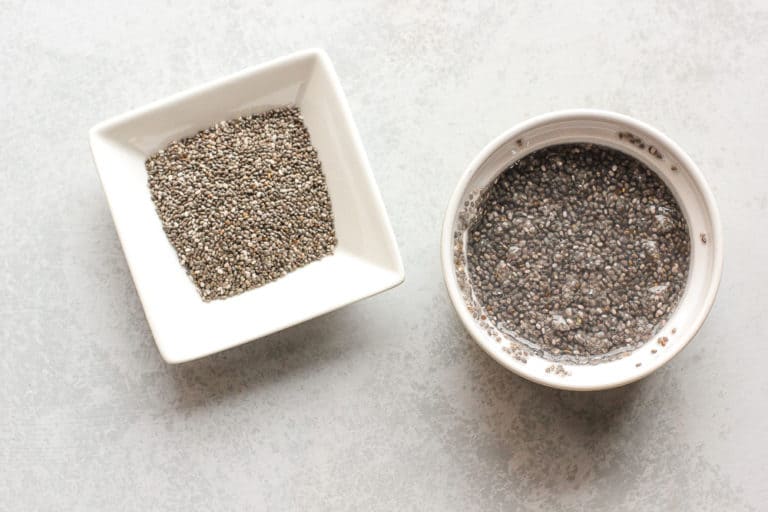 How to Make a Chia Seed Egg
To make one chia egg, you add 1 tablespoon of chia seeds to 2 ½ tablespoons of water. Mix it together and let it sit for 3-5 minutes until a gel has formed. This will be the binding agent for your muffins.
 Because these muffins only use a little bit of oil, the batter will be very thick. The consistency will be similar to cookie dough. Don't add more liquid! You want the batter to be thick. It will produce perfectly fluffy muffins!
Substitution Ideas
You can substitute 1/2 cup of the all-purpose flour for whole wheat flour, to add more protein and fiber.
Feel free to use soymilk instead of almond milk if you want to keep these nut-free.
I used sweetened dried cranberries but you can use unsweetened dried cranberries to reduce the sugar.
Print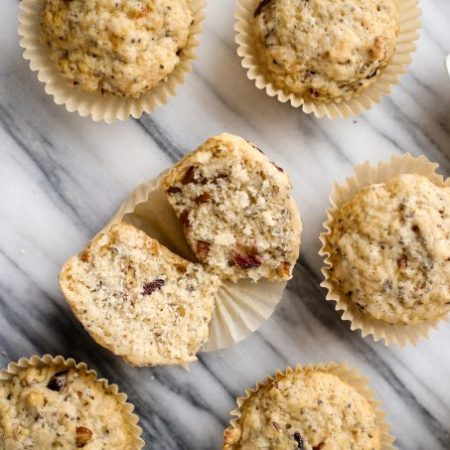 Vegan Cranberry Pecan Muffins
Author:
Prep Time: 10 minutes
Cook Time: 20 minutes
Total Time: 30 minutes
Yield: 12 muffins 1x
Category: Breakfast
Method: Baked
Cuisine: Muffin
---
Description
These soft and fluffy muffins are studded with sweet cranberries and crunchy pecan pieces. Made with chia seeds and coconut oil, these cranberry pecan muffins are completely vegan.
---
1 chia egg (1 tablespoon chia seeds mixed with 2 ½ tablespoons water)
1 1/2 cup all-purpose flour
3/4 cup sugar
2 teaspoons baking powder
1/2 teaspoon salt
1/2 cup dried cranberries (I used sweetened but feel free to use unsweetened for a lower sugar option)
1/3 cup chopped pecans
1/3 cup coconut oil, melted
1/2 cup almond milk
1 teaspoon vanilla extract
---
Instructions
Preheat oven to 400ºF.
In a small bowl, combine the chia seeds and water and set aside until thickened.
Add the all-purpose flour, sugar, salt, and baking powder to a large bowl.
Mix until combined.
Add the cranberries and pecans and mix well.
Add the melted coconut oil, almond milk, chia seed mixture, and vanilla extract.
Stir until just combined. Do not over mix. The batter will be VERY thick. (See note)
Line a muffin pan with liners.
Scoop ¼ cup batter into each muffin tin. It should make 12 muffins.
Bake for 16-20 minutes or until the tops of the muffins have started to brown.
---
Keywords: vegan cranberry pecan muffins
How to Store Muffins
Keep these in a zipper-locked bag at room temperature for up to 5 days. To store them longer, put them in a freezer-safe bag and store them in the freezer for up to 4 weeks. To defrost, thaw in the microwave at 50% power for 30 seconds or until heated through.
Looking for more vegan breakfast ideas? Try one of the recipes below!
Oil-Free Vegan Mocha Muffins
One Bowl Vegan Banana Bread
What's your favorite type of muffin?