Pesto White Bean Soup
This pesto white bean soup is made with just five ingredients, but it's packed with flavor! It's perfect for a satisfying plant-based meal that takes minimal effort to prepare!
I love finding shortcuts to flavorful meals and the trick to this soup is pesto! I've made white bean soup with salsa and I was so happy with how it added tons of flavor to the broth. It made me think… why not try it with pesto? It worked beautifully. Creamy white beans simmering in flavorful pesto creates a hearty meal with minimal effort! I also tossed in a little kale at the end of cooking to add some greens to this meal. I liked adding a little crushed red pepper on top for a bit of heat, but it's optional.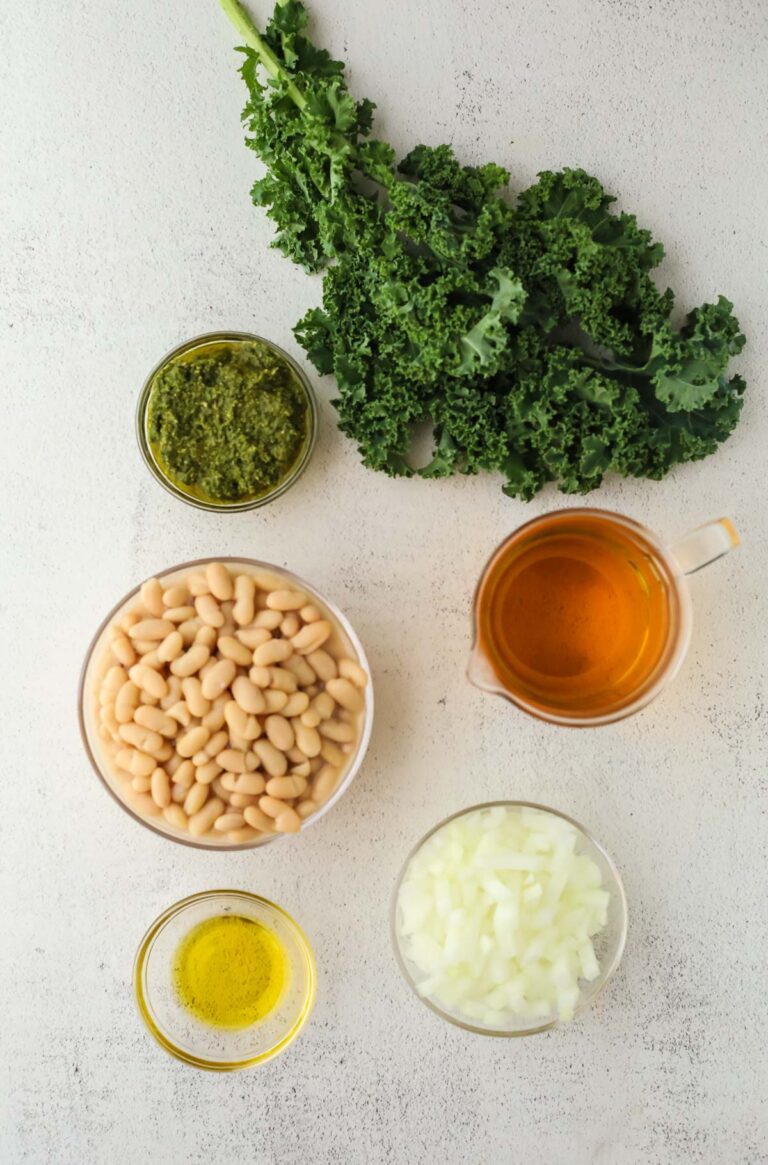 Ingredients & Substitutions
Because this recipe only has a handful of ingredients, it's really important to use high-quality ingredients. The flavor of the broth and the pesto are critical in this recipe. For the broth, I like to use a "chicken style" vegetable broth, like the kind from Edwards & Sons or Ocean's Halo. Both have a lot more flavor than standard vegetable broth.
I used canned cannellini beans which are soft, creamy white beans, but you can substitute with great northern beans or white navy beans. You can use dried beans, but they will need to be soaked overnight and cooked until soft before adding them to the soup.
I added kale at the end of cooking to add some fresh greens to this recipe. You can leave it out if you don't have any or add a few handfuls of spinach instead.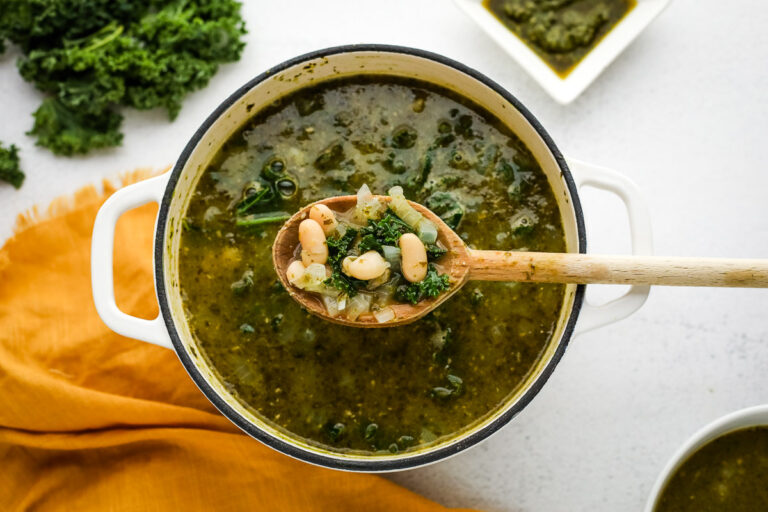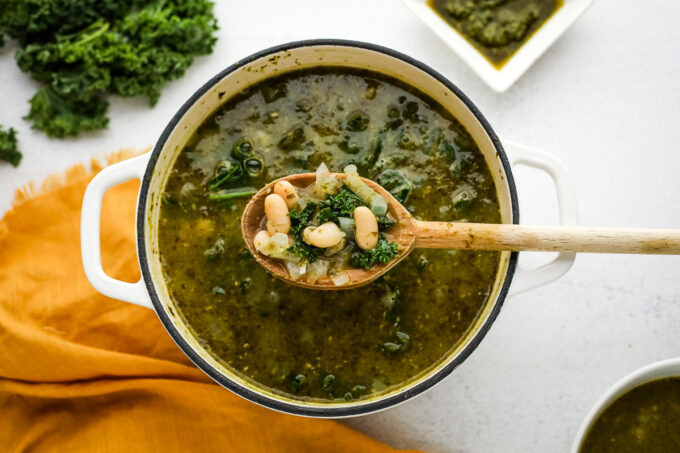 My Favorite Store-Bought Pesto
The real trick to this tasty soup is using prepared pesto. Of course, you can make these things from scratch if you like, but I prefer to use store-bought to keep things simple! My favorite store-bought pesto is Buitoni's Pesto, which has a great flavor that tastes homemade. America's Test Kitchen recommended it and I'm glad I tried it! Of course, you can make your own pesto if you like.
If you're looking for a good vegan pesto, I really like Gotham Green's pesto. Trader Joe's also makes a great vegan pesto, sold in their refrigerated section. In general, I've had better luck with the flavors of refrigerated pesto rather than jarred pesto. If you have leftover pesto, try this pesto rice for a flavorful side dish!
How to Make Pesto White Bean Soup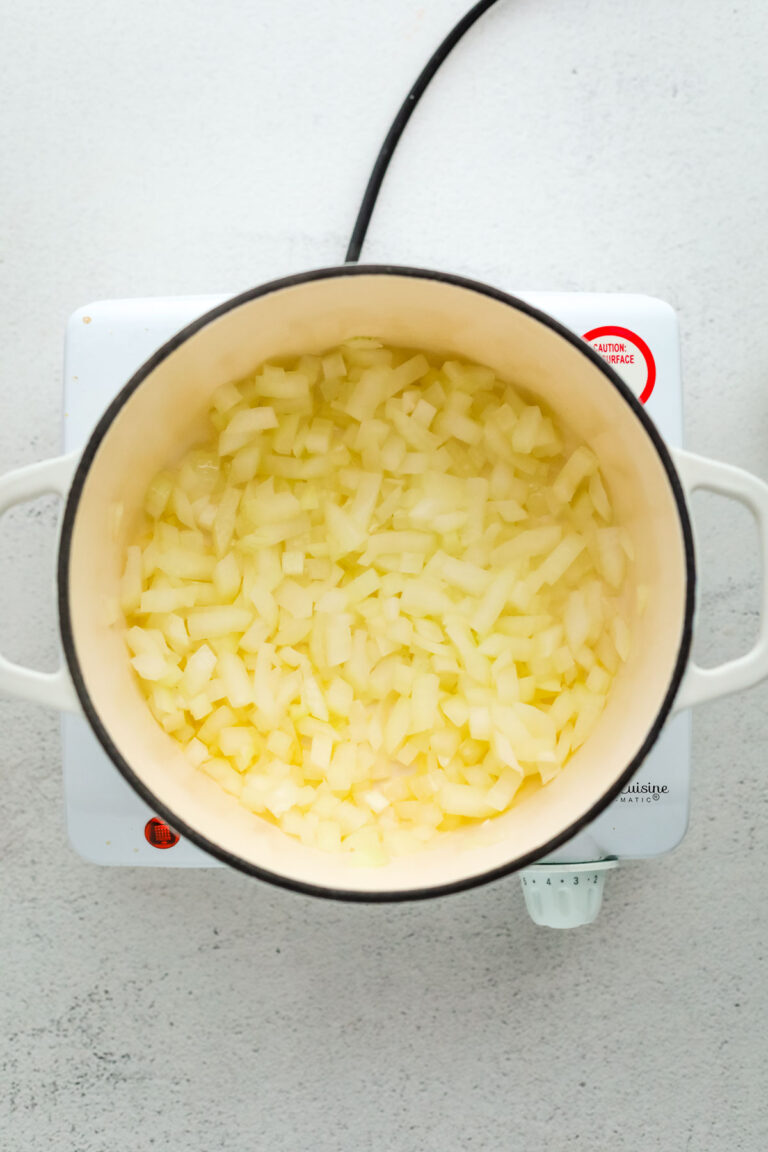 What to Serve with Soup
Not sure what to pair with this soup? Try a hearty salad like this Vegan Caesar Salad with Crispy Chickpeas. The Caesar-style dressing is one of my favorites. Or you can pair this soup with a crusty loaf of sourdough bread. I always keep a loaf of sourdough bread from Wildgrain in my freezer for days I make soup!
How to Store Leftovers
Leftover soup can be stored in an airtight container in the fridge for up to 4 days. You can also freeze this soup for up to one month. If freezing soup, I recommend dividing it into individual portions, which are perfect for a quick lunch! Souper Cubes are great for freezing each serving.
More White Bean Soup Recipes
Print
Pesto White Bean Soup
Author:
Prep Time: 5 minutes
Cook Time: 20 minutes
Total Time: 25 minutes
Yield: 8 cups 1x
Category: Soup
Method: Stovetop
Cuisine: American
Diet: Vegan
---
Description
This pesto white bean soup is made with just five ingredients, but it's packed with flavor! It's perfect for a satisfying plant-based meal!
---
1 tablespoon olive oil
1 yellow onion, diced
2 (15oz) cans cannellini beans, drained and rinsed
4 cups vegetable broth
1/4 cup pesto
2 large kale leaves, destemmed and torn into 1" pieces
---
Instructions
In a large pot, add the olive oil and heat over medium heat for 30 seconds.
Add the onion and stir to coat in olive oil. Cover and cook over medium heat for 7-9 minutes, stirring occasionally, until the onion is softened.
Add the broth and cannellini beans and bring to a boil.
Reduce the heat to a simmer and stir in the pesto. Simmer for 10 minutes or until the beans are soft.
Add the kale and cook for one minute until the kale is bright green.
Remove from heat and enjoy.
Keywords: pesto white bean soup