Vegan Blueberry Muffins
These vegan blueberry muffins are soft, fluffy, and super easy to make! You can make these muffins in one bowl and have them in the oven in 10 minutes!
These muffins took a lot of trial and error. I'm not going to hold it against them, but honestly, the first round of testing was laughably awful. As disappointing as it was to toss an entire tray of muffins into the trash, every failed recipe means getting closer to the right one. (Or at least, that's what I tell myself.)
But I'm happy to report that these are the best vegan blueberry muffins I've ever made! They are soft, sweet, and super easy to make! Even my toddler likes them, and he's a very selective eater.
How to Make a Chia Egg
To keep these vegan, I used chia seeds instead of an egg. If you're unfamiliar with chia seeds, they create a thick gel when mixed with water, making them a great binding agent in baked goods. To make one chia egg, you add 1 tablespoon of chia seeds to 2 ½ tablespoons of water. Mix it and let it sit for 3-5 minutes until a gel has formed. This will be the binding agent for your muffins.
Not only do chia seeds make a great egg replacement, but they're also an excellent source of omega-3 fatty acids, aka the "good" fats. They are also a great source of fiber at 10 grams per ounce! They contain protein, iron, calcium, magnesium, and zinc. Not bad for a little seed.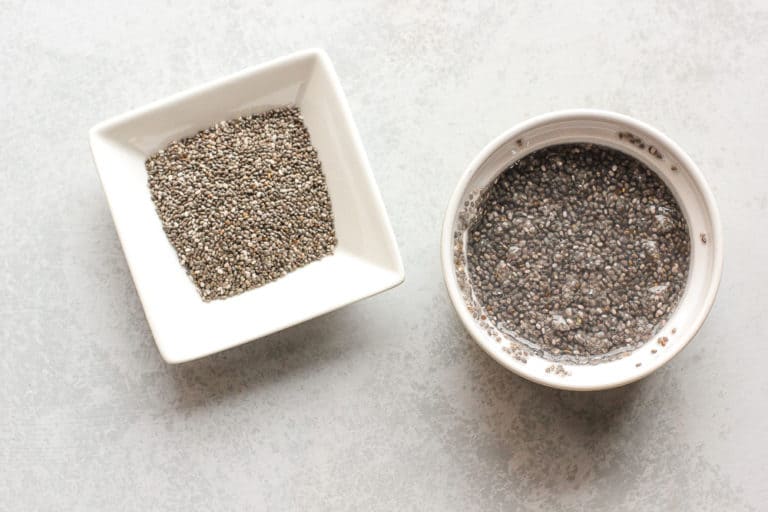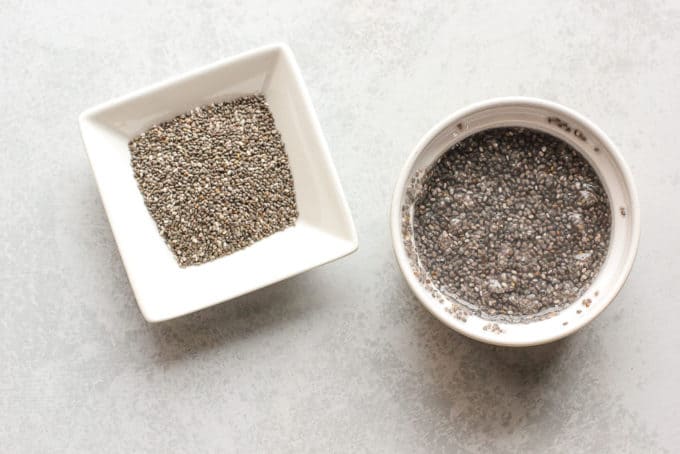 Baking Tips and Tricks
Start by making the chia egg, so it can thicken while you prepare the rest of the ingredients. It will need to sit for a few minutes before it's ready to be added to the batter.
You can use fresh or frozen blueberries. There's no need to thaw frozen blueberries before adding.
If your oven does not heat evenly, you may want to rotate the pan halfway through baking to avoid any hot spots.
I like to use parchment paper or silicone liners so I don't have to worry about the muffins sticking to the pan.
The batter will be very thick, almost like cookie dough. See the photo below.
Can You Use Frozen Blueberries?
For this vegan blueberry muffin recipe, yes! I've tested these with fresh and frozen blueberries, and either one works great! I did notice that frozen blueberries tended to "bleed" into the batter a little bit. Sometimes this would darken the muffin color slightly. But the taste was the same! If you can find them, I prefer to use wild blueberry which are smaller and size, making them a bit easier to incorporate into the muffins.
Do you Need to Defrost Frozen Blueberries?
No! It's best to mix the berries in while frozen. If you thaw them, they tend to get soggy, and they'll be more difficult to incorporate into the batter. Take them directly out of the freezer and add them to the muffin batter.
How to Make Gluten-Free Vegan Blueberry Muffins
I typically make these muffins with all-purpose flour or a blend or all-purpose and whole wheat flour. But I'm happy to report that some of my recipe testers have made this recipe with gluten-free flour and it's worked beautifully. It's been tested with Bob's Red Mill All-Purpose Gluten-Free Flour and it turned out perfectly.
How to Store Leftover Muffins
You can store your muffins in an airtight container for up to 5 days, which means they're perfect for breakfast on the go! You can also store muffins in the freezer, and simply thaw in the microwave for 15-20 seconds, then enjoy!
More Muffin Recipes
Looking for more muffin ideas? Try these vegan chocolate avocado muffins or my vegan raspberry muffins! Or grab some dried cranberries and pecans and make a batch of these vegan cranberry pecan muffins! If you're looking for a gluten free option, try my vegan banana oat muffins. If you're looking for an oil free recipe, try my oil free lemon blueberry muffins. What's your favorite kind of muffin?
Print
Vegan Blueberry Muffins
Author:
Prep Time: 10 minutes
Cook Time: 20 minutes
Total Time: 30 minutes
Yield: 12 1x
Category: Breakfast
Method: Baking
Cuisine: Muffin
---
Description
These vegan blueberry muffins are soft, fluffy, and super easy to make! With just one bowl needed, you can have these muffins in the oven in 10 minutes!
---
1 cup all-purpose flour
1/2 cup whole wheat flour (or sub more all-purpose)
1/2 teaspoon salt
3/4 cup sugar
2 teaspoons baking powder
1/3 cup coconut oil, melted
1/2 cup almond milk or non-dairy milk
1 chia egg (1 tablespoon chia seeds mixed with 2 1/2 tablespoons water)
1 teaspoon vanilla extract
3/4 cup blueberries (fresh or frozen)
---
Instructions
Preheat oven to 400 degrees.
Prepare the chia egg by mixing 1 tablespoon chia seeds mixed with 2 ½ tablespoons water, and set aside.
Line a muffin tin with paper or silicone muffin liners and set aside.
Add the all purpose flour, whole wheat flour, sugar, salt, and baking powder to a large bowl.
Mix until combined.
Add the melted coconut oil, almond milk, chia egg, and vanilla extract.
Stir until just combined. (Do not over mix.)
Fold in the blueberries. The batter will be very thick. (See note)
Scoop ¼ cup of batter into the prepared muffin tin.
Bake for 18-20 minutes or until the tops of the muffins start to brown.
---
Notes
This blueberry muffin batter is VERY thick. It should be similar to the consistency of cookie dough. You'll probably thick "oh no, this is too thick!" but trust me, it should be that way! These muffins will still bake up light and fluffy. The thick consistency of the batter will prevent the berries from sinking to the bottom so you'll have blueberries all through the muffin!
Keywords: vegan blueberry muffins